Sun May 6, 2018, 08:46 AM
Miles Archer (18,468 posts)
Giuliani talks about Trump taking the 5th, not complying with subpoena, and Trump's "other women"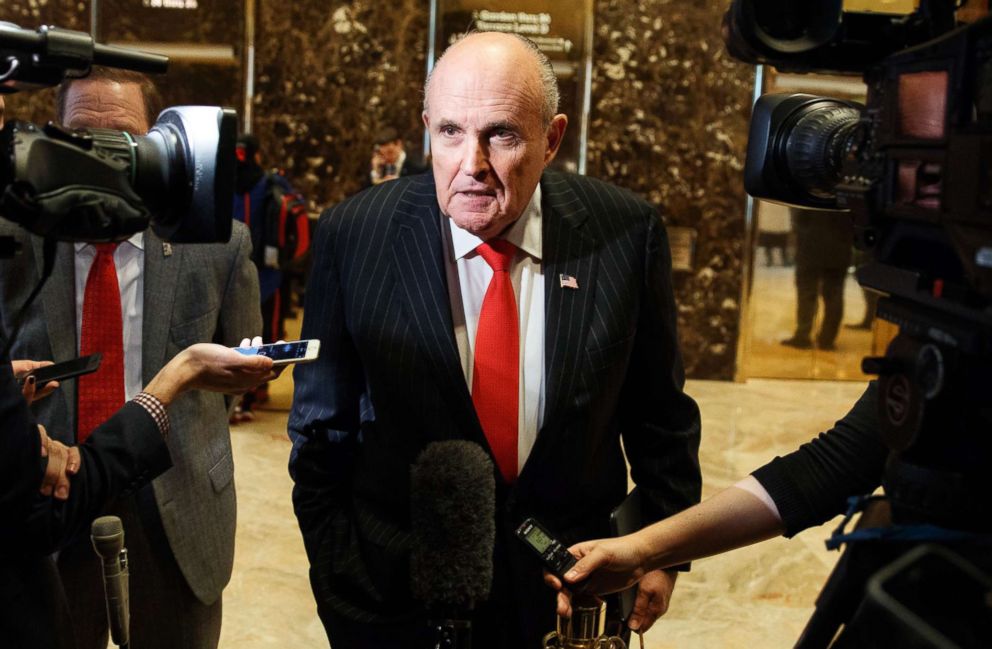 Trump could take the 5th Amendment or not comply with subpoena to testify: Rudy Giuliani
President Donald Trump's top personal attorney Rudy Giuliani said he can't rule out the possibility of the president taking the Fifth Amendment if he testifies in the Russia investigation.
Giuliani said to ABC News Chief Anchor George Stephanopoulos in an exclusive interview on "This Week" Sunday, "How could I be confident" that president won't take the Fifth Amendment The former New York City mayor also commented on the possibility of Trump getting subpoenaed by the special counsel to testify. "We don't have to" comply with a subpoena, he said.
"They don't have a case on collusion, they don't have obstruction... I'm going to walk him into a prosecution for perjury like Martha Stewart did?" Giuliani said. "He's the president of the United States. Wee can assert privilege other presidents [have]."
Giuliani said "I have a client who wants to testify ... So he may testify and we may actually work things out with Bob Mueller."
But the president's lawyer also suggested he is cautious about having Trump sit down with Mueller. "Not after the way they've acted," Giuliani said of the special counsel's team. "I came into this case with a desire to [have the president talk to Mueller] and they just keep convincing me not to do it."
https://abcnews.go.com/Politics/trump-lawyer-rudy-giuliani-rule-president-amendment-russia/story
@GStephanopoulos
Follow Follow @GStephanopoulos
More
I asked Rudy Giuliani if Michael Cohen made payments to other women on behalf of the President. He said "I have no knowledge of that but I would think if it was necessary, yes." Catch my full interview this morning on @ThisWeekABC
Link to tweet
2 replies, 1123 views
Replies to this discussion thread
| | | | |
| --- | --- | --- | --- |
| 2 replies | Author | Time | Post |
| Giuliani talks about Trump taking the 5th, not complying with subpoena, and Trump's "other women" (Original post) | Miles Archer | May 2018 | OP |
| | beachbum bob | May 2018 | #1 |
| | lunasun | May 2018 | #2 |
---
Response to Miles Archer (Original post)
Sun May 6, 2018, 08:54 AM
beachbum bob (10,437 posts)
1. lol...no president is exempt from prosecution ESPECIALLY for acts prior to being sworn in...
the precedence been established.
---
Response to Miles Archer (Original post)
Sun May 6, 2018, 09:02 AM
lunasun (20,838 posts)
2. You would think trump would want to talk to clear his reputation
Others may talk can't keep every mouth closed . Trump thinks he has loyalty like most criminal heads do
It was Mouw who, accompanied by a single other agent, came to escort Gravano from his cell in 10 South and lead him to his shiny new life as a witness for the prosecution, and he deliberately chose a time when he hoped none of the other inmates would notice. But the shuffle of feet, the opening of doors, and even the whispered voices carried through the tunnel-like corridor of the high-security wing. And all at once John Gotti was on his feet, and he let out a piercing wail as he recognized the act of betrayal that was unfolding just outside his cell door. The plaintive scream, Mouw would say, seemed to echo throughout the entire prison, bouncing off the walls and filling every bit of space. It was a sustained and powerful noise. And he imagined he could still hear the Donís lamentations as he hustled Gravano into the back of the Chevrolet parked on the street 10 floors below.
https://www.vanityfair.com/news/2017/12/how-scared-should-trump-be-of-mueller-ask-john-gotti-or-sammy-the-bull
This is the DU member formerly known as lunasun.