Sun Nov 17, 2019, 10:24 PM
Kid Berwyn (4,840 posts)
Early Thanksgiving for The Whistleblower!
Not only did this person reveal Trump's treason in office, the whistleblower also exposed Trump's 2020 Smear Machine run in Ukraine by Giuliani. For this government official's integrity, bravery and selflessly upholding the oath of office when ALL others, including Pompeo, Barr and various legal counsel,
turned away from doing their duty and turning in criminality,
I give thanks.
This Facebook screen shot provided by The Campaign Legal Center, shows from left, Donald Trump, Jr., Tommy Hicks, Jr., Lev Parnas and Igor Fruman, posted on May 21, 2018. (Photo: AP)
Now that we're on to Dim Donnie's gangster ass, We the People also need to know where else
overseas
Team Drumpf operates and with
whom.
Erik Prince and the Emirates?
Jared Drumpf and the Saudis?
Dim Don Jr. and Brazil?
Anyplace globally is suspect — not just business — these turds are running much if not most of the federal government.
Where else are they using their office for personal gain? With whom do they operate? And doing what? Exactly?
10 replies, 2627 views
Replies to this discussion thread
| | | | |
| --- | --- | --- | --- |
| 10 replies | Author | Time | Post |
| Early Thanksgiving for The Whistleblower! (Original post) | Kid Berwyn | Nov 2019 | OP |
| | groundloop | Nov 2019 | #1 |
| | alfredo | Nov 2019 | #3 |
| | Kid Berwyn | Nov 2019 | #5 |
| | TryLogic | Nov 2019 | #2 |
| | Kid Berwyn | Nov 2019 | #6 |
| | Canoe52 | Nov 2019 | #4 |
| | Kid Berwyn | Nov 2019 | #7 |
| | moondust | Nov 2019 | #8 |
| | Kid Berwyn | Nov 2019 | #9 |
| | moondust | Nov 2019 | #10 |
---
Response to Kid Berwyn (Original post)
Sun Nov 17, 2019, 11:56 PM
groundloop (9,528 posts)
1. Good questions. Certainly tRump has done FAR more than just shake down Ukraine
I'm quite certain this Ukrainian scandal is just the tip of the iceberg when it comes to tRumps crimes. He's been at this for years, knows how to select fellow criminals, and is a master at intimidation and manipulation. It wouldn't surprise me in the least if it's proven that he's been using his hotels to launder money for the Russian mob.

---
Response to groundloop (Reply #1)
Mon Nov 18, 2019, 12:03 AM
alfredo (58,962 posts)
3. I just wonder how much classified material was passed frrom trump to Putin.
---
Response to groundloop (Reply #1)
Mon Nov 18, 2019, 12:02 PM
Kid Berwyn (4,840 posts)
5. Russia Trumps Ukraine
Trump's people — Giuliani, Volker, Sondland, plus Pompeo and Perry — worked to tilt US policy in Ukraine toward the corrupt bastards who looted the Treasury, privatized the resources, and ran the fledgling democracy into the ground. All that benefitted the Ukrainian and Russian oligarchs backed by Putin and served by Manafort. What should bug more people is that Trump and Moscow Mitch want to do to it to the United States.
Regarding the money laundry: Craig Unger's work lifted up the lid...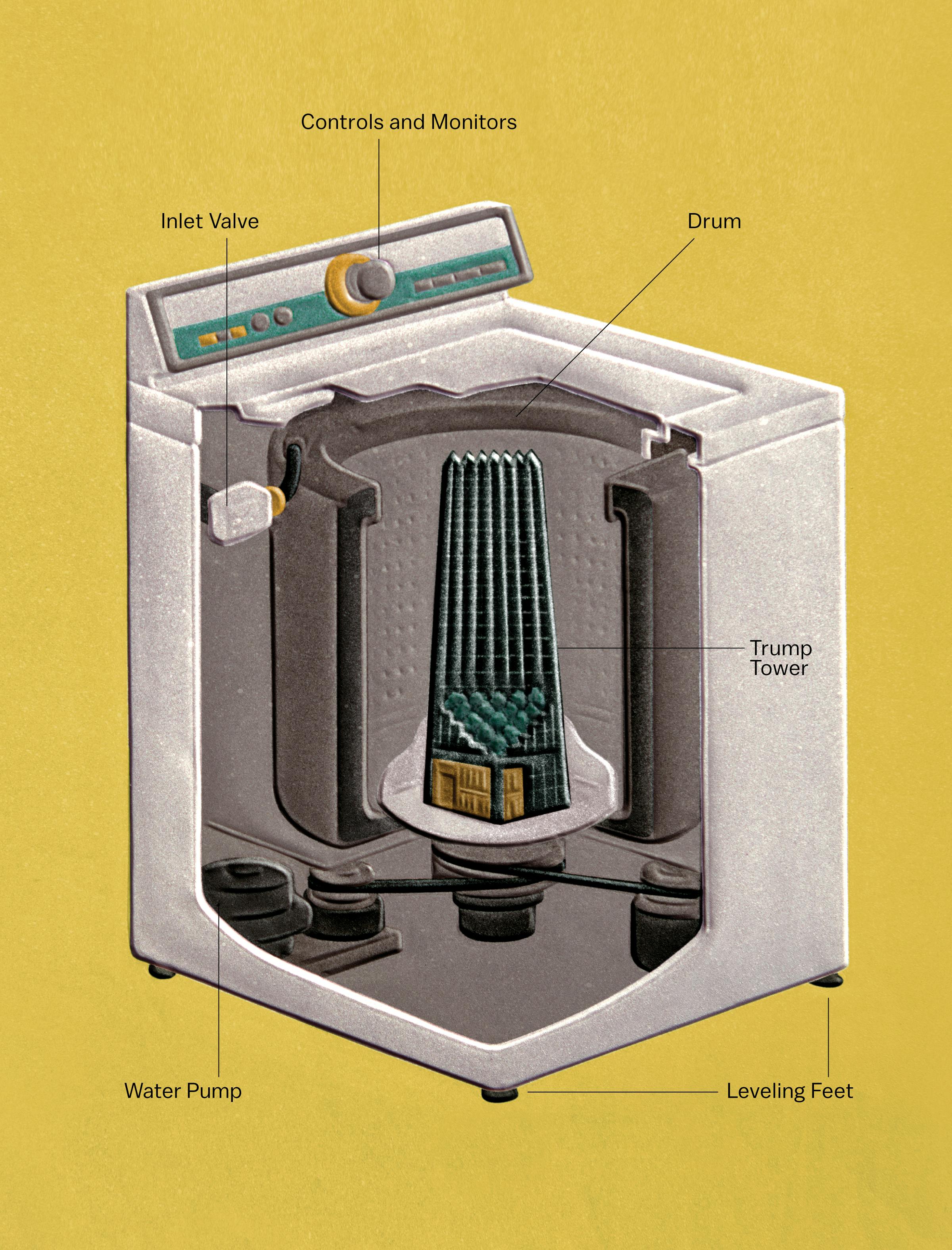 Trump's Russian Laundromat

How to use Trump Tower and other luxury high-rises to clean dirty money, run an international crime syndicate, and propel a failed real estate developer into the White House.
By CRAIG UNGER
The New Republic, July , 2017
Excerpt...
Trump made his first trip to Russia in 1987, only a few years before the collapse of the Soviet Union. Invited by Soviet Ambassador Yuri Dubinin, Trump was flown to Moscow and Leningrad—all expenses paid—to talk business with high-ups in the Soviet command. In The Art of the Deal, Trump recounted the lunch meeting with Dubinin that led to the trip. "One thing led to another," he wrote, "and now I'm talking about building a large luxury hotel, across the street from the Kremlin, in partnership with the Soviet government."
Over the years, Trump and his sons would try and fail five times to build a new Trump Tower in Moscow. But for Trump, what mattered most were the lucrative connections he had begun to make with the Kremlin—and with the wealthy Russians who would buy so many of his properties in the years to come. "Russians make up a pretty disproportionate cross section of a lot of our assets," Donald Trump Jr. boasted at a real estate conference in 2008. "We see a lot of money pouring in from Russia."
The money, illicit and otherwise, began to rain in earnest after the Soviet Union fell in 1991. President Boris Yeltsin's shift to a market economy was so abrupt that cash-rich gangsters and corrupt government officials were able to privatize and loot state-held assets in oil, coal, minerals, and banking. Yeltsin himself, in fact, would later describe Russia as "the biggest mafia state in the world." After Vladimir Putin succeeded Yeltsin as president, Russian intelligence effectively joined forces with the country's mobsters and oligarchs, allowing them to operate freely as long as they strengthen Putin's power and serve his personal financial interests. According to James Henry, a former chief economist at McKinsey & Company who consulted on the Panama Papers, some $1.3 trillion in illicit capital has poured out of Russia since the 1990s.
At the top of the sprawling criminal enterprise was Semion Mogilevich. Beginning in the early 1980s, according to the FBI, the short, squat Ukrainian was the key money-laundering contact for the Solntsevskaya Bratva, or Brotherhood, one of the richest criminal syndicates in the world. Before long, he was running a multibillion-dollar worldwide racket of his own. Mogilevich wasn't feared because he was the most violent gangster, but because he was reputedly the smartest. The FBI has credited the "brainy don," who holds a degree in economics from Lviv University, with a staggering range of crimes. He ran drug trafficking and prostitution rings on an international scale; in one characteristic deal, he bought a bankrupt airline to ship heroin from Southeast Asia into Europe. He used a jewelry business in Moscow and Budapest as a front for art that Russian gangsters stole from museums, churches, and synagogues all over Europe. He has also been accused of selling some $20 million in stolen weapons, including ground-to-air missiles and armored troop carriers, to Iran. "He uses this wealth and power to not only further his criminal enterprises," the FBI says, "but to influence governments and their economies."
In Russia, Mogilevich's influence reportedly reaches all the way to the top. In 2005, Alexander Litvinenko, a Russian intelligence agent who defected to London, recorded an interview with investigators detailing his inside knowledge of the Kremlin's ties to organized crime. "Mogilevich," he said in broken English, "have good relationship with Putin since 1994 or 1993." A year later Litvinenko was dead, apparently poisoned by agents of the Kremlin.
Continues...
https://newrepublic.com/article/143586/trumps-russian-laundromat-trump-tower-luxury-high-rises-dirty-money-international-crime-syndicate
---
Response to Kid Berwyn (Original post)
Mon Nov 18, 2019, 12:03 AM
TryLogic (1,466 posts)
2. Yes, where else?
These do look like strong possibilities:

Erik Prince and the Emirates?

Jared [Kushner] and the Saudis?
---
Response to TryLogic (Reply #2)
Mon Nov 18, 2019, 12:56 PM
Kid Berwyn (4,840 posts)
6. Prince at 2016 Trump Tower meeting: UAE and SA wanted to help elect Trump.
Erik Prince acknowledges attending 2016 Trump Tower meeting 'to talk about Iran policy'
BY BROOKE SEIPEL
The Hill - 03/08/19 07:42 PM EST
Erik Prince, the former head of Blackwater and brother of Education Secretary Betsy DeVos, has acknowledged that he was present at a key 2016 Trump Tower meeting.
In an interview on Al Jazeera's "Head to Head" that aired Friday, Prince said he was present at an Aug. 3, 2016, meeting at Trump Tower to "talk about Iran policy."
The New York Times reported last year that Prince organized a 2016 meeting at Trump Tower that included Donald Trump Jr. and Lebanese-American businessman George Nader. During that meeting, Nader reportedly said the United Arab Emirates and Saudi Arabia wanted to aid Trump in his bid for the White House.
Prince previously testified under oath to the House Intelligence Committee on Nov. 30, 2017, saying at the time that he had "no official" or "really unofficial role" in the Trump campaign and his only involvement in helping was attending fundraisers and placing yard signs.
"Head to Head" host Mehdi Hasan pressed Prince on why his presence at the meeting was apparently not part of his testimony to lawmakers, to which Prince suggested, "they got the transcript wrong," prompting laughter from the audience.
Continues...
https://thehill.com/policy/national-security/433311-erik-prince-acknowledges-attending-2016-trump-tower-meeting-to-talk
Gee. I'd forgotten all that. Thanks for the kind thought which led me to it, TryLogic!

Personally, I like Erik Prince. Guy served the nation in uniform. He's from Michigan.

What I don't like is the secret agenda stuff, which includes the "Who Benefits" information. When that includes profit, Trump and such like the Bushes, Cheneys and McConnells always seem to be there.


---
Response to Kid Berwyn (Original post)
Mon Nov 18, 2019, 12:09 AM
Canoe52 (2,762 posts)
4. Oh come on, you know Jr. "barely knew them"!
---
Response to Canoe52 (Reply #4)
Mon Nov 18, 2019, 01:41 PM
Kid Berwyn (4,840 posts)
7. Trump's "mind" can't help itself. Diagnosis: Selective Amnesia
Helps people never to know what crooks want to hide, a survival mechanism.
A Handy Pocket Guide:
Lest We Forget the Horrors:
A Catalogue of Trump's Worst Cruelties, Collusion's, Corruptions and Crimes
ATROCITY KEY
– Sexual Misconduct & Harassment
– White Supremacy
– Public Statements / Tweets
– Collusion with Russia & Obstruction of Justice
– Trump Staff /Administration
– Trump Family Business Dealings
– Policy
– Environment
https://www.mcsweeneys.net/articles/the-complete-listing-so-far-atrocities-1-546
---
Response to Kid Berwyn (Original post)
Mon Nov 18, 2019, 02:10 PM
moondust (16,548 posts)
8. South America
Although I'm not sure what the personal enrichment angle is down there. Maybe big oil kickbacks for VZ? Maybe Amazon rape kickbacks for Brazil and Bolivia? Chile?
---
Response to moondust (Reply #8)
Mon Nov 18, 2019, 08:26 PM
Kid Berwyn (4,840 posts)
9. Lithium in Bolivia.
The oil of the future. Evo Morales wanted Bolivians to benefit not only from its extraction, but wanted facilities to design and manufacture Li batteries for cars of the future built there.
One remaining problem, Li extraction requires a lot of water to process. The region where it's found is hyper-arid desert.
The new government will be open for business. The Worker's perspective:
Wall Street approves.
---
Response to Kid Berwyn (Reply #9)
Mon Nov 18, 2019, 08:46 PM
moondust (16,548 posts)
10. Ugh.