Sat Apr 4, 2020, 05:29 AM
octoberlib (13,644 posts)
Cover of NY Daily News "If only it were a muzzle"
Link to tweet
IF ONLY IT WERE A MUZZLE
Trump urges Americans to wear face masks in public to fight coronavirus — but says he 'won't be doing it'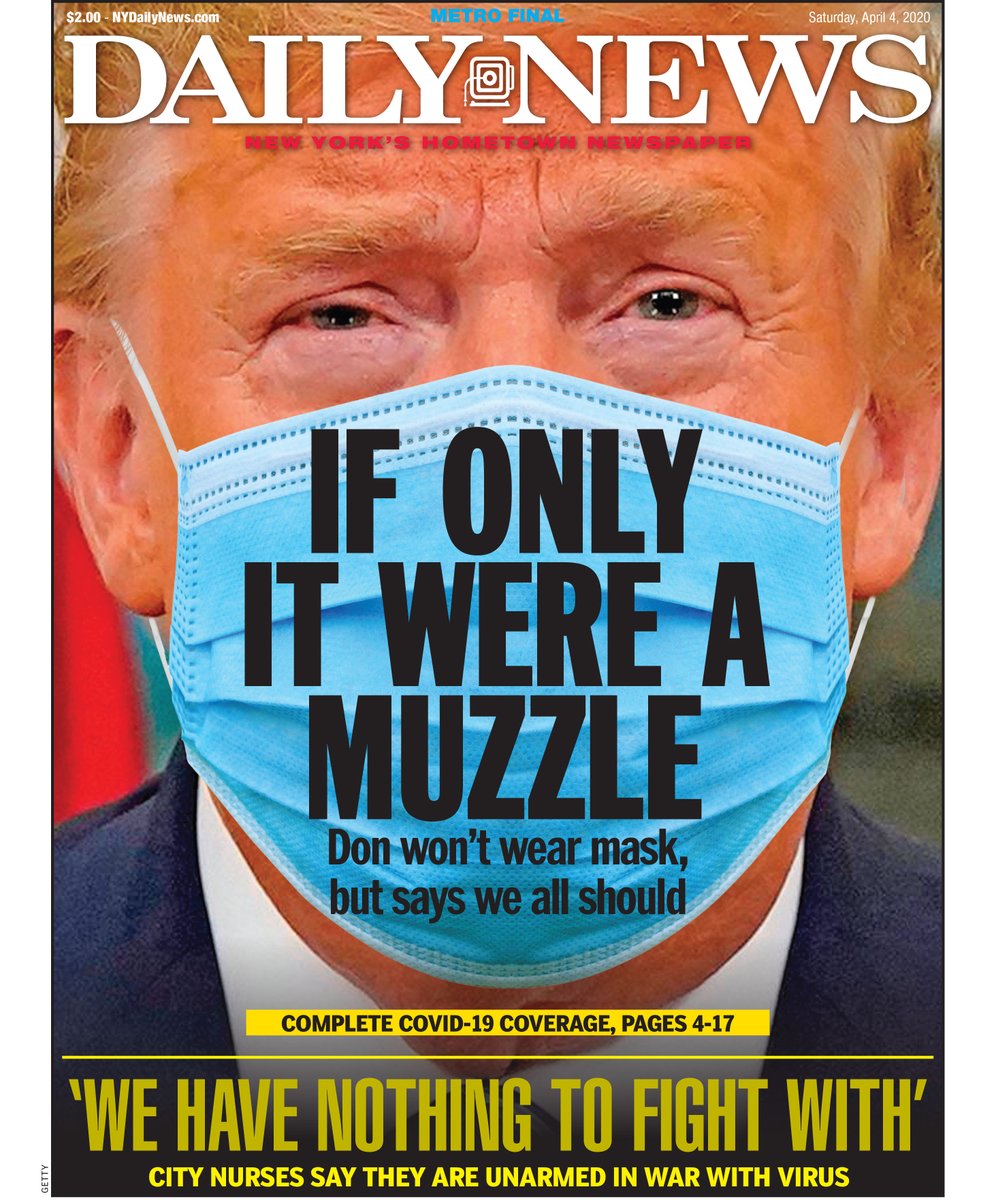 11 replies, 4920 views
Replies to this discussion thread
| | | | |
| --- | --- | --- | --- |
| 11 replies | Author | Time | Post |
| Cover of NY Daily News "If only it were a muzzle" (Original post) | octoberlib | Apr 2020 | OP |
| | Scarsdale | Apr 2020 | #1 |
| | barbtries | Apr 2020 | #2 |
| | TNNurse | Apr 2020 | #3 |
| | bdamomma | Apr 2020 | #4 |
| | mucifer | Apr 2020 | #5 |
| | bluevoter4life | Apr 2020 | #6 |
| | SammyWinstonJack | Apr 2020 | #7 |
| | Chainfire | Apr 2020 | #8 |
| | FormerDittoHead | Apr 2020 | #11 |
| | olegramps | Apr 2020 | #9 |
| | CaptYossarian | Apr 2020 | #10 |
---
Response to octoberlib (Original post)
Sat Apr 4, 2020, 05:47 AM
Scarsdale (9,426 posts)
1. He is loving the daily
TV shows, featuring HIM. These should be stopped, or have an announcement onscreen saying "This man did nothing, while the country was dying" It is PAST time he was faced with the truth. He CAUSED this pandemic to be so very much worse than it could have been, with competent leadership. He golfed while America suffered. Now anyone getting in his or Pence's orbit has to be tested. Great. Where did they get all THOSE test kits? Must be from the supplies that Jared claims are theirs, eh? He won't wear a mask and hide his awesomeness! I agree, he needs a GAG more than anything else. He has no clue as to what the presidency entails. He thought he just had to golf, hold rallies, sign anything put before him by the gop. He was NEVER intelligent enough for the job. The gop knew it, and are still protecting him. They OWN this huge mistake. Getting tax breaks for the wealthy, destroying many government agencies was wonderful for them and their rich donors. NOW look what has happened. The gop has shown once again that being in charge is beyond their capabilities. Usually they have a war, this time it is beyond their control. A virus can not be controlled, particularly when it is allowed to run rampant for months before anyone DOES anything to stop it. The SS Trumptanic is rudderless.
---
Response to octoberlib (Original post)
Sat Apr 4, 2020, 06:15 AM
barbtries (24,463 posts)
2. too late anyway.
i tried to order masks from amazon. won't get them until May or June. the one I could have received sooner it turned out they wouldn't let me buy because they were reserved for the federal government or health agencies. that's fine. I want health personnel to have the protective equipment they need. I'm staying home. But my son is going to work every day at a grocery store.

I have one mask, I asked him to wear it and he refused. so there's that.
---
Response to octoberlib (Original post)
Sat Apr 4, 2020, 06:43 AM
TNNurse (4,937 posts)
3. Does anyone care if Trump wears a mask????
---
Response to TNNurse (Reply #3)
Sat Apr 4, 2020, 06:45 AM
bdamomma (59,591 posts)
4. I think he should in
---
Response to TNNurse (Reply #3)
Sat Apr 4, 2020, 06:48 AM
mucifer (18,946 posts)
5. he's too evil to get the virus. he made a pact with the devil for money and power
---
Response to mucifer (Reply #5)
Sat Apr 4, 2020, 07:09 AM
bluevoter4life (737 posts)
6. Trump and Pence will never contract COVID-19
Hell, even viruses have standards who they infect.
---
Response to TNNurse (Reply #3)
Sat Apr 4, 2020, 07:26 AM
SammyWinstonJack (43,807 posts)
7. I certainly don't. I'd like someone to ask that Maggot what happened
to "we have it very much under control" to him now saying we should all wear masks.
---
Response to octoberlib (Original post)
Sat Apr 4, 2020, 07:29 AM
Chainfire (4,711 posts)
8. Trump is living proof
That there is no God. If there was, the bastard would be dying, connected to a broken ventilator, this morning.

He needs to be enshrined in a museum alongside statues of Pol Pot, Hitler, Stalin, and Vlad the Impaler.
---
Response to Chainfire (Reply #8)
Sat Apr 4, 2020, 08:35 AM
FormerDittoHead (5,152 posts)
11. Proof there is no Karma, either
Since 2016, I've given up on the concept of "karma" - I can see it's a magical fantasy that's less scientific than Astrology.

Check out the movie "Born Rich".

Trump's heirs will be living rich and playing with the powerful people, doing what they want to do without ever having to worry about money. They'll tell stories about how "dad what quite a character" and how much he was able to get the people to let him make so much money in a way that will be illegal in the near future...


---
Response to octoberlib (Original post)
Sat Apr 4, 2020, 08:14 AM
olegramps (7,939 posts)
9. Nov 3, 2020 can not come soon enough. My prayer is the defeat of every Republican for any office.
Republicans are a greater threat then this present affliction that we face. Their quest for absolute power is a deadly disease without any remedy. The present virus will be conquered, but the Republican Party is a plague that is far more deadly and fatal. It is the death of the soul. They have been transformed into zealots devoid of compassion and empathy. They are consumed by contempt, hatred and profound lack morality that has been justified by the quest for absolute control.

It is clearly evident that our trust in the those who occupy the office of the presidency to have a basic sense that they are entrusted with the welfare of every citizen has been totally destroyed by the present miscreant. The first order of business when this administration is hopefully defeated will be to severely limit the power of the office to abuse this trust. As has been shown the trust of the forefathers in impeachment for abuse of the office is not effective when a rouge party can block the removal of a person such as the abomination that presently disgraces it. It not only is ineffective, it has the worse effect in sanctioning even more intense abuse as has been demonstrated by this administration when removal failed.

The concept that executives in the federal government serve at the president's favor must be modified to be subject to removal solely by a 2/3 vote of both houses of congress. It should also be modified to not allow the appointment of temporary executives to avoid the confirmation process of the approval by the representatives of the citizens. The basic concept of the government that it is a government of the people, by the people and for the people has been shown to have been failure do to trust that can be totally abused by the tyrant who now occupies the highest office. This demands rectification with clear concise controls that will assure this will never be allowed to be repeated.
---
Response to octoberlib (Original post)
Sat Apr 4, 2020, 08:25 AM
CaptYossarian (6,330 posts)
10. Orange supremacists think they're invincible.
If so, why is there only one?