Fri May 1, 2020, 07:46 PM
Kid Berwyn (5,284 posts)
Trump destroying America for re-election.
That is NAZI.
INSTEAD OF DIRECTING THE POWERS OF THE STATE TO PROTECT THE AMERICAN PEOPLE, THEY ARE DIRECTED TO RE-ELECT AN EVIL AND UNSTABLE MORON.
More NAZI:
Our health care system compares to NAZI,
favoring the select few.
Our economy compares to NAZI,
favoring the few wealthy.
Our justice system compares to NAZI,
favoring those connected to the supreme corrupt figurehead.
Our future seems NAZI,
unless we do something about it.
8 replies, 998 views
Replies to this discussion thread
| | | | |
| --- | --- | --- | --- |
| 8 replies | Author | Time | Post |
| Trump destroying America for re-election. (Original post) | Kid Berwyn | May 2020 | OP |
| | Newest Reality | May 2020 | #1 |
| | Kid Berwyn | May 2020 | #4 |
| | struggle4progress | May 2020 | #2 |
| | Kid Berwyn | May 2020 | #5 |
| | Cartaphelius | May 2020 | #3 |
| | Kid Berwyn | May 2020 | #7 |
| | ooky | May 2020 | #6 |
| | Kid Berwyn | May 2020 | #8 |
---
Response to Kid Berwyn (Original post)
Fri May 1, 2020, 07:59 PM
Newest Reality (12,704 posts)
1. I see what you are saying...
The Nazi's were bad, brutal and ruthless. However, Hitler's impact on the German economy was a big improvement and a rescue. He then turned that prosperity into a war machine.
In our case, Twitler and the GOP is much worse than Nazi's and thank goodness they can't yet commit the atrocities that went with it...I said, yet. The scapegoating of immigrants and children separated from their parents and put in cages qualifies as an opening salvo.
By July 1935 almost seventeen million Germans were in brand new jobs, though they were not well paid by anyone's standards. But nevertheless, these jobs provided a living wage, compared with just eleven million Germans who were in employment just two years before.

In the space of four years, Nazi Germany changed from a defeated nation, a bankrupt economy, strangled by war debt, inflation and lack of foreign capital; into full employment with the strongest economy and biggest military power in Europe.
https://www.historyhit.com/nazi-germanys-economic-miracle/
They, Trump/GOP, are taking us DOWN not up and they don't even care for THEIR OWN PEOPLE, let alone the World.
---
Response to Newest Reality (Reply #1)
Fri May 1, 2020, 09:25 PM
Kid Berwyn (5,284 posts)
4. Absolutely agree. It hurts to write, but it's what's happening.
From ignoring the threat posed by COVID-19 to lying about testing to no organized strategy to undermining the authority of Michigan Governor Gretchen Whitmer, Trump has done everything possible to make the pandemic worse.
A letter from August 2019, before the current national emergency...
Here's how Trump and Hitler are alike
Updated: August 26, 2019
As a retired USAF officer raised in the 1940s Nazi occupied Netherlands, I believe I am uniquely qualified to assert that President Trump and Adolf Hitler share similar ideologies and use similar tactics for their own personal gain.
In order to solidify power, Hitler abolished the judiciary in Germany. President Trump is in the process of stacking the federal courts (including the Supreme Court) with judges who share his ideology. The same effect results — no justice.
Hitler had his concentration camps with Reinhard Heydrich to oversee them. Trump has his detention centers with Stephen Miller in charge. Same effect.
Hitler was a racist. Jews, gypsies, Slavs, homosexuals and the afflicted were sent to the camps. Trump's ban on Muslims, his tirade against four congresswomen of color who stood up to him, his rhetoric regarding Baltimore's black people — asserting that they are somehow subhuman — clearly brand him as a white supremacist racist.
Both Hitler and Trump demanded personal loyalty instead of loyalty to country and constitution.
The similarities are staggering and ominous. I draw these parallels because I was there then and I am here now, and I need to do what I can to prevent a repeat of the horrors of the past.
Frederik Weller, Sandy (Missouri)
Source:
https://www.sltrib.com/opinion/letters/2019/08/26/letter-heres-how-trump/
Not giving up. Ever.
As long as there are still at least two of us, Newest Reality, we still have a democracy.
---
Response to Kid Berwyn (Original post)
Fri May 1, 2020, 08:00 PM
struggle4progress (111,649 posts)
2. His lawyers in the Senate told us anything goes, as long as it helps his re-election
---
Response to struggle4progress (Reply #2)
Fri May 1, 2020, 09:30 PM
Kid Berwyn (5,284 posts)
5. Traitors...
...apart from Romney.

Before the Ukraine Affair, the only Republican in the House who read the Mueller Report called for Trump's impeachment.

Rather than hear him out, the GOP expelled him.
---
Response to Kid Berwyn (Original post)
Fri May 1, 2020, 08:09 PM
Cartaphelius (868 posts)
3. Don't neglect the
money component. I do believe this is his actual driving
motivation. His "Nazi" (he has a matched pair), are
Jarhead and Steven Miller.

He doesn't care about people. He only cares on he can
as much of their money as he can, at any expense and
any way possible.
This is the DU member formerly known as Cartaphelius.
---
Response to Cartaphelius (Reply #3)
Sat May 2, 2020, 12:39 AM
Kid Berwyn (5,284 posts)
7. Grabbing all they can, whenever they can.
With a back channel to their Number One Bud.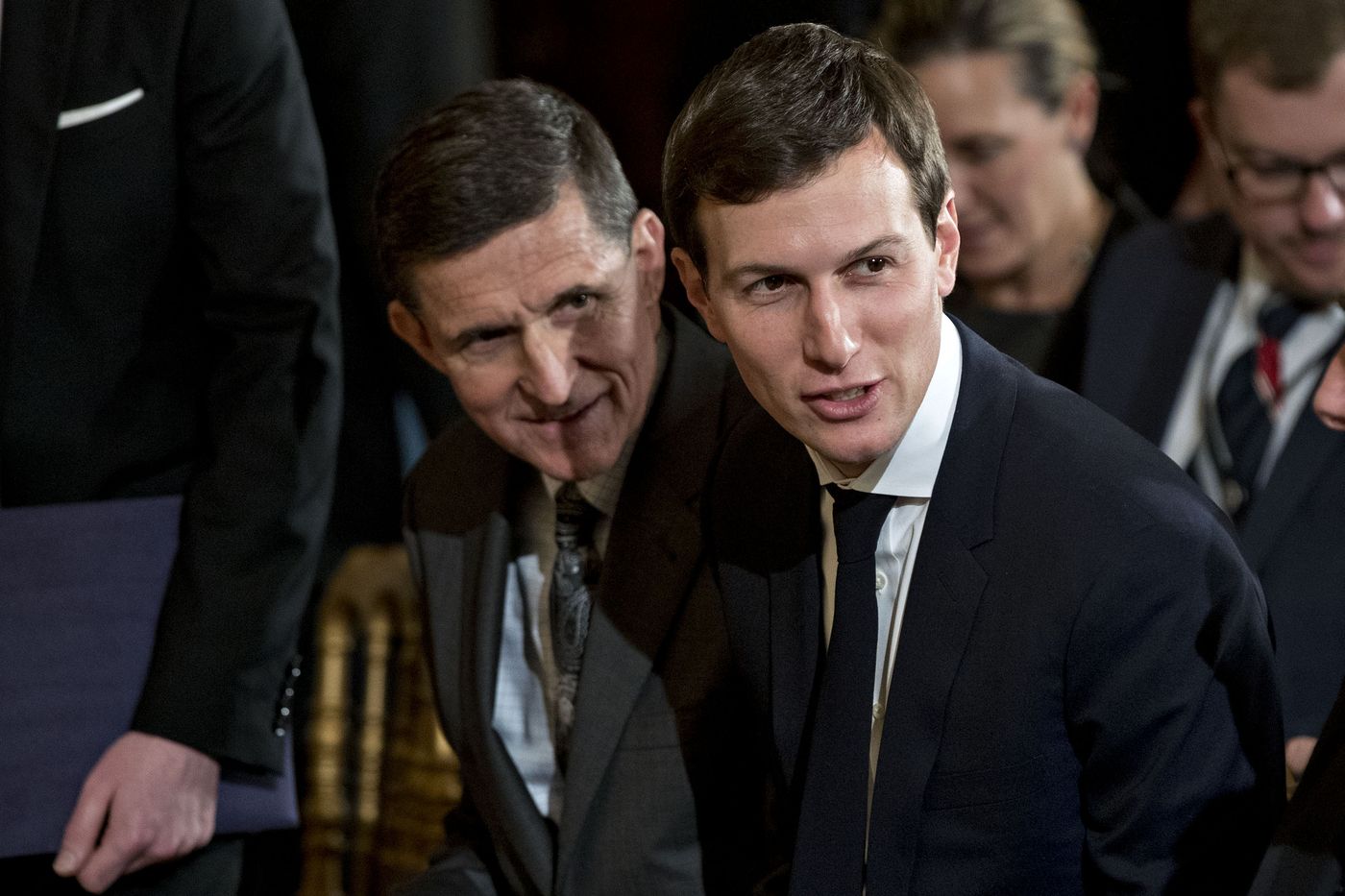 Excerpt...
Kushner and Flynn secretly met with Kislyak in Trump Tower on December 1, 2016. Last spring the Washington Post reported that Kushner proposed using Russian diplomatic facilities in the U.S. to establish a back channel for communication between the Trump transition and the Russian government. U.S. intelligence intercepted Kislyak describing the request to his superiors.
Kushner told Congress that Kislyak raised the idea, saying he wanted to convey information from his "generals" about the Syrian civil war, but needed a secure line. Kushner said he suggested going through the Russian embassy, but nothing came of it:
I believed developing a thoughtful approach on Syria was a very high priority given the ongoing humanitarian crisis, and I asked if they had an existing communications channel at his embassy we could use where they would be comfortable transmitting the information they wanted to relay to General Flynn. The Ambassador said that would not be possible and so we all agreed that we would receive this information after the Inauguration.
Continues...
https://nymag.com/intelligencer/2018/03/the-push-for-a-trump-russia-back-channel-what-we-know.html
---
Response to Kid Berwyn (Original post)
Fri May 1, 2020, 09:38 PM
ooky (5,517 posts)
6. Don't forget
ordering workers to choose between risking their lives to work in a Covid19 infested meat processing facility without proper protection or losing their unemployment benefits. That's NAZI.
This is the DU member formerly known as ooky.
---
Response to ooky (Reply #6)
Sat May 2, 2020, 10:11 AM
Kid Berwyn (5,284 posts)
8. Overclass considering others chattel is NAZI.
The Origins of the Overclass
By Steve Kansas (1961-1999)
The wealthy have always used many methods to accumulate wealth, but it was not until the mid-1970s that these methods coalesced into a superbly organized, cohesive and efficient machine. After 1975, it became greater than the sum of its parts, a smooth flowing organization of advocacy groups, lobbyists, think tanks, conservative foundations, and PR firms that hurtled the richest 1 percent into the stratosphere.
The origins of this machine, interestingly enough, can be traced back to the CIA. This is not to say the machine is a formal CIA operation, complete with code name and signed documents. (Although such evidence may yet surface — and previously unthinkable domestic operations such as MK-ULTRA, CHAOS and MOCKINGBIRD show this to be a distinct possibility.) But what we do know already indicts the CIA strongly enough. Its principle creators were Irving Kristol, Paul Weyrich, William Simon, Richard Mellon Scaife, Frank Shakespeare, William F. Buckley, Jr., the Rockefeller family, and more. Almost all the machine's creators had CIA backgrounds.
During the 1970s, these men would take the propaganda and operational techniques they had learned in the Cold War and apply them to the Class War. Therefore it is no surprise that the American version of the machine bears an uncanny resemblance to the foreign versions designed to fight communism. The CIA's expert and comprehensive organization of the business class would succeed beyond their wildest dreams. In 1975, the richest 1 percent owned 22 percent of America's wealth. By 1992, they would nearly double that, to 42 percent — the highest level of inequality in the 20th century.
How did this alliance start? The CIA has always recruited the nation's elite: millionaire businessmen, Wall Street brokers, members of the national news media, and Ivy League scholars. During World War II, General "Wild Bill" Donovan became chief of the Office of Strategic Services (OSS), the forerunner of the CIA. Donovan recruited so exclusively from the nation's rich and powerful that members eventually came to joke that "OSS" stood for "Oh, so social!"
Another early elite was Allen Dulles, who served as Director of the CIA from 1953 to 1961. Dulles was a senior partner at the Wall Street firm of Sullivan and Cromwell, which represented the Rockefeller empire and other mammoth trusts, corporations and cartels. He was also a board member of the J. Henry Schroeder Bank, with offices in Wall Street, London, Zurich and Hamburg. His financial interests across the world would become a conflict of interest when he became head of the CIA. Like Donavan, he would recruit exclusively from society's elite.
Continues...
http://www.huppi.com/kangaroo/L-overclass.html