Sat Sep 19, 2020, 10:42 AM
Maraya1969 (16,713 posts)
It is access to birth control that is responsible for decline in abortion rates, not draconian
laws that affect mostly poor women. If these Republicans really cared about stopping abortions they would be setting up programs for free contraception. But they do none of these things. Which makes me think they really don't care about the unborn but the really care about subjugating women.
Remember that even if Roe was overturned rich women would just fly to Canada to get an abortion. It would not affect them in the least.
And now that there are very long term birth control methods it is easier than ever to prevent pregnancies, if you have the money and access.
--------------------------------------------------------
https://www.cbsnews.com/news/study-free-birth-control-leads-to-way-fewer-abortions/
WASHINGTON Free birth control led to dramatically lower rates of abortions and teen births, a large study concluded Thursday. The findings were eagerly anticipated and come as a bitterly contested Obama administration policy is poised to offer similar coverage.
The project tracked more than 9,000 women in St. Louis, many of them poor or uninsured. They were given their choice of a range of contraceptive methods at no cost — from birth control pills to goof-proof options like the IUD or a matchstick-sized implant.
When price wasn't an issue, women flocked to the most effective contraceptives — the implanted options, which typically cost hundreds of dollars up-front to insert. These women experienced far fewer unintended pregnancies as a result, reported Dr. Jeffrey Peipert of Washington University in St. Louis in a study published Thursday.
The effect on teen pregnancy was striking: There were 6.3 births per 1,000 teenagers in the study. Compare that to a national rate of 34 births per 1,000 teens in 2010.
In fact, if the program were expanded, one abortion could be prevented for every 79 to 137 women given a free contraceptive choice, Peipert's team reported in the journal Obstetrics & Gynecology.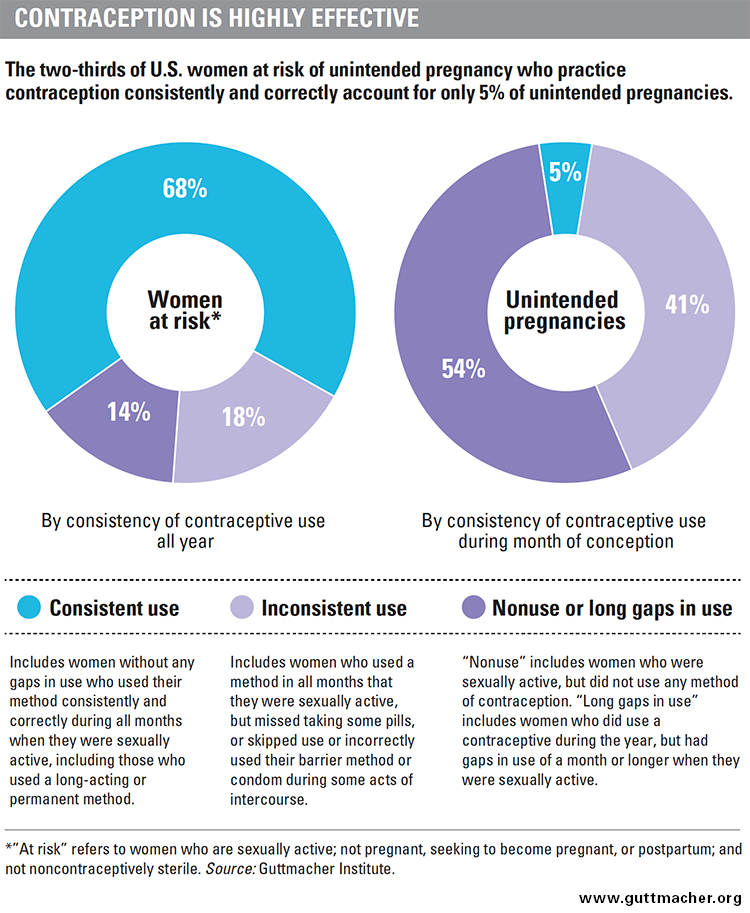 5 replies, 329 views
Replies to this discussion thread
| | | | |
| --- | --- | --- | --- |
| 5 replies | Author | Time | Post |
| It is access to birth control that is responsible for decline in abortion rates, not draconian (Original post) | Maraya1969 | Sep 19 | OP |
| | Mz Pip | Sep 19 | #1 |
| | lunasun | Sep 19 | #3 |
| | regnaD kciN | Sep 19 | #4 |
| | regnaD kciN | Sep 19 | #2 |
| | Maraya1969 | Sep 19 | #5 |
---
Response to Maraya1969 (Original post)
Sat Sep 19, 2020, 10:46 AM
Mz Pip (26,038 posts)
1. No need to fly to Canada
If Roe is overturned, the issue goes back to the States. The States that have made abortions nearly impossible will ban it. States like NY, CA, Blue States will keep it legal.

It will be a real legislative mess but abortion will still be legal in parts of the country.
---
Response to Mz Pip (Reply #1)
Sat Sep 19, 2020, 11:00 AM
lunasun (20,237 posts)
3. And it will still be wealthier women who can travel across states to get an abortion
The young poor women with barely enough $ to have the procedure won't be getting a free air ticket and place to stay from blue states .

Not so easy for those below middle class

Rich will pull out cash and go wherever
Middle class will pull out a credit card and follow
Working class and poor will often not have the kind of funds and transport to access out of state abortions

---
Response to Mz Pip (Reply #1)
Sat Sep 19, 2020, 11:02 AM
regnaD kciN (22,646 posts)
4. Not necessarily...
As I mention below, SCOTUS will have a conservative Roman Catholic majority and, if there's one thing conservative Roman Catholics LUUUUUV, it's Thomas Aquinas's concept of law, which puts a heavy emphasis on "natural law," which is basically "how God designed the world to work, as can be seen in nature," but which usually translates to "whatever we want to do."

In this case, I doubt the Court majority will stand for returning it to the states; rather, in overturning Roe, I would expect them to declare that "natural law" makes it self-evident that a fertilized ovum, if left to develop naturally, will became a human being, and that therefore it's "obvious" from natural law – and henceforth a judicial precedent – that human life begins at the moment of conception, which would make every single homicide law already on the books, whether state or federal, automatically apply to embryos and fetuses. There would be no way around it – as long as you had a single law that forbade ending another human's life, it would apply to abortion, and make it murder or manslaughter. And the only way to overturn that would be by a full constitutional amendment…which ain't happening.
---
Response to Maraya1969 (Original post)
Sat Sep 19, 2020, 10:52 AM
regnaD kciN (22,646 posts)
2. And, of course, it's an article of faith on the right...
...that banning surgical abortion is only the first step, and that outlawing contraception must come next.
I remember the days of the mid-'60s in Massachusetts, when the only way a woman could get contraception (and we're talking about diaphragms here) was to show the doctor and pharmacist both your marriage certificate AND a note from your husband saying he agreed with it. That's what lots of these Talibornagain (and especially the traditionalist Roman Catholics who are poised to make up a SCOTUS majority) want us to return to – where "good girls" keep their legs crossed until their wedding night and serve as their husband's brood mare thereafter, and "bad girls" get the shame and stigma they deserve.
---
Response to regnaD kciN (Reply #2)
Sat Sep 19, 2020, 11:41 AM
Maraya1969 (16,713 posts)
5. I remember my mother telling me about a friend of hers whose baby died in utero.
My mom said the woman had to carry the fetus to term, or to whenever it was expelled because it was against the law to remove it.

Do you think that was true or was my mom mistaken? I've only thought about that recently and what I have concluded is it would have been considered an abortion.

But I don't know.