Sat Apr 18, 2015, 06:30 AM
Cooley Hurd (26,877 posts)
Aircraft carrier that survived atomic blasts lies at bottom of Pacific
http://www.cnn.com/2015/04/17/us/sunken-navy-carrier-revealed/index.html
(CNN) A former U.S. Navy aircraft carrier that survived a Japanese torpedo strike and was a massive guinea pig for two atomic bomb blasts looks remarkably intact at the bottom of the Pacific, according to federal researchers who surveyed the wreck last month with an underwater drone.
The USS Independence was scuttled in January 1951 during weapons testing near California's Farallon Islands. Although its location was confirmed by a survey in 2009, researchers from the National Oceanic and Atmospheric Administration went looking for it again in March as part of a project to map about 300 wrecks that lie in and around the Gulf of the Farallones National Marine Sanctuary.
<snip>
NOAA's survey of the 623-foot-long, 11,000-ton carrier was conducted by the Echo Ranger, an 18.5-foot-long autonomous underwater vehicle provided by the Boeing Co. The Echo Ranger traveled 30 miles from its base in Half Moon Bay, California, and hovered 150 above the carrier, which lies 2,600 feet below the surface of the Pacific Ocean. The drone used a three-dimensional sonar system provided by Coda Octopus to get images that showed how well the warship has weathered 64 years in the deep.
"This ship fought a long, hard war in the Pacific and after the war was subjected to two atomic blasts that ripped through the ship. It is a reminder of the industrial might and skill of the 'greatest generation' that sent not only this ship, but their loved ones to war," Delgado said in the statement.
</snip>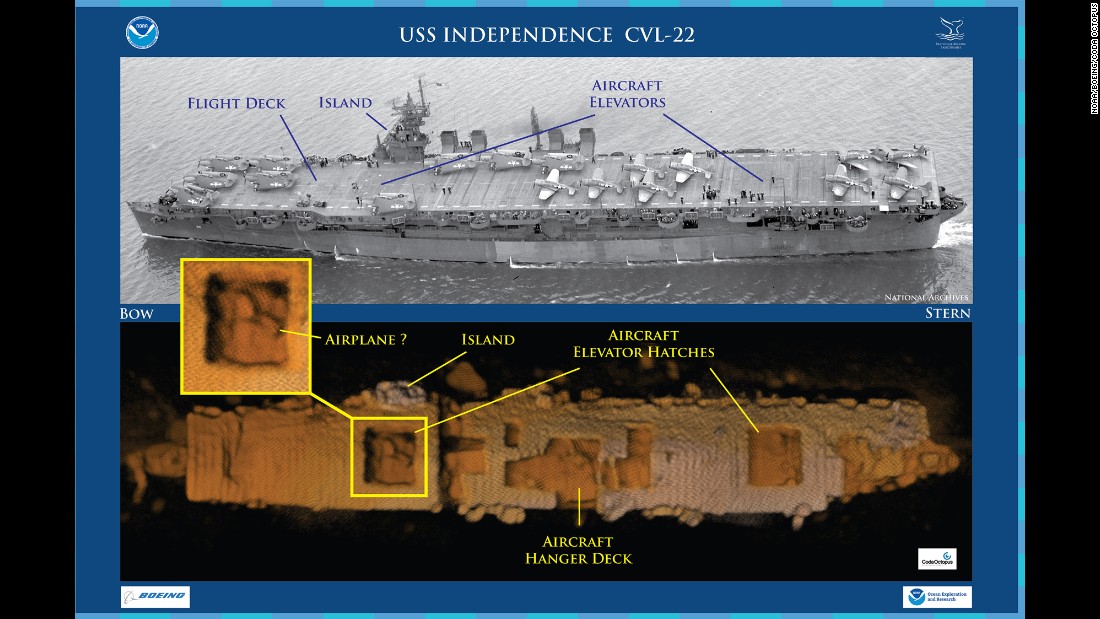 8 replies, 1519 views
Replies to this discussion thread
| | | | |
| --- | --- | --- | --- |
| 8 replies | Author | Time | Post |
| Aircraft carrier that survived atomic blasts lies at bottom of Pacific (Original post) | Cooley Hurd | Apr 2015 | OP |
| | SoLeftIAmRight | Apr 2015 | #1 |
| | SidDithers | Apr 2015 | #2 |
| | eppur_se_muova | Apr 2015 | #3 |
| | SoLeftIAmRight | Apr 2015 | #5 |
| | SidDithers | Apr 2015 | #6 |
| | SoLeftIAmRight | Apr 2015 | #7 |
| | Brother Buzz | Apr 2015 | #4 |
| | Eleanors38 | Apr 2015 | #8 |
---
Response to Cooley Hurd (Original post)
Sat Apr 18, 2015, 10:12 AM
SoLeftIAmRight (4,883 posts)
1. The war machine strikes again...
metals were very precious just a little before this. Recycling was the norm. War over and turn back to the waste is fine system.
---
Response to SoLeftIAmRight (Reply #1)
Sat Apr 18, 2015, 10:22 AM
SidDithers (44,052 posts)
2. Did you miss the part about 2 nuclear blasts?...
How exactly would you go about recycling 11,000 tons of irradiated steel?
Sid
---
Response to SidDithers (Reply #2)
Sat Apr 18, 2015, 10:37 AM
eppur_se_muova (32,401 posts)
3. Recycled steel from *older* ships is in special demand ...
precisely because it doesn't contain traces of radioactive isotopes that contaminate more recently-produced steel. Certain sensitive scientific instruments must be made from this old steel (or other old metals) because traces of radioactivity can interfere with their function.
http://en.wikipedia.org/wiki/Low-background_steel
---
Response to SidDithers (Reply #2)
Sat Apr 18, 2015, 11:27 AM
SoLeftIAmRight (4,883 posts)
5. a post like this is just what I would expect from you
a person that thinks would not have blasted them with nuclear weapons.

You can follow with we needed to know what big bomb for big boys would do.

Good luck with that crap. Science can calculate without the fireworks for sickos.
---
Response to SoLeftIAmRight (Reply #5)
Sat Apr 18, 2015, 12:16 PM
SidDithers (44,052 posts)
6. You should go back to being leftofleft again, 'cause you're not right...nt
---
---
Response to Cooley Hurd (Original post)
Sat Apr 18, 2015, 10:37 AM
Brother Buzz (28,723 posts)
4. I'm more concerned about the thousands of rusting radioactive 55 gallon steel drums dumped nearby
From 1946 to 1970, the sea around the Farallones was used as a nuclear dumping site for radioactive waste under the authority of the Atomic Energy Commission at a site known as the Farallon Island Nuclear Waste Dump. Most of the dumping took place before 1960, and all dumping of radioactive wastes by the United States was terminated in 1970. By then, 47,500 55 gallon steel drum containers had been dumped in the vicinity, with a total estimated radioactive activity of 14,500 Ci. The materials dumped were mostly laboratory materials containing traces of contamination. Much of the radioactivity had decayed by 1980.
44,000 containers were dumped at 37°37′N 123°17′W, and another 3,500 at 37°38′N 123°08′W.
Location shown on graphic does not match the lat and lon given for the two dumping sites. Lat and lon actually are further west by about 9 nm which places both sites off the continental shelf. This significantly changes the potential effects on the fishery and makes any mapping and recovery effort much harder.
The exact location of the containers and the potential hazard the containers pose to the environment are unknown. Attempts to remove the barrels would likely produce greater risk than leaving them undisturbed.
Waste containers were shipped to Hunters Point Shipyard, then loaded onto barges for transportation to the Farallones. Containers were weighted with concrete. Those that floated were sometimes shot with rifles to sink them.
In January 1951, the highly radioactive hull of USS Independence was scuttled in the area.
http://en.wikipedia.org/wiki/Farallon_Islands#Nuclear_waste_dump
---
Response to Cooley Hurd (Original post)
Sun Apr 19, 2015, 11:31 AM
Eleanors38 (18,318 posts)
8. If I recall, built on the unfinished hull of a heavy cruiser. Very tough ship...
Fast, decent armor and compartmentalization, good AA defense. Lacked only a hurricane bow.