Sat May 6, 2017, 08:59 AM
DonViejo (60,393 posts)
Trump warns he might not obey provisions on Guantanamo and pot in new spending law
MAY 05, 2017 7:04 PM
BY CAROL ROSENBERG AND FRANCO ORDOÑEZ
McClatchy Washington Bureau
President Donald Trump on Friday warned Congress that he might release detainees now held at the Guantánamo Bay detention center for suspected terrorists, despite legislation that prohibits transfers of prisoners.
He also warned that he would not feel bound by a restriction in a new spending law that prohibits the expenditure of funds to enforce federal marijuana laws in states where pot is legal for medical purposes.
In his statement, Trump noted that the spending bill Congress passed this week contained restrictions on transfers of Guantánamo detainees to both the United States and other countries, but provided no exceptions, even in cases of a court ordering a detainee's release.
"I will treat these, and similar provisions, consistently with my constitutional authority as Commander in Chief," Trump said. He made a similar observation about the limit on enforcing federal marijuana laws. "I will treat this provision consistently with my constitutional responsibility to take care that the laws be faithfully executed," he said.
Marijuana is illegal under federal law, but 28 states permit its use as medicine.
Read more here:
http://www.mcclatchydc.com/news/politics-government/white-house/article148944424.html#storylink=cpy
3 replies, 1926 views
Replies to this discussion thread
| | | | |
| --- | --- | --- | --- |
| 3 replies | Author | Time | Post |
| Trump warns he might not obey provisions on Guantanamo and pot in new spending law (Original post) | DonViejo | May 2017 | OP |
| | Proud Liberal Dem | May 2017 | #1 |
| | Achilleaze | May 2017 | #2 |
| | 2naSalit | May 2017 | #3 |
---
Response to DonViejo (Original post)
Sat May 6, 2017, 09:08 AM
Proud Liberal Dem (20,972 posts)
1. This is a rare time
That I happen to agree w/Trump, at least in terms of Gitmo. We really do need to empty it out (and shutter it period).
---
Response to DonViejo (Original post)
Sat May 6, 2017, 09:34 AM
Achilleaze (14,424 posts)
2. Did you ever notice that the republican Draft-Dodger-in-Chief has a bigly inflated
freaky fetish image of himself as "KGOPee Commander"?
Not just sad, truly sick.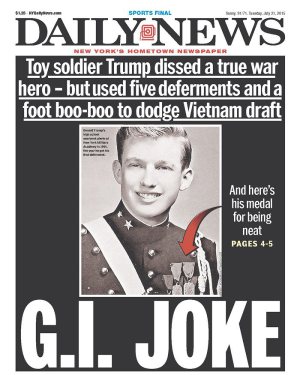 ---
Response to Achilleaze (Reply #2)
Sat May 6, 2017, 10:24 AM
2naSalit (50,041 posts)
3. +10000000000000000000!