Mon May 17, 2021, 07:56 PM
Omaha Steve (80,042 posts)
Alabama governor signs medical marijuana legislation
Source:
AP
By KIM CHANDLER
MONTGOMERY, Ala. (AP) — Alabama Gov. Kay Ivey signed medical marijuana legislation Monday as conservative opposition to the issue gradually faded after decades of debate.
The program will allow people with one of 16 qualifying medical conditions, including cancer, a terminal illness and depression, to purchase medical marijuana with the recommendation of a doctor. The approval came eight years after a medical marijuana bill in 2013 won that year's so-called "Shroud Award" for the "deadest" bill of the year in the House of Representatives.
Ivey called signing the bill an "important first step" and thanked the sponsors, of the bill for their work. While the bill takes effect immediately, the bill sponsor estimated it will be about 15 months or so before medical marijuana is available in the state.
"This is certainly a sensitive and emotional issue and something that is continually being studied. On the state level, we have had a study group that has looked closely at this issue, and I am interested in the potential good medical cannabis can have for those with chronic illnesses or what it can do to improve the quality of life of those in their final days," Ivey said.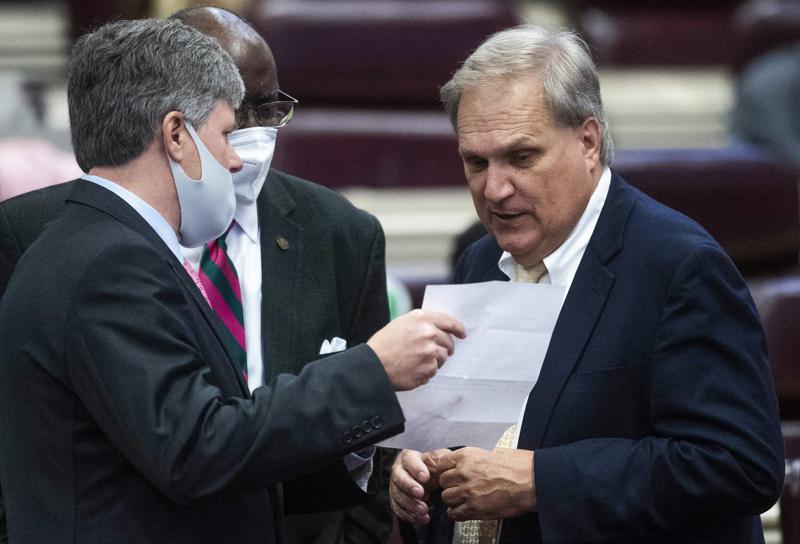 Rep. David Faulkner, from left, and Rep. Thomas Jackson talk with Sen. Tim Melson during a debate on the Medical Cannabis bill in the House chamber at the Alabama Statehouse in Montgomery, Ala., on Thursday May 6, 2021. (Mickey Welsh/The Montgomery Advertiser via AP)
Read more:
https://apnews.com/article/alabama-medical-marijuana-marijuana-legislation-health-6ca7b3d0a92e1bc2910fc5e4f1612705
3 replies, 816 views
Replies to this discussion thread
| | | | |
| --- | --- | --- | --- |
| 3 replies | Author | Time | Post |
| Alabama governor signs medical marijuana legislation (Original post) | Omaha Steve | May 17 | OP |
| | Warpy | May 17 | #1 |
| | Python boot | May 18 | #2 |
| | twodogsbarking | May 18 | #3 |
---
Response to Omaha Steve (Original post)
Mon May 17, 2021, 08:14 PM
Warpy (100,473 posts)
1. Good for them
We had MM law on the books in NM in the 70s, but the lege dragged their feet on doing anything to set up an acrual infrastructure until a little over a decade ago. Recreational cannabis went through this spring, meaning we'll actually get it next fall when the crop comes in.

Yes, they wanted anything sold to be grown here.
---
Response to Omaha Steve (Original post)
Tue May 18, 2021, 04:42 AM
Python boot (58 posts)
2. Federal Schedule of Narcotics
If rational people agree that cannabis has medical value, then it should be removed from thefederal schedule of narcotics.
---
Response to Omaha Steve (Original post)
Tue May 18, 2021, 08:58 AM
twodogsbarking (1,096 posts)
3. You can't overdose on ganja
but give it your best try.