Tue May 28, 2019, 06:46 AM
hatrack (52,551 posts)
We've Created A Human Civilization Hell-Bent On Destroying Itself
EDIT
I was born in the early 1970s. This means in my lifetime the number of people on Earth has doubled, while the size of wild animal populations has been reduced by 60 percent. Humanity has swung a wrecking ball through the biosphere. We have chopped down over half of the world's rainforests and by the middle of this century there may not be much more than a quarter left. This has been accompanied by a massive loss in biodiversity, such that the biosphere may be entering one of the great mass extinction events in the history of life on Earth.
What makes this even more disturbing, is that these impacts are as yet largely unaffected by climate change. Climate change is the ghosts of impacts future. It has the potential to ratchet up whatever humans have done to even higher levels. Credible assessments conclude that one in six species are threatened with extinction if climate change continues. The scientific community has been sounding the alarm over climate change for decades. The political and economic response has been at best sluggish. We know that in order to avoid the worst impacts of climate change, we need to rapidly reduce emissions now.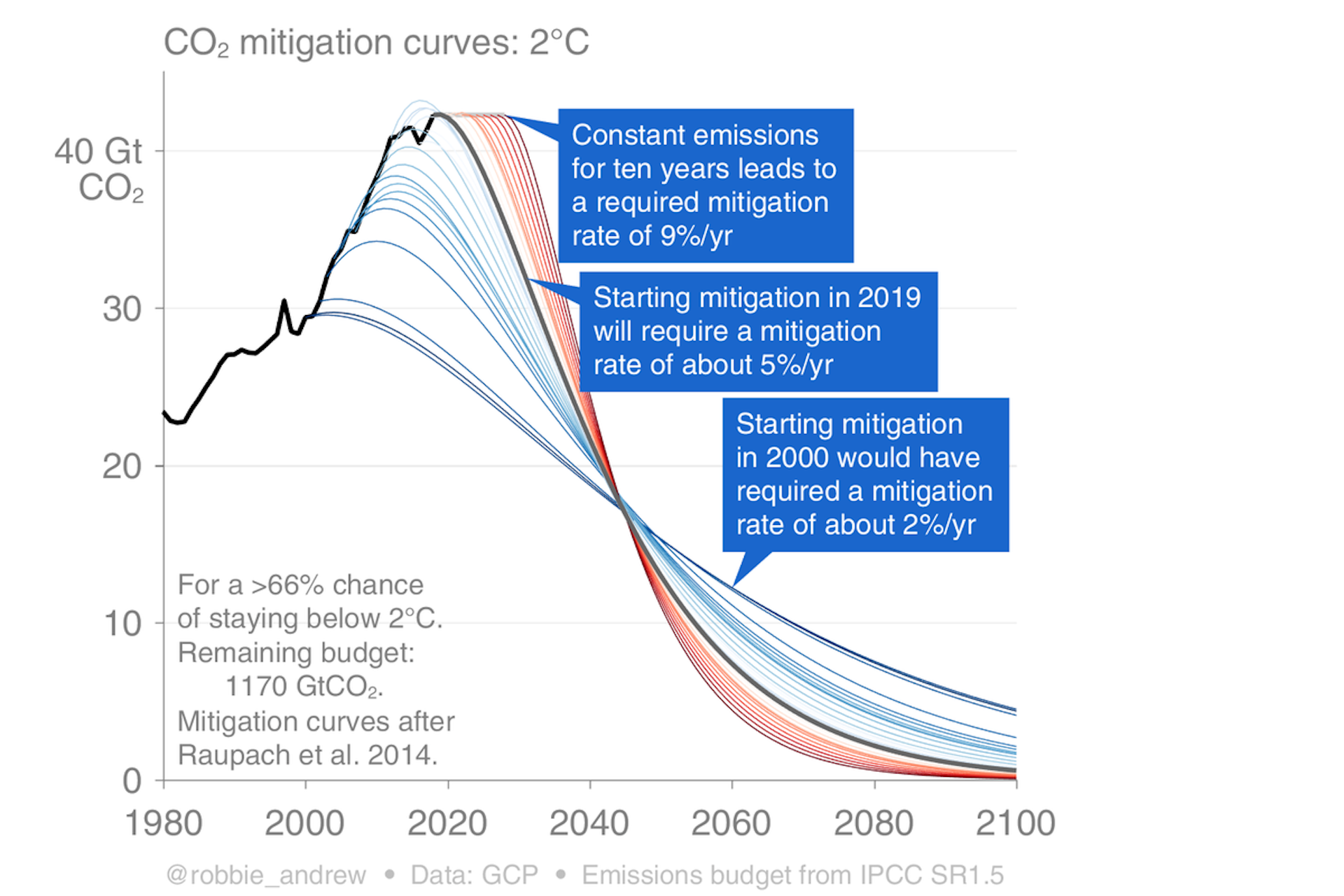 ?ixlib=rb-1.1.0&q=45&auto=format&w=754&fit=clip
Required emissions reductions to limit warming to 2°C. Credit: Robbie Andrew
EDIT
It seems sensible to assume that the reason products and services are made is so that they can be bought and sold and so the makers can turn a profit. So the drive for innovation — for faster, smaller phones, for example — is driven by being able to make more money by selling more phones. In line with this, the environmental writer George Monbiot argued that the root cause of climate change and other environmental calamities is capitalism and consequently any attempt to reduce greenhouse gas emissions will ultimately fail if we allow capitalism to continue. But zooming out from the toil of individual manufacturers, and even humanity, allows us to take a fundamentally different perspective, one that transcends critiques of capitalism and other forms of government.
Humans consume. In the first instance, we must eat and drink in order to maintain our metabolism, to stay alive. Beyond that, we need shelter and protection from physical elements. There are also the things we need to perform our different jobs and activities and to travel to and from our jobs and activities. And beyond that is more discretional consumption: TVs, games consoles, jewellery, fashion. The purpose of humans in this context is to consume products and services. The more we consume, the more materials will be extracted from the Earth, and the more energy resources consumed, the more factories and infrastructure built. And ultimately, the more the technosphere will grow.
The emergence and development of capitalism obviously lead to the growth of the technosphere: the application of markets and legal systems allows increased consumption and so growth. But other political systems may serve the same purpose, with varying degrees of success. Recall the industrial output and environmental pollution of the former Soviet Union. In the modern world, all that matters is growth.
EDIT
https://www.desmogblog.com/2019/05/26/op-ed-climate-change-civilization-hell-bent-destroying-itself-james-dyke
4 replies, 1131 views
Replies to this discussion thread
| | | | |
| --- | --- | --- | --- |
| 4 replies | Author | Time | Post |
| We've Created A Human Civilization Hell-Bent On Destroying Itself (Original post) | hatrack | May 2019 | OP |
| | ladjf | May 2019 | #1 |
| | democratisphere | May 2019 | #2 |
| | Locrian | May 2019 | #3 |
| | Igel | May 2019 | #4 |
---
Response to hatrack (Original post)
Tue May 28, 2019, 07:44 AM
ladjf (17,320 posts)
1. I agree with the OP.
How could an animal with opportunities and talent that have be given to the human race make such a mess out of their existence? My theory is that rampant greed and ego has overruled intellect, causing them to disregard the future for the sake of short term gains.



---
Response to ladjf (Reply #1)
Tue May 28, 2019, 08:13 AM
democratisphere (17,235 posts)
2. Totally agree with you and the OP.
Homo sapiens is a failed species from insatiable greed, overpopulation and a complete lack of concern for future generations, including protection of the environments and resources of this planet. Our near-term extinction is not probable, but inevitable.
---
Response to ladjf (Reply #1)
Tue May 28, 2019, 11:14 AM
Locrian (4,307 posts)
3. we still have not evolved to be "long term"
and probably won't.....

two things
* cheap energy in the form of fossil fuels allowed us to expand at an unchecked rate
* monetary system / capitalism that drives a continuing "growth" mentality

so now we have come to the point that we are all completely dependent on a system of cheap energy, ever expanding "economy" based on infinite growth, and we've hit the walls of the little petri dish we call earth.

the dynamics of turning that around, changing attitudes, economies, etc do not give me much confidence we're going to make it.
---
Response to Locrian (Reply #3)
Tue May 28, 2019, 06:53 PM
Igel (31,554 posts)
4. The OP managed to get past ideology.
That's a good thing.
"Capitalism" likes growth. But so do other economic systems.
You want one that has a sharp drop-off in carbon emission, you get the socialism of Venezuela with its economic crash, or late-stage Soviet socialism in the '80s that led into the crash of the '90s. North Korea had dropping carbon emissions. But those aren't because of ideology, and nobody views those things as "progressive".
One can be pro-environment.
One can be anti-capitalist.
The danger is seeing them as biunique, assuming there's an "if and only if" when there isn't one there. That if you're one, you're necessarily the other, because *the* thing that hurts the environment is capitalism. It's an easy conclusion, because we don't have our noses rubbed in the information that dissuades us from that conclusion and because that conclusion is often exactly the conclusion we want to reach--two problems that feed bias and reinforce each other.
Some pre-Columbian New World civilizations trashed their environment and drove species to extinction. Some Old World cultures produced toxic sites back in the pre-capitalist Bronze Age. What we see is a correlation: Capitalism has produced large-scale problems not because only capitalism causes problems but because capitalism produced large-scale enterprises. Similarly, 20th century wars and genocides were catastrophic and at time genocidal not because capitalism and modernity led to more wars and genocide but because we had economies of scale in large conflicts, when genocides and smaller wars were much more common in previous centuries (and in civilizations far removed from anything resembling "capitalism&quot
. But just as there are whitebread American myths about virtuous leaders and a romanticized past, so other peoples romanticize their past to produce a kind of non-American exceptional quality that makes their identities superior.