Thu May 6, 2021, 04:10 AM
Judi Lynn (148,001 posts)
Ancient Maya Made Widespread Changes to Wetland Landscape
A system of canals 2 millennia old sustained a local population after the collapse of its neighbors, and it continues to affect local ecology today.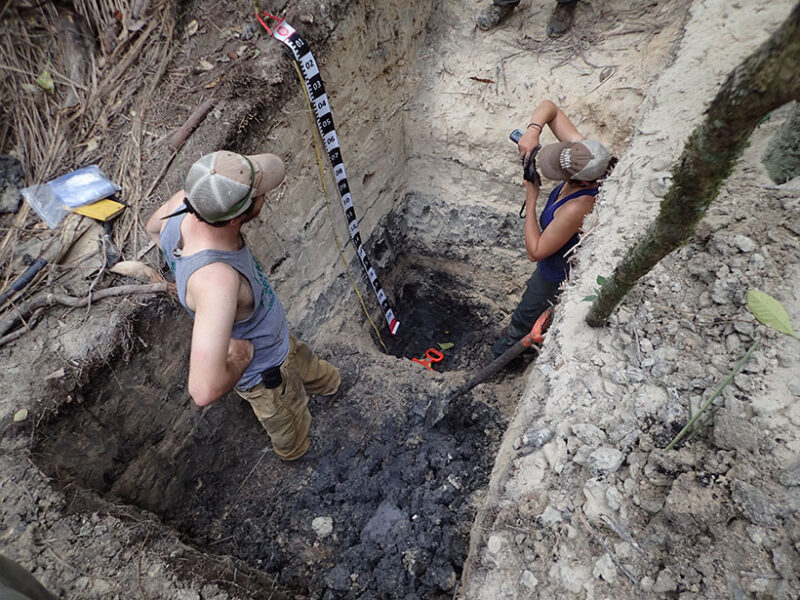 Researcher Samantha Krause and Ph.D. student Colin Doyle excavate a causeway built in the Birds of Paradise wetlands. Credit: Beach Labs/UT Austin
By Joshua Rapp Learn 19 hours ago
Past and present human societies have deep connections to wetlands. The ancient Maya, a civilization that arose in Mesoamerica thousands of years ago, had extensive links to tropical wetlands, which they efficiently managed to mitigate drought and grow such crops as squash, maize, avocado, and other fruits.
In a new study published in Anthropocene, Samantha Krause and her coauthors provide evidence that the Maya made large-scale changes to wetland ecosystems around their communities about 2,000 years ago. They began building canals and causeways to manage a complex agricultural system that likely fed the surrounding regions and provided resiliency during drought. These changes had a lasting impact on the landscape even today in what is now northwestern Belize.
"They found ways to engineer their environment to maximize their food production," said Sheryl Luzzadder-Beach, a geographer at the University of Texas at Austin and lead author of the study.
Ancient Soil and Water Management
Luzzadder-Beach and her coauthors were interested in the ways the ancient Maya managed the soil and water of their environment to sustain their people while simultaneously coping with the local climate. Building upon their previous research that demonstrated extensive ancient Maya wetland agroecosystems, the authors used lidar scans and excavations at the Birds of Paradise wetland field complex. They discovered that the Maya had begun creating a system of canals to distribute water to crops and manage water chemistry starting about 2,100 years ago. By roughly the 5th century CE, they had built a causeway to give access to the various blocks of crops and help regulate water flow between them. Just 3 centuries later, the Maya were conducting more widespread land clearing and canal building.
"It's very distinct in terms of how it was built and maintained," Luzzadder-Beach said.
The authors were able to reveal that different blocks of farmland held crops like maize, cassava, avocado, medicinal plants, and fruits by conducting chemical analysis of pollen, charcoal, mollusk shells, and carbon isotopic ratios of soil. Timothy Beach, a geographer at the University of Texas at Austin and a coauthor on the study, added that these squares of crops in the Birds of Paradise wetlands also provided "protein traps" for edible mollusks like clams and mussels.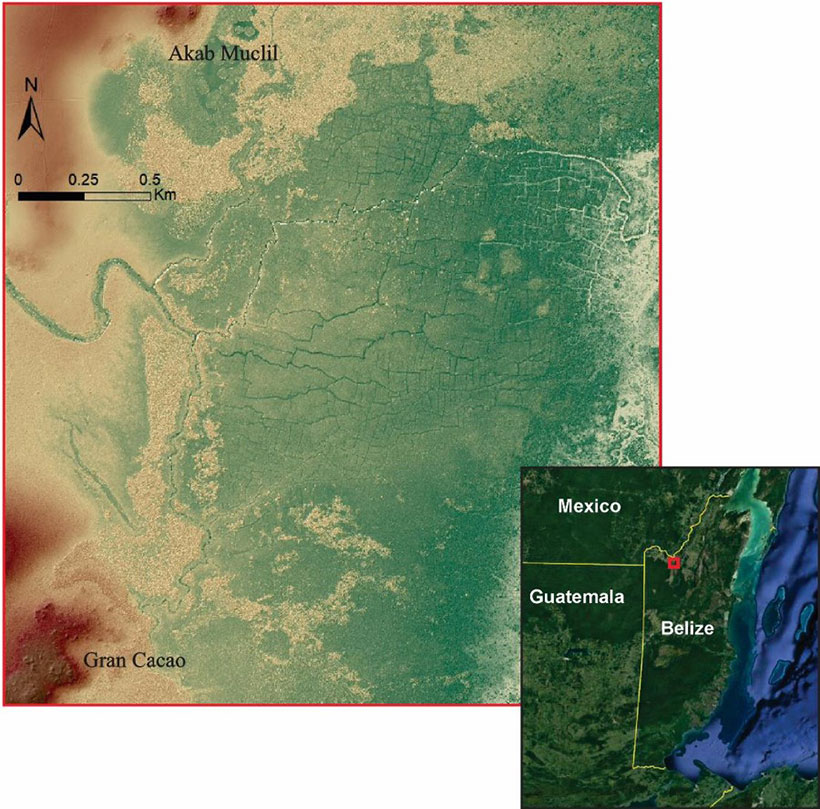 More:
https://eos.org/articles/ancient-maya-made-widespread-changes-to-wetland-landscape
~ ~ ~
Ancient Maya wetland fields revealed under tropical forest canopy from laser scanning and multiproxy evidence
View ORCID ProfileTimothy Beach, Sheryl Luzzadder-Beach, Samantha Krause, Tom Guderjan, Fred Valdez Jr., Juan Carlos Fernandez-Diaz, Sara Eshleman, and Colin Doyle
PNAS October 22, 2019 116 (43) 21469-21477; first published October 7, 2019;
https://doi.org/10.1073/pnas.1910553116
Edited by Jeremy A. Sabloff, Santa Fe Institute, Santa Fe, NM, and approved September 4, 2019 (received for review June 21, 2019)
Significance
Understanding agricultural subsistence is vital for understanding past complex societies. Lidar data are indicating widespread ancient Maya infrastructure. Wetland agriculture was crucial to ancient cultures, but no previous study coupled lidar with multiproxy evidence to demonstrate the extent and uses of Maya wetland fields. We conducted a lidar survey around wetlands that multiple use proxies established were ancient Maya polycultural systems. Lidar indicated the Birds of Paradise (BOP) wetland field complex was five times larger than we had previously mapped and identified an even larger wetland agroecosystem. We ground-verified the BOP fields through excavations and dating, creating a study to couple these multiproxy data with lidar, thereby demonstrating widespread ancient Maya wetland agroecosystems.
Abstract
We report on a large area of ancient Maya wetland field systems in Belize, Central America, based on airborne lidar survey coupled with multiple proxies and radiocarbon dates that reveal ancient field uses and chronology. The lidar survey indicated four main areas of wetland complexes, including the Birds of Paradise wetland field complex that is five times larger than earlier remote and ground survey had indicated, and revealed a previously unknown wetland field complex that is even larger. The field systems date mainly to the Maya Late and Terminal Classic (∼1,400–1,000 y ago), but with evidence from as early as the Late Preclassic (∼1,800 y ago) and as late as the Early Postclassic (∼900 y ago). Previous study showed that these were polycultural systems that grew typical ancient Maya crops including maize, arrowroot, squash, avocado, and other fruits and harvested fauna. The wetland fields were active at a time of population expansion, landscape alteration, and droughts and could have been adaptations to all of these major shifts in Maya civilization. These wetland-farming systems add to the evidence for early and extensive human impacts on the global tropics. Broader evidence suggests a wide distribution of wetland agroecosystems across the Maya Lowlands and Americas, and we hypothesize the increase of atmospheric carbon dioxide and methane from burning, preparing, and maintaining these field systems contributed to the Early Anthropocene.
More:
https://www.pnas.org/content/116/43/21469
Also posted in Anthropology:
https://www.democraticunderground.com/12297038
1 replies, 367 views
Replies to this discussion thread
| | | | |
| --- | --- | --- | --- |
| 1 replies | Author | Time | Post |
| Ancient Maya Made Widespread Changes to Wetland Landscape (Original post) | Judi Lynn | May 6 | OP |
| | Name removed | May 6 | #1 |
---