Sat Mar 18, 2023, 06:50 PM
NNadir (31,082 posts)
Multicompartment Depletion Factors for Water Consumption on a Global Scale
I won't have very much time to discuss this paper:
Multicompartment Depletion Factors for Water Consumption on a Global Scale
Eleonore Pierrat, Martin Dorber, Inge de Graaf, Alexis Laurent, Michael Z. Hauschild, Martin Rygaard, and Valerio Barbarossa
Environmental Science & Technology
2023 57 (10), 4318-4331.
I'm heading to a scientific conference tomorrow and am really pressed for time, but I thought I'd point the paper out, and offer some graphics, as our boom and bust extreme weather with respect to water gets wilder as we continue to do nothing meaningful other than engage in jaw boning and wishful thinking to address climate change.
From the introductory text:
Currently, half of the global population lives in water-scarce areas, and this number is likely to increase by 2050. (1) On the one hand, humans depend on freshwater for industrial, domestic, and agricultural uses. On the other hand, human well-being also relies on healthy terrestrial and freshwater ecosystems and ecosystem services. (2) In many areas, human activities already extract freshwater at levels that put affected ecosystems at risk, and global water demand for all uses is predicted to increase by up to 30% by 2050. (3−5) Flow alteration, e.g., by dam construction and water consumption, is one persistent threat to aquatic biodiversity. (6) Water consumption has also been linked to the loss of terrestrial species, e.g., terrestrial mammals, birds, amphibians, and plants. (7,8) A sustainable management of water resources is required, calling for a balance between anthropogenic water consumption and water availability to sustain human development while safeguarding ecosystems. (9)

New integrated approaches and tools are needed to address the challenges posed by multiple, and often conflicting, water needs for humans and ecosystems. (10) Several tools and methods have already been proposed to tackle these issues, including water footprinting, (9,11) planetary boundaries, (12) integrated water resource management, (13) life cycle assessment (LCA), (14−16) and environmentally-extended multi-regional input–output analysis. (17) The integrated nature of hydrological systems requires that the assessment of environmental impacts of water consumption differentiates between water compartments to reflect distributions and renewability levels among water sources. (18) Different compartments interact with varying strengths and over a wide range of geographical and temporal scales with other components of the Earth system, such as the atmosphere, biosphere, and lithosphere. Evaluating the ecological impacts of water management decisions, therefore, requires accounting for the hydrologic processes that determine the relationships between surface and subsurface waters, as surface water, soil water, and groundwater influence one another. (19) Existing life cycle impact assessment (LCIA) models for freshwater consumption characterize the associated damages to ecosystems and human health. (8,14,20−24) However, the interlinkages across water compartments are rarely considered, except for a few studies modeling the recycling and transfer of evapotranspiration and LCIA models quantifying potential impacts on ecosystems...
Some evocative graphics follow.
The first gives references to the various interplay of factors effecting the water supply and environmental and ecological consequences of those factors.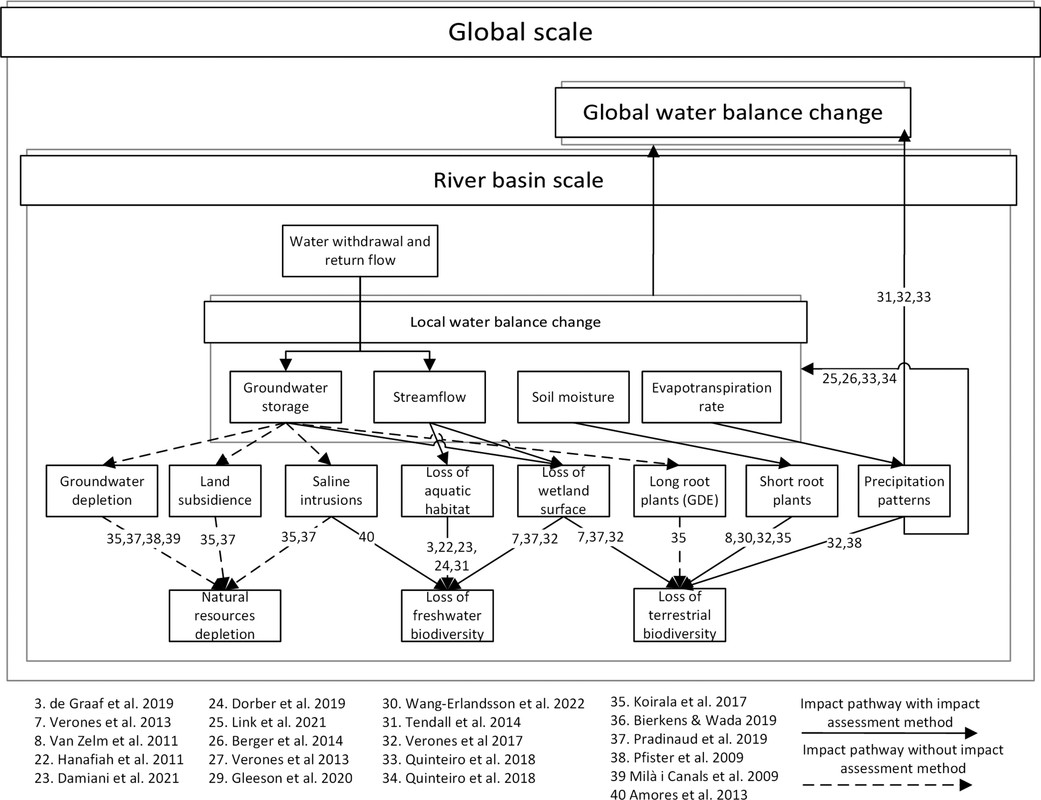 The caption:
Figure 1. Cause-effect chain linking water consumption to hydrological indicators and subsequently to ecosystems and freshwater natural resources.
In the second graphic, the blue colored areas in the world maps in the top row is "problematic" - representing higher consumption - in the rest of the columns below, the red color is "problematic."
The caption:
Figure 2. Global maps of water consumption change and resulting depletion factors for streamflow, groundwater compartment storage, soil moisture, and evapotranspiration for 8664 river basins from 1960 to 2000. The effect of water consumption on the different depletion factors is split between positive (left) and negative (right) values for simplicity of representation.
Table 3 from the paper gives the state of many of the major river systems on this planet.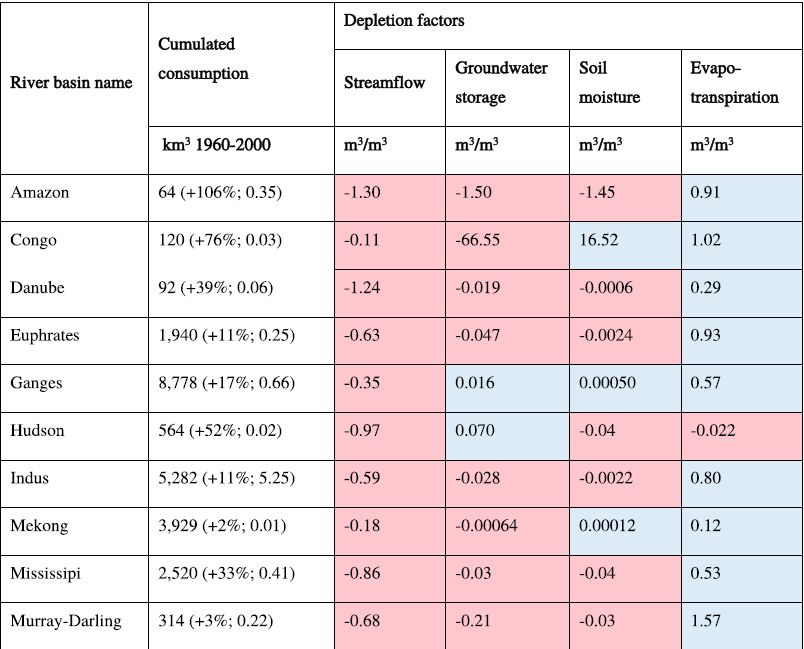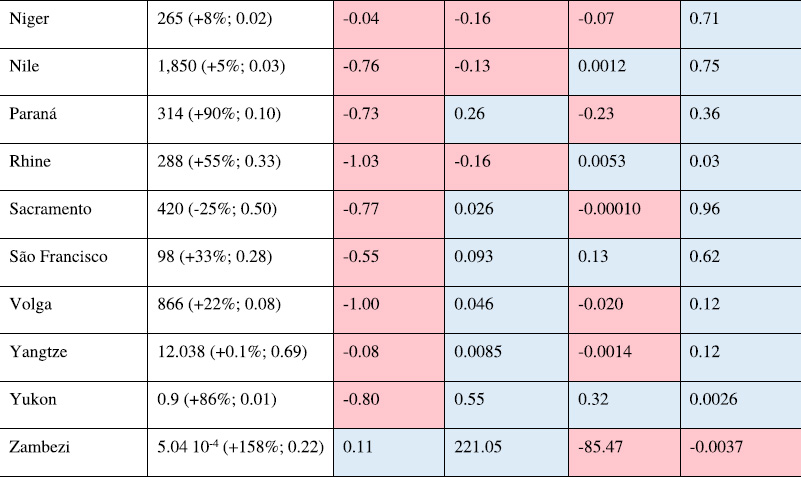 The table's caption:
aPositive and negative depletion factors are reported in blue and red, respectively. Consumption change and average groundwater–surface water consumption ratio are reported in parenthesis after the cumulated consumption. The consumption change is relative to the mean value over the period 1960–2000.
Note that this data is from the last half of the 20th century. Trust yourself to assume that in the 21st century we're working overtime to make everything worse, much worse.
Don't worry. Be happy. "By 2050" we'll all be tooling our way to Mars in one of Elon Musk's hydrogen powered rockets.
Or else we'll be remembered for what we are and what we did, to wit, as I say often: History will not forgive us, nor should it.
Enjoy the rest of the weekend.
5 replies, 368 views
Replies to this discussion thread
| | | | |
| --- | --- | --- | --- |
| 5 replies | Author | Time | Post |
| Multicompartment Depletion Factors for Water Consumption on a Global Scale (Original post) | NNadir | Mar 18 | OP |
| | Baked Potato | Mar 18 | #1 |
| | NNadir | Mar 19 | #2 |
| | Baked Potato | Mar 19 | #3 |
| | NNadir | Monday | #4 |
| | Baked Potato | Monday | #5 |
---
Response to NNadir (Original post)
Sat Mar 18, 2023, 07:06 PM
Baked Potato (7,394 posts)
1. I have always prided myself if I can at least pronounce
some of the words in your scientific postings.

The next step is… can I comprehend a modicum of your point….

Next step, yess…. I see a little of what you are saying…. Bravo!

Well, thanks!

Baked Potato




---
Response to Baked Potato (Reply #1)
Sun Mar 19, 2023, 04:13 PM
NNadir (31,082 posts)
2. As my life draws to a close, one great satisfaction that I have is that I learned to approach...
...topics about which I knew next to nothing.

It's a worthy exercise.

My advice to my sons is to conduct oneself so as to be the dumbest guy in the room as often as is possible. If one does this, one can have hopes of someday being the smartest guy in the room, not that this is necessarily desireable.

You're going about it in the right way.
---
Response to NNadir (Reply #2)
Sun Mar 19, 2023, 09:22 PM
Baked Potato (7,394 posts)
3. Thanks, I think.
---
Response to Baked Potato (Reply #3)
Mon Mar 20, 2023, 07:29 AM
NNadir (31,082 posts)
4. Trust me, it's a compliment. n/t.
---
Response to NNadir (Reply #4)
Mon Mar 20, 2023, 08:30 PM
Baked Potato (7,394 posts)
5. I do trust you, TU. nt