Fri Oct 16, 2015, 05:09 PM
Segami (14,923 posts)
On Foreign Policy and Civil Liberties, Hillary Clinton Is NOT A PROGRESSIVE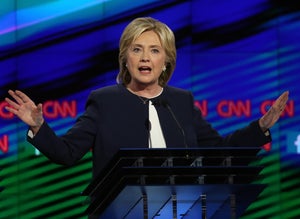 "...Hillary Clinton is a conservative Barack Obama or, perhaps, a liberal George Bush. But she is not a progressive. On civil liberties and foreign policy, she is a right-wing Democrat. And progressives should keep that in mind when casting their votes during the Democratic Primary..."

If George Bush claimed he were a progressive, we would rightly laugh. Yet no one -- no one -- challenged Clinton's unequivocal claim to progressivism at the CNN Democratic debate earlier this week.
Below is a list of six reasons why Clinton -- far from being a progressive -- could be little different from a slightly liberal George Bush, especially on foreign policy and the protection of constitutional rights.
(1)
Clinton voted to authorize the so-called "Patriot" Act
in 2001, and then to re-authorize that unconstitutional act in 2006, throwing our Fourth Amendment rights under the bus.
(2)
Clinton is as hawkish as John McCain.
As Former Congressman Joe Scarborough
has pointed out,
Hillary Clinton is "the neocon's neocon ... she will be more of a sabre-rattler and more of a neocon than the Republican nominee ... There's hardly been a military engagement that Hillary hasn't been for in the past 20 years." As Clinton's vote for the disastrous Iraq War suggests, it is far from clear that Clinton would refrain from the unnecessary use of force if elected president.
(3)
Clinton supported criminalizing flag desecration,
a disagreeable practice that nonetheless deserves First Amendment protection, when she proposed the Flag Protection Act of 2005.
(4) When
discussing Edward Snowden at the Democratic Debate,
Clinton skimmed over the U.S. government's violations of federal law and instead condemned Snowden, suggesting he "face the music." In addition, she repeated the controverted claim that Snowden could have successfully acted as a whistleblower; as
John Cassidy points out,
this argument is clearly wrong: The Whistleblower Protection Act of 1989 doesn't cover intelligence employees, and the Intelligence Community Whistleblower Protection Act is "little more than a trap."
(5)
Unlike Bernie Sanders,
Clinton apparently supports the death penalty. In a 2000 run for Senate, Clinton was quoted as saying the "death penalty" has her "unenthusiastic support." She has been mostly quiet on the issue since then, but all indications point to her continued support of a practice that murders the wrongfully convicted, disproportionately targets poor and black Americans, and heavily tarnishes our country's moral fabric.
(6)
Clinton's personal opinion on gay marriage did not "evolve"
until March 2013, when the political winds were clearly blowing in the direction of marriage equality.
http://www.huffingtonpost.com/mike-shammas/on-foreign-policy-and-civ_b_8314580.html
11 replies, 887 views
Replies to this discussion thread
| | | | |
| --- | --- | --- | --- |
| 11 replies | Author | Time | Post |
| On Foreign Policy and Civil Liberties, Hillary Clinton Is NOT A PROGRESSIVE (Original post) | Segami | Oct 2015 | OP |
| | Maedhros | Oct 2015 | #1 |
| | Segami | Oct 2015 | #3 |
| | jfern | Oct 2015 | #5 |
| | JaneyVee | Oct 2015 | #2 |
| | Robbins | Oct 2015 | #4 |
| | restorefreedom | Oct 2015 | #9 |
| | JRLeft | Oct 2015 | #6 |
| | stillwaiting | Oct 2015 | #7 |
| | AgingAmerican | Oct 2015 | #8 |
| | Scuba | Oct 2015 | #11 |
| | dreamnightwind | Oct 2015 | #10 |
---
Response to Segami (Original post)
Fri Oct 16, 2015, 05:29 PM
Maedhros (10,007 posts)
1. Similar to how Republicans demonized the term "Liberal", conservative Democrats are co-opting
the term "Progressive."

There is precedent for this: the right-wing Party in Canada (the Tories) renamed themselves "Progressive Conservatives" in an attempt to trick people into thinking that they weren't horrible. Clinton is doing the same thing by trying to claim the "Progressive" mantle.
---
Response to Maedhros (Reply #1)
Fri Oct 16, 2015, 05:40 PM
Segami (14,923 posts)
3. You are correct...
as per your example, the Tories did rebrand themselves by adding the 'Progressive' to their name. It was nothing more than refacing their storefront business and continued to sell the same, old product line to the public.
---
Response to Maedhros (Reply #1)
Fri Oct 16, 2015, 05:46 PM
jfern (5,204 posts)
5. Hillary sure seemed to go total warmonger
After Bush failed to prevent thousands from dying in the state she supposed represented.
---
Response to Segami (Original post)
Fri Oct 16, 2015, 05:34 PM
JaneyVee (19,877 posts)
2. What, Joe Scarborough is saying something bad about Hillary?!
---
Response to Segami (Original post)
Fri Oct 16, 2015, 05:44 PM
Robbins (5,066 posts)
4. Nominating Clinton would prove
there is no place anymore for liberals or progressives in Democratic party.it's just part of the corporate war party just like the GOP.
---
Response to Robbins (Reply #4)
Fri Oct 16, 2015, 05:50 PM
restorefreedom (12,655 posts)
9. then it will be time for a new party
there will be the gop, the dems, and the progressive party

warren, sanders, ellison, grijalva, kucinich....a good start, if they were interested.


---
---
Response to Segami (Original post)
Fri Oct 16, 2015, 05:49 PM
stillwaiting (3,795 posts)
7. Add domestic economic issues.
She doesn't want to raise taxes on anyone.

Despite the fact that it desperately needs to be done in several different areas.


---
Response to Segami (Original post)
Fri Oct 16, 2015, 05:49 PM
AgingAmerican (12,958 posts)
8. 'Moderates' are not 'progressives'
She 'plead guilty' to being a Moderate just last week. Or has the wind shifted since then?
---
Response to AgingAmerican (Reply #8)
Sat Oct 17, 2015, 08:44 AM
Scuba (53,475 posts)
11. That was last week. In the debate she claimed to be progressive.
The weathervane has turned.
---
Response to Segami (Original post)
Fri Oct 16, 2015, 05:59 PM
dreamnightwind (4,775 posts)
10. Thank you
The thing that saddened me most about the recent debate was how it largely failed to tease apart the very real differences between the candidates, leaving viewers with the feeling that they are mostly in agreement with subtle fine-hair differences. That is simply not the case. It's like using voting records to judge them by. The voting records don't accurately illuminate the differences, because the framework of what those votes are is shamefully missing any real reform legislation.

There's a large and very substantial difference between Hillary and Bernie. They're not fighting for the same world view or similar policies derived from those world views. One is a multinational capitalist and the other is a democratic socialist/populist with little interest in using U.S. blood and treasure to leverage corporate interest in every nook and cranny of the earth.

Now if we could just get Bernie to come out as wanting to ramp-down and eventually end the drone killings. Some work to do there. He'd probably be better than Hillary or a Republican in this regard but still seems to be willing to use remote killing as a way to avoid getting bogged down into long entangled conflicts, instead of championing the need to operate under a new paradigm of running a country rather than an empire.