A HERETIC I AM
A HERETIC I AM's Journal
Profile Information
Name: Schmengie
Gender: Male
Hometown: Podunk, FL
Home country: USA
Current location: Various.
Member since: Mon Aug 4, 2003, 03:56 PM
Number of posts: 21,890

Journal Archives
It has been quite a while since I tried this, and never this combination of dishes. I have several strikes against me to start, primarily that I have only a single oven, and all three of the dishes need to bake at different temps. But, what the hell. I gave it a try.
I know most of you are experienced cooks, so please forgive me if I say anything that is obvious or common knowledge. I was always told to write as if your reader does not understand the subject!
The Potato Gratin dish is basically this one by Tyler Florence of the Food Network;
http://www.foodnetwork.com/recipes/tyler-florence/the-ultimate-potato-gratin-recipe2/index.html
So I started with an herb rub for the meat. Here's the ingredients including fresh Thyme, which I finely minced, about 1/2 to a Tsp of each. I used about a 1/2 Tsp of Rosemary that I ground up in the mortar and pestle;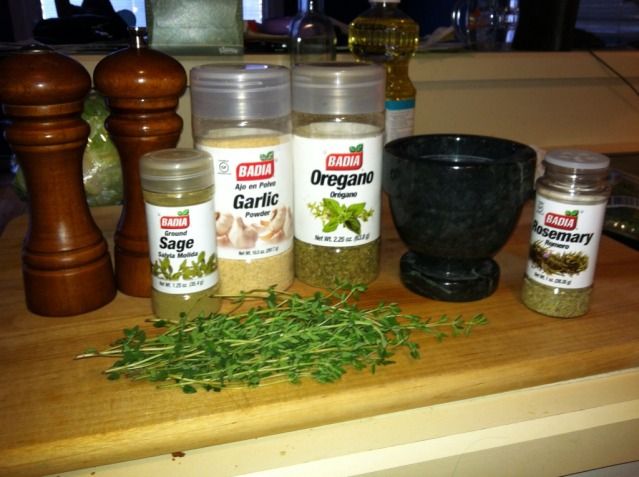 Mixed together and set aside.
A 2 1/2 Lb Bottom Round Roast. Not really the best choice, but serviceable.
Rubbed into the meat on all sides, then drizzled with a bit of olive oil. It is going in the oven fat side up, but I didn't do it on this cookie sheet - I have a rack and roasting pan.
Set the meat aside while I started on the gratin prep. I have read and heard many times that it is better to begin cooking meat as close to room temp as possible, so I just left this out instead of placing it in the fridge.
First step for the gratin prep - several cloves of garlic. I'm going to finely mince then crush with my knife. I prefer this method to using a garlic press, but that would work just fine. The salt acts as an abrasive making it easier to get the garlic into an almost creamy consistency.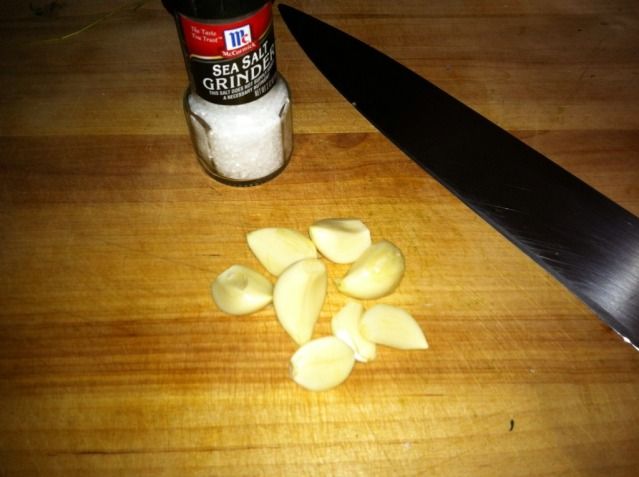 All minced and crushed. Set this aside.
Video of this procedure;
I used regular Yukon Gold potatoes. I like my potatoes with the skin on for almost every potato dish I make, so I just scrub them with my scotchbrite dish cleaner under cold running water.
In a bowl large enough to fit all the potatoes you're doing, put in cream and or milk. I had only about a cup of cream left in the quart, so I added another 1/2 cup of milk. Some of the chopped Thyme is present, salt and ground pepper. Whisk in half the minced garlic.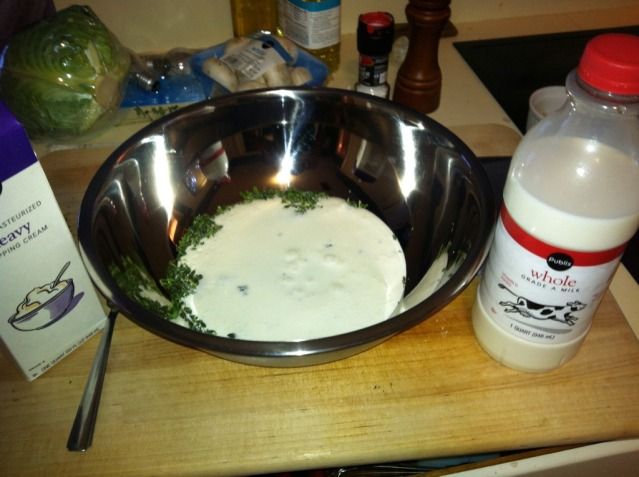 Slice the potatoes THIN! Thinner the better. Place them in the milk/cream garlic mix.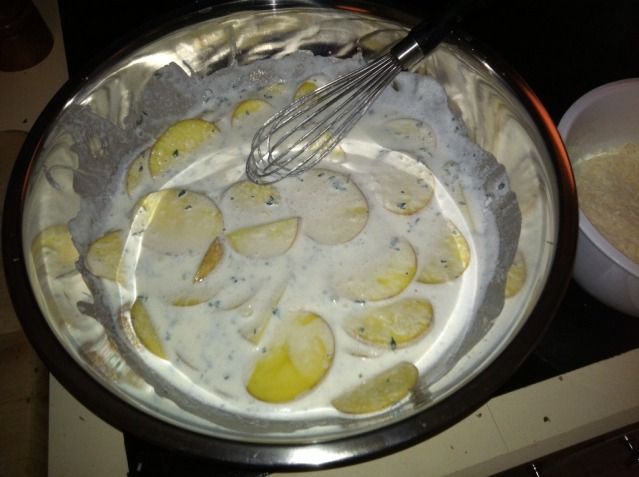 YAY! BACON! 4 slices (I like bacon, OK? LOL), 1/2 inch dice. Use as little or as much as you like but it adds HUGE flavor, and you'll see why in a bit.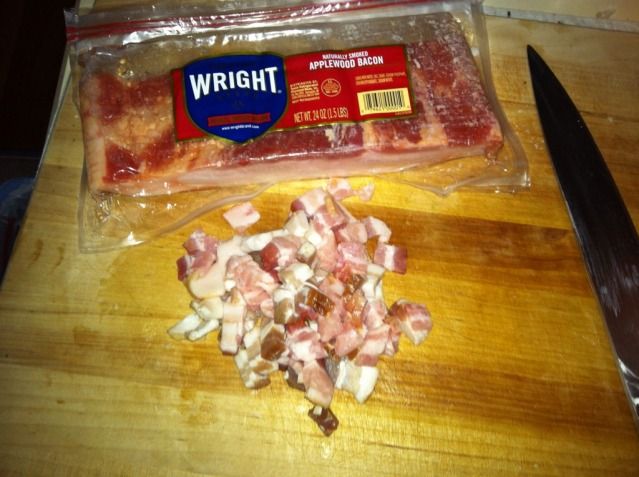 Bacon into the hot pan. Tyler's recipe says cook till crisp, but if you don't like crispy bacon, don't! I know I don't, but you want to render most of the fat out, anyway. When done, take the bacon out with a slotted spoon and drain further on paper towels. You want the bacon grease in the pan.
Now for the cabbage. I used about 1/3 of the head, sliced then diced.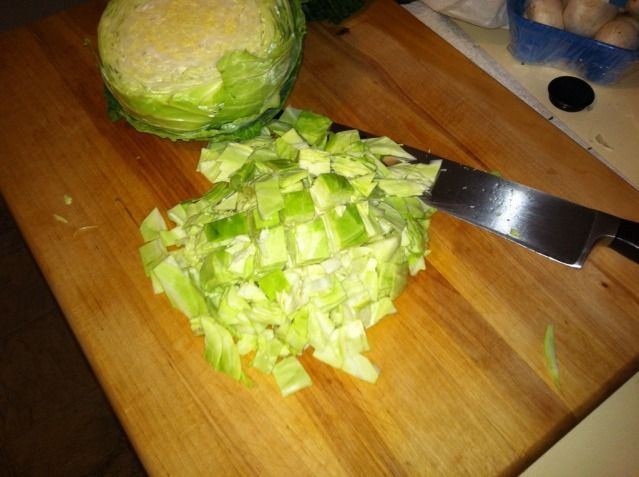 Add a tablespoon or two of butter to the bacon fat, and as soon as it melts, add the rest of the minced garlic. A quick stir and add the cabbage. Stir so all of it is coated with the bacon fat/butter and then cook till it has wilted and starts to smell yummy. Add the bacon back to the pan, salt and pepper to taste, stir and pull off the heat.
Now to assemble the gratin. Using your hands, layer the potato slices around your dish. A casserole works best, but I gave mine away, so all I have is this pie dish. It'll work. After a layer of potatoes, spread with 50/50 mix of Parmesan and Cheddar (or any other cheese you like). One more layer of potatoes then spread the cabbage/bacon mix on top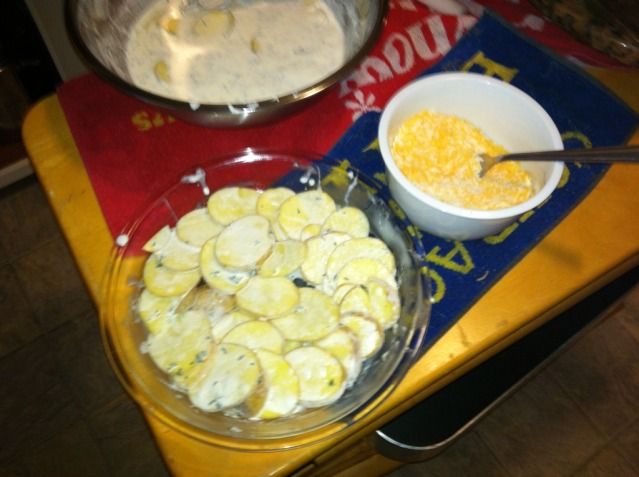 One more layer of potatoes on top then pour the cream mix onto it so it runs down inside and fills the dish 2/3ds to 3/4 of the way up. Cover with the rest of your cheese mix. Cover in foil and bake in a 450 degree oven for AT LEAST an hour, depending on how large a dish of it you make. After the first hour, remove the foil, check for doneness and put back in the oven for at least another 20 minutes.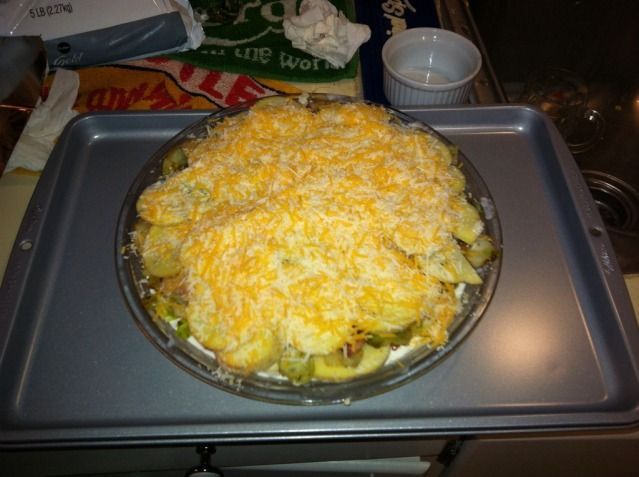 I baked it on that cookie sheet as I thought it might run over. It did! Too much food for the dish!
Here's what it looked like when it came out. Frickin YUM!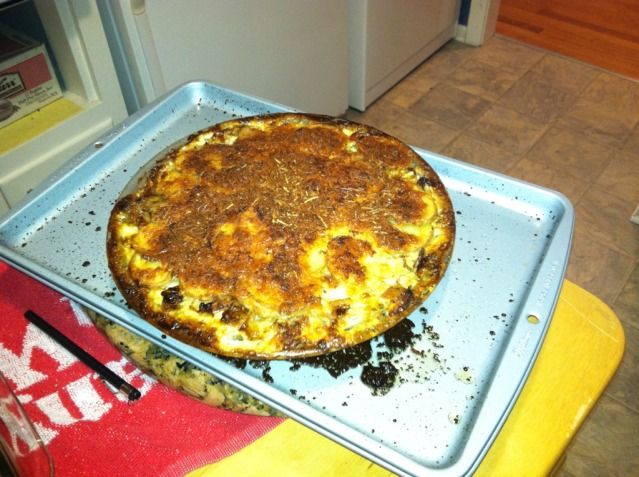 .
>
>
Now to prep the Yorkshire pudding. This is such a simple dish, it isn't funny. It's also so simple I just took one photo of the prep. 5, Count em' FIVE ingredients! Eggs, milk, flour, salt and fat, either butter or the beef drippings or a combination of both. My and your
Joy of Cooking
cookbook recipe is as follows; (You DO have a Joy of Cooking, don't you? If not, GET ONE NOW!!! Go! Now. I'll wait.
.
.
Seriously.,
Go now.
OK...Got it? Good. Page 787
Preheat oven to 450.
Mix together 1 cup less one tablespoon of flour (why the missing tablespoon? I have no idea) and one Tsp salt.
In a larger bowl, whisk two large eggs and one cup of milk. Pour the dry into the wet and whisk thoroughly. No lumps. The traditional way to do this was actually in the pan you are roasting the meat in, but just prep this so it's ready when the meat is done and you can use the roasting pan while the meat rests. Otherwise, just use another pan. I used my other glass pie dish. Preheat the dish (VERY important) completely, pull it out and add 1/4 cup of beef drippings or 4 tablespoon of melted butter or a combination thereof to the dish and roll it around to spread it. Pour all the mix in to the dish at once and bake for 15 minutes. Reduce the heat to 350 and bake till puffy and golden brown, 15 to 20 minutes more. Cut and serve immediately, as it will deflate but it is still delicious especially with brown gravy.
Here's the mix;
Here's what it looked like finished;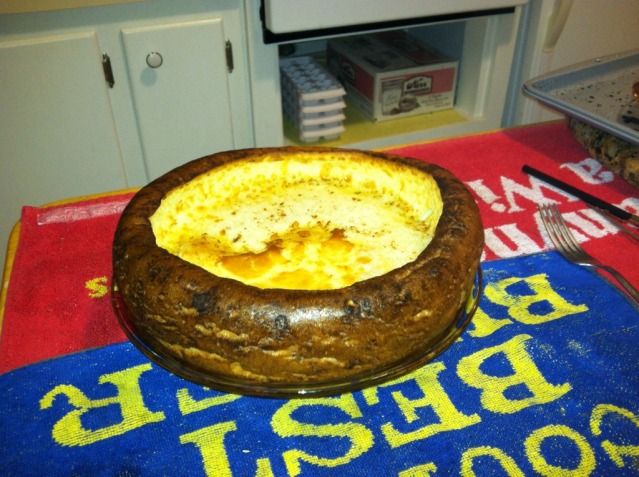 My mom used to make this for us regularly. If you use a square pan, like a brownie pan or your rectangular roasting pan, it will make all sorts of neat shapes and puffs and look completely different and random each and every time. Using this pie dish, it rose up around the edges! Cool, eh?
The roast out of the oven and resting in its rack;
I was looking for medium rare - about 120 degrees in the center
By the way, those towels under the pan are Australian and English bar towels! I have a bit of a collection. The red one is for Winfield Cigarettes, an Australian brand. The other is from Courage Best Bitter, an English beer. I have about 25 or so. They are unique and you will usually only see them in this country in an English style pub. I collected most of them during my travels with my work in Indy Car racing back in the 1990's.
ANYWAY......
I overdid it juuuuust a tad, but still fine. Probably by only 6 or 7 minutes.
I just used one of those packets of the Knorrs type sauces of brown gravy - the grocery store brand - instead of making fresh gravy. After all this, it was simpler. I also made a quick spicy mustard using equal parts Grey Poupon and Guldens and half the part horseradish. Yum. Add a tablespoon of Mayo to that for an excellent spread for the leftover roast beef sammies!
I hope these sorts of threads are interesting and a bit entertaining, anyway. As some of you may know (as I've been a DU'er approaching ten years now) I have been an Over-The_road trucker most of my adult life. I eat in restaurants ALL THE DAMNED TIME! So when I get home and I feel like going for it, I'll take 6 hours and cook myself a meal like this. I just moved into a house in November, after pretty much living in hotels and on the road for almost 2 years. It is wonderful to finally have my own kitchen again! Unfortunately, no one to share it with (ah well) but plenty of leftovers that will keep for 6 or 7 days, anyway.
I sure hope you enjoyed this.
Bon Appetit!
Basically a variation of Gordon Ramsay's Stuffed Chicken Legs.
Watch the quick, 2 minute vid first;
I changed it up by using a boneless, skinless breast, not the leg and thigh he used. I am also NOT using any frickin nuts in the stuffing! Nuts do not belong in food. Instead of a sausage base, the stuffing is stepped up Stove Top (I know, I know...sacrilege!) I also marinated the breast in white wine and basil. About 1 cup or so of wine and about 2 Tablespoons of dried basil. Fresh basil works perfectly well also. Just do a
chiffonade
. I let the basil steep like tea leaves for about 30 minutes before I added the butterfly'ed (It was a thick one, so I cut it so to butterfly it) and pounded out breast. Marinated while I prepared the stuffing, about 40 minutes or so (with beer breaks).
Here's the stuffing prep;
Finely minced Mushroom, Onion, Bell Pepper, Celery and about 4 garlic cloves.
Knife work slicing mushrooms;
First in a hot pan with a bit of olive oil is the mushrooms;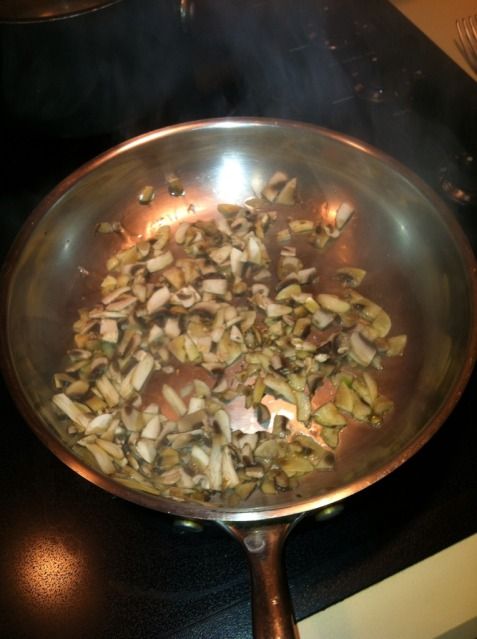 Sweat them out then add the rest.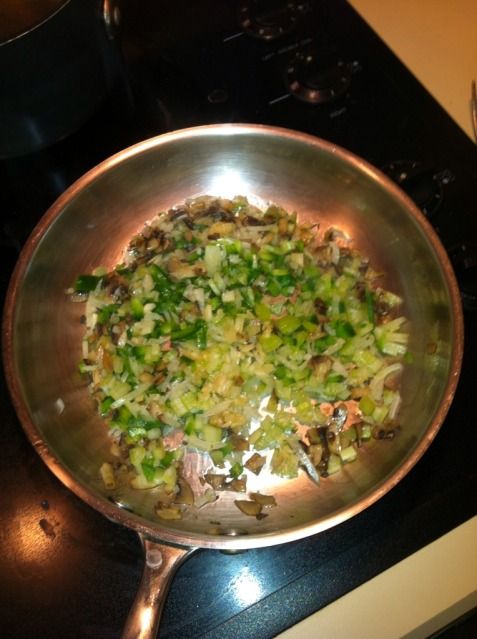 When the veg is tender and the onions are translucent, I added some white wine - just enough to cover the bottom of the pan and make all of it wet.
In spite of its bad reputation, I like boxed wine because it keeps so well in the fridge.
Cooked until all the wine is gone. I seasoned with salt and pepper, added a bit of basil, some ground sage and a little garlic powder.
When done, set aside.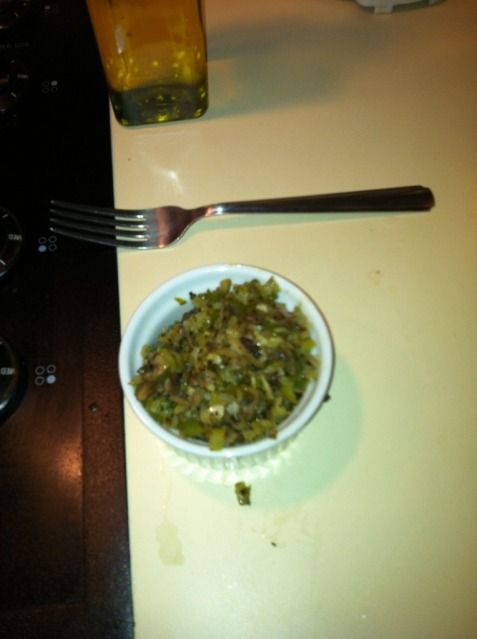 I made the bread portion of the stuffing with, as I said, Stove Top, but I used the wine I marinated the breast in instead of water and I added a little heavy cream as well. When it was done, I folded in the sauteed veg.
Now for the breast. It's been marinating for almost an hour by now (Hey! I took beer and bourbon breaks, OK?)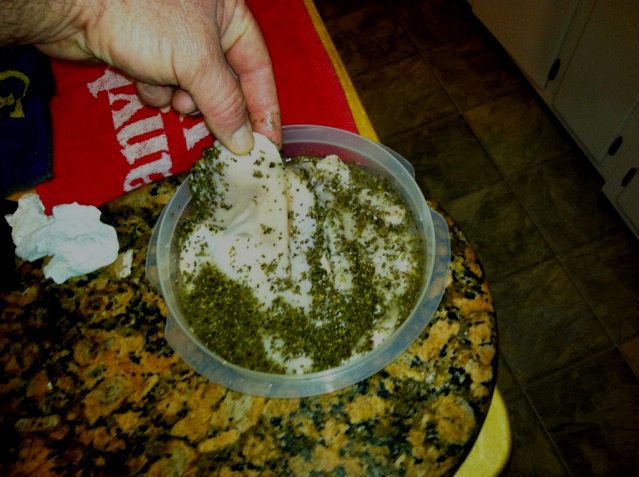 I pulled it out of the marinade and laid it on a plate, tilted slightly to drain.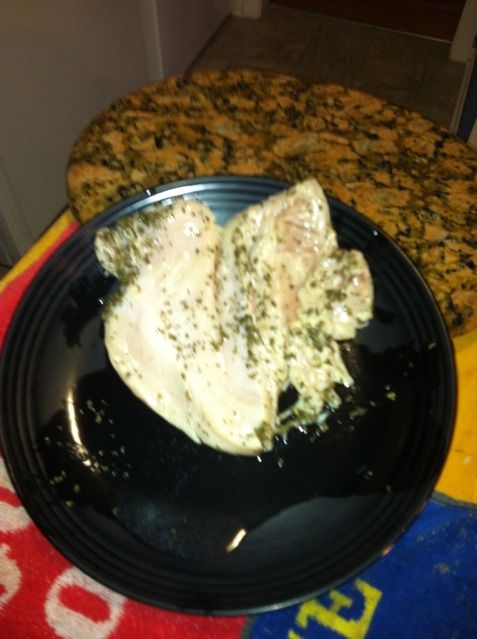 Now the roll prep. Similar to what Ramsay did;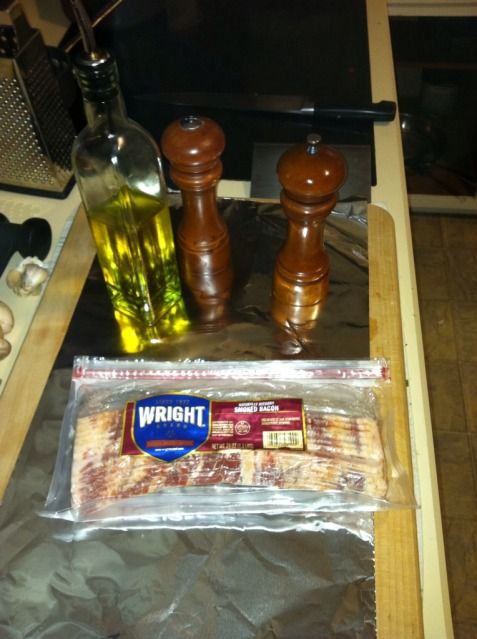 Aluminum foil, bacon, salt & pepper and olive oil.
Here it is ready for the breast;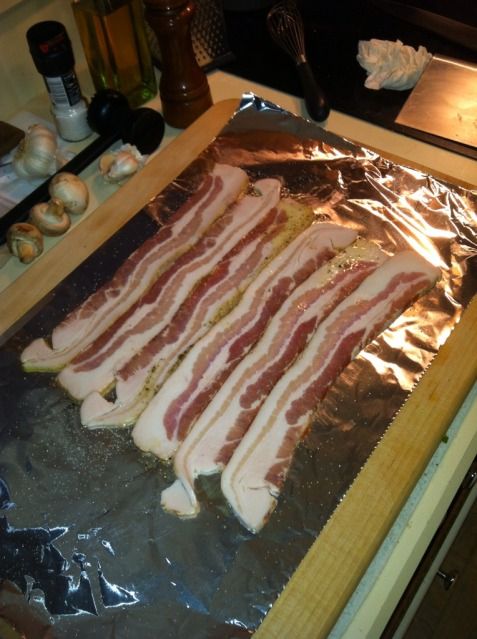 The breast placed in the center. Flecks of basil are present.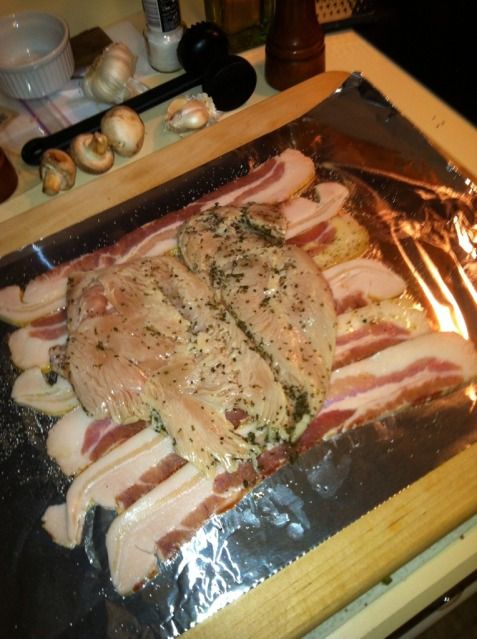 Now for the stuffing.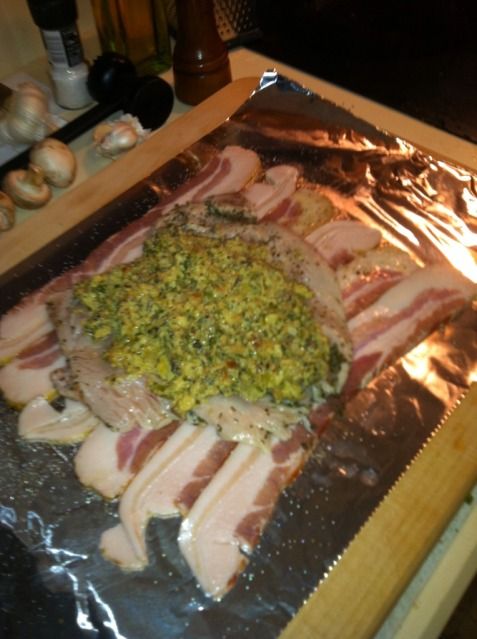 And an added twist, some shredded Mozzarella on top.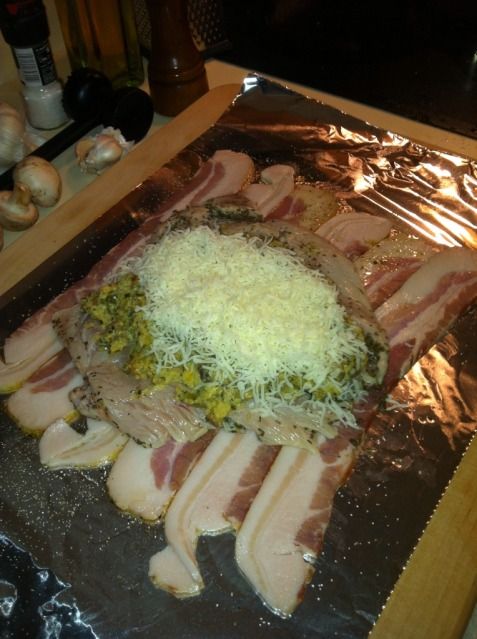 Now to roll it. This isn't as easy as Ramsay makes it look, but take your time and it will happen. Lift up one edge of the foil to start, then the other side and tuck over the bacon strips. Complete it by rolling the first side away from you and make it as tight as you can.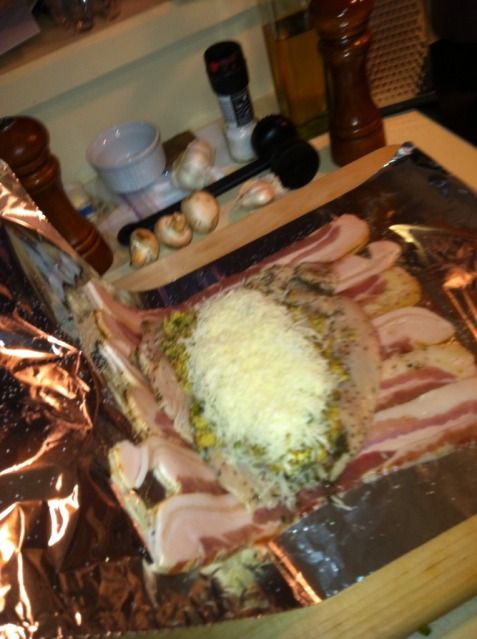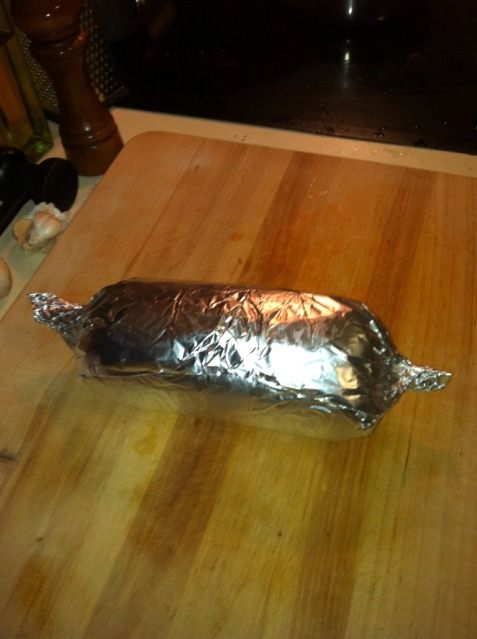 Video of the assembly process. This video was recorded on Feb. 19. 2013 so it is not of the same meal;
Now poach it. Gentle boil, about 20 to 25 minutes should do it.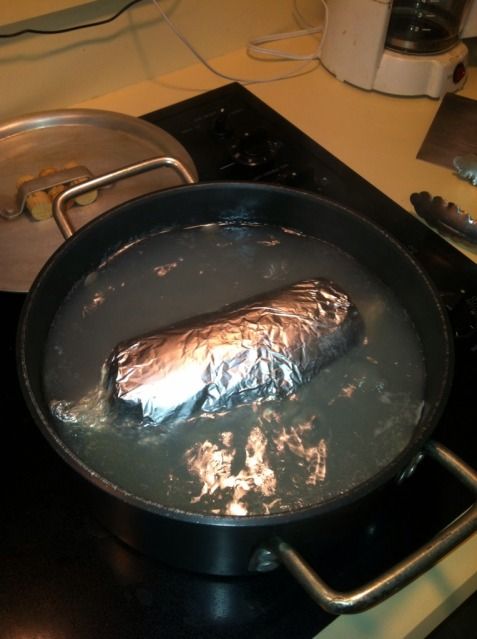 Put it in the fridge for about 30 minutes or so. On the long side is a bit better, as it will set up and hold its shape better for the next step.
Unwrapping.
Ready for the hot pan. Not as pretty as Ramsays, but completely serviceable. I really over stuffed it, and that was part of why I had the problems to follow.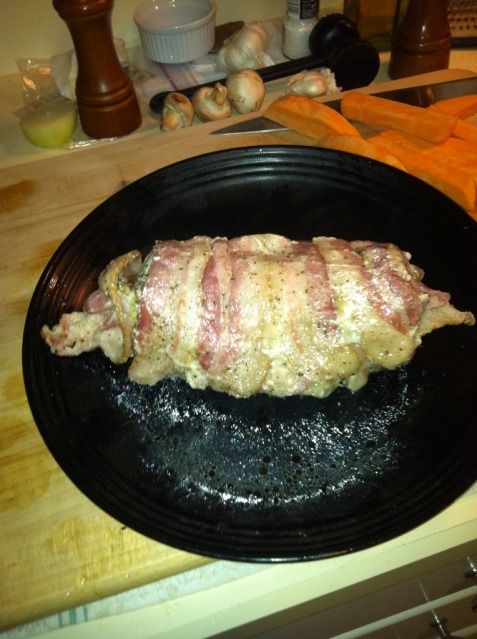 Cook over medium high heat, and roll it just like he does in the video to cook the bacon.
Not bad, not bad at all. It wanted to fall apart, because as I said, I over stuffed it. Oh well!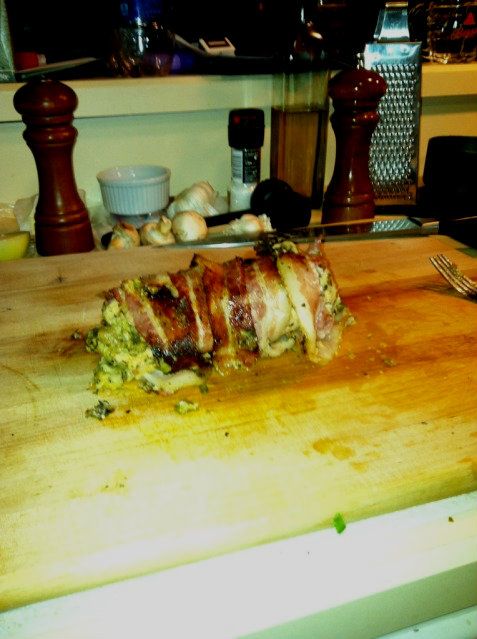 I Heard Ramsay say on one of his programs that a French chef suggested that when cooking meat, you should let it rest for as long as you cooked it. While that isn't always practical, the longer the better. I let it rest for a good ten minutes.
Now to slice it.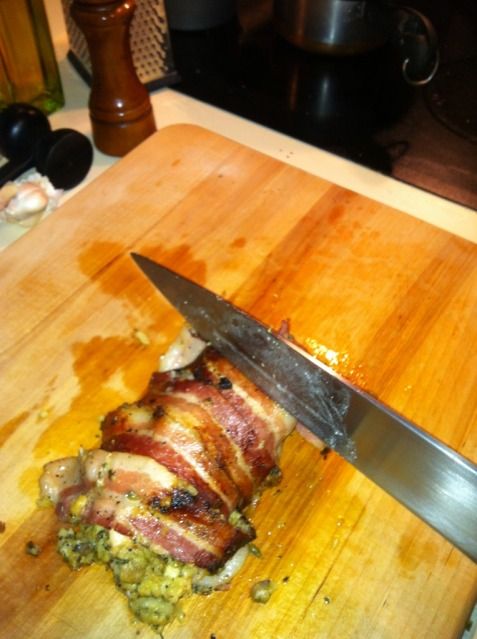 Again, not bad. Not bad at all.
And a video of the above procedure;
I plated it over rice with steamed broccoli and steamed sweet potato with some Bearnaise sauce I had left over.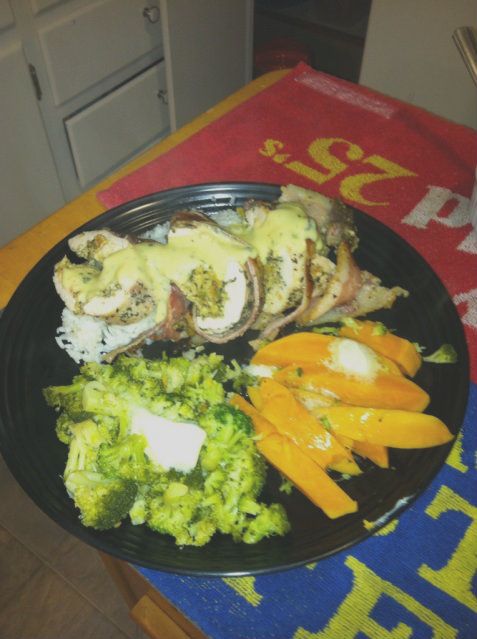 Sorry about the pics, they were taken with my phone. The white splotches on the veggies is butter!
It was delicious. Give something like this a try. It was a bit time consuming start to finish, but well worth it and I guarantee you won't regret it.
Bon Appetite!