Welcome to DU!
The truly grassroots left-of-center political community where regular people, not algorithms, drive the discussions and set the standards.
Join the community:
Create a free account
Support DU (and get rid of ads!):
Become a Star Member
mahina
mahina's Journal

mahina's Journal

December 3, 2012

Blue Scholars tell Yuri's story so beautifully:
<iframe width="560" height="315" src="

" frameborder="0" allowfullscreen></iframe>

[IMG]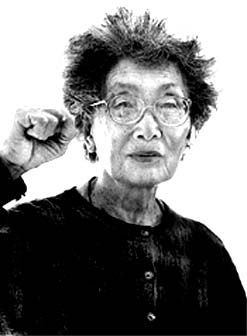 [/IMG]
http://www.dailykos.com/story/2010/05/11/864846/-Black-Kos-Tuesday-s-Chile
"Democracy Now did an interesting piece on Yuri in 2008.
She is also the subject of a documentary film: Yuri Kochiyama: Passion for Justice
Yuri Kochiyama (born May 19, 1921) is a Japanese American human rights activist. Kochiyama was born Mary Yuriko Nakahara in San Pedro, California. After the attack on Pearl Harbor in December 1941, Kochiyama's father was imprisoned the same day. Her family, sent to the Jerome War Relocation Center in Jerome, Arkansas, were among the 120,000 Japanese-Americans interned during the Second World War. Two of her brothers joined the U.S. Army. In 1960, Kochiyama and her husband Bill moved to Harlem, New York City, and joined the Harlem Parents Committee. She became acquainted with Malcolm X and became a member of his Organization of Afro-American Unity, following his departure from the Nation of Islam. She was present at his assassination on February 21, 1965 at the Audubon Ballroom in Harlem, and held him in her arms as he lay dying.
In 1977, Kochiyama joined the group of Puerto Ricans that took over the Statue of Liberty to draw attention to the struggle for Puerto Rican independence. Over the years, Kochiyama has dedicated herself to various causes, such as the rights of political prisoners, freeing Mumia Abu-Jamal, nuclear disarmament, and reparations to Japanese Americans who were interned during the war. In 2005, Kochiyama was nominated for the Nobel Peace Prize through the "1,000 Women for the Nobel Peace Prize 2005" project.
I have fond memories of Yuri's apartment in Harlem, though she now lives on the West Coast, I smile each time I pass her former home in the projects. I can say honestly that I never went to a rally or a demonstration in NY - for black, latino, asian, or native american struggles where Yuri wasn't one of the first people there, and the last to leave.
She will always be one of my most honored elders."
Profile Information
Gender: Female
Hometown: Honolulu
Home country: ka pae aina Hawai'i
Current location: Honolulu
Member since: Sat Aug 23, 2003, 11:51 PM
Number of posts: 17,086