Page: 1
grantcart
grantcart's Journal
Profile Information
Member since: Sat Jan 5, 2008, 08:45 PM
Number of posts: 53,061

Journal Archives
It may have been thoroughly discussed here, don't have the time I used to keep up, but I suspect many folks are avoiding watching it because many Republican commentators have commented that it humanizes him and people will have a better impression of him.

The documentary did humanize Mrs. Romney, in my opinion because she talks of the fear she faces with the heavy travelling and how it will affect her delicate routine that she needs to maintain to effectively fight MS, a terrible disease. The fact that Romney never addresses that issue is just one of the many disturbing aspects of what is a very disturbing portrait of Romney.

The first and most lasting image is just how delusional this guy was that he was preparing for an acceptance speech and hadn't even thought that losing was possible.

But much more disturbing to me is how he manipulates his sons and daughters in law to be a constant greek chorus always cheering him on with a level of critical thinking that reminded me of my junior high church group 45 years ago.

They talk blandly of wide spread unhappiness with the President (everyone they know is voting for Dad). Never during the entire documentary do any of these intellectually stunted children ever speak to the issue of the Electoral College and the brutal reality that any Republican is going to have to face to try and get 271 electoral votes, the critical issues of war, the suffering of tens of millions of people. Really the only issue to be discussed is the terrible burden of losing privacy that each of them will have to bear, they really have suffered so much already that you expect them to pass out crying hankies.

One of the great myths about Romney is that he is some great CEO businessman. It is completely untrue. He was a paper/finance guy leveraging and exploiting. He never had a bricks and mortar business that had to please customers and keep them coming back. He didn't have to balance cash flow and suppliers and all of that. At one point he talks about watching the companies that he invested in and how hard they had to personally struggle to keep a business going. You can see the fear in his eyes, he could never take on such a personal challenge.

There are many astonishing moments that show a deeply disturbing level of self awareness. At one point he talks about his father, who I believe was a very great man and had he defeated Nixon would have had a very beneficial impact on the country (not the least of which was he was sceptical of the mission in Vietnam).

He talks about how he stands on the shoulders of his father. His father had a foreign background, came to the USA as an adult in poverty and built himself up. He became a real leader and people really liked him. He states clearly, "I could not do what he did". All the time he is completely unaware that everything he says about George Romney could be applied to Barack Obama.

Over and over again he goes to his family council with a painfully immature "aw shucks" shtick. Over and over again he makes his sons come up to the plate and make the case that he has to run because he is "a really swell guy". There is a revealing moment when he is playing in the snow and he loses the "aw shucks" shtick and tells the grandkids to not worry so much, don't be afraid if the sled goes to fast or to close to the pole, just jump off, it was one of the few really authentic moments in the whole hour and a half.

He is painfully aware that he has been permanently tagged as a "Northern Mormon flip flopper" and exudes the idea that both elements were fixed at birth, apparently unaware that many people reflect on the roots of Mormonism and move away from it, and that many people run for office without establishing completely contrarian policy issues on almost every important issue.

The documentary ends where it started with a tearful Romney trying to scratch out a noble concession speech. But even in that he fails to understand that these concessions speeches are a critical part of the democratic process and are essential for establishing legitimacy, and that if Republicans want Democrats to do it then it is up to him to make a magnanimous speech on the last night when something he says is going to give a damn.

Its going to be polite but he is determined not to give the President legitimacy. Up until now we have watch Romney talk earnestly about how important it is that he becomes President, but he never says why. Not to stop a war or help folks suffering in the economy. He has to become the President because Obama is taking the country into such deep debt.

Now this is both comical and again disturbing. This is the same juvenile type of 'happy talk' that he has been using on his rather stunted offspring, but Romney knows that it is neither true nor very compelling. The real irony is that Mitt was able to generate hundreds of millions of dollars in personal wealth by exploiting companies and saddling them with enormous debt, in many cases, like KB Toys, driving healthy companies into bankruptcy with their enormous unnecessary debt load all the while he was taking equity out the back dollars in the tens of millions.

Romney takes delusion to a new level, and among the evidence of it is the fact that he would allow film makers this kind of access while he played the role a very un-presidential hapless victim of such great misunderstanding by so many meanies. All they had to do is to talk to his sons and daughters in law to find out how swell a guy he is.
Sources have just passed me top secret information that is to be kept from the media as it is too sensitive for their eyes and ears to report.
As we approach the State of the Union address the President's favorables have returned and are very high compared to other second term Presidents:
A 9 point jump at this point is really an astronomical change in figures thought to be fixed in cement. AP has done an excellent job in obscuring the facts by burying the lead and then quoting a couple of people who are only lukewarm because a couple of anecdotal opinions by people who may not be clever enough to know who Copernicus was is more important than actual numbers in a scientific poll.
In any case these numbers completely undermine the SOP of the media that the President's second term was over before it started.
And here are more numbers that you will never see in the media as they only affect tens of millions of people. After receiving the data regarding the ACA signups reporters in New York and Washington congregated at various saloons and asked a couple bartenders and wait staff and found that the ACA still hadn't reached that demographic and was doomed.
Those who now direct medical coverage as a result of the ACA now exceeds 12 million
http://obamacaresignups.net/
Private signup and plans 2.5 million (many of whom are subsidized)
Adult Children who are on extended coverage of their parents plans: 3.1 million
Medicaid expansion 6.35 - this is the largest single increase in single payer coverage since Medicaid was initiated.
These facts and figures should be kept away from the media as it would prove a fatal distraction to the burning issue of what Justin Bieber is going to have for lunch when he reaches his Florida residence, the trip from jail that is being covered live across the media.
Oh look he just stood up and waved, I wonder if he was trying to wave at me?
Medical professionals and public health personnel take part in a march Monday from Pathumwan to Asoke intersections, supporting the call for reform before an election. They were joined by Suthep Thaugsuban, secretary-general of the anti-government People's Democratic Reform Committee.
Farmers from the Central Region
http://www.nationmultimedia.com/specials/nationphoto/show-new.php?pageid=0&id=&pid=16771
FOR THE FIRST TIME in a week-long rally demanding immediate payment for rice sold under the government pledging scheme, farmers in Phichit yesterday joined supporters of the People's Democratic Reform Committee (PDRC) to block the provincial city hall and prevent civil servants from performing their duties.
Farmers from Phichit and nearby provinces blockaded Bung Narang district office on Sunday evening, while those blocking a key junction in the district agreed to make way for traffic and moved to join protesters at the district office.
The farmers and members of the PDRC padlocked the city hall and were continuing a blockade as of press time last night.
http://www.thaivisa.com/forum/topic/696674-farmers-plan-protests-against-the-government-for-rice-payments/
Farmers from Thaksin's home region join the protests
Farmer leader Kittisak Ratanawaraha, president of the Network for Northern Farmers, said now farmers from Phichit, Nakhon Sawan, Sukhothai, Kamphaengpet and Phitsanulok are prepared for the next move to block the highway after they did not receive money from the bank as they were earlier promised.
He said instead of calling for money, now farmers will press for the ouster of the caretaker government.
He said farmers will block the Asian Highway from Phitsanulok to Nakhon Sawan at Yaek Po-ngam intersectin in Bung Narang district on Friday.
Some farmers from Phichit were paid but many were not after they were told that the bank has been allocated merely180 million baht.
Meanwhile farmers in some northeastern provinces were also paid for their rice today.
A total of 40,000 farmers in Maha Sarakham province in the Northeast sold rice to the government under the rice-pledging scheme. Now 10,000 of them were paid but the rest were not paid yet.
(Details on the failure of the Rice buy back scheme - and the missing hundreds of billions here:
http://www.democraticunderground.com/111646869
Farmers from the North East - where the Red Shirts have their deepest support - show declining support for Shinawatra
Ban Thung Yai farmer Saeng Srisomrod, 65, is now one of those now questioning their loyalty to Pheu Thai after the amnesty bill fiasco. He said red shirts were still fighting for justice over the 2010 crackdown under the Democrat-led government. ''If you [the current government] don't respect us, we have no reason to be faithful to you.''What will happen if Pheu Thai becomes really powerful one day and you have the right to kill anyone and get away with it? That's what we think is going to happen if the government passes the amnesty bill. That is why we lost our faith in Pheu Thai for a while.''
http://www.bangkokpost.com/news/politics/390310/support-bleeds-away-from-the-heartland.
Pictures from the Seven different Occupation Squares established in Bangkok. It is estimated that 1 in 4 residents in Bangkok have physically participated in protesting at one of the protest sites. From various locations in Bangkok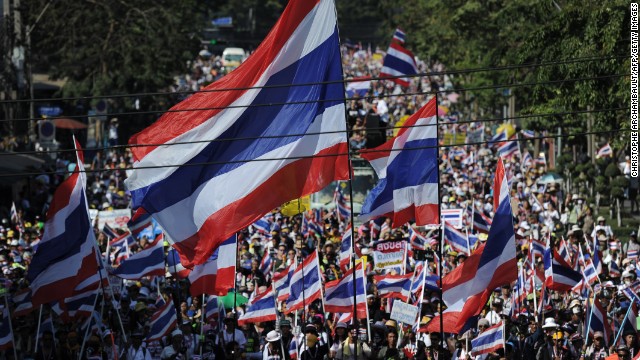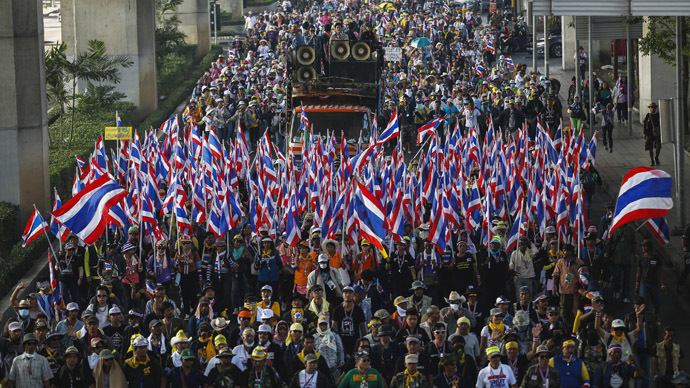 This is the location where this man threw a grenade that injured 3 dozen protestors
This is the video showing him throwing the grenade;
Thai anti-government protesters hold a candle vigil for the protester killed during yesterday's bomb blast on the sixth day of the 'Bangkok Shutdown' on January 18, 2014 in Bangkok, Thailand. An explosive device went off during an anti-government protest march, wounding dozens and killing one. Explosions and gunshot incidents have been happening as the protesters have stepped up their activity with daily marches in the on-going attempt to oust the government of Thai PM Yingluck Shinawatra. (Image source: Getty Images/Paula Bronstein)
Beyond the criminal & political crimes of Thaksin and Yingluck we now are entertained by the likely collapse of the Thai bond market as we watch the last few months of their incompetency.

Under the rubric of progressive sounding schemes the current regime engaged in a number of hair brained economic plans that have left the Thai government in deep debt and no one buying their bonds.

One of the plans was to provide down payments for 100,000 first time car buyers. This was a big bonanza for the manufacturers and dealers but most of the people who qualified for the plan were unable to sustain car payments and massive repossessions undermined the resale equity of existing car owners who now have cars who cannot be sold in a market flooded with cheap repossessed cars.

An even greater folly was the plan to provide increased income to rice farmers by subsidizing rice prices. There was a long history of this working well for decades but it worked because of its modest goals and the basic idea was to provide level prices, allowing farmers to get the benefit of the highest prices of the season. The Shinawatra promised more, much more. They were going to offer farmers twice the world price.

Here are the results:



Billions have been spent but who has gotten the money?

Not the farmers



So the farmers didn't get the money but Yingluck isn't letting anyone know where the B 700 billion has gone keeping payments secret



Now Thailand is unable to float a bond



It is estimated that to make up the shortfall on this one scheme it will cost the Thais 3.2% of GDP, an astronomical figure.
Yep still need a little happy in the morning, so on we go thinking about friends
.
.
.
.
.
.
.
.
.
.
.
.
.
.
.
.
.
.
.
.
.
.
sometimes sticks are a friend
and sometimes its just a 'bug' in your ear.
sometimes they may look funny, but they still have a lot in common
you just never know who is going to give you a kiss on the cheek
Have a great day, friend!!
.
.
.
.
.
.
.
.
.
.
.
.
.
.
.
.
.
.
.
.
.
.
.
.
.
.
Out of chaos gas is transformed and a new star is born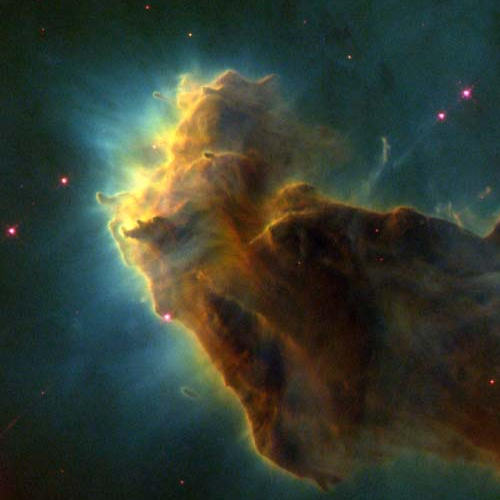 time goes by and new life is made
and a new song is sung
And we are lucky because we are the first generation to be able to see the whole process from chaos to a child's song!
Old friends don't go away, they are just down the road and won't answer the damn phone
.
.
.
.
.
.
.
.
.
.
.
.
.
.
.
.
.
.
.
.
.
.
.
.
.
.
.
.
.
.
.
.
.
Have a great day today.
1) Story Selection.

Even if you like other anchors (and there are few too choose from) they inevitably are answering stories already in the mix. I am always interested in what Lawrence O'Donnell and Chris Hayes have to say but they are, more often than not, responding to items already in the media. When you watch Rachel you can watch an entire show that is either of completely fresh material or an angle on a big story that is so refreshingly different that it takes on new life.

It is no accident that Rachel was the one that took what seemed like a lame local story and made it into a national story. She is the most intellectually ambitious the entire bunch.

2) Story Framing

Perhaps her strongest suit is that she frames the story with meticulous detail and fairness. The bridge story is a classic example and at every point she didn't raise the volume beyond the facts, always saying "This may be nothing but . . .".

She also makes sure that the story has the maximum presentation of relevant facts possible. What is known is reported and what is trivial is mentioned in passing.

3) She is fair

At every point she welcomes the people involved to come on the air and set her straight, and a couple of times they have taken her up on it. The reason that people don't come on her show isn't because she isn't courteous (please see #4) but because she is so well informed and know they can't snowball her. She doesn't pick out one fact out of context and over animate it.

4) She is personable

When she has guests on she engages them. If they are diametrically opposed to her obvious position she still treats them with courtesy and respect. It would be hard pressed to find anyone who is more civil in the most aggravating circumstances and she always is willing to put herself on the line by inviting the most disagreeable people on her show.

5) She loves her job

Sometimes she is going over very wonky statistical material with tedious policy implications, and yet she loves doing what she does. If you aren't taken in by the story you simply cannot resist the allure of a smart confident woman who is not only competent but also completely engaged and enjoying her life.

You just have to love Rachel and the work she does, she is just irresistible.