Page: 1
Denzil_DC
Denzil_DC's Journal
Profile Information
Gender: Do not display
Current location: Scotland
Member since: Mon Sep 7, 2009, 12:57 AM
Number of posts: 5,153

Journal Archives
Parliament voted 321-261 on 21 October not to provide free school meals over school holidays to children in England who qualify. The roll call of who voted how
can be seen here
.
This is in contrast to the Welsh, Scottish and Northern Ireland governments' decisions to provide this help at least up to Easter next year.
The sums involved are minor compared to other often eyewatering and too often horrendously wasteful outlay during the COVID pandemic - e.g. the initiative will cost £10-11 million in both Wales and Scotland.
It's hard to think of any other intervention at the moment that could be more cost-effective other than paying Dominic Cummings, Boris Johnson, the cabinet - indeed, the whole Tory government - to fuck off somewhere very distant and remote and never plague us again.
The backlash has been immediate, from the trivial of
Rishi Sunak being given a life ban from his local pub
to
Tory MP Caroline Ansell resigning as parliamentary private secretary at the Department for Environment, Food and Rural Affairs
to Nigel Farage tweeting "If the government can subsidise Eat Out to Help Out, not being seen to give poor kids lunch in the school holidays looks mean and is wrong." to a groundswell of initiatives from businesses and councils to fill the gap.
If you've been following the news over last day or so, you'll no doubt gather the footballer I'm referring to in the OP title is Marcus Rashford, who's ridden the wave of revulsion, and constructive action in response, since the vote and is serving as a very effective figurehead.
Throughout the last couple of days his Twitter account has been retweeting initiatives from all across England, ranging from Macdonald's donation of 1 million free meals to other national and local businesses offering their contributions to local councils finding the money from their already overstretched budgets to make humanitarian provision.
His last tweet this evening reads:
https://twitter.com/MarcusRashford/status/1319721154874167303
Marcus Rashford MBE
@MarcusRashford

I'm signing off with a feeling a pride tonight. The superstars of this nation lie in local communities. Even after taking the biggest hits you have wrapped your arms around your community to catch children as they fell. I really can't thank you enough, you're amazing ♥️

The hashtag
#endchildfoodpoverty
is being used to spread the word, campaign and share resources and information.
It's not hard to be heartened, like Rashford, at the outpouring of goodwill, which has gone far beyond wellwishes to concrete action.
This contrasts unflatteringly with what's come out of the government and Tories at large before, during and after the vote.
Here's Ben Bradley (FSM = free school meals):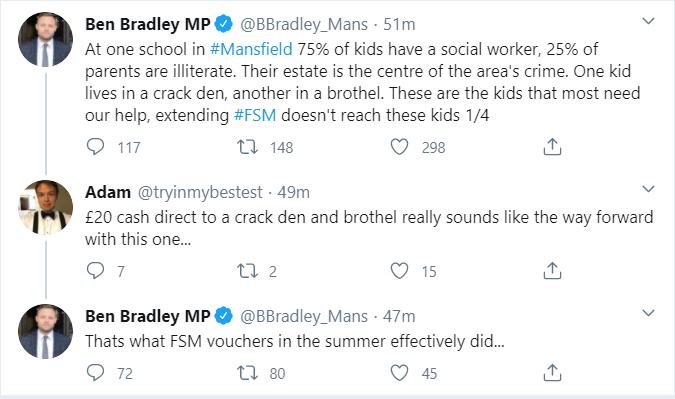 His main contribution so far has been to pathetically pester Rashford on Twitter to attend some self-seeking local photo opportunity under the guise of "dialogue":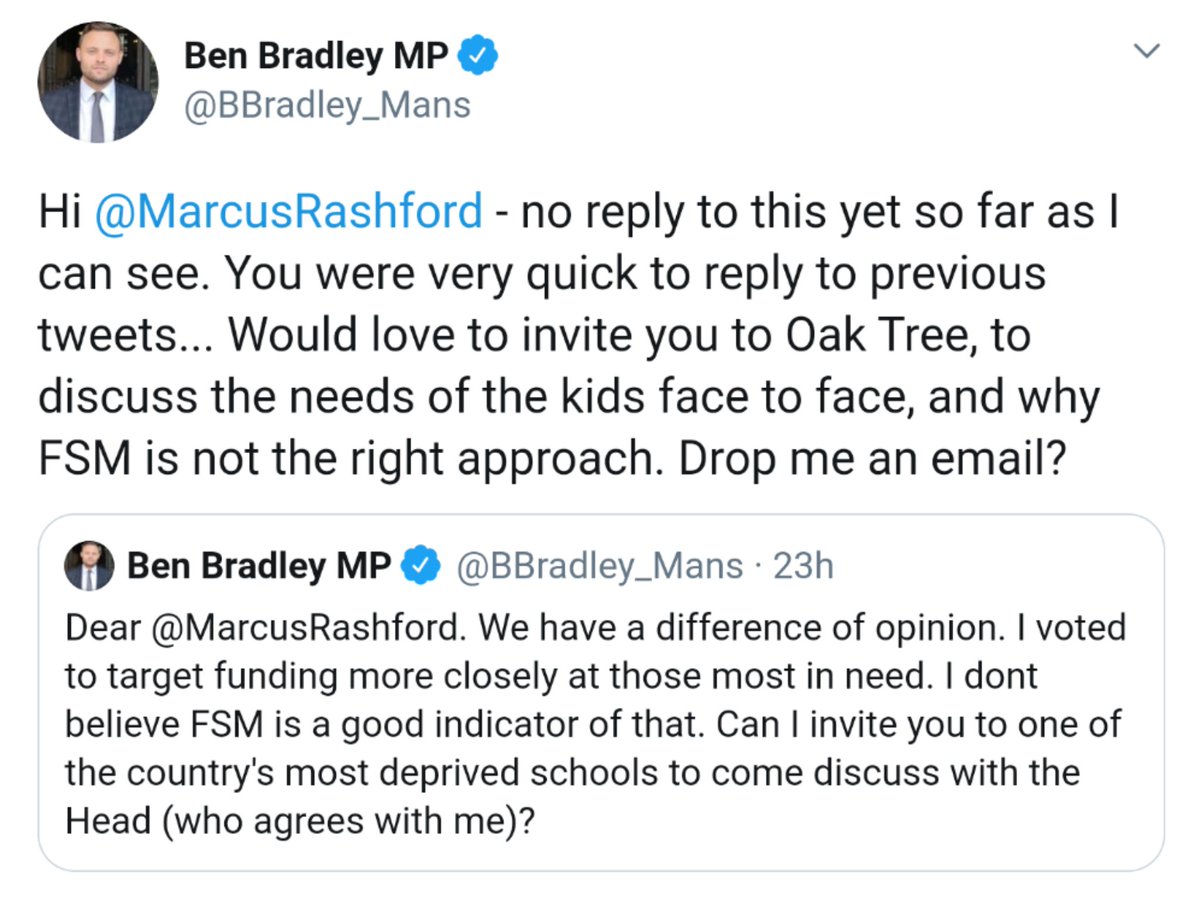 Here's Baronness Nicky Morgan on last night's
BBC Question Time
, peering down from her new elevated position in the Lords to show that charity begins at home - her home, apparently, and nobody else's - and adding an unappetizing soupçon of childish spite as her
pièce de résistance
:
https://twitter.com/bbcquestiontime/status/1319384272709570568
BBC Question Time
@bbcquestiontime

"The Labour party might have found they got more supporters if the deputy leader hadn't called one of the Conservative MPs scum."

Nicky Morgan clashes with @bphillipsonMP over free school meals. On #bbcqt, 10:45pm, @bbcone
"Scum" is among the milder expressions that are flying about at the moment:
https://twitter.com/ComradeGeordie/status/1319406464969170945
ComradeGeordie
@ComradeGeordie
Working class North east people voting Tory! What did you expect would happen? Ice cream and Jelly! Save your crocodile tears
😡
I'm not the only one to have been reminded of the stellar words of a superb German comedian: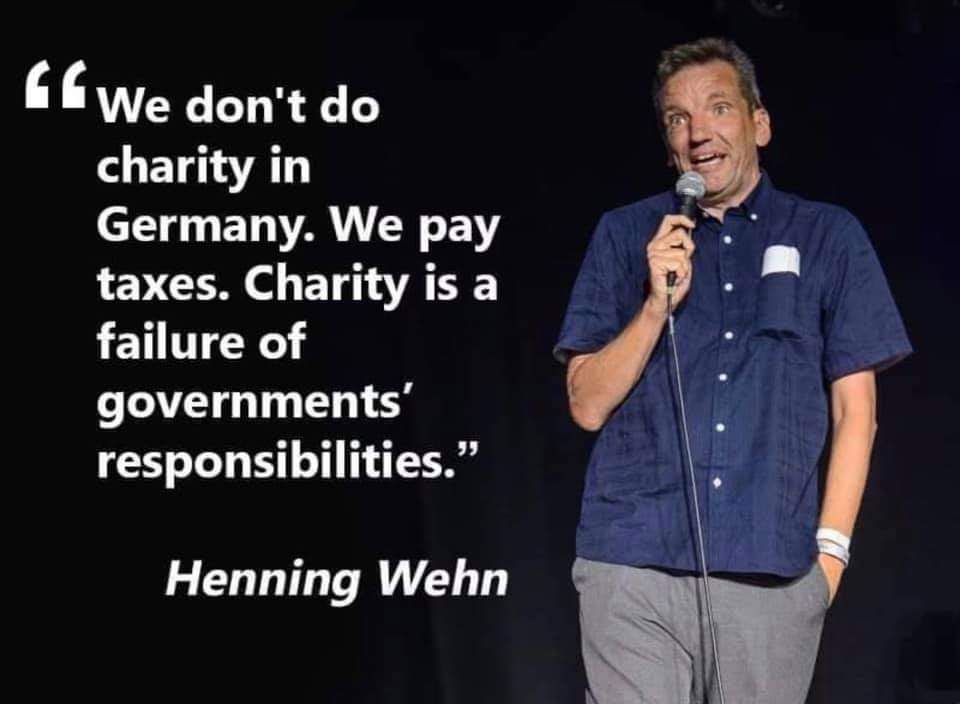 Many do pay their taxes in the UK (as an aside, charity is not unknown in Germany, either). Needless to say, the richest pay the least proportionately, and too many make it a mark of honour - good business - to pay as little as possible or none.
There's plenty of money sloshing around in the COVID slurry at the moment. The sums involved in free school meal provision are minuscule compared to the billions wasted on unscrutinized contracts that will never be fulfilled.
Maybe each and every schoolkid in need to should put in a bid to supply PPE to the government - if as successful as the Tories' cronies, they'd never go hungry again.
This is a copy of Twitter thread you can click through to here:
https://twitter.com/SethAbramson/status/1319002887213797377
Seth Abramson
@SethAbramson
Major U.S. media is now picking up on the subject of my recent thread. This is going to get very big very fast—*if* American journalists work through the dire, wide-ranging implications of what this story means. It's import goes *way* beyond a single comedy film.
*Way* beyond.
Ken Dilanian
@KenDilanianNBC

Rudy Giuliani caught in compromising position in new 'Borat' film https://nbcnews.com/pop-culture/movies/rudy-giuliani-caught-compromising-position-new-borat-film-n1244187
via @nbcnews
Seth Abramson
@SethAbramson
PS/ So far I'm not optimistic, with NBC reporting the video as merely a "prank" multiple times in its first article on the subject—and exculpating Giuliani from any knowledge that the actress he thought was a journalist was in the context of the movie playing an underage girl.
PS2/ The problems with this are legion. The intention of the filmmaker was to establish that top Trump agents would readily fall into sexually compromising "bribe" situations with people they believed to be agents of former Soviet Republics. This wasn't set up to be a mere prank.
PS3/ NBC is reporting on the "underage" component of this sting beyond its capacity to be journalistically responsible. It doesn't know what Giuliani was told about Bakalova's character before he went into the room with her. He can't be inculpated or exculpated on that score yet.
PS4/ So in the first U.S. report on this story, we have U.S. journalists playing cover for Team Trump in a way that we don't find in the British coverage from equally reputable media outlets. NBC has this as a prank that Giuliani definitely didn't think involved an underage girl.
PS5/ In fact, from a journalistic standpoint, it's unknown (maybe irrelevant) what the intent of the filmmaker was—and so the word "prank" is non-journalistic. The news content of this story relates to what Rudy Giuliani believed was going on at the time. That's all that matters.
PS6/ What Giuliani believed was going on at the time is a function of what was caught on tape *and* info he was given off-camera. So NBC News reporting what was said on-camera as the only information Giuliani had at the time is thoroughly irresponsible as a matter of journalism.
PS7/ This was a *bribery sting* that happened to be orchestrated by a filmmaker. Top Trump agent and lawyer Giuliani believed he was being bribed by a former Soviet republic—and went along with it. The open question is whether he was told off-camera his interviewer was underage.
PS8/ There's clearly a danger that US journalists will also leave out the context in which this bribery sting occurred: Giuliani acting as Trump's chief agent/intermediary with Kremlin agents, and facing a federal investigation for bribery—but also the prospect of a Trump pardon.
PS9/ The bribe component is present no matter what age Rudy Giuliani thought Bakalova was, or even if he never thought about it at all. He was being pumped for privileged access and info by a foreign national and appeared to believe there was a sexual component to the exchange.
PS10/ Rudy Giuliani is the President's lawyer—and Kremlin intermediary. He has access to the most sensitive info in the world. He can't go to a room and engage in sexual conduct with a foreign journalist he has just met who is pumping him for information. It simply cannot happen.
PS11/ That Giuliani's apparent sexual quid pro quo can be suddenly interrupted by a "father" informing him that the foreign national from a former Soviet republic he's engaged in a compromising scene with is "underage" is exactly what makes the situation so dangerous for America.
PS12/ Had the "father" in this scene been a Russian intelligence operative rather than a filmmaker, he would have *maintained* the lie that Bakalova was underage, and used the recording of the scene—which Giuliani didn't know about—as *blackmail* over the president's lawyer. See?
PS13/ So when NBC covers this as a prank—as though Giuliani knew that at the time when of course he didn't, and when in fact it was a bribery sting rather than a prank anyway—and when NBC reports without definitive knowledge what Giuliani believed about Bakalova, it's misleading.
PS14/ Never forget that this occurred at a time when Rudy Giuliani had been *thoroughly* briefed on the Russian intelligence threat, and had seen Russian intelligence previously use a "honey pot" maneuver (with Maria Butina) to try to seduce top Republicans in the United States.
PS15/ This is a terrifying security breach. Any journalist worth their salt would report it as such, but there's a real danger that what we'll get instead are reports that situate this as a prank in a comedy film rather than the national security-implicating bribery sting it was.
...
Downing Street are said to have been reviewing private polling which showed that Biden is on track to win by a landslide, leading to Johnson to increase communication with the Biden camp.
Johnson had spoken to Trump last week, wishing him well after his Covid-19 diagnosis, to the alarm of advisers who believe it could lead to Biden shunning the UK government if he enters the White House.
Dominic Raab is said to be conducting backroom talks with the Democrat team, along with the UK's ambassador to the US Karen Pierce.
Over recent months they have met with House speaker Nancy Pelosi, senator Chris Coons, and foreign policy advisors Tony Blinken and Jake Sullivan.
...
A diplomatic source close to Biden also told the newspaper: "There will be a penalty for people who sucked up to Trump."
https://www.theneweuropean.co.uk/brexit-news/westminster-news/downing-street-fears-donald-trump-will-lose-election-2895306
If Raab has no luck, they should send in the big guns and dispatch Chris Grayling.
The government has failed to account for £3bn spent on private contracts since the start of lockdown, new figures show
A legal action has been launched over the government's failure to disclose details of its spending on contracts related to the pandemic, as it emerged that it has failed to account for £3bn spent on private contracts since the start of lockdown.
Three cross-party MPs and Good Law Project, a non-profit-making organisation, have filed a judicial review against the government for breaching the law and its own guidance and argue that there are mounting concerns over coronavirus procurement processes.
Green party MP, Caroline Lucas, Labour's Debbie Abrahams and Liberal Democrat MP Layla Moran say that, despite the Department of Health and Social Care (DHSC) disclosing in September that at least £11bn worth of contracts have been awarded by the department since April, related predominantly to coronavirus, fresh analysis by data analysts Tussell shows that over £3bn worth of these contracts have not been made public.
The DHSC has said due diligence was carried out on all government contracts which have been awarded. The government has 21 days to respond to the judicial review proceedings.
https://www.theguardian.com/politics/2020/oct/11/mps-launch-legal-action-against-uk-government-over-covid-contracts
At last.
Documents seen by Byline Times confirm that the Great Barrington Declaration advocating a 'herd immunity' approach to the COVID-19 pandemic has been sponsored by an institution embedded in a Koch-funded network that denies climate science while investing in polluting fossil fuel industries.
On 3 October 2020, the American Institute for Economic Research (AIER), a libertarian free-market think-tank in Great Barrington, Massachusetts, hosted a private gathering of scientists, economists and journalists to discuss responses to the COVID-19 pandemic. Among them was the distinguished Oxford University epidemiologist Professor Sunetra Gupta, among the most vocal proponents of a 'herd immunity' strategy.
The Great Barrington Declaration, after the town in which it was created, was drafted by Gupta with two other top US scientists, Professor Martin Kulldorff of Harvard University and Stanford Fellow Jay Bhattacharya. The Declaration itself – which calls for only the elderly and vulnerable to be quarantined while encouraging young people to contract the virus – was signed by an initial batch of some 35 scientists.
...
The claim that "thousands of scientists" are supporting the Barrington Declaration was reported far and wide by major media outlets from the BBC to the Daily Mail. But when I attempted to check how the signatory process works, I discovered that there was no vetting procedure in place for signatories – anybody could become a confirmed signatory of the Declaration and be categorised as a scientist or medic by falsifying entry information and ticking a box. By experimenting with the process myself, I was able to add myself as a signatory under the 'Medical & Public Health Scientists' category and received an automated email confirming this.
https://bylinetimes.com/2020/10/09/climate-science-denial-network-behind-great-barrington-declaration/
Twitter users are reporting finding among the declaration's thousands of signatories experts such as:




From Sky News:
Coronavirus: 'Dr Johnny Bananas' and 'Dr Person Fakename' among medical signatories on herd immunity open letter
Other listed supporters include Dr Harold Shipman and Dominic Cummings of "Durham Univercity".
A widely-circulated open letter calling on governments to pursue herd immunity is counting homeopaths, therapists and fake names among its "medical" signatories, leading to accusations that it falsely represents scientific support for the controversial position.
The Great Barrington Declaration, a letter organised by prominent advocates of herd immunity, claims to have been signed by more than 15,000 scientists and medical practitioners, as well as more than 150,000 members of the general public.
Yet Sky News found dozens of fake names on the list of medical signatories, which anyone can add to if they tick a box and enter a name. These included Dr. I.P. Freely, Dr. Person Fakename and Dr. Johnny Bananas, who listed himself as a "Dr of Hard Sums".
https://news.sky.com/story/coronvairus-dr-johnny-bananas-and-dr-person-fakename-among-medical-signatories-on-herd-immunity-open-letter-12099947
Fake signatories were inevitable as the declaration was opened up to public subscription without any checks on bona fides, but its principles have in any case been challenged by real experts such as Scottish Government adviser Professor Devi Sridhar:
https://twitter.com/Channel4News/status/1313909400889896960
Channel 4 News
@Channel4News

"They haven't thought it through, in terms of what it would feasibly mean."

Professor Devi Sridhar, of Edinburgh University, says the Great Barrington Declaration against blanket lockdown restrictions is not scientific or accurate.

[Twitter video]

Well, since Trump obviously isn't taking his illness seriously, I don't see why anyone else should. Many on Twitter certainly aren't. Add to this collection if you want.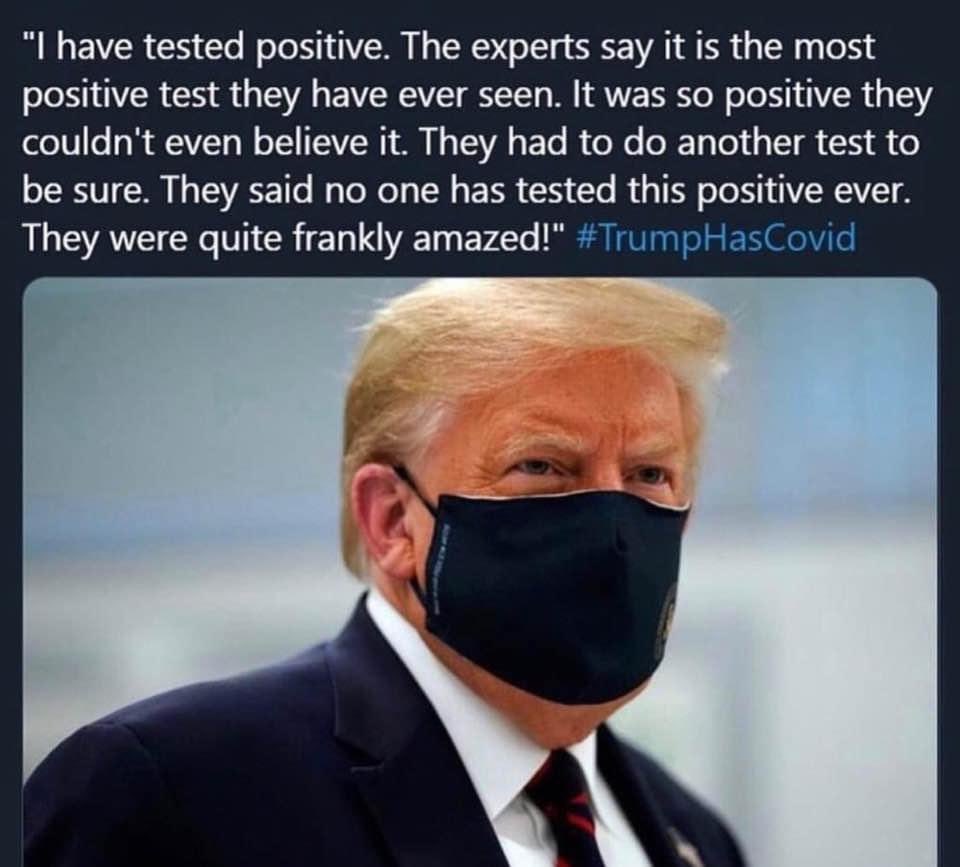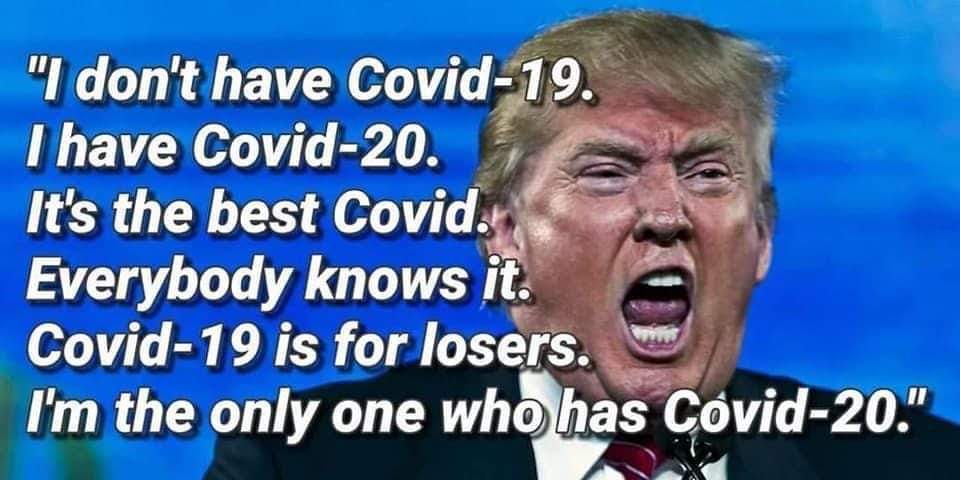 qanon trying to figure out if COVID is still a hoax now that trump got it
Speaking to Tory activists, the Prime Minister said his party would use the fallout from the pandemic to 'short-circuit' the state and slash taxes
The Prime Minister has explosively described the deadly coronavirus pandemic as a "massive opportunity" that his party can take advantage of.
Boris Johnson said that the Conservatives would use the fall out of the crisis to "short-circuit" the country and impose a right-wing agenda of tax cuts and reduced support for the unemployed.
And he urged activists to keep the faith as he promised that he would slash taxes as soon as the Spring.
Speaking at a Q&A session at Conservative conference on Sunday, he said: "We have a massive opportunity now to use this unquestionable crisis, I mean it's been a huge thing for our country, to build back better."
https://www.mirror.co.uk/news/politics/boris-johnson-calls-coronavirus-pandemic-22790194
No great surprise - never let a good crisis go to waste, after all - but sort of refreshing to see it set out so bluntly.
In terms of the Shock Doctrine, I'd have thought the impending no-deal Brexit might have been enough to do the trick on its own, but I'm sure Johnson/Cummings know best.
GARE LOCH, Scotland (Reuters) - Rescuers are racing to herd a group of whales out of a Scottish loch ahead of major military exercises that conservationists fear could distress the giant cetaceans.
The pod of northern bottlenose whales, which can dive to depths of 2,000 metres and rarely visit coastal waters, were first noticed around Loch Goil but then ended up in the Clyde.
Five of the whales - which can grow up to 11.2 metres in length and weigh over 7 tonnes - have been spotted around the Loch Long area and have entered some of the smaller lochs nearby ahead of a military exercise due shortly.
...
Europe's largest military exercise - Joint Warrior - begins on Saturday with its headquarters at at Faslane naval base next to Gare Loch.
https://www.msn.com/en-gb/news/world/rescuers-race-to-herd-whales-away-from-military-exercise-in-scotland/ar-BB19BONJ?ocid=st
The Gareloch is just on our doorstep, some 20 miles down the River Clyde from Glasgow. We heard this morning that an attempt was going to be made starting around 12.20pm to herd them out of the loch into the Clyde Estuary and deeper, less enclosed waters.
A pod of three to five bottlenose whales has been in the Clyde area for a week or so, heading up the neighbouring Loch Long to near Arrochar, where they put on some grand shows for photographers. Three of them then moved to the head of the Gareloch, where the Faslane submarine base is sited.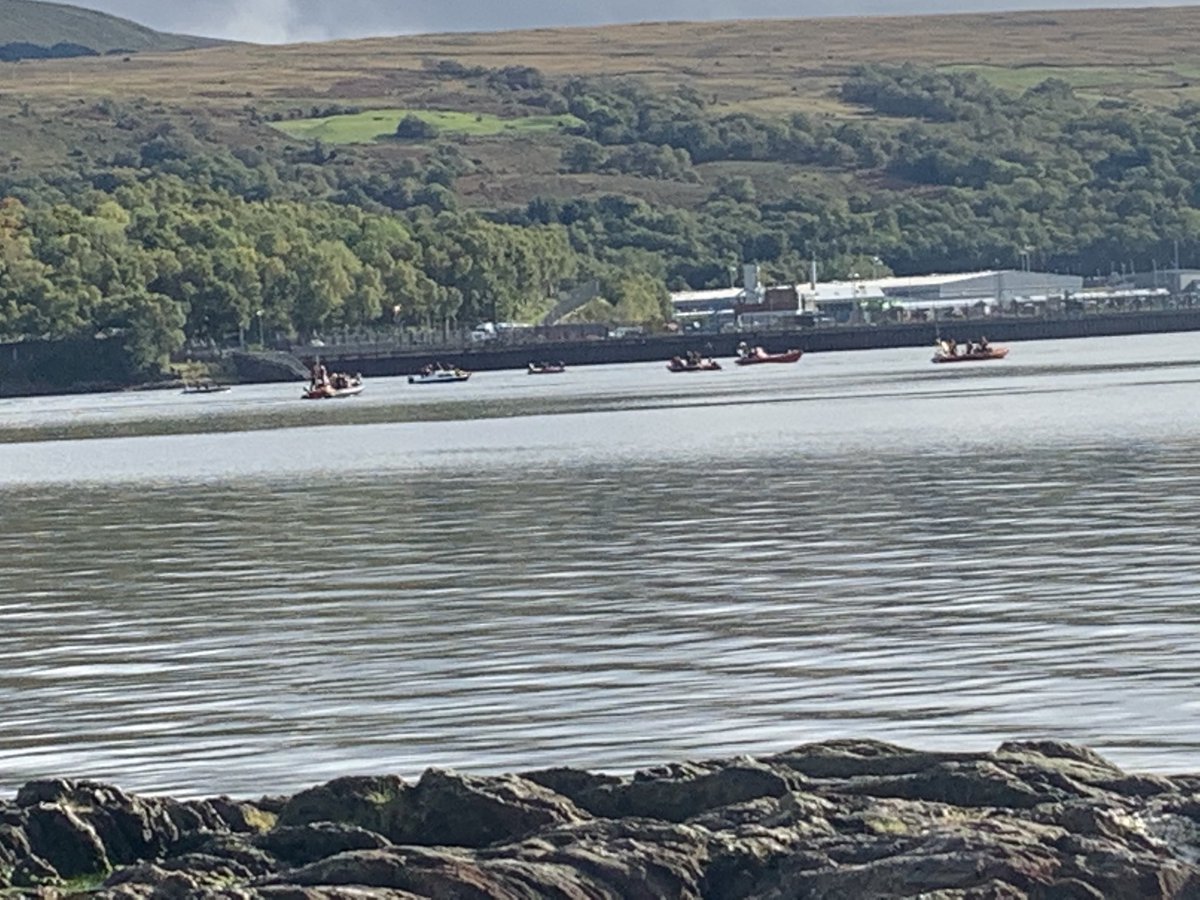 The buildings in the background are used to service the UK's Trident submarine fleet. The base also berths and services a number of surface vessels (none of the photos in this post are ours).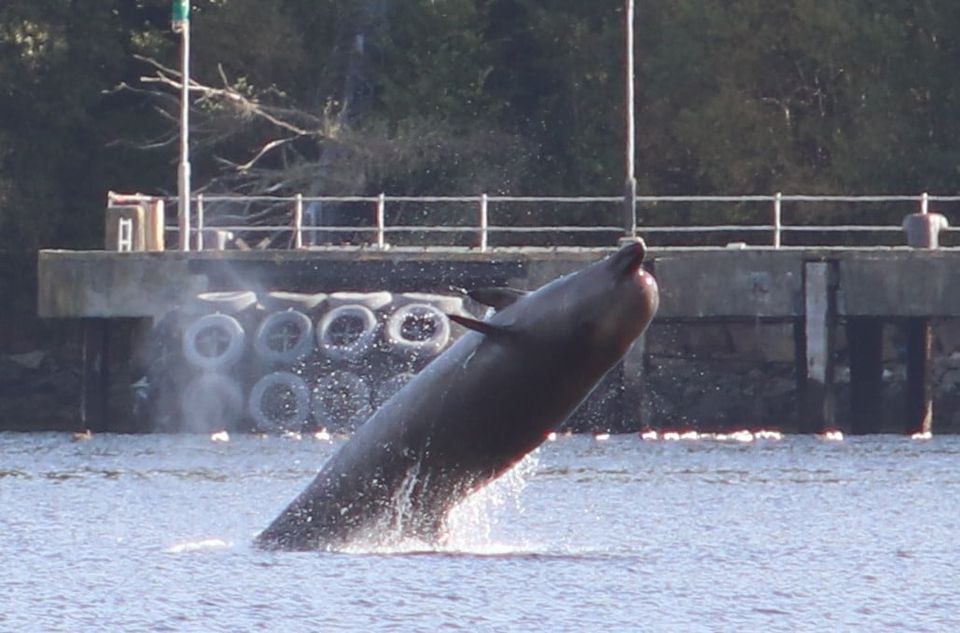 People were at first understandably excited and entranced at the chance to get such close-up views of these magnificent beasts.
https://twitter.com/navynotnuclear/status/1309126403946881026
lifewithoutnukes 🏴󠁧󠁢󠁳󠁣󠁴󠁿
@navynotnuclear
Now these visitors 🐳 are the kind we love 💓 seeing in the #Gareloch #Whales #Argyll #Scotland #marinelife

[Twitter video]


Unfortunately, scientists feel they're in some distress and rather thin, so they're not thriving.
Faslane is due to host the major annual Exercise Joint Warrior around the Scottish coast beginning this weekend, and ships from various navies have already begun to arrive in the area.
The fear is that the whales may be disturbed by the increased traffic and beach in the shallow waters at the head of the loch, which would obviously be disastrous. Any danger they might pose to shipping in the relatively enclosed waters is a subsidiary concern.
So we headed out around 4pm to see if we could witness what was going on. By the time we arrived, we found a flotilla of RIBs heading in formation beyond the Rhu Narrows, which is where the Gareloch opens out into more expansive waters. Here's an aerial view: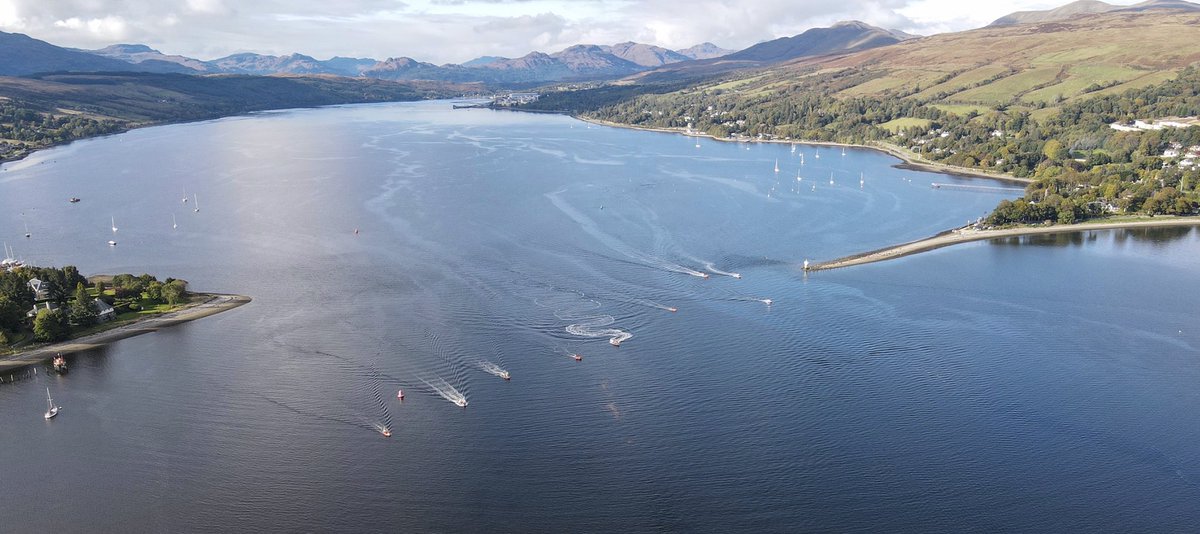 And here's a closer one: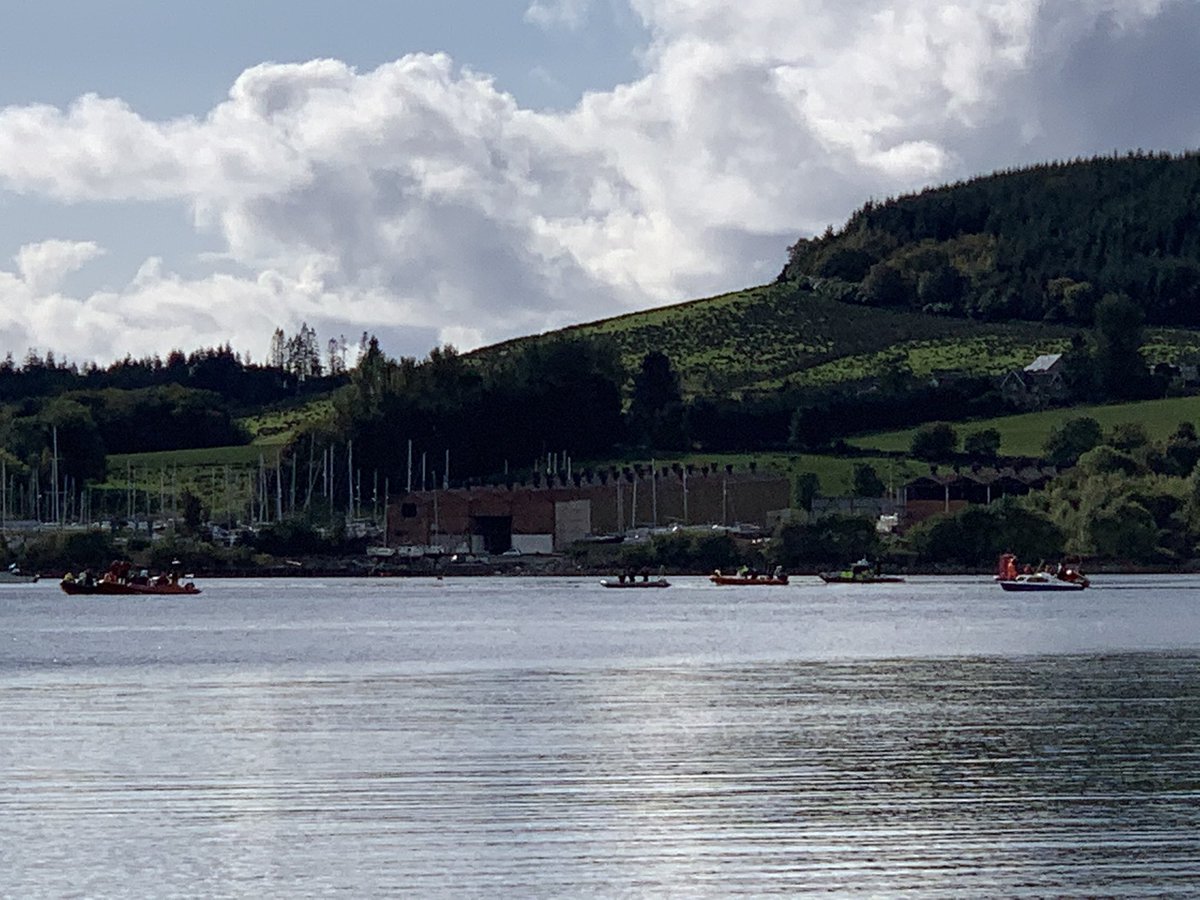 We could hear some sounds from the RIBs, as if someone was banging a tin pot, presumably as part of the herding effort. After a while, the RIBs gathered into a raft and stayed put for about 20 minutes.
We hoped at that point that they'd been successful and were allowing the pod to make its own way into the Firth of Clyde. The RIBs then dispersed back into the Gareloch. so we haded around the Rosneath Peninsula to get a better view of the wider Clyde. We encountered some Coastguard vehicles, so stopped to ask them what they knew. Sadly, they'd heard over their radios that the pod had turned back into the Gareloch, so today's effort had been a failure.
Here's the latest developments I could find in the media:
Gareloch whales rescue bid goes on after first attempt fails
A multi-team operation to herd a pod of whales stranded in shallow water near Helensburgh to safety is continuing this evening - after the first rescue attempt failed.
...
An update shared on the BDMLR Facebook page shortly before 5pm said: "The whales were successfully herded towards the mouth of the loch earlier today, however as the whales reached Rhu Point, they changed direction and headed back towards Garelochhead.
The boats have stopped to refuel and regroup, the operation will then continue.
"With an increasing amount of traffic on the water our spotters on shore are finding it difficult to monitor the movement of the animals."
NATO military exercise, Joint Warrior, is set to start this weekend, bringing with it an influx of vessels to the Faslane naval base over the next few days, and the MoD has said that it would be prepared to amend the scheduled programme of activity if circumstances involving the whales dictate.
https://www.helensburghadvertiser.co.uk/news/18763787.gareloch-whales-rescue-bid-goes-first-attempt-fails
https://twitter.com/BDMLR/status/1311760704668663808
BDMLR
@BDMLR
Spectacular scenery across Gare Loch this evening as our team make a final attempt to move the Northern Bottlenose Whales out of the Loch. We'd like to thank the locals, boat operators, the MoD and everyone who has given their support and assistance today. 👏 🐋

Samantha McFarlane

[Twitter video]