Welcome to DU!
The truly grassroots left-of-center political community where regular people, not algorithms, drive the discussions and set the standards.
Join the community:
Create a free account
Support DU (and get rid of ads!):
Become a Star Member
cleanhippie
cleanhippie's Journal

cleanhippie's Journal

November 5, 2014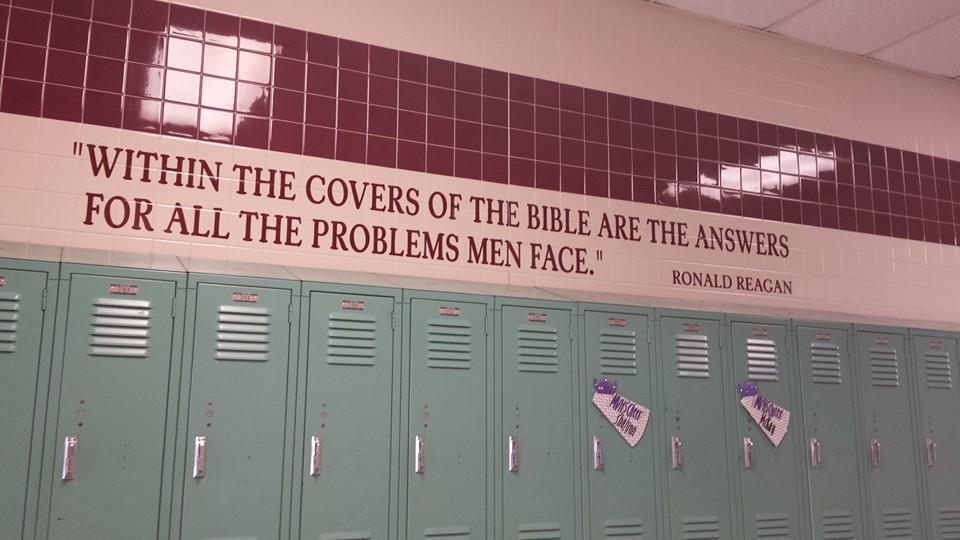 Numerous allegations of Establishment Clause violations include religious postings in several classrooms. One kindergarten teacher displays 10 Christian crosses on the wall next to her desk, several with bible verses printed on them. A high school Spanish teacher has a printed list of "Bible Verses for Teachers" on her wall that quotes such New Testament verses as Ephesians 3:16-17, "I pray that out of His glorious riches He may strengthen you with power through His Spirit in your inner being, so that Christ may dwell in your hearts through faith."
"Public schools have a duty to ensure that 'subsidized teachers do not inculcate religion' or use their positions of authority to promote a particular religious viewpoint," FFRF Staff Attorney Sam Grover wrote Superintendent John Kaufman in the Oct. 31 letter. "When teachers place Latin crosses or bible quotes on classroom walls, they have unconstitutionally entangled the school with a religious message, specifically a Christian message."
It is FFRF's information that hallways in multiple Mt. Vernon schools contain religious quotes painted on the walls. At Mt. Vernon High School, the quotes include, "Within the covers of the Bible are the answers for all the problems men face," attributed to Ronald Reagan, as well as one attributed to Thomas Paine, "Reputation is what men and women think of us, character is what God and angels know of us."
--snip--
"Given the variety and pervasiveness of the violations reported to us, we recommend that the district not only address the specific violations reported here, but also make an effort to educate all district employees about their obligation to remain neutral toward religion under the Establishment Clause," the letter concluded.
"We have rarely seen such a collection of egregious state/church violations in one school district," commented Annie Laurie Gaylor, FFRF co-president. "This is religion run amok, targeting a captive audience of young students, including elementary school students. All of these religious mottos, symbols, posters, bible verses and Christian T-shirts should be removed immediately."
- See more at:
http://ffrf.org/news/news-releases/item/21713-ffrf-combats-pervasive-religious-endorsement-in-texas-school-district#sthash.RwJZ2Qfr.ObAUdIUH.dpuf
November 5, 2014
?w=600&h=600
?w=600&h=450
?w=600&h=401
?w=600&h=450
?w=600&h=399
?w=600&h=416
?w=600&h=449
?w=600&h=331
?w=600&h=404
?w=600&h=425
?w=600&h=450
?w=600&h=401
?w=600&h=337
?w=600&h=296
?w=600&h=515
?w=600&h=401
?w=600&h=399
The point? Things could be much, much worse.
November 5, 2014
--snip--
If you already think you're defeated, you are. Republicans will certainly hold the House tomorrow and they very well may take the Senate. That's how it works. You win some. You lose some.
America lurches back and forth, left and right and left and right again, like a drunk staggering into the future. Sometimes your party and your ideology is going to win, sometimes it isn't. And it for damned sure won't if you don't get out there and vote for it.
But you know what's going to happen if Republicans do take the Senate tomorrow?
Do you know what's going to happen if Conservatives control both houses of Congress?
Nothing.
Absolutely nothing.
Literally nothing.
That's what will happen.
For the next two years.
Nothing.
--snip--
And so what if they take the Senate?
Fix the debt? They won't do that.
Balanced budget? They won't do that. In fact, if history is any guide you'll be lucky to see an unbalanced budget. More likely they'll just shut the government down again, blame Obama, and go home.
Jobs bill? They won't do that either. Minimum wage? Forget about it.
Immigration reform? Nope, they sure won't do that. They won't even "secure the border," because that will cost hundreds of billions and require huge amounts of assets, organization, oversight, and a bigger government. And they'll need the cooperation of the president they just tried to impeach.
Energy policy? They won't do that. Fixing America's aging infrastructure? I wouldn't hold your breath. Banking reform? Middle East policy? Action on climate change? Education? Gun violence? Tax reform? Trade?
Instead we'll hear endless, endless debate over gay marriage and Benghazi and government overreach, but in the end they'll do nothing and count it as a victory.
--snip--
They'll do nothing and count it as a victory because stopping Obama is all they care about.
Republicans have no big vision, they don't even have a small vision.
They have no fresh ideas.
The GOP's message is one of revenge and sullen resentment and fuck you I got mine and nothing more.
They're on the wrong side of history and they're going extinct and they know it and it makes them small and mean.
And the very best they can offer for the next two years is … nothing.
But if you want more than that, more than nothing, then shrug off your defeat and gather up your friends and all the like-minded Americans you can find and get your ass to the polls.
Sure it's hard.
Sure it's an uphill battle.
Sure the odds are stacked against you and the game is rigged.
So what?
If your vote didn't matter, then these rotten sons of bitches wouldn't be working so damned hard to take it away from you.
http://aattp.org/a-retired-navy-officers-message-to-liberals-on-the-eve-of-the-gops-big-mid-term-win/
Read the entire thing at the link, because it's a good read and the guy is right.
Profile Information
Member since: Sat Jul 3, 2010, 11:24 AM
Number of posts: 19,705