Page: 1
Madam45for2923
Madam45for2923's Journal
Profile Information
Member since: Mon Sep 19, 2016, 10:04 AM
Number of posts: 7,178

About Me
Russia Continues Info-War Tactics In US. MY OP HERE: https://www.democraticunderground.com/10029586724 .WATCH HERE: https://www.youtube.com/watch?v=Vy1vk1mZhiw. READ HERE: https://timesofsandiego.com/politics/2017/03/23/russia-duped-bernie-fans-via-facebook-san-diego-dems-told/LISTEN JOHN MATTES: https://www.youtube.com/watch?time_continue=1112&v=P2ujhoTqRtQ
Journal Archives
Source:
Business Insider
Trump Organization lawyer Michel Cohen hand-delivered a "peace" plan for Russia and Ukraine to former national security adviser Michael Flynn before Flynn was asked to resign, the New York Times reported on Sunday.
The plan, which involved lifting sanctions on Russia, was drafted by Cohen a close confidante of President Donald Trump who has served as his organization's special counsel since 2007 and Felix Sater, a Russian-American real estate developer who has helped the Trump Organization scout deals in Russia.
Sater, a businessman formerly linked with the Mafia who has boasted of his "relationship with Trump," told the Washington Post last May that he "handled all of the negotiations" for the Trump Organization's dealings in Russia in the mid-2000's.
Ukrainian lawmaker Andrii V. Artemenko, who met with Trump's campaign team during the election, was also involved in drafting the proposal. Artemenko told the Times he had evidence of Ukrainian president Petro Poroshenko's corruption that could lead to his ouster.
Poroshenko has been locked in a war with pro-Russia separatists in eastern Ukraine since he took power in 2014, and is considered more friendly to the West than his ousted predecessor, Viktor Yanukovych. Yanukovych's political rise was heavily aided by former Trump campaign manager Paul Manafort.
More in link...
Read more:
http://www.businessinsider.com/trump-lawyer-delivered-michael-flynn-plan-to-lift-sanctions-on-russia-2017-2
---
https://twitter.com/20committee/status/833439217179033604
https://twitter.com/DustinGiebel/status/833504548534833152
Other links that others shared below:
A Big Shoe Just Dropped
I don't know how much attention it's received. But the appearance of the name of Felix Sater in this new article in the Times is one of the biggest shoes I've seen drop on the Trump story in some time.
The new story explains that a group of Trump operatives, including top lawyer Michael Cohen and fired former campaign manager Paul Manafort, along with a pro-Putin Ukrainian parliamentarian named Andrii V. Artemenko and Mr. Sater are pushing President Trump on a 'peace plan' for Russia and Ukraine.
Cohen recently met with Sater and Artemenko; and Cohen agreed to personally deliver the peace plan (actually a sealed envelope with documents detailing it) to the President when he met with him at the White House. Cohen says he left it with General Flynn days before Flynn was forced to resign.
The backstory to all this is amazingly byzantine and murky. Let me try to cover the key points as simply as I can.
http://talkingpointsmemo.com/edblog/a-big-shoe-just-dropped
A Back-Channel Plan for Ukraine and Russia, Courtesy of Trump Associates
A week before Michael T. Flynn resigned as national security adviser, a sealed proposal was hand-delivered to his office, outlining a way for President Trump to lift sanctions against Russia.
Mr. Flynn is gone, having been caught lying about his own discussion of sanctions with the Russian ambassador. But the proposal, a peace plan for Ukraine and Russia, remains, along with those pushing it: Michael D. Cohen, the president's personal lawyer, who delivered the document; Felix H. Sater, a business associate who helped Mr. Trump scout deals in Russia; and a Ukrainian lawmaker trying to rise in a political opposition movement shaped in part by Mr. Trump's former campaign manager Paul Manafort.
At a time when Mr. Trump's ties to Russia, and the people connected to him, are under heightened scrutiny — with investigations by American intelligence agencies, the F.B.I. and Congress — some of his associates remain willing and eager to wade into Russia-related efforts behind the scenes.
Mr. Trump has confounded Democrats and Republicans alike with his repeated praise for the Russian president, Vladimir V. Putin, and his desire to forge an American-Russian alliance. While there is nothing illegal about such unofficial efforts, a proposal that seems to tip toward Russian interests may set off alarms.
https://www.nytimes.com/2017/02/19/us/politics/donald-trump-ukraine-russia.html
Journalists must report on the administration's many falsehoods — and find a way to do so that won't backfire

...

With the Trump administration's mendacity, journalists need to be especially careful about not accidentally elevating lies through the creation of articles intended to debunk them. It may seem helpful to run a story headlined "Murder Rates Not at Historic Levels" or "Voter Fraud Not Widespread." But those kinds of stories may lead people to think more about murder and voter fraud than they did before, prompting them to worry more about such issues — even though the point of the articles is that they should worry less.

Thorson suggested that journalists should focus more on what politicians are doing than what they're saying. For instance, instead of writing a story focusing on Trump's false statements about the murder rate, they ought to describe how Trump is trying to create a police state. Then within the text, they could devote a paragraph to the way the administration uses lies to advance unsavory goals.

Journalism is very quote-centric because journalists are interested in the truth. The glory of obtaining a quote from someone interviewed on the public record is that it is, in most cases, indisputably true and easily verified, especially in an age when digital records exist for almost everything. Statistics, policy analysis, ideology and many other things are easy for politicians and their lackeys to distort and quibble over. But a quote — what someone said — has a life of its own.

Unfortunately, that's just what Trump and his team are counting on when they spin outrageous falsehoods: The quotes will stand out and a somber debunking of the lies might not register with an audience.

Because of this, journalists may to rethink their reliance on quotes, a heretical notion for many. When a quote is a lie, journalists should think about not using it at all. If the lie needs to be cited, it should be buried deep within the story, under the debunking and not put in the headline or the first paragraph. If we learn not to lead with the lies, maybe they will lose some of their stickiness.
https://www.salon.com/2017/02/15/can-journalists-debunk-trumps-lies-without-amplifying-them-its-challenging-but-not-impossible/
The Strange Case Of The Russian Diplomat Who Got His Head Smashed In On Election Day
How did Sergei Krivov die? And why did the NYPD close the case?
NEW YORK — He was found just before 7 a.m. on Election Day, lying on the floor of the Russian Consulate on the Upper East Side.
The man was unconscious and unresponsive, with an unidentified head wound — "blunt force trauma," in cop parlance. By the time emergency responders reached him, he was dead.

Initial reports said the nameless man had plunged to his death from the roof of the consulate. As journalists rushed to the scene, consular officials quickly changed the narrative. The anonymous man had not fallen dozens of feet from the roof of the consular building, they said, but rather had suffered a heart attack in the security office, and died.
Police officers said the death of Sergei Krivov — his name revealed here publicly for the first time — looked natural, and listed the case as closed.

But who was Krivov? And how did he really die? Three months after he was found dead, as tensions between the US and Russia reach a fever pitch, the New York City medical examiner isn't sure he had a heart attack after all.

As far as paper trails go, dying is a messy thing, even under normal circumstances. But in the months since Krivov's death, it's proven nearly impossible to find out how he died, who he was, and how, if at all, federal authorities were involved in any investigation.
English-language news reports said Krivov, identified then only as a 63-year-old Russian national and Manhattan resident, was a security officer. But a November report from Sputnik, the English-language Russian media outlet, says he was a consular duty commander.


More here:
https://www.buzzfeed.com/alimwatkins/the-strange-case-of-the-russian-diplomat-who-got-his-head-sm?utm_term=.kvdG5yjx6#.vwYqAe7Bl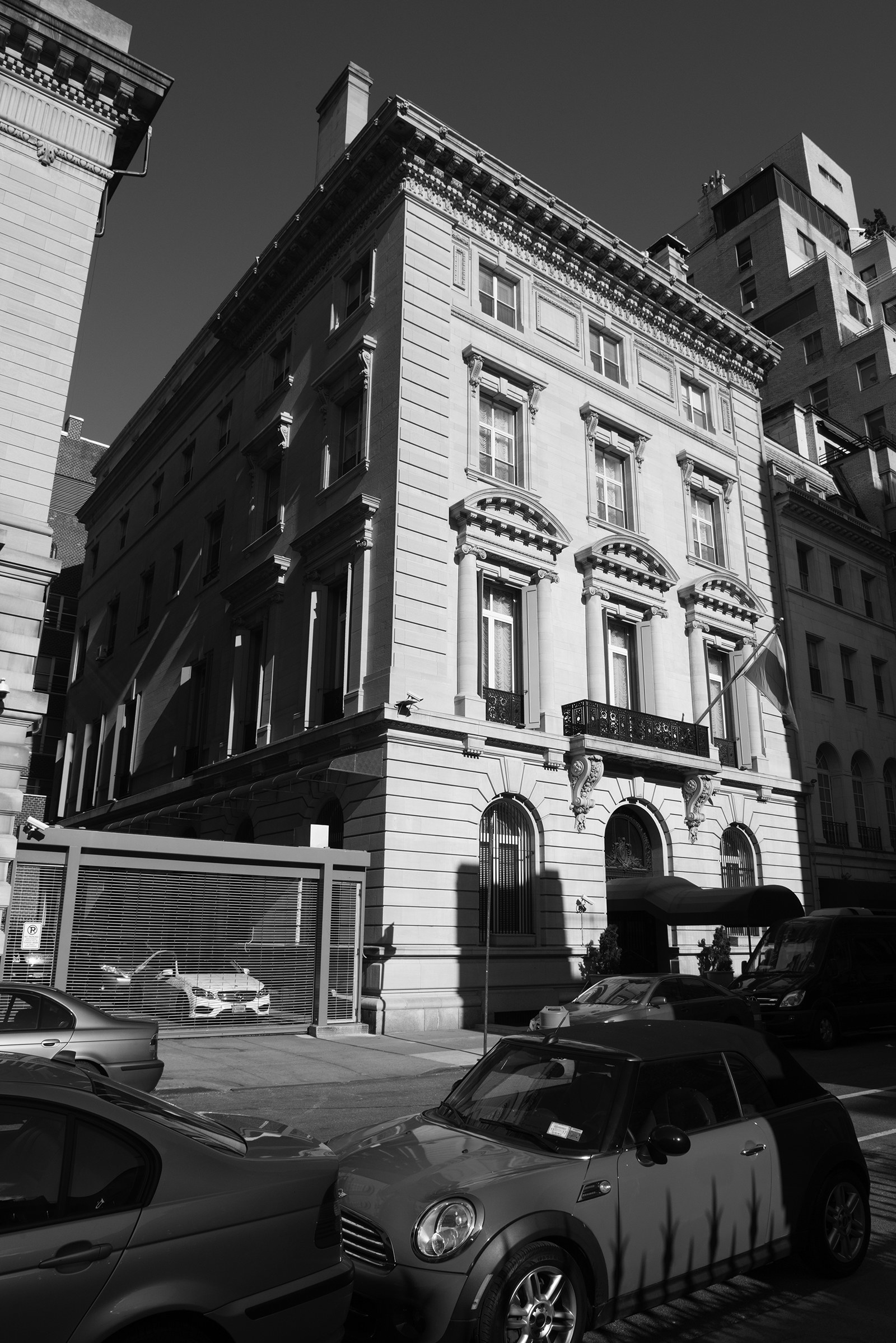 ?resize=990:1483&no-auto
The Russian Consulate at 11 E. 91st St. in New York City on Feb. 6, 2017. Ben King / BuzzFeed News

On paper, the leader of the California secession movement lives in an apartment complex near San Diego's Golden Hill neighborhood. But in reality, the Calexit campaign is being run by a 30-year-old who lives and works in a city on the edge of Siberia.
Louis Marinelli heads the secessionist group Yes California. Following the election of Donald Trump to the presidency, the organization has gone from an unknown fringe group to one discussed seriously in mainstream media.
What has not been discussed as prominently is Marinelli's deep ties to Russia.
A former right-wing activist from Buffalo, New York, Marinelli first moved to Russia almost a decade ago. He studied at St. Petersburg State University, the alma mater of Russian President Vladimir Putin. He returned to the United States to campaign against LGBTQ rights as part of the National Organization for Marriage.
Marinelli then returned to Russia. He would marry a Russian citizen, and the couple moved to San Diego, where Marinelli launched a political career based on a platform of California secession.
"I immigrated to California, and I consider myself to be a Californian," Marinelli says from his apartment in Yekaterinburg, a city of about 1.4 million just east of the Ural Mountains and about 1,000 miles from Moscow.
In an interview with The California Report, Marinelli confirms he's living and working in Russia as a teacher.
More in link plus audio:
http://ww2.kqed.org/news/2016/12/13/from-his-home-in-russia-calexit-leader-plots-california-secession/
Cal exit opens "embassy" in Russia
http://www.notey.com/blogs/calexit
There is Louis Marinelli in burgundy suit!
SEP 2016. Moscow welcomes the (would-be) sovereign nations of California and Texas:
The speaker was calling for California's independence from the United States.
Alexei Gavrilko nodded approvingly. A burly, bearded, camouflage-wearing separatist from eastern Ukraine, he said he had come to the posh Moscow hotel just outside the Kremlin to "communicate with colleagues" representing separatist and secessionist groups from the United States, Europe, the Middle East and the former Soviet Union.
During a conference dubbed the Dialogue of Nations, Gavrilko listened carefully to
Louis Marinelli, head of the Yes California group that is determined to hold the Golden State's "independence referendum" in 2019.

"For the first time in history, we, the people of California, who were conquered and annexed by the American military about 170 years ago, will have a chance to express our voice to either remain a state in the American union, or instead, to pursue a path toward a nationhood," Marinelli said solemnly.

Gavrilko, who is from the unrecognized but de facto independent Donetsk region, and the entire separatist crowd cheered and applauded. They did it again, louder, when Nate Smith, a self-proclaimed "foreign minister" of the Texas Nationalist Movement, promised that one day, the independent Lone Star state "can formally exchange ambassadors with your free and independent countries."
The arrival of Californian, Texan, Puerto Rican, Northern Irish, Catalan, Italian and Lebanese secessionists to mingle with activists from several unrecognized separatist territories in former Soviet republics is becoming a tradition as Moscow turns to belligerent, anti-Western nationalism coupled with a readiness to take up arms against its former Soviet vassals.
Moscow uses these gatherings to promote its political agenda, gain more political leverage in the West and push for the lifting of Western sanctions imposed on Moscow after its 2014 annexation of Crimea and support of the separatists in eastern Ukraine, a former lawmaker with the ruling United Russia party said.
"The more the West is disunited, the more beneficial it is to Russia," Sergei Markov said, adding that the secession of California and Texas — a prospect that would appear to be something of a long shot — would "undoubtedly benefit" the Kremlin.
http://www.latimes.com/world/europe/la-fg-russia-separatists-snap-story.html
The more the West is disunited, the more beneficial it is to Russia,
"The more the West is disunited, the more beneficial it is to Russia," Sergei Markov said, adding that the secession of California and Texas — a prospect that would appear to be something of a long shot — would "undoubtedly benefit" the Kremlin.
http://www.latimes.com/world/europe/la-fg-russia-separatists-snap-story.html
After that Tuesday, you know the one, I went to work straight away, getting ready. Grief be damned. My preparations were intuitive but deliberate, and these weeks later I find myself in a place of calm resolve, clear on what's required of me. Preparing to do it. Preparing. For those grasping for a path, I'd like to share how I got here. There's nothing special about it. Anyone can repeat the process.
Well, I do have one leg up on you that made all this easier, I've been trained as an organizer (what I mean by that is another essay for another day) and if you're serious about opposing what's coming, I suggest you get trained as an organizer too (I'll get to it in Part Three, promise). What follows is not for the organizers though. This is for those of you who've realized more is required of you… But have no idea where to start.
For context, let me state some truths I hold self-evident:
1 Donald Trump will be President.
2 The next 4–8 years will be very, very, very bad. Worse than most folks are currently allowing themselves to confront. There is no telling how long it will take us to recover. (If you just thought, "8 years? He'll be so awful, there's no way he gets reelected," please consider where that type of confidence has gotten us thus far.)
3 How bad this gets rests a great deal on us. Not just how hard we work but how smart. How well we work together.
4 The work that must be done will not be done online.
5 Each of us already has everything we need to confront this moment.
Let me say that one more time: Each of us already has everything we need to confront this moment.
Attempting to codify how I found my way to this clarity of purpose, a metaphor presented itself. Odd, I thought, considering I've only been surfing twice and never really stood up on the board. Then I remembered that David Mitchell line, "…your life amounted to no more than one drop in a limitless ocean! Yet what is any ocean but a multitude of drops?"
Step one: Dive deep.
Like a surfer paddling out past the place where the waves break, the most efficient path to a place of preparedness and poise is to dive underneathe. Taking the waves head on can sap your strength as they buffet you back, erasing progress. The most efficient way through is to dive deep.
For some, this may be the most challenging step. The work is emotional and internal. It demands that you confront yourself honestly:
What do you value in life, at the most basic level?
Where does your power come from?
What are you willing to sacrifice in order to defend your values?
There is no right or wrong answer to these questions. There is only honesty and denial. The moment you read them, you knew the answers. Maybe some rang clear like a bell. Others shuttered soft, muffled. But the answers are already there. Don't settle for the first one you find, though. Keep digging. Bust through walls, dynamite discomfort, self loathing and fear to get to them. Get over it. Push through. If not for you, for us. We need you.
These answers are your compass. With out honest ones, you're already lost.
While you're searching for them, tune out the rest of the world. Stay off the internet. Don't watch the news. Disconnect. Go quiet. Strive to find your way with out the distortion of other's opinions and perspectives. There's a reason I'm telling you how I got here, but not where I am. My way forward is not yours. Your gifts are not mine. All of us being our best selves, that's how we protect the things we care about. That's how we oppose what's coming.
Step Two: Look Around…
continues here:
https://medium.com/angelinaburnett/whats-next-part-two-55af745cd148#.uxx04996c
Here is Part One:
WHAT'S NEXT.
https://medium.com/angelinaburnett/whats-next-cabfb543de2e#.7op8vzmc7
He seems to be a malignant narcissist at least.

Knowing that an Iraqui-American's ederly mother died b/c of his ban -WON'T MOVE HIM.

Maybe he likes others' suffering. His whole life seems to prove that. I bet he gets off of it. People squirming in pain and hurt. Woah he is so powerful!

Logic and Rationalizing? He does not do that. Allergic. No need. Only his views matter, big billionaire he!


He is DESPERATE to be seen as THE BEST ever. He wishes he was good-looking, and thus that strange hair-do and the orange skin.

He has looks and smarts' COMPLEXES.

I think this desperation makes him BULLY others.

Also his malignancy makes him BULLY others.

All of the above makes his world very limited. SMALL internal WORLD.