Page: 1
BeckyDem
BeckyDem's Journal
Profile Information
Gender: Female
Home country: USA
Member since: Thu Feb 9, 2017, 01:31 PM
Number of posts: 8,361

Journal Archives
Citing Prospect reporting, Reps. Katie Porter and Jackie Speier want to know whether the military is improving its sexual crimes database.
by David Dayen
March 25, 2022
Rep. Katie Porter (D-CA) questions Federal Reserve Chairman Jerome Powell during a House Financial Services Committee on February 27, 2019.
Two California House Democrats are asking the Department of Defense to explain its actions on tracking cases of military sexual assault, based on Prospect reporting that the Pentagon suppressed initial research into improving its internal assault database.
Last November, the Prospect reported that Pentagon officials had known for years that the military's system for reporting sexual assaults was badly dysfunctional, leading to chronic underestimates of the scale of the problem. Yet when members of the Defense Digital Service (DDS), the Pentagon's technology experts, provided initial recommendations on how to fix the reporting problems in 2016, top military officials dressed them down. The DDS staffers were subsequently reassigned and the project dropped. Some of the individuals who participated in the scotching of the report remain at the Pentagon, and the problems with the database continue.
According to estimates, 1 in 16 women (and 1 in 143 men) in the military experience a sexual assault incident annually, and for service academies that number increases to an appalling 1 in 6 women and 1 in 29 men.
"Poor data management makes it difficult for DOD leadership to understand the scope of the problem or respond effectively," write Reps. Katie Porter (D-CA) and Jackie Speier (D-CA) in a letter to Defense Secretary Lloyd Austin. This was buttressed by a report last May from the Government Accountability Office (GAO), finding that the data on military sexual assault that DOD is mandated by statute to collect was not comprehensive or accurate.
https://prospect.org/justice/house-democrats-grill-pentagon-about-sexual-assault-tracking/
( Hat tip to The Prospect and our Dems! The fight goes on. )
by Ori Pomson | Mar 17, 2022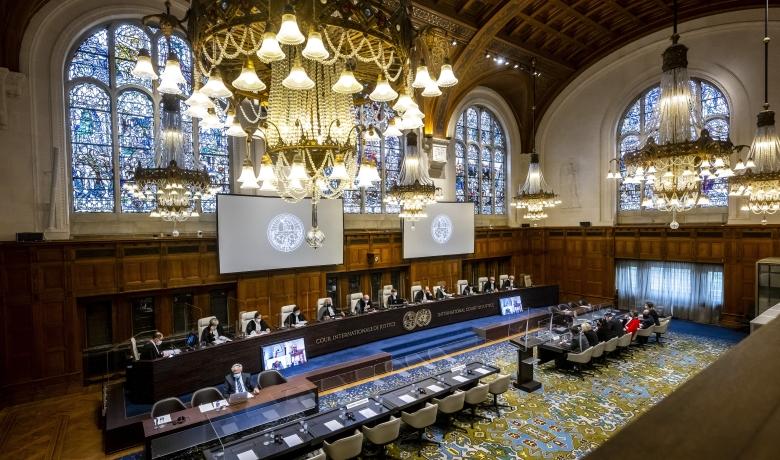 On March 16, 2022, the International Court of Justice (ICJ) rendered its provisional measures order in the application brought by Ukraine against Russia under the Genocide Convention, arguing, inter alia, that Russia's invasion was an unlawful abuse of its obligation under the Convention to prevent genocide. In its order, by 13 votes to 2, the Court ordered that Russia "shall immediately suspend the military operations that it commenced on 24 February 2022 in the territory of Ukraine." While the ICJ has previously rendered provisional measures orders in high profile situations—the Tehran Hostage Crisis, U.S. military activities against Nicaragua, armed clashes between Burkina Faso and Mali, Uganda's invasion of Congo and Russia's invasion of Georgia—it would be no exaggeration to say that the present order is the most breathtaking one it has ordered to date.
The purpose of the present post is twofold: It will first summarize the ICJ's order and then offer some commentary. However, before doing so, it is useful to provide some background on the ICJ's power to render provisional measures orders.
Background on Provisional Measures Orders
Article 41(1) of the ICJ Statute provides that "[t]he Court shall have the power to indicate, if it considers that circumstances so require, any provisional measures which ought to be taken to preserve the respective rights of either party." While for many years it was debated whether such measures are binding, the Court settled this question affirmatively in its 2001 LaGrand judgment, in the context of the U.S. state of Arizona's execution of a German national despite a provisional measures order rendered to the contrary.
Since provisional measures orders are rendered before the case has been fully adjudicated, serving to protect potential rights of a party in the interim, the Court's jurisdiction and the validity of the claimed rights cannot be definitively established. However, the prospect of the Court ordering a State to act—accentuated by the LaGrand finding that such measures are binding thereon—necessitates that provisional measures have some nexus with the prospects of the case (Judge Lauterpacht in Interhandel; Judge Abraham in Pulp Mills). For such reasons, the ICJ has developed a number of conditions which must be met for provisional measures to be rendered (see Miles, p. 174).
https://lieber.westpoint.edu/icj-provisional-measures-order-unprecedented/
( Extraordinary, excellent decision. )
Title: 'A way to let my friends know I'm still alive' Vera Lytovchenko, a professional violinist, keeps playing for her neighbors — even as Russian bombs fall outside.
9:40 am, March 11, 2022
Source: Meduza
Vera Lytovchenko is a violinist from Kharkiv. Because the Russian military has been bombing her city nonstop, she's spent most of her time lately in the basement of her apartment building, where she plays violin for her neighbors. Videos of her playing have been viewed thousands of times on social media and have helped other Ukrainians endure the fear and violence that have become a part of their daily lives. Vera spoke to Meduza about how life has changed since February 24.
Excerpt: When the war began, I was asleep. At five in the morning [on February 24, 2022], we heard some explosions, and my first thought was: who's setting off fireworks this early in the morning? I didn't believe it could be bombs for the longest time — I even tried to make myself fall back asleep. After a while, though, I realized it wasn't fireworks after all.
Excerpt: I don't know exactly what's happening around the city right now. Not many people are leaving their homes. The city is partially destroyed; some buildings look really scary. People are acting very strange: some are panicking, while others are so calm that they've even kept walking their dogs in the morning. We get a few hours of peace in the morning — it's usually quiet from about 7 to 9. That's when you can leave the basement and go up to the apartment. But after that, it's dangerous to be out in the city.
Much more at link:
https://meduza.io/en/feature/2022/03/11/a-way-to-let-my-friends-know-i-m-still-alive
He's at the negotiating table.
By Rebecca Adeline Johnston
March 08, 202212:36 PM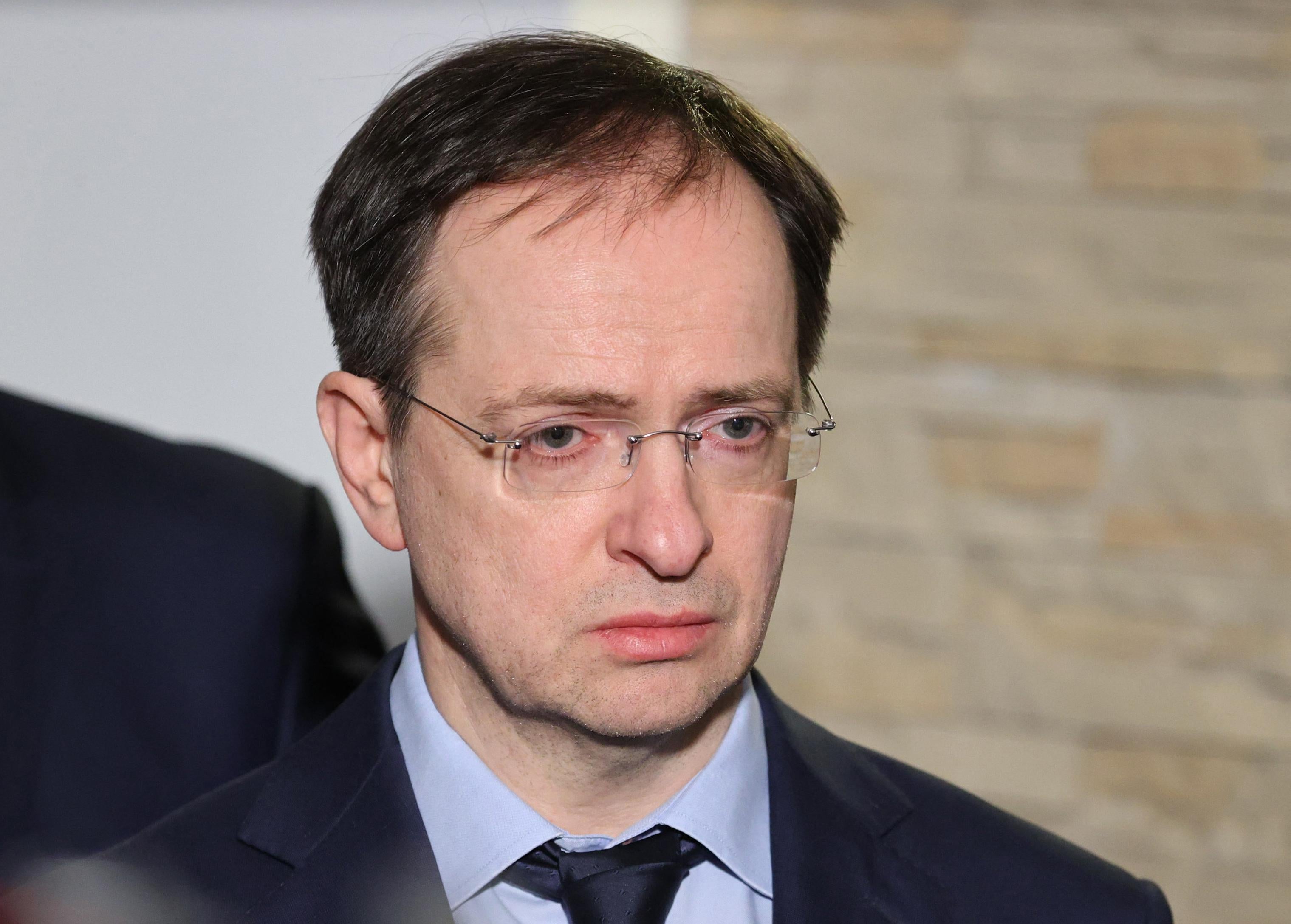 Russian presidential aide and head of the Russian delegation Vladimir Medinsky after the Russian-Ukrainian talks in Belarus' Brest region on Monday. Maxim Guchek/Belta/AFP via Getty Images
If there is one person in Russia who is more unhappy than Vladimir Putin to watch Russian troops underperform as they struggle to encircle Kyiv, it is likely Vladimir Medinsky. Unfortunately, that is also the person Putin chose to lead the Russian delegation in talks with Ukraine.
Many have rightly insisted that Russia and Ukraine must arrive at a diplomatic solution to end this war. But Medinsky has already sought to use these talks to justify further hostilities. Russian shelling shattered hopes this past weekend for a humanitarian corridor, which had been the only real diplomatic victory of the previous week's worth of negotiations. Speaking before the third round of talks on Monday morning, Medinsky blamed Ukraine for the breakdown of the corridors and claimed without evidence that Ukrainian "nationalists" using Ukrainians as human shields were at fault for civilian deaths over the weekend. (These deaths are widely attributed to a Russian military strike.)
Medinsky, an aide to Putin on history and humanities policy since 2020, is widely known in Russia as an ultraconservative nationalist firebrand and military history enthusiast. Over his eight years as Russia's minister of culture, between 2012 and 2020, he made regular headlines for lambasting Russian filmmakers "whose main message is that 'Russia is shit,' " accusing Poland of information warfare, postponing the Russian release of major Hollywood films like Paddington 2 in order to give Russian movies a boost at the box office, and being credibly accused of plagiarizing both of his dissertations. A government overhaul in 2020 cost him that post, and Medinsky has spent the past two years in his position as an adviser to Putin editing new history textbooks and lecturing on YouTube. The Russian government has many people much more qualified to negotiate a peace deal with Ukraine, let alone to do so under a heightened nuclear alert.
Ukrainian President Volodymyr Zelensky was blunt from the start about his lack of expectations for these talks. Choosing Medinsky to lead this delegation was a clear signal that Putin is likely not serious about reaching a negotiated peace. But sending Medinsky also sends an additional, very specific message: that Putin is doubling down on his inaccurate historical justification for this war, a narrative that claims Ukraine has no right to exist within its internationally recognized borders.
https://slate.com/news-and-politics/2022/03/who-is-vladimir-medinsky-negotiator-russia-ukraine.html
( Excellent, it totally nails this disgusting stooge. )
Sociologist Alexey Bessudnov shares five charts that help explain how to read the Kremlin's survey data on support for the war in Ukraine
8:27 am, March 7, 2022
Source: Meduza
According to opinion polls from VTsIOM (the Russian Public Opinion Research Center) and FOM (the Public Opinion Fund), more than 60 percent of Russians support the "special military operation" in Ukraine. But those results should be taken with a grain of salt: the same polls show that millions of people are opposing the war. Also, among the young residents of big cities who rarely watch television and get most of their information from the Internet, the war's opponents are actually the majority. Exclusively for Meduza, University of Exeter sociologist Dr. Alexey Bessudnov offers the following analysis of the VTsIOM poll.
Meduza thanks Dr. Maya Vinokour at the NYU Jordan Center for this translation.
Chart 1. The results of two "governmental" opinion polls are nearly identical but don't prove that Russians support the war.
After the start of the military operations in Ukraine, two sociological polling companies — VTsIOM and FOM — conducted polls asking respondents about their attitude toward the ongoing events. The results show that approximately 65 percent of Russians tend to support the "special military operation" in Ukraine. But can these numbers be believed? After all, VTsIOM and FOM are controlled by the Russian government (the first belongs to the government outright, while the biggest client of the second one is the Presidential Administration).
https://meduza.io/en/feature/2022/03/07/russia-s-tricky-opinion-polling
( Very good info. )
1:13 am, March 7, 2022
Source: Meduza
It's been 11 days since the war in Ukraine began. Protesters across the world have voiced their opposition to the war — including in Russia, where about 4,400 people were arrested on March 6 for protesting in cities throughout the country. In Ukraine itself, attempts to evacuate civilians from Mariupol and Irpen, a city in the Kyiv region, were thwarted; the Russian side claims the Ukrainian army is to blame, though Ukrainian news outlets have reported that Russian troops intentionally fired on civilians. Meduza presents a collection of photos from the 11th day of the war.
Warning: Some images below contain scenes of cruelty, violence, and death that may be unsuitable for children.
https://meduza.io/en/feature/2022/03/07/the-war-day-eleven
5 minutes ago
Latest major developments, 4:30 a.m., Moscow time (8:30 a.m., EST)
Peace talks: The Russian and Ukrainian delegations are set to hold a third round of negotiations in Belarus at 5:00 p.m., Moscow time, today. In addition, Russian Foreign Minister Sergey Lavrov and Ukrainian Foreign Minister Dmytro Kuleba are scheduled to hold talks in Turkey on March 10. This planned meeting was first announced by Turkey's foreign minister and was later confirmed by the Russian Foreign Ministry spokeswoman Maria Zakharova. Apparently, the agreement on the talks was reached during a phone call between Russian President Vladimir Putin and his Turkish counterpart Recep Tayyip Erdoğan. The Ukrainian side has yet to confirm its participation.
Green corridor controversy: On Monday, Russia announced the opening of "humanitarian corridors" out of Kyiv, Mariupol, Kharkiv, and Sumy, to evacuate Ukrainian civilians — albeit to Russia and Belarus. The Ukrainian authorities decried the suggestion and called for opening "real" humanitarian corridors to evacuate civilians to safer parts of Ukraine.
Cutting ties: Boeing has suspended buying titanium from Russia. Beauty giant Sephora is also halting online sales in Russia and shutting down its stores in the country. On the tech front, Netflix has halted its service in Russia and Spotify has suspended its Premium subscription service due to restrictions on payment providers. Yesterday, TikTok limited service in response to Russia's new law that prohibits spreading "fake news" about the army.
https://meduza.io/en/live/2022/02/27/russia-s-war-against-ukraine
Discovery could revolutionize osteoarthritis treatment
A new protein-based gel could introduce a new class of biomaterials.
March 3, 2022
Osteoarthritis (OA) is a progressive condition affecting the lives of more than 32 million Americans. Post-traumatic osteoarthritis (PTOA), a major subset of osteoarthritis that comprises 10% of diagnoses and disproportionally affects injured military personnel, has no effective therapeutic protocols that slow or stop the progression except for over-the-counter analgesics. Post-traumatic osteoarthritis leads to articular cartilage damage and results in more than $3 billion in health care costs each year.
U.S. National Science Foundation-funded researchers based at New York University identified the molecular mechanism and therapeutic payload for delivering pharmacologic treatment directly to affected joints, effectively halting the onset and progression of post-traumatic osteoarthritis. The team published its findings in Biomaterials.
The researchers combined compounds to develop a porous gel that can reach and envelop affected joints, reduce inflammation and induce regeneration. The substance, referred to as E5C, is a protein-based gel that contains native, not synthetic, cartilage components that are nontoxic and biodegradable. The properties of E5C make it a viable candidate for injectable biomaterials.
"We have developed a unique protein-based gel capable of minimally invasive, sustained delivery of prospective therapeutics in OA," said researcher and co-author Jin Kim Montclare.
https://www.nsf.gov/discoveries/disc_summ.jsp?cntn_id=304571&WT.mc_id=USNSF_1
NSF Public Affairs, researchnews@nsf.gov
( How awesome is that? )
Full title: Sociologist Grigory Yudin demonstrated against the invasion and ended up in the hospital. He says we're living in a new era.
1:56 am, March 2, 2022
Source: Meduza
On February 24, Russia began a war with Ukraine. On that same day, protests broke out all over Russia. It is difficult to call them mass demonstrations in any real sense, although ultimately almost 6,500 people were arrested (in Russia, street gatherings of this type are practically forbidden, with the authorities persecuting even individuals who picket alone). Sociologist Grigory Yudin, too, was arrested and ended up hospitalized following an anti-war protest in Moscow. Meduza special correspondent Svetlana Reiter discussed with Yudin why it doesn't make sense to call protests in Russia "small" — and why he thinks scholars have to take a principled stand.
When we were first arranging this interview, you objected to my statement that anti-war protests were small in number: "Not so small." What made you say that?
We don't live in Berlin, where participation in a protest gets you lots of pats on the back. You can end up with a concussion, or spend the night in jail, or be required to remove your underwear [for a cavity search], or [possibly] have a felony case opened against you. Given the current situation, we can't exclude the possibility that protests will eventually be punishable by 20-year prison sentences or the death penalty. So, yeah, in my view, people are coming out in force.
At a recent protest, you were beaten to the point of sustaining a concussion. Can you give us some more details about that? Honestly, I don't really want to talk about it — ultimately, it's insignificant against the background of the major disaster we're confronting. But, yes, the evening ended with a concussion for me.
https://meduza.io/en/feature/2022/03/02/why-no-mass-protests-in-russia
( To say that life in Russia is a challenge is an understatement. )