stopdiggin
stopdiggin's Journal

stopdiggin's Journal

December 19, 2021

mRNA vaccines are performing much better than those using older technology (and available to the largest part of the world). A severe dilemma develops in vaccine promotion and messaging.


- NYTimes, Global Health, Dec. 19, 2021 -
- snip - A growing body of preliminary research suggests the Covid vaccines used in most of the world offer almost no defense against becoming infected by the highly contagious Omicron variant.

All vaccines still seem to provide a significant degree of protection against serious illness from Omicron, which is the most crucial goal. But only the Pfizer and Moderna shots, when reinforced by a booster, appear to have initial success at stopping infections, and these vaccines are unavailable in most of the world.

The other shots — including those from AstraZeneca, Johnson & Johnson and vaccines manufactured in China and Russia — do little to nothing to stop the spread of Omicron, early research shows. And because most countries have built their inoculation programs around these vaccines, the gap could have a profound impact on the course of the pandemic.

The disparity in the ability of countries to weather the pandemic will almost certainly deepen. And the news about limited vaccine efficacy against Omicron infection could depress demand for vaccination throughout the developing world, where many people are already hesitant or preoccupied with other health problems.

Antibodies are the first line of defense induced by vaccines. But the shots also stimulate the growth of T cells, and preliminary studies suggest that these T cells still recognize the Omicron variant, which is important in preventing severe disease.
"What you lose first is protection against asymptomatic mild infection, what you retain much better is protection against severe disease and death," said John Moore, a virologist at Weill Cornell Medicine in New York. He called it "a silver lining" that Omicron so far appears less lethal than the Delta variant.

April 28, 2021

interesting take by Empty Wheel April, 27, 2021
Article coming at this from a slightly different angle than what we're hearing elsewhere. Personally, I think the U.S. has an obligation to do as much as it can. It's a pandemic! But ... Is it fair to be saddling the U.S. with 'inadequate response' -- given the deplorable (near criminal) performance of Modi and his government?

https://www.emptywheel.net/2021/04/27/indias-covid-surge-curious-facets-us-response/



The volume and tenor of pleas for help escalated to new heights this past week as India was engulfed in the pandemic.

You've likely seen images of numerous funeral pyres and many graves along with sick outside overfull hospitals.

Apart from the pyres, it looks like Wuhan in January 2020, the U.S. in March 2020, and Brazil at the end of this March.

And yet there is something really wrong here, very off. The case counts and deaths are truths which can't be escaped but the insistence the U.S. somehow is failing to meet India's needs is off base. - snip -

- snip - In the mean time invective against the Biden administration and Big Pharma has continued, some of it based in what looks like weak and less-than-thorough reporting.

Claims that Big Pharma has decided profits come before the lives of India's people follow reports that Big Pharma refused to give India patents or transfer intellectual property.

Except that Big Pharma is represented in India by AstraZeneca, which is making their adenovirus-vector vaccine in country. It's the same vaccine which has been used in Europe, and is still in FDA safety review here.

India also has its own Big Pharma in Bharat Biotech, which has developed Covaxin vaccine in collaboration with Washington University School of Medicine in St. Louis, Missouri. The vaccine left Phase 3 trials in early January.

Yet intelligent people continue to harangue the U.S. and Big Pharma about their refusal to help India with the IP needed for licensing. They retweet stuff like this: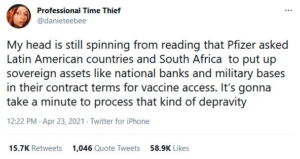 The account that wrote this was opened only weeks ago in January 2021. There's almost nothing in its profile to suggest this is a human with credible background education or experience; the account hasn't been validated by Twitter. Note the number of times this has been shared by retweet or quote tweet, yet the majority of roughly 6000 tweets by this account are about pop culture.
This is the kind of social media content which ramped up tension around U.S. response to India's ongoing COVID surge and continues to do so because it remains uncontested.
The issue the tweet focused on was vaccine manufacturers' request for indemnification by countries which use its vaccine or licensing to manufacture vaccines. How odd that an account tweeting about beauty products and the Kardashians chose to phrase indemnification this way. - snip -