Welcome to DU!
The truly grassroots left-of-center political community where regular people, not algorithms, drive the discussions and set the standards.
Join the community:
Create a free account
Support DU (and get rid of ads!):
Become a Star Member
Wed Aug 17, 2022, 11:14 PM
Aug 2022
Also unusual to have our first black President, twice elected. I was glued to the news, I knew he was going to win. I did. I knew.


About the Subject

Barack Obama made history in 2009 by becoming the first African American president of the United States. The former Illinois state senator's election signaled a feeling of hope for the future even as the U.S. was undergoing its worst financial crisis since the Great Depression. While working to improve the economy, Obama enacted the Affordable Care Act, extending health benefits to millions of previously uninsured Americans. Overseas, he oversaw the drawdown of American troops in the Middle East—a force reduction that was controversially replaced with an expansion of drone and aviation strikes. Though his mission to kill Al-Qaeda founder Osama bin Laden was successful, his pledge to close the Guantanamo prison went unrealized. Obama grew up in Hawaii, where he was one of only three black students at the Punahou School. As a student, he became aware of what it meant to be African American—a realization he later brought with him to the White House. After high school, Obama studied at Occidental College (Los Angeles) and graduated from Columbia University (New York City), where he earned a degree in political science in 1983. After working in the business sector for two years, he moved to Chicago, where he ultimately met his wife, Michelle Robinson. In Chicago, he worked in the impoverished South Side as a community organizer for low-income residents in the Roseland and the Altgeld Gardens communities. Obama entered Harvard Law School in 1988, graduating magna cum laude in 1991. While at Harvard, he was elected the first African American editor of the Harvard Law Review. After law school, Obama returned to Chicago to practice as a civil rights lawyer with the firm of Miner, Barnhill & Galland. He also taught constitutional law part-time at the University of Chicago Law School between 1992 and 2004—first as a lecturer and then as a professor—and helped organize voter registration drives during Bill Clinton's 1992 presidential campaign. Obama's advocacy work led him to run for a seat in the Illinois State Senate, where he won the election as a Democrat in 1996. During his years as a state senator, Obama worked with both Democrats and Republicans to draft legislation on ethics, as well as expand health care services and early childhood education programs for the poor. In 2004, he joined the United States Senate after winning the largest electoral victory in Illinois history. With this win, Obama became only the third African American elected to the U.S. Senate since Reconstruction.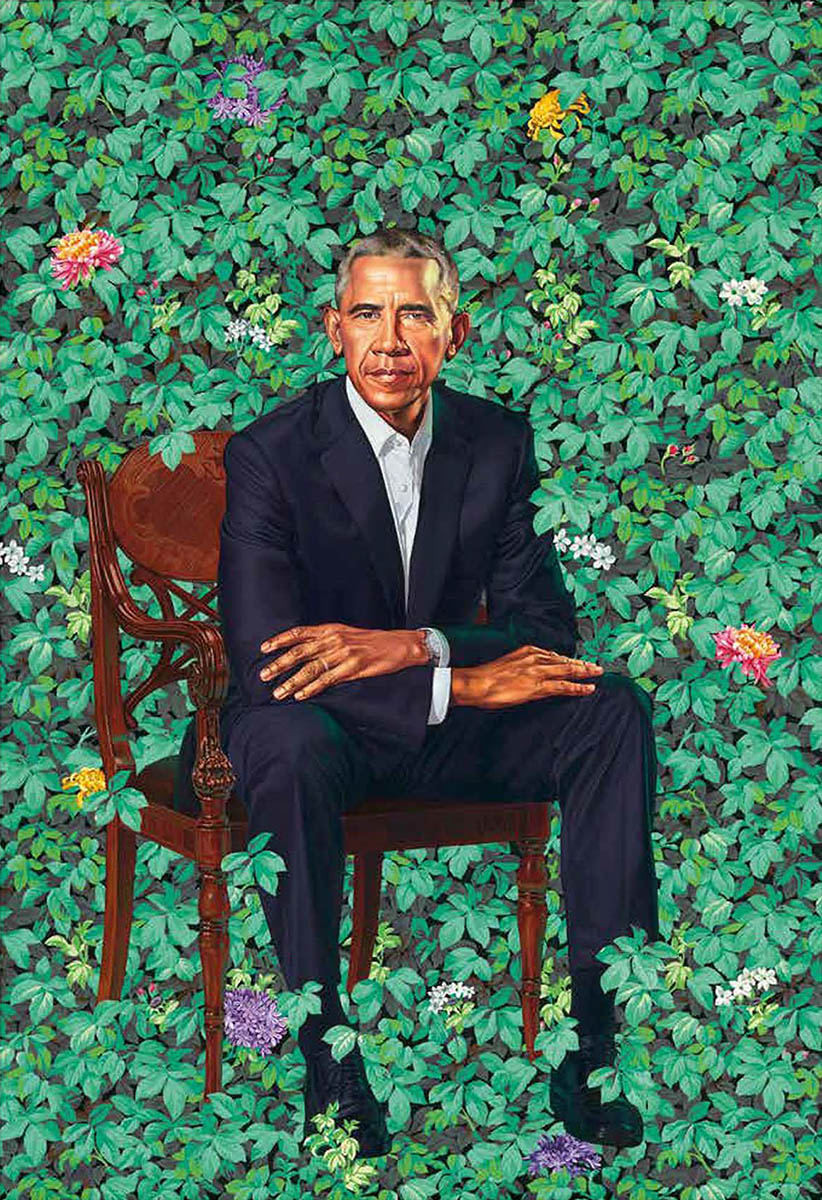 About the Artist

portrait of a man with crossed arms
Kehinde Wiley
By placing contemporary figures in the guise of powerful historic figures, such as Napoleon or John D. Rockefeller, Kehinde Wiley applies the conventions of glorification, history, wealth, and prestige found in art historical portraiture to urban, contemporary black and brown male subjects. Without shying away from potentially complicated socio-political histories, Wiley's figurative paintings and sculptures reference historical sources and position young black men within the field of power. Wiley's larger than life figures often blur the boundaries between traditional and contemporary methods of representation. President Obama said at the portrait unveiling: "What I was always struck by whenever I saw [Wiley's] portraits was the degree to which they challenged our conventional views of power and privilege and the way that he would take extraordinary care and precision and vision in recognizing the beauty and the grace and the dignity of people who are so often invisible in our lives and put them on a grand stage, on a grand scale, and force us to look and see them in ways that so often they were not."
https://npg.si.edu/learn/classroom-resource/barack-obama
Edit history
Please
sign in
to view edit histories.
22 replies
= new reply since forum marked as read
Highlight:
None

Don't highlight anything
5 newest

Highlight 5 most recent replies
Recommended

Highlight replies with 5 or more recommendations