Fri Jul 18, 2014, 12:02 PM
MannyGoldstein (34,589 posts)
Face it, DU: Manny *loves* Putin. [View all]
At the risk (well, certainty) of being labeled a Putin lover/defender and so forth, there are a couple of things that I'd like to point out regarding the horrible downing of MH17 and the deaths of so many.
First off, this man: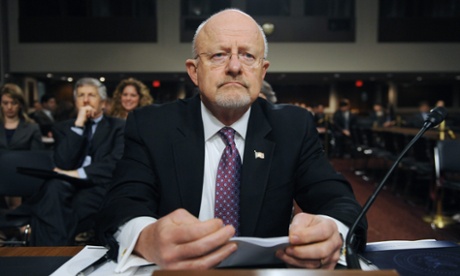 the Director of National Intelligence, flagrantly and admittedly lied even to Congress and still has his job. Clearly, our government has no big concerns about lying to Americans.
So why would we believe anything at all that they tell us?
It might be
true
, it might be a
lie
, but mostly, it will be what suits
their
own goals, not ours.
Sadly, it's hard to know who to believe here. In situations like this, I tend to turn to the foreign press to see what they're saying, particularly those sources that tend to be truthful and tend not to be US lapdogs. I took a look at
Deutsche Welle
, which I've found to be fair and level-headed, and it seems that things are not so clear with regard to who downed MH17:
From:
Leads point to missile downing MH17
The plane was apparently hit by a surface-to-air missile. The separatists have denied that they are able to hit an aircraft flying at 10,000 meters (33,000 feet).
Aviation expert Heinrich Großbongardt told DW that rebel and guerilla organizations never before had access to such type of weapons. They often had shoulder-fired anti-aircraft missiles of rather small caliber, but those could only reach an altitude of up to 4,000 meters, he told DW.
Other weapons systems are required to fire 10,000 meters into the sky. If it is proven that rebels downed the plane, one had to thoroughly check how they could get their hands on such a weapon, he added. The pro-Russian separatists had previously said they had obtained a mobile Russian anti-aircraft defense system Buk last week.
That, however, is a very sophisticated system and it's questionable whether they were able to learn how to operate Buk in such a short time. There are also reports that the Ukrainian military also has such weapons; it has denied firing any missiles.
This may be BS, it may be accurate... but it is in a legitimate news source that
seems
to no longer be in bed with the US government.
The bottom line is that I'm suggesting that we all wait a little while before forming a judgment here. Things may become quite clear in the coming days - or, like the Syrian gas attacks, they may become more uncertain.
(And no, this doesn't mean I approve of Putin. I don't. With gusto.)
122 replies, 14797 views
Replies to this discussion thread
122 replies
Author
Time
Post

Face it, DU: Manny *loves* Putin.

[View all]

MannyGoldstein
Jul 2014
OP
JustAnotherGen
Jul 2014
#1
Post removed
Jul 2014
#2
leftstreet
Jul 2014
#3
conservaphobe
Jul 2014
#5
tkmorris
Jul 2014
#28
H2O Man
Jul 2014
#30
PowerToThePeople
Jul 2014
#52
tkmorris
Jul 2014
#65
11 Bravo
Jul 2014
#119
sabrina 1
Jul 2014
#34
malaise
Jul 2014
#93
DisgustipatedinCA
Jul 2014
#4
sabrina 1
Jul 2014
#36
F4lconF16
Jul 2014
#87
Bobbie Jo
Jul 2014
#6
Peacetrain
Jul 2014
#7
PowerToThePeople
Jul 2014
#8
1monster
Jul 2014
#86
JustAnotherGen
Jul 2014
#98
demwing
Jul 2014
#113
sufrommich
Jul 2014
#9
MannyGoldstein
Jul 2014
#12
MineralMan
Jul 2014
#10
MannyGoldstein
Jul 2014
#13
Octafish
Jul 2014
#11
L0oniX
Jul 2014
#14
grasswire
Jul 2014
#15
betterdemsonly
Jul 2014
#17
MannyGoldstein
Jul 2014
#22
Tierra_y_Libertad
Jul 2014
#16
Chan790
Jul 2014
#70
Post removed
Jul 2014
#18
MannyGoldstein
Jul 2014
#19
Whisp
Jul 2014
#26
JustAnotherGen
Jul 2014
#35
MannyGoldstein
Jul 2014
#37
JustAnotherGen
Jul 2014
#44
Post removed
Jul 2014
#48
JustAnotherGen
Jul 2014
#53
MineralMan
Jul 2014
#60
JustAnotherGen
Jul 2014
#66
MineralMan
Jul 2014
#69
JustAnotherGen
Jul 2014
#73
MineralMan
Jul 2014
#74
grasswire
Jul 2014
#89
JustAnotherGen
Jul 2014
#94
grasswire
Jul 2014
#95
JustAnotherGen
Jul 2014
#96
Autumn
Oct 2014
#121
1000words
Dec 2014
#122
Coventina
Jul 2014
#46
JustAnotherGen
Jul 2014
#50
Whisp
Jul 2014
#38
JustAnotherGen
Jul 2014
#45
MannyGoldstein
Jul 2014
#43
MineralMan
Jul 2014
#67
JustAnotherGen
Jul 2014
#71
MineralMan
Jul 2014
#72
RKP5637
Jul 2014
#77
MineralMan
Jul 2014
#78
redqueen
Jul 2014
#20
SidDithers
Jul 2014
#31
Spazito
Jul 2014
#41
MineralMan
Jul 2014
#55
JI7
Jul 2014
#61
geek tragedy
Jul 2014
#21
MannyGoldstein
Jul 2014
#24
maddezmom
Jul 2014
#32
MannyGoldstein
Jul 2014
#33
sabrina 1
Jul 2014
#39
geek tragedy
Jul 2014
#47
MannyGoldstein
Jul 2014
#49
geek tragedy
Jul 2014
#54
geek tragedy
Jul 2014
#40
brooklynite
Jul 2014
#23
maddezmom
Jul 2014
#25
MannyGoldstein
Jul 2014
#27
MineralMan
Jul 2014
#76
JustAnotherGen
Jul 2014
#81
brooklynite
Jul 2014
#104
MineralMan
Jul 2014
#109
XRubicon
Jul 2014
#117
sabrina 1
Jul 2014
#42
MineralMan
Jul 2014
#58
Whisp
Jul 2014
#29
Warren Stupidity
Jul 2014
#112
pnwmom
Jul 2014
#51
renegade000
Jul 2014
#62
TheKentuckian
Jul 2014
#120
LordGlenconner
Jul 2014
#56
geek tragedy
Jul 2014
#57
ozone_man
Jul 2014
#88
geek tragedy
Jul 2014
#90
itsrobert
Jul 2014
#59
JI7
Jul 2014
#63
SidDithers
Jul 2014
#68
HooptieWagon
Jul 2014
#64
DanTex
Jul 2014
#75
JI7
Jul 2014
#92
countingbluecars
Jul 2014
#79
MineralMan
Jul 2014
#80
Skidmore
Jul 2014
#82
riqster
Jul 2014
#83
Fearless
Jul 2014
#84
Spitfire of ATJ
Jul 2014
#85
bemildred
Jul 2014
#91
Rex
Jul 2014
#97
sabrina 1
Jul 2014
#100
betterdemsonly
Jul 2014
#101
sabrina 1
Jul 2014
#103
Rex
Jul 2014
#105
sabrina 1
Jul 2014
#106
Rex
Jul 2014
#107
joshcryer
Jul 2014
#99
sabrina 1
Jul 2014
#102
Corruption Inc
Jul 2014
#108
randome
Jul 2014
#110
trumad
Jul 2014
#111
FSogol
Jul 2014
#114
randome
Jul 2014
#115
FSogol
Jul 2014
#116
randome
Jul 2014
#118