Fri Apr 24, 2020, 02:00 PM
Heartstrings (5,934 posts)
Candles lit on the steps of the capital in Madison, WI....
Thank you, UpNorth News:
"So let us take a moment to thank the health care professionals and others who came to the Capitol's west steps on Thursday night and lit one candle for every person whose breathing has become so labored, painful and desperate that they required hospital care. As of yesterday, that's 1,318 of our neighbors and loved ones.
The people represented by these candles are the people we should be thinking about today rather than giving comfort to any selfish desire to re-engage in activities that may feel good today but will only add more candles to the next vigil."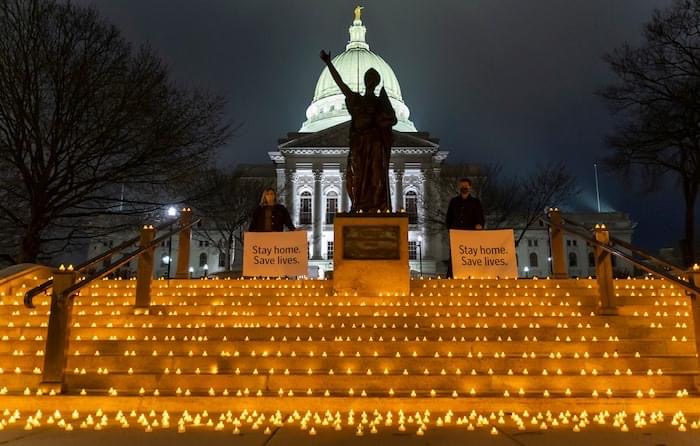 And today a (permit denied) rally with 3,000-10,000 expected will be held to protest Governor Evers extended "Safer at Home" orders....on those very steps.
2 replies, 589 views
Replies to this discussion thread
| | | | |
| --- | --- | --- | --- |
| 2 replies | Author | Time | Post |
| Candles lit on the steps of the capital in Madison, WI.... (Original post) | Heartstrings | Apr 2020 | OP |
| | forthemiddle | Apr 2020 | #1 |
| | stopdiggin | Apr 2020 | #2 |
---
Response to Heartstrings (Original post)
Fri Apr 24, 2020, 02:30 PM
forthemiddle (884 posts)
1. Protests are only going to become more common in the weeks ahead
---
Response to forthemiddle (Reply #1)
Fri Apr 24, 2020, 03:38 PM
stopdiggin (3,381 posts)
2. I think the push for "reopening" is inevitable
people (and the economy) are not going to be able to sustain current practices through late fall or the end of the year. Rational people recognize this and realize that at some point we will have to move forward.

Where I disagree ... 1) Turning this into (once again) a case of rural-urban divide is unhelpful .. and probably bad science as well. Safe practices remain safe practices and rural people should be wearing a mask when they go for their groceries just like everyone else. Lack of population density does not confer immunity (and we've already seen ample examples).

and 2) The protests are driven by a belligerent "can't tell me what to do" personal freedom/anti-government mode of thinking that is just flat out WRONG. In times of crisis the government most certain CAN (and moreover should) tell people what to do .. and social order and cohesiveness is an imperative. In fact, it is at such times that good order and discipline are most necessary .. indeed critical. Good leaders (both political and civic) must understand and foster this "in this together" social glue during stressful and dangerous times .. even if the numbskulls on FB and blocking traffic in their SUVs don't. And nowhere is this principle illustrated in more stark and concrete terms .. than in the face of a pandemic!

So .. yes, at some point the governors are going to have to relax some of the restrictions .. and, NO .. it is most certainly not for the reasons that Billy Bob and Daisy Duke are charging around in their pickup truck. And a lasting shame on any politician that is encouraging them in a time of crisis.