Wed Jul 1, 2020, 10:48 PM
Dial H For Hero (2,163 posts)
Background checks, a metric for gun sales, hit all-time high
https://apnews.com/8ddad3189eb8864e9ae6b123e09b6900
Historic numbers of background checks to purchase or possess a firearm were done in June, a trend in a year marked by uncertainty over the coronavirus pandemic, a subsequent economic recession, protests over racial injustice and calls to reduce police funding.

FBI numbers released Wednesday show that 3.9 million background checks were conducted last month, the most since the system was created in November 1998 to ensure felons and other prohibited people could not buy or possess a firearm. The previous monthly record came in March, when 3.7 million checks were done. Each week in June is now in the top 10 weeks for background checks.

Halfway through 2020, just over 19 million checks have been done, more than all of 2012 and each of the years before that.

Background checks are the key barometer of gun sales, but the FBIís monthly figures also incorporate checks for permits that some states require to carry a firearm. Each background check also could be for the sale of more than one gun.
(Excerpt)
7 replies, 725 views
Replies to this discussion thread
| | | | |
| --- | --- | --- | --- |
| 7 replies | Author | Time | Post |
| Background checks, a metric for gun sales, hit all-time high (Original post) | Dial H For Hero | Jul 2020 | OP |
| | J_William_Ryan | Jul 2020 | #1 |
| | Dial H For Hero | Jul 2020 | #2 |
| | krispos42 | Jul 2020 | #3 |
| | marie999 | Jul 2020 | #4 |
| | sarisataka | Jul 2020 | #5 |
| | DetroitLegalBeagle | Jul 2020 | #6 |
| | Dial H For Hero | Jul 2020 | #7 |
---
Response to Dial H For Hero (Original post)
Thu Jul 2, 2020, 01:20 AM
J_William_Ryan (1,207 posts)
1. ...and
the purchase of additional firearms by persons who already own guns, itís not necessarily an indicator of new gun owners.

---
Response to J_William_Ryan (Reply #1)
Thu Jul 2, 2020, 05:14 AM
Dial H For Hero (2,163 posts)
2. While many are undoubtedly purchases by those who already own firearms, surely a significant portion
of those millions of background checks are for first time gun owners.
---
Response to Dial H For Hero (Original post)
Thu Jul 2, 2020, 06:50 AM
krispos42 (49,176 posts)
3. Part of a longer tend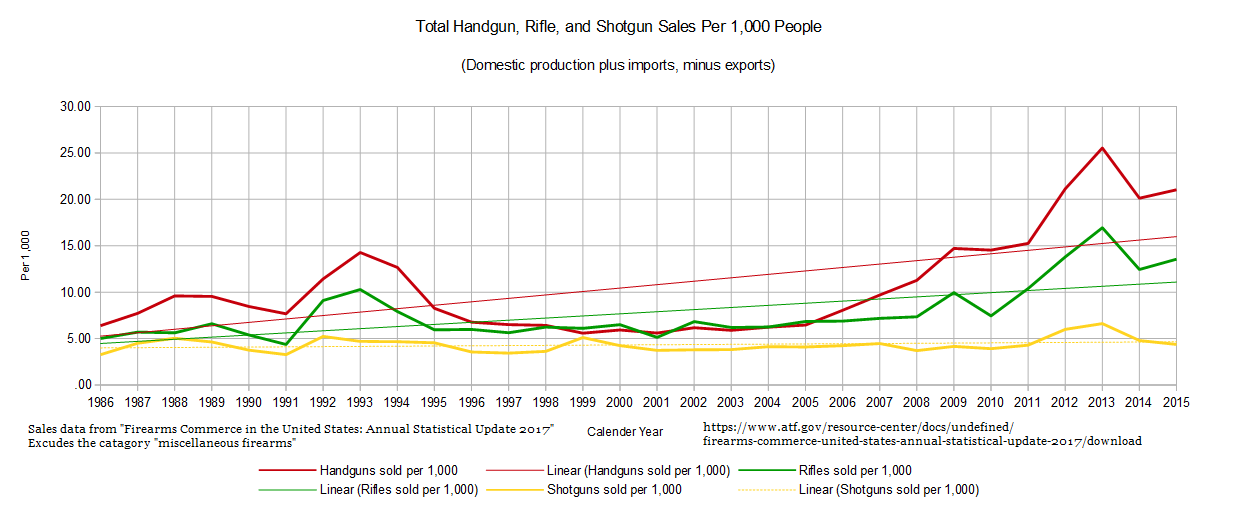 Sales bumped up during the era of new "assault weapon" bans by Democrats, then again during Obama, a Democrat. Now Dolt45 is looking increasingly like he's a one-hit wonder and Biden, a Democrat, will be the next president.
Democrat = gun control as culture war. That's how we're seen. It has yet to save lives but it's really good at putting Republicans in office, and selling guns.
---
---
Response to marie999 (Reply #4)
Thu Jul 2, 2020, 08:13 AM
sarisataka (13,166 posts)
5. I have observed 2 things in the last couple months
While shopping at stores that also sell firearms

First is that I have never seen the gun counter so busy. Counters that normally have two clerks have five and their are twenty people in line.

Second is that 30-50% of the buyers are non-white.

I guess a 2.5 would be I don't recall a single MAGA hat or other pro-Trump clothing.
---
Response to sarisataka (Reply #5)
Thu Jul 2, 2020, 10:49 AM
DetroitLegalBeagle (953 posts)
6. Seen and heard the same
Went to Dunhams to look at new tents for a camping trip the I might take the family on this summer and their gun counter was swarmed. Probably 25-30 people milling around the counter. Not many guns left, and lots of the people were talking about getting their carry permits and what the process was and asking about where they can find AR15's as Dunhams had already sold out of them. There were a few people in the crowd answering some of the questions as they waited for their turn. Lots of new prospective gun owners it seemed. No MAGA hats, but only maybe half of the crowd had masks and there wasn't much distancing going on.

And a guy I went to high school with works part time at a relative's gun store semi close to me. He's posted on facebook that 40-50% of the buyers in recent months are new and close to half of that are women. Prior to the pandemic, the shop was running CPL training classes for women only and demand was high enough that they were doing it twice a month.

To top all this off, my wife surprised me last week and said she had been looking into guns. She's never shown any interest in them for as long as I have known her. I think the pandemic, the federal governments spectacular failure at controlling it, the riots, and the lunacy coming from trumps rabid followers have put her on edge a bit.
---
Response to DetroitLegalBeagle (Reply #6)
Thu Jul 2, 2020, 11:28 AM
Dial H For Hero (2,163 posts)
7. Similar experience here.
I was at Bass Pro a couple of days ago having a scope that I'd ordered mounted on my AR-10, and there were easily a couple dozen people browsing the firearms, A lot of them were buying. I overheard that the Colorado background check system, which normally takes around 15 minutes for an approval, was so backed up that it was taking over a week. The clerk said there were over 4,000 applications in the queue.