Sun Aug 30, 2020, 11:33 AM
marmar (73,007 posts)
Florida man can't drive car he tried to steal from Uber driver at knifepoint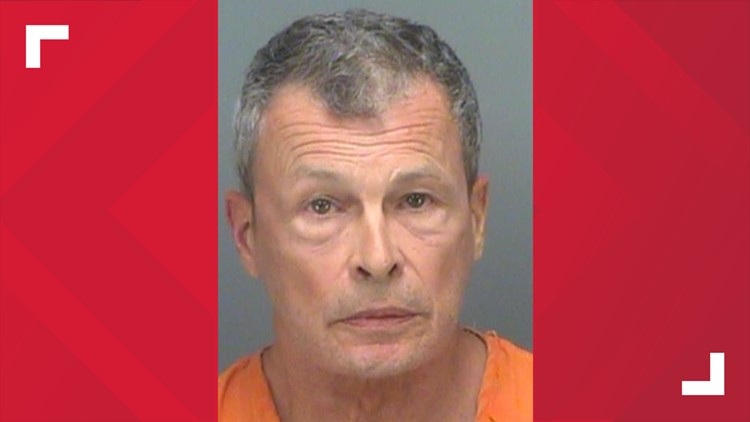 CLEARWATER, Fla. — The inability to drive a car kept one Florida man from completing a carjacking of his Uber driver, deputies say.
James Naylor, 61, and his girlfriend got into an Uber on Aug. 23 to take a ride home from the bar when the sheriff's office says Naylor pulled a knife on the driver.
From the backseat, Naylor put the knife to the driver's throat and told him to pull over, to which the driver complied, according to an arrest report. ...........(more)
https://www.wtsp.com/article/news/crime/carjacker-foiled-by-inability-to-drive-car/67-7c47325b-c410-45cd-b230-3e5efd6dfddc
11 replies, 894 views
Replies to this discussion thread
| | | | |
| --- | --- | --- | --- |
| 11 replies | Author | Time | Post |
| Florida man can't drive car he tried to steal from Uber driver at knifepoint (Original post) | marmar | Aug 2020 | OP |
| | Jim__ | Aug 2020 | #1 |
| | mitch96 | Aug 2020 | #2 |
| | DFW | Aug 2020 | #3 |
| | dflprincess | Aug 2020 | #5 |
| | DFW | Aug 2020 | #6 |
| | PoindexterOglethorpe | Aug 2020 | #7 |
| | dflprincess | Aug 2020 | #8 |
| | PoindexterOglethorpe | Aug 2020 | #9 |
| | dflprincess | Aug 2020 | #10 |
| | PoindexterOglethorpe | Aug 2020 | #11 |
| | RainCaster | Aug 2020 | #4 |
---
Response to marmar (Original post)
Sun Aug 30, 2020, 11:41 AM
Jim__ (12,741 posts)
1. The driver took his knife off him and then he didn't know how to put the car in drive.
I'm guessing he'll plead diminished capacity due to being drunk.
---
Response to marmar (Original post)
Sun Aug 30, 2020, 11:47 AM
mitch96 (8,042 posts)
2. Drunk and stupid is a bad combination....... nt
---
Response to marmar (Original post)
Sun Aug 30, 2020, 11:48 AM
DFW (42,868 posts)
3. I can imagine his dilemma
I drive a stick shift here in Germany, and my car has a very simple set of controls.

When I got to the States this summer, Avis gave me a free upgrade to a Cadillac SUV (business was REALLY slow), which was nice, but it took me half an hour to figure out how to get the doors to open and shut, and how to get the thing to start and shut off when I wanted. Apparently, GM didn't know how their things worked, either. Although it was comfortable as hell, it conked out on me after four days, and had to be picked up. I got driven down to Hyannis from Provincetown to get a new car, and they had another Cadillac SUV in the parking lot. I said great, at least we get another car of the same type. No, we didn't. THAT one had a meltdown, too! It was just as useless as ours. Instead they gave us a Ford Flex, which was no great shakes, but had the advantage that we figured out how to drive it on our own.

Moral of the story--if it's a rental, you can take the time to learn how to drive it. If you're a car thief, make sure you know how to drive the thing BEFORE you grab it. The owner is FAR less likely to offer you assistance.............
---
Response to DFW (Reply #3)
Sun Aug 30, 2020, 11:55 AM
dflprincess (26,124 posts)
5. I drive a manual transmission
and have been told it's a great anti-theft device as younger car thieves don't know how to drive then .


---
Response to dflprincess (Reply #5)
Sun Aug 30, 2020, 11:57 AM
DFW (42,868 posts)
6. Here in Europe, everybody can still drive them
It's nowhere nearly as exotic as it is in the States.

**on edit--I told my wife, who is German, what you said, and she laughed her head off!
---
Response to dflprincess (Reply #5)
Sun Aug 30, 2020, 12:46 PM
PoindexterOglethorpe (19,659 posts)
7. I likewise drive a manual.
I figure that when I can no longer drive the stick, it's definitely time to give up driving. I'm 72 and still going strong.
---
Response to PoindexterOglethorpe (Reply #7)
Sun Aug 30, 2020, 09:05 PM
dflprincess (26,124 posts)
8. I'm afraid this will be my last one
partly as a concession to age (I'm 67) and partly because they're getting hard to find and my current vehicle is 11 years old - though I do plan to keep it a couple more years.
I pulled into a gas station today & asked for some help checking my tire pressure (don't know why, I have never mastered doing that myself) as the warning light was on. The young mechanic who helped me noticed looked in the car to check what the pressure should be the he gasped "It's a manual! That is cool!" and looked at me with great admiration. My niece's husband told me when he met me he knew I was the cool aunt when he found out I drove a stick....It's the last thing this old girl can do to impress young men.
---
Response to dflprincess (Reply #8)
Sun Aug 30, 2020, 11:05 PM
PoindexterOglethorpe (19,659 posts)
9. Finding a stick really isn't all that hard, although
if you want to drive a "luxury" car or an SUV, they probably don't ever come in manual transmissions any more.
A good 25 years ago when I was shopping for a new car, back when I still bought new, I was keen on a Toyota Camry. Alas, only their base model was available in a manual, so forget that. Instead I bought a Subaru. About ten years before that when car shopping, I was interested in a Volvo. Even then they either didn't come in a manual at all, or the dealership would have to order one in which I'd then be committed to buy, so no thank you.
Subaru and Honda both still make manual transmissions. I'm sure other companies do, so you'd need to do some research.
When my sons were in high school and their classmates were beginning to drive, their friends were always impressed that this mom could drive a stick.
And when I go car shopping most of the young salesmen have never known a woman who could drive a manual.
My current car, a 2017 Honda Fit, I bought a year and a half ago. I'd much earlier decided that my next car would be a Fit, and I was determined to purchase new, because they simply aren't that expensive to begin with and hold their value incredibly well. So I went to the local Honda dealership, had a lovely chat with a salesman, who won me over by not at all suggesting I consider an automatic. He didn't have any manual transmissions on the lot. At the time new Honda Fits were in very short supply because there had been a flood at the factory in Mexico where they're made, and so none had been built for several months. He assured me he'd let me know when he could get one in I could look at. Two days later he called me because they'd just gotten in that 2017 on a trade-in, and I should at least come in and give it a test drive. During the test drive I learned that 2017 was the last year Honda installed a CD player, something I absolutely need in a car because I have not yet fully mastered the digital technology to play music or pod casts or whatever. That sold me.
It's possible this will be my last car. By the time I might want to get a replacement, I may well be ready to give up driving. I might also relocate to a city with better public transportation, although there's a good senior van service here, and of course there's always Uber and Lyft.
I actually love buying cars. A bit over a decade ago I was involved in one way or another in the purchase of about 8 new (new to the purchaser, all were used cars) cars in about a two year period. First son needed his first car. Second son needed his first car. Husband wanted to replace what he'd been driving. Then both sons had accidents in which their cars were totalled. No one hurt, fortunately. Then my car decided to throw a head gasket. So I bought three cars in about four weeks. Then my car got totalled. You get the picture. I've actually written up a bunch of rules about buying a car, if you want me to PM it to you. And those rules do not presume what kind of car you want. The rules apply to any and all kinds of cars.
---
Response to PoindexterOglethorpe (Reply #9)
Sun Aug 30, 2020, 11:16 PM
dflprincess (26,124 posts)
10. I've always driven Civics
and thought I always would but they're making the new ones so low it might take the fire department to get me out of one! When I got my current car (2009) I let my niece have my '97 edition. It passed through several kids before it finally had to be put out of it's misery last year. It was 22 years old and the rust got to it before it had any terminal mechanical issues. I'm thinking the 2009 will last a while longer so I can stall a while yet.

I have thought about the HRV (which is on a Fit chassis). What I like about them when I looked at one last time I had the Civic in for work is that the height is perfect for an older person getting in and out of.

And, I wouldn't mind seeing your rules at all, please send a copy.


---
Response to dflprincess (Reply #10)
Sun Aug 30, 2020, 11:24 PM
PoindexterOglethorpe (19,659 posts)
11. You might want to look at a Kia Soul.
I honestly cannot figure out if you can get one of those new with a manual transmission, but I did see some indications of used ones with it. The nice thing about the Soul is that it's a tiny bit higher than cars like a Civic, so there's no dropping down to get in the seat. My sister, your age, bought a Soul several years ago and is extremely happy.

I've sent the Rules via PM.
---
Response to marmar (Original post)
Sun Aug 30, 2020, 11:49 AM
RainCaster (7,568 posts)
4. Any news story that starts with "Florida Man" contains stupidity
Has anyone seen a FM story that shows him to be honest, intelligent or selfless?