(3,496 posts)
Fri Nov 13, 2020, 05:51 AM
Nov 2020
I don't know much about Vernon Jones (D) Georgia
But just saw him on fox OMFG the D by his name is WRONG!!
5 replies
= new reply since forum marked as read
Highlight:
None

Don't highlight anything
5 newest

Highlight 5 most recent replies
Recommended

Highlight replies with 5 or more recommendations
I don't know much about Vernon Jones (D) Georgia (Original Post)
Watchfoxheadexplodes
Nov 2020
OP
1. he is a braindead Rethug Uncle Ruckus who uses the Democratic label as a trolling tool
Fri Nov 13, 2020, 06:49 AM
Nov 2020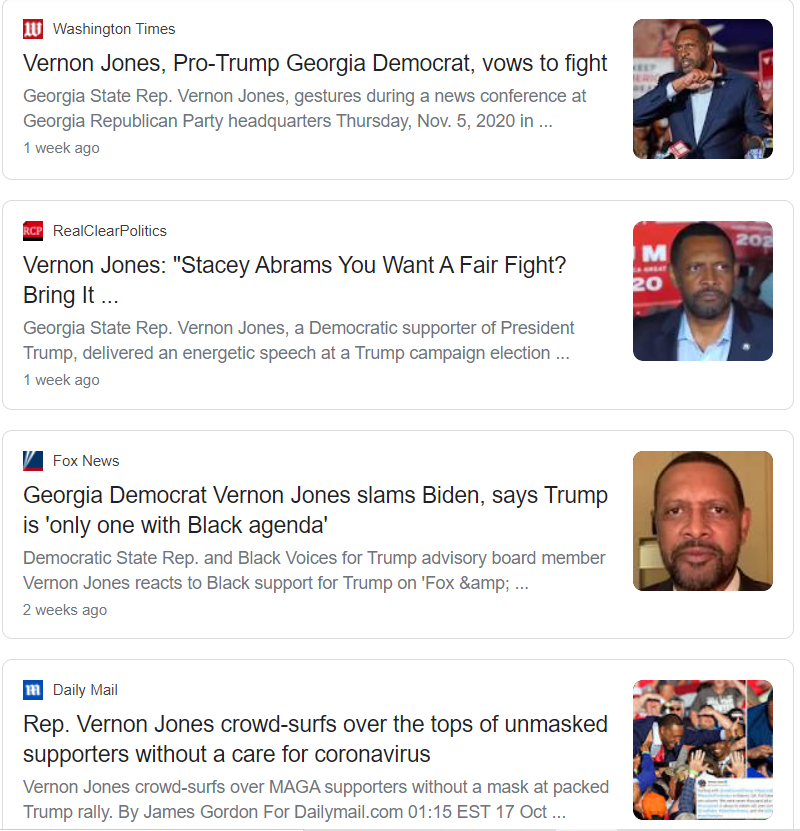 3. He's definitely a DINO troll
Fri Nov 13, 2020, 07:01 AM
Nov 2020
Being a Democrat goes beyond affixing the letter D to your name. His words and deeds show that he's no Democrat.
2. I remember that name.. he's a
Fri Nov 13, 2020, 06:53 AM
Nov 2020
D but is brainwashed by trump, right?
4. He used to be a decent politician. Then, he decided he'd be more successful as a GOPer.
Fri Nov 13, 2020, 07:18 AM
Nov 2020
Fri Nov 13, 2020, 07:26 AM
Nov 2020