Mon Jun 28, 2021, 10:03 AM
Swede (30,180 posts)
8 replies, 990 views
Replies to this discussion thread
| | | | |
| --- | --- | --- | --- |
| 8 replies | Author | Time | Post |
| Boycott Toyota Calls After Company Defends Donations to Election Objectors (Original post) | Swede | Jun 2021 | OP |
| | lark | Jun 2021 | #1 |
| | TheBlackAdder | Jun 2021 | #2 |
| | TheBlackAdder | Jun 2021 | #3 |
| | CentralMass | Jun 2021 | #4 |
| | Greybnk48 | Jun 2021 | #5 |
| | PSPS | Jun 2021 | #6 |
| | hermetic | Jun 2021 | #7 |
| | EYESORE 9001 | Jun 2021 | #8 |
---
Response to Swede (Original post)
Mon Jun 28, 2021, 10:20 AM
lark (20,344 posts)
1. OK Toyota, you now have lots more enemies of your brand - good job.
Assholes! Now I will downtalk this company every chance I get.
---
Response to Swede (Original post)
Mon Jun 28, 2021, 10:21 AM
TheBlackAdder (23,396 posts)
2. Future Daily Stormer Headline: Toyota -- The Official Car & Truck of MAGA!
---
Response to Swede (Original post)
Mon Jun 28, 2021, 10:31 AM
TheBlackAdder (23,396 posts)
3. Team Cap or Team Iron Man?
.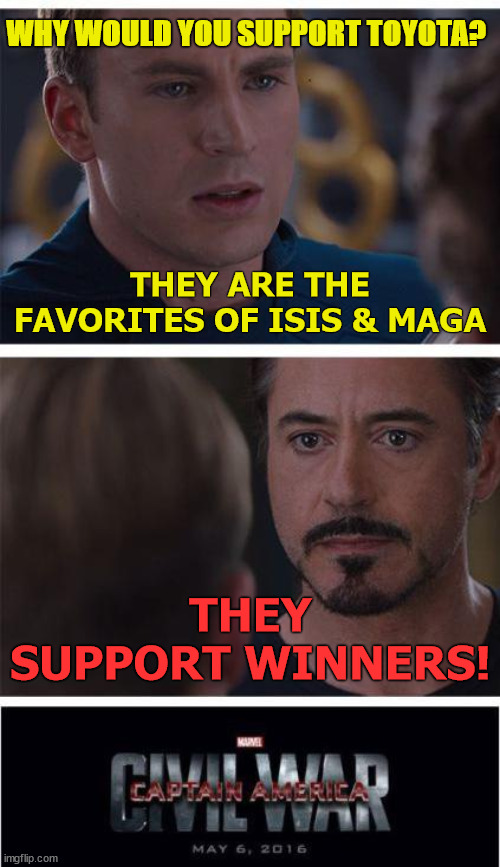 .
---
Response to Swede (Original post)
Mon Jun 28, 2021, 10:32 AM
CentralMass (12,687 posts)
4. I wont be buying a Toyota.
---
Response to Swede (Original post)
Mon Jun 28, 2021, 10:36 AM
Greybnk48 (9,590 posts)
5. I wonder if Toyota donated all those white Toyota pickup trucks to Isis too?
And who bought all the flags and outfits (and the monkey bars, for that matter)?

And where is the dealer where I can get a 50 caliber machine gun attached to the bed of my Toyota pickup?
---
Response to Swede (Original post)
Mon Jun 28, 2021, 10:37 AM
PSPS (12,267 posts)
6. Toyota also furnishes trucks for the ISIS killing patrols.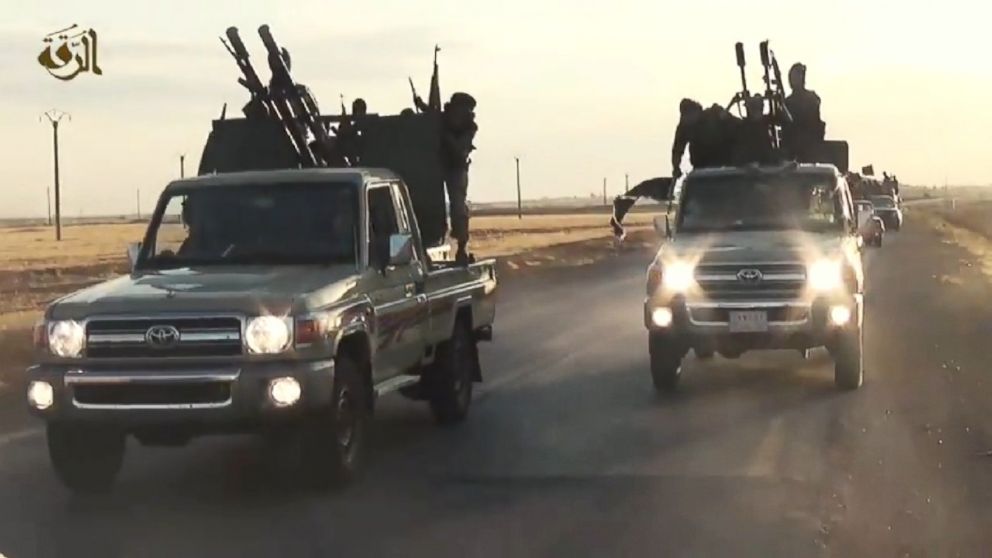 US Officials Ask How ISIS Got So Many Toyota Trucks
Scores of Toyota pickups seen in terror videos to dismay of Iraqi officials.
By MATTHEW MOSK, BRIAN ROSS and ALEX HOSENBALL
October 6, 2015, 9:43 AM
— -- U.S. counter-terror officials have asked Toyota, the world's second largest auto maker, to help them determine how ISIS has managed to acquire the large number of Toyota pick-up trucks and SUVs seen prominently in the terror group's propaganda videos in Iraq, Syria and Libya, ABC News has learned. Toyota says it does not know how ISIS obtained the vehicles and is "supporting" the inquiry led by the Terror Financing unit of the Treasury Department -- part of a broad U.S. effort to prevent Western-made goods from ending up in the hands of the terror group.
---
Toyota Hilux pickups, an overseas model similar to the Toyota Tacoma, and Toyota Land Cruisers have become fixtures in videos of the ISIS campaign in Iraq, Syria and Libya, with their truck beds loaded with heavy weapons and cabs jammed with terrorists. The Iraqi Ambassador to the United States, Lukman Faily, told ABC News that in addition to re-purposing older trucks, his government believes ISIS has acquired "hundreds" of "brand new" Toyotas in recent years.
"This is a question we've been asking our neighbors," Faily said. "How could these brand new trucks... these four wheel drives, hundreds of them -- where are they coming from?" ISIS propaganda videos show gunmen patrolling Syrian streets in what appear to be older and newer model white Hilux pick-ups bearing the black caliphate seal and crossing Libya in long caravans of gleaming tan Toyota Land Cruisers. When ISIS soldiers paraded through the center of Raqqa, more than two-thirds of the vehicles were the familiar white Toyotas with the black emblems. There were small numbers of other brands including Mitsubishi, Hyundai and Isuzu.
"Regrettably, the Toyota Land Cruiser and Hilux have effectively become almost part of the ISIS brand," said Mark Wallace, a former U.S. Ambassador to the United Nations, who is CEO of the Counter Extremism Project, a non-profit working to expose the financial support networks of terror groups. "ISIS has used these vehicles in order to engage in military-type activities, terror activities, and the like," Wallace told ABC News. "But in nearly every ISIS video, they show a fleet -- a convoy of Toyota vehicles and that's very concerning to us."
https://abcnews.go.com/International/us-officials-isis-toyota-trucks/story?id=34266539
---
Response to Swede (Original post)
Mon Jun 28, 2021, 10:53 AM
hermetic (7,036 posts)
7. I'm in the market for a new (used) car right now
I sure won't be buying a Toyota. Sad, too, cause I used to have one I really loved. Never again...
---
Response to Swede (Original post)
Mon Jun 28, 2021, 10:57 AM
EYESORE 9001 (20,540 posts)
8. I was driving on an interstate highway yesterday
cruising at just above the 70 mph speed limit. A blue subcompact Toyota sailed past me, going 80 at least, with a rump flag flying from a fiberglass pole stuck out a rear window and rump/MAGAt stickers plastered all over the trunk lid and rear bumper. Just coincidental to reading this today.