Wed Oct 13, 2021, 12:26 PM
FM123 (9,228 posts)
MAGA Gun Church That Worships With AR-15s Has Bought a Giant Mountain Property in Tennessee
* Rachel Maddow touched on this the other night.....

(Vice) The MAGA-loving religious sect that worships with AR-15s has purchased a 130-acre property on a mountain in eastern Tennessee to serve as a "training center" and holy ground for its devoted, gun-toting followers, VICE News has learned.
The latest property acquisition is more evidence that Pastor Hyung Jin "Sean" Moon, a fervent conspiracy theorist and son of an accused cult leader, is determined to expand his reach into the American Heartland.
snip
Sean and Justin Moon, plus other senior church officials, were also at the U.S. Capitol on Jan. 6, and posted videos of themselves emerging from clouds of tear gas. Sean has also courted fringe MAGA-world figures; this weekend, the annual Rod of Iron Freedom Fest at the Kahr Arms headquarters in Greeley will include speakers such as former Trump adviser Steve Bannon, ex–NRA spokesperson Dana Loesch, far-right Proud Boy ally Joey Gibson, and GOP congressional candidate Teddy Daniels.
snip
Meanwhile, the younger Moon is attempting to build support on the GOP fringes.
He's been a big proponent of the lie that Trump was the real winner of the 2020 election
. Moon and other church officials use their regular broadcasts, streamed via Rumble, to sound off about antifa, vaccine mandates, the Biden administration, Critical Race Theory, or gun laws.
Read More:
https://www.vice.com/en/article/4avkdw/rod-of-iron-ministries-purchases-property-in-tennessee
5 replies, 632 views
Replies to this discussion thread
| | | | |
| --- | --- | --- | --- |
| 5 replies | Author | Time | Post |
| MAGA Gun Church That Worships With AR-15s Has Bought a Giant Mountain Property in Tennessee (Original post) | FM123 | Oct 2021 | OP |
| | Tommy Carcetti | Oct 2021 | #1 |
| | Shell_Seas | Oct 2021 | #2 |
| | Runningdawg | Oct 2021 | #3 |
| | lagomorph777 | Oct 2021 | #4 |
| | Kid Berwyn | Oct 2021 | #5 |
---
Response to FM123 (Original post)
Wed Oct 13, 2021, 12:35 PM
Tommy Carcetti (40,724 posts)
1. Well, this could go well.
---
Response to FM123 (Original post)
Wed Oct 13, 2021, 12:41 PM
Shell_Seas (2,887 posts)
2. At least it's not Texas.
---
Response to FM123 (Original post)
Wed Oct 13, 2021, 01:46 PM
Runningdawg (3,567 posts)
3. Just one church? Come to OK I can show you DOZENS. None affiliated with Moon.
Elohim City, the church/militia that funded, trained and housed McVeigh the OKC bomber has grown and 1/2 the rural churches in OK have armories in the basement.
---
Response to FM123 (Original post)
Wed Oct 13, 2021, 01:48 PM
lagomorph777 (27,753 posts)
4. Church Of Jesus The Ammosexual, atop beautiful Mount BOOM!
Great, armed Moonies.
---
Response to FM123 (Original post)
Wed Oct 13, 2021, 02:06 PM
Kid Berwyn (7,877 posts)
5. Rev. Moon's kid being convex/concave and cretinous.
Do you need a loan and/or a hug, toady?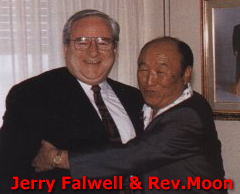 Mixing Religion, Politics, Money and Guns for the Turd Reich.