Mon Dec 10, 2012, 03:28 PM
n2doc (47,953 posts)
Virgin Mobile US takes down Christmas advert suggesting sexual assault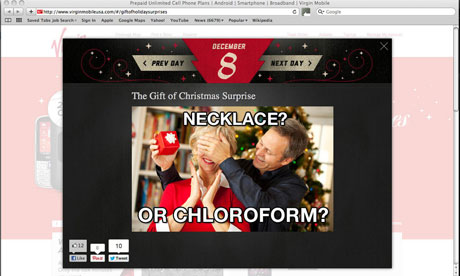 Virgin Mobile US has pulled an advert that seemingly made light of rape after Sir Richard Branson slammed the online commercial as "ill-judged" and "a dreadful mistake".
The offending ad depicted a man holding a gift while shielding the eyes of a woman, an accompanying caption asks: "The gift of Christmas surprise. Necklace? Or chloroform?"
Reference to the anaesthetic, and the implication of it being used to render attack victims unconscious, were immediately attacked on Twitter, with some posters alerting Branson to the ad.
"This advert is a disgrace. The suggestion of violence is not funny and perpetuates misogyny," wrote Carolyn Leckie.
more
http://www.guardian.co.uk/media/2012/dec/09/virgin-mobile-us-holiday-ad?CMP=twt_fd
3 replies, 1584 views
Replies to this discussion thread
| | | | |
| --- | --- | --- | --- |
| 3 replies | Author | Time | Post |
| Virgin Mobile US takes down Christmas advert suggesting sexual assault (Original post) | n2doc | Dec 2012 | OP |
| | Nye Bevan | Dec 2012 | #1 |
| | liberalhistorian | Dec 2012 | #2 |
| | dawg | Dec 2012 | #3 |
---
Response to n2doc (Original post)
Mon Dec 10, 2012, 03:39 PM
Nye Bevan (25,406 posts)
1. OK, well that's about the most disgusting ad I have ever seen.
Just what the hell was the ad agency thinking?
---
Response to Nye Bevan (Reply #1)
Mon Dec 10, 2012, 03:58 PM
liberalhistorian (20,722 posts)
2. I have no freaking idea what the hell they were thinking,
or smoking when they came up with this horrendously unbelievable "ad", but it just yet again confirms my heartfelt view that two of the most useless, worthless, idiotic "professions" are advertising and fashion. It completely disgusts and infuriates me that ad people are paid so much, and often so much more than truly worthwhile professions that really serve and do good for society, like teaching, police and fire work, social work, nursing, etc., etc. Whoever came up with this ad and whoever approved it should be given a severance pay of exactly one dollar and have his or her ass promptly booted both from the agency and the profession. Period.
---
Response to n2doc (Original post)
Mon Dec 10, 2012, 04:03 PM
dawg (10,135 posts)
3. I can't believe that more than one person looked at that ad before it was released...
and thought it was a good idea. But I HATE the way they advertise jewelry to men anyway.