Mon Apr 1, 2013, 01:55 AM
Ichingcarpenter (36,988 posts)
Mark Twain on April Fool's Day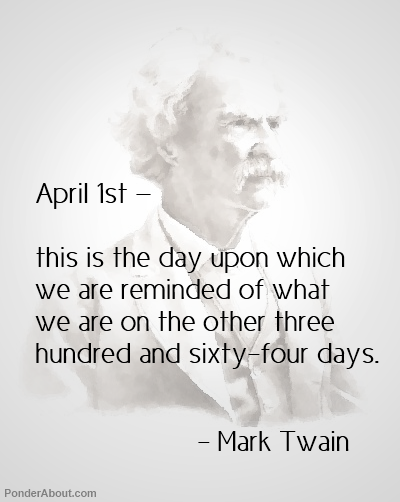 Google:
Google began April Fools' Day early by unveiling some of its pranks on Sunday, which include launching a scent-based search engine and shutting down YouTube, among other fake announcements.
Users of Google Analytics reported seeing web traffic from the International Space Station Sunday afternoon. The number of astronauts allegedly visiting a user's page totaled 41, which represents April 1, or April Fools' Day.
Google also launched a beta product called Google Nose. Google Nose, if it were real, would allow users to search for various smells, including "wet dog," "horse manure" and "locker room."
Read more:
http://dailycaller.com/2013/04/01/googles-april-fools-day-jokes-revealed/#ixzz2PByfhA8J
Precursors of April Fools' Day include the Roman festival of Hilaria, held March 25,[2] and the Medieval Feast of Fools, held December 28,[3] still a day on which pranks are played in Spanish-speaking countries.
In Chaucer's Canterbury Tales (1392), the "Nun's Priest's Tale" is set Syn March bigan thritty dayes and two.[4] Modern scholars believe that there is a copying error in the extant manuscripts and that Chaucer actually wrote, Syn March was gon.[5] Thus, the passage originally meant 32 days after April, i.e. May 2,[6] the anniversary of the engagement of King Richard II of England to Anne of Bohemia, which took place in 1381. Readers apparently misunderstood this line to mean "March 32", i.e. April 1.[7] In Chaucer's tale, the vain cock Chauntecleer is tricked by a fox.
http://en.wikipedia.org/wiki/April_Fools'_Day
5 replies, 2905 views
Replies to this discussion thread
| | | | |
| --- | --- | --- | --- |
| 5 replies | Author | Time | Post |
| Mark Twain on April Fool's Day (Original post) | Ichingcarpenter | Apr 2013 | OP |
| | Liberty Belle | Apr 2013 | #1 |
| | Ichingcarpenter | Apr 2013 | #2 |
| | MrSlayer | Apr 2013 | #3 |
| | Rhiannon12866 | Apr 2013 | #4 |
| | alterfurz | Apr 2013 | #5 |
---
Response to Ichingcarpenter (Original post)
Mon Apr 1, 2013, 02:03 AM
Liberty Belle (9,121 posts)
1. Our April Fool's Day spoof edition is now online:
http://www.eastcountymagazine.org/april-1-2013-special-edition
You can click "read more" on any story to open and view the whole piece. Some of our past prank stories on April 1 have been picked up by ABC TV here, covering the spoof (not mistaking it for real news). Our intent is to provide humor, not hoax anybody.
Most stories are local in focus though the end-times beach party for the Korean missile attack has an international flair. Some of the others tie into national news stories recently, such as that little effort to revive extinct species.....
Enjoy!
---
Response to Liberty Belle (Reply #1)
Mon Apr 1, 2013, 02:13 AM
Ichingcarpenter (36,988 posts)
2. Thanks for the link
'All politics are local' as are the jokes
Amusing articles.
---
---
Response to MrSlayer (Reply #3)
Mon Apr 1, 2013, 04:48 AM
Rhiannon12866 (145,085 posts)
4. I completely agree
All those one-man shows are an attempt to make him immortal.
---
Response to Ichingcarpenter (Original post)
Mon Apr 1, 2013, 05:39 PM
alterfurz (2,295 posts)
5. We're fools whether we dance or not...
...so we might as well dance. -- Japanese proverb