Thu Jun 6, 2013, 10:59 AM
RainDog (28,784 posts)
Lawmakers to Vote on Hemp Amendment to Farm Bill
http://norml.org/news/2013/06/05/industrial-hemp-farming-legislation-reintroduced-in-congress
It is possible that, for the first time ever, the United States Senate will vote to approve industrial hemp cultivation in the coming days. Please take a moment of your time to encourage your Senator to support this measure. You can easily do so by clicking here:
http://salsa3.salsalabs.com/o/51046//p/dia/action3/common/public/index.sjs?action_KEY=9865
Senator Ron Wyden has introduced an amendment to Senate Bill 3240, the Senate version of this year's federal farm bill, that requires the federal government to respect state laws allowing the cultivation of industrial hemp. Hemp is a distinct variety of the plant species cannabis sativa that contains only trace (less than one percent) amounts of tetrahydrocannabinol (THC), the primary psychoactive compound in cannabis.
The amendment language mimics the "Industrial Hemp Farming Act of 2013," which remains pending as stand-alone legislation in both the House and Senate but has yet to receive a legislative hearing. Senator Wyden's provision to the Senate's Farm Bill amends the Controlled Substances Act to exclude industrial hemp from the definition of marijuana. The measure grants state legislatures the authority to license and regulate the commercial production of hemp as an industrial and agricultural commodity.
Eight states -- Colorado, Maine, Montana, North Dakota, Oregon, Vermont, Washington, and West Virginia -- have enacted statutory changes defining industrial hemp as distinct agricultural product and allowing for its regulated commercial production. Passage of this amendment would remove existing federal barriers and allow these states and others the authority to do so without running afoul of federal anti-drug laws.
The U.S. is the only developed nation without an industrial hemp agriculture. The reason for this is reefer madness on the part of the Federal Govt.
Please call or sign the petition to let Congress know you support sane and sensible policy. The vote on this bill will likely be held in the next few days.
9 replies, 1342 views
Replies to this discussion thread
| | | | |
| --- | --- | --- | --- |
| 9 replies | Author | Time | Post |
| Lawmakers to Vote on Hemp Amendment to Farm Bill (Original post) | RainDog | Jun 2013 | OP |
| | spanone | Jun 2013 | #1 |
| | Cirque du So-What | Jun 2013 | #2 |
| | RainDog | Jun 2013 | #4 |
| | Puzzledtraveller | Jun 2013 | #3 |
| | Bandit | Jun 2013 | #5 |
| | RainDog | Jun 2013 | #6 |
| | eppur_se_muova | Jun 2013 | #8 |
| | RainDog | Jun 2013 | #9 |
| | RainDog | Jun 2013 | #7 |
---
Response to RainDog (Original post)
Thu Jun 6, 2013, 11:01 AM
spanone (133,350 posts)
1. k&r...
---
Response to RainDog (Original post)
Thu Jun 6, 2013, 11:06 AM
Cirque du So-What (22,479 posts)
2. Done
I would like nothing better than for legislators to overcome stumbling blocks placed by corporate interests in this area.
---
Response to Cirque du So-What (Reply #2)
Thu Jun 6, 2013, 11:30 AM
RainDog (28,784 posts)
4. Thanks!
Until they hear from us, they'll continue this insane prohibition on industrial hemp and deny farmers a cash crop that can work toward a more earth-friendly industrial sector.
---
Response to RainDog (Original post)
Thu Jun 6, 2013, 11:09 AM
Puzzledtraveller (5,937 posts)
3. We need this in my state
---
Response to RainDog (Original post)
Thu Jun 6, 2013, 12:32 PM
Bandit (21,475 posts)
5. I seem to recall hearing that hemp used to be our number one export..
I guess that was before cotten became king. during the days of Brittish rule..
---
Response to Bandit (Reply #5)
Thu Jun 6, 2013, 12:41 PM
RainDog (28,784 posts)
6. Popular Mechanics 1938
Popular Mechanics
February, 1938
Note:
There was so little public attention and notice to the need for a ban on marijuana, or the resulting legislation (Marihuana Tax Act of 1937), that the editors apparently did not realize that it had already been outlawed when they published this article.

AMERICAN farmers are promised a new cash crop with an annual value of several hundred million dollars, all because a machine has been invented which solves a problem more than 6,000 years old. It is hemp, a crop that will not compete with other American products.

...From the farmers' point of view, hemp is an easy crop to grow and will yield from three to six tons per acre on any land that will grow corn, wheat, or oats. It has a short growing season, so that it can be planted after other crops are in. It can be grown in any state of the union. The long roots penetrate and break the soil to leave it in perfect condition for the next year's crop. The dense shock of leaves, eight to twelve feet above the ground, chokes out weeds. Two successive crops are enough to reclaim land that has been abandoned because of Canadian thistles or quack grass.

...From this point on almost anything can happen. The raw fiber can be used to produce strong twine or rope, woven into burlap, used for carpet warp or linoleum backing or it may be bleached and refined, with resinous by-products of high commercial value. It can, in fact, be used to replace the foreign fibers which now flood our markets.

Thousands of tons of hemp hurds are used every year by one large powder company for the manufacture of dynamite and TNT. A large paper company, which has been paying more than a million dollars a year in duties on foreign-made cigarette papers, now is manufacturing these papers from American hemp grown in Minnesota. A new factory in Illinois is producing fine bond papers from hemp. The natural materials in hemp make it an economical source of pulp for any grade of paper manufactured, and the high percentage of alpha cellulose promises an unlimited supply of raw material for the thousands of cellulose products our chemists have developed.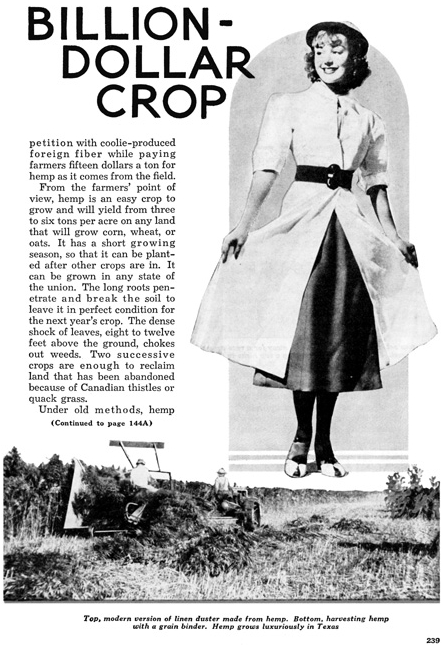 ---
Response to RainDog (Reply #6)
Thu Jun 6, 2013, 06:15 PM
eppur_se_muova (35,244 posts)
8. Whoever patented that "new machine" was thoroughly screwn. nt
---
Response to RainDog (Reply #6)
Thu Jun 6, 2013, 11:02 PM
RainDog (28,784 posts)
9. kick n/t
---
Response to RainDog (Original post)
Thu Jun 6, 2013, 01:35 PM
RainDog (28,784 posts)
7. kick n/t