Tue Feb 18, 2014, 08:03 PM
marmar (72,511 posts)
From California to Chicago, A Call for Unionized Universities
from
Dissent
magazine:
From California to Chicago, A Call for Unionized Universities
By Elizabeth Tandy Shermer - February 18, 2014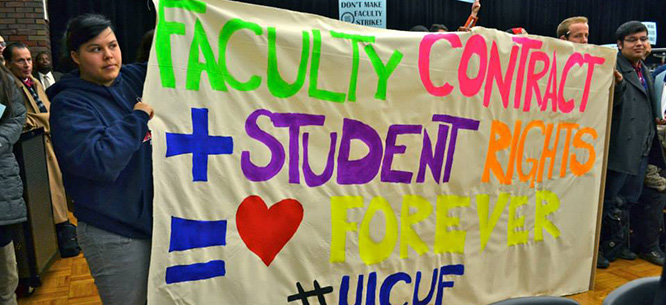 [font size="1"]
Student support for the University of Illinois Chicago faculty union (UICUF/Facebook)
[/font]
Editors' note: As of the morning of Tuesday, February 18, faculty at the University of Illinois Chicago are on strike over a contract dispute.
One of the twentieth century's great public intellectuals, Tony Judt, once wrote:
By far the best thing about America is its universities. Not Harvard, [or] Yale . . . though marvelous, they are not distinctively American; their roots reach across the ocean to Oxford, Heidelberg, and beyond. Nowhere else in the world, however, can boast such public universities. You drive for miles across a godforsaken midwestern scrubscape, pockmarked by billboards, Motel 6s, and a military parade of food chains, when like some pedagogical mirage . . . there appears . . . a library! And not just any library: at Bloomington, the University of Indiana boasts a 7.8-million-volume collection in more than nine hundred languages . . . . A little over a hundred miles northwest across another empty cornscape there comes into view the oasis of Champaign-Urbana: an unprepossessing college town housing a library of over ten million volumes.
A hundred-odd miles further north lies another landmark in the American public higher education system: the University of Illinois Chicago. With 28,000 students, UIC is the largest university in the Chicago area, public or private. It is also the first major public university in Illinois with a unionized faculty—whose current battle with the administration puts UIC on the front lines of the present-day crisis in higher education, economic justice, and democratic governance.
The state research university, that hallmark of America's egalitarian promise, is at a crossroads. Looming ahead is a market-oriented university ever more beholden to the whims of cost-cutting corporate benefactors. But there is an alternative path, toward a social democratic university responsive to the needs of students, faculty, and surrounding communities—that is to say, the public that actually owns these institutions. That way forward, recalling the founding mission of America's great public universities, demands a unionized staff front and center.
The contemporary crisis in state higher education did not result from an absolute scarcity of money, but rather from an unwillingness to safeguard, manage, and fund this most basic public good. That is why staff, graduate students, and faculty must embrace militancy and advocacy—the ingredients of the sort of self-governance and common ownership at the heart of social democracy—to demand fully unionized universities. A voice and a vote in university affairs should not lie merely in student councils or faculty senates but in staff, graduate student, and faculty unions, whose rights are protected by state and federal law and whose necessity is clear at a moment when public higher education is increasingly run for and like a business. ....................(more)
The complete piece is at:
http://www.dissentmagazine.org/online_articles/from-california-to-chicago-a-call-for-unionized-universities
7 replies, 764 views
Replies to this discussion thread
| | | | |
| --- | --- | --- | --- |
| 7 replies | Author | Time | Post |
| From California to Chicago, A Call for Unionized Universities (Original post) | marmar | Feb 2014 | OP |
| | mike_c | Feb 2014 | #1 |
| | riderinthestorm | Feb 2014 | #2 |
| | riderinthestorm | Feb 2014 | #3 |
| | El_Johns | Feb 2014 | #4 |
| | alcibiades_mystery | Feb 2014 | #5 |
| | riderinthestorm | Feb 2014 | #6 |
| | Adrahil | Feb 2014 | #7 |
---
Response to marmar (Original post)
Tue Feb 18, 2014, 08:21 PM
mike_c (34,943 posts)
1. solidarity with all my sisters and brothers in academe....
My union is in contract negotiations now, too. We understand that hard assed bargaining is only half of the solution-- we MUST convince state legislatures to reinvest in high quality, low cost public higher education. In my state, California, many of the legislators who today vote time and again to cut public investment in education were themselves the direct beneficiaries of the state compact for higher ed that created the California State University as the "people's university." Low cost, high quality university education, accessible to all qualified citizens. Those same legislators, after going to school themselves for free or at vanishingly low cost in the 60s, 70s, and 80s, now force tuition hike after tuition hike on students and parents by cutting state investment in higher education. An investment that, in California, returns more than four dollars in revenue generation for every dollar spent. Today, we invest more in prisons than in higher ed. How wrong headed is that?
---
---
Response to marmar (Original post)
Tue Feb 18, 2014, 10:08 PM
riderinthestorm (23,272 posts)
3. Really? After the VW vote, this post is going to drop off the page with 84 views
and 4 recs?
Shameful.
Late night kick.
---
Response to marmar (Original post)
Tue Feb 18, 2014, 10:12 PM
El_Johns (1,805 posts)
4. KR. The university really IS a factory today. Most classes taught by grad students and adjuncts
for a pittance, with big corporate salaries for bloated administrations that do nothing but play big time politics. Plus acres of buildings bearing the name of some capitalist's grandma or something.

---
---
---