Sun Feb 23, 2014, 08:52 PM
El_Johns (1,805 posts)
My life in London's houseboat slums
Most Londoners will know someone suffering from the extortionate expense of finding a place to live. For those trapped in the rental market, the outlook is particularly bleak. In 2011 the Resolution Foundation reported that the price of securing a tenancy can be over £2,000 in upfront costs, while other figures have shown that one in three tenants now spend half their takehome pay on rent. As more and more areas of London become unaffordable to anyone but wealthy professionals, where will essential workers go to live: the people who clean the streets, and cook the food and keep the city ticking over? They can stay at home with relatives, or sublet from people with existing tenancies, but some do not have these options. When I found myself in this position, I went to the only place I could: the slums of the Thames.
To call the vessels here houseboats would be generous; though waterborne, two of the three had no engine, nor their original shapes, the structures having been ripped out and rebuilt upon the base. A more accurate description would be floating shacks; timber huts erected on decrepit old grain barges on the river in west London. Between them, these three shacks house on average 20 people, the numbers only falling in a harsh winter, when some can no longer stand the conditions. Nestled in the trees, by a row of other boats, they have been moored on public land by the Thames for well over a year now, having moved downstream when another Greater London council drove them out. The usual dog walkers and running groups pass by, mostly oblivious to the slum in their midst, unable to countenance that it could exist in this wealthy borough of one of the richest cities on Earth.
A report last year for the London Assembly said the city's waterways are the permanent or winter home of at least 4,000 to 5,000 residential boats, and 10,000 people. Some of the boats offer luxury short-term stays. Comfortable rooms appear on flatshare websites from time to time, at typical rents of £600 a month in areas such as Richmond. Other renting is likely to be entirely informal and reliant on word of mouth. It's impossible to say how many people are living in conditions as desperate as those I experienced.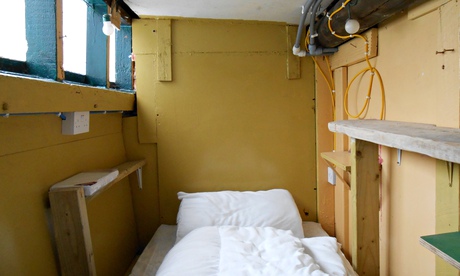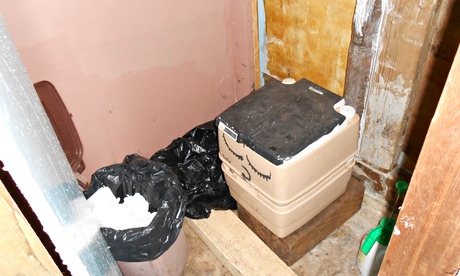 Many of this group were the last people you would imagine finding there: a teenage girl who worked at John Lewis; an 18-year-old Essex boy who was an apprentice chef in Chessington World of Adventures. In an ideal world they would want an en-suite, with enough sockets for a hairdryer, straighteners, dryer and a flat-screen TV. Instead they found themselves in a damp, tiny room with electricity for three hours a day. There was only one reason these people were there: money. For their rooms they paid up to £360 a month, but mostly in the mid-£200s. There were no bills, but there were no services either; it was all off-grid.
How can someone charge £360 a month in a dwelling without running water, central heating or adequate sanitation facilities? Because the crippling costs of renting in London mean many people simply cannot raise enough money to secure decent accommodation.
http://www.theguardian.com/society/2014/feb/23/london-houseboat-slum-rents-barge
6 replies, 2181 views
Replies to this discussion thread
| | | | |
| --- | --- | --- | --- |
| 6 replies | Author | Time | Post |
| My life in London's houseboat slums (Original post) | El_Johns | Feb 2014 | OP |
| | PumpkinAle | Feb 2014 | #1 |
| | hunter | Feb 2014 | #2 |
| | PasadenaTrudy | Feb 2014 | #3 |
| | grasswire | Feb 2014 | #4 |
| | flamingdem | Feb 2014 | #5 |
| | ErikJ | Feb 2014 | #6 |
---
Response to El_Johns (Original post)
Sun Feb 23, 2014, 09:23 PM
PumpkinAle (1,210 posts)
1. My niece is
in London - shares a room with a friend and they pay $500 plus utilities a month and they consider themselves very lucky.

She is paying down her education bills, has just gotten a full time job because there was nothing available so she tended bar and worked in a coffee shop. I feel so sorry for the young in the world today - thanks to the selfish, self centered greedy people who feel they are entitled to gouge others so they can lord it over others.
---
Response to El_Johns (Original post)
Sun Feb 23, 2014, 09:36 PM
hunter (34,503 posts)
2. In any civilized nation a certain sort of minimal housing ought to be availible to anyone...
... free, if necessary.

Simply because we are all human.

I've lived in places similar to the houseboat picture. Heck, I've also lived in my broken car in a church parking lot. I've "sofa surfed" too. But never for rent.

Housing is one of those areas, like employment, where the government must set minimum standards and undercut the worst sort of "employers" and "landlords" with better opportunities.

Nice small flat with actual plumbing and a terrace you can grow a few plants on, or a dirty shack or houseboat?

Crappy non-living wage job with an abusive boss, or a living wage government job with gentle coworkers?

Which would you choose?

Put the lowest of the low "capitalists" out of business by direct government competition. Let's see if fast food tyrant boss can compete with breakfast-lunch-and dinner seven day a week government cafeterias. Let's see if slumlords can compete with clean safe community oriented government subsidized housing.

Anybody at all in a civilized society ought to be able to safely walk away from abusive living and working conditions.


---
Response to El_Johns (Original post)
Sun Feb 23, 2014, 10:17 PM
PasadenaTrudy (3,984 posts)
3. Sounds as bad
as NYC and San Francisco...
---
Response to El_Johns (Original post)
Sun Feb 23, 2014, 11:39 PM
grasswire (50,130 posts)
4. the comments are fascinating nt
---
Response to grasswire (Reply #4)
Sun Feb 23, 2014, 11:59 PM
flamingdem (38,669 posts)
5. some are heartbreaking!
such as the person who describes feeling humiliated after hitting 50, knowing things won't get better, the lack of mobility has always been big there.. they have less room to move literally.. but the 1% has been at it longer too.

---
Response to El_Johns (Original post)
Mon Feb 24, 2014, 12:02 AM
ErikJ (6,335 posts)
6. I wonder if Paris has this problem.
The UK seems to have the same high degree of income inequality as the US. The Continent less so.