Tue Mar 24, 2015, 05:40 PM
Nuclear Unicorn (19,497 posts)
U.S. top court rejects challenge to Wisconsin voter ID law
U.S. top court rejects challenge to Wisconsin voter ID law
(Reuters) - The U.S. Supreme Court on Monday rejected a challenge to Wisconsin's Republican-backed law requiring voters to present photo identification to cast a ballot, a measure Democrats contend is aimed at keeping their supporters from voting.
The justices declined to hear an appeal filed by the American Civil Liberties Union, which challenged the law. The ACLU said it then filed an emergency motion with a federal appeals court to try to keep the law from taking effect immediately.
Republican Wisconsin Attorney General Brad Schimel said the law cannot be implemented for the state's April 7 election because absentee ballots are already in the hands of voters but would be in place for future elections. "This decision is final," Schimel said.
Voter identification laws have been passed in a number of Republican-governed states over Democratic objections. Republicans say voter ID laws are needed to prevent voter fraud. Wisconsin's measure, blocked by the Supreme Court last year, was backed by Governor Scott Walker, a potential 2012 Republican presidential contender.
http://www.reuters.com/article/2015/03/23/us-usa-court-election-idUSKBN0MJ1DZ20150323?feedType=RSS&feedName=topNews&utm_source=twitter
It's my understanding, admittedly limited, that the USSC declined to grant cert, meaning that even among the court's liberal wing the appellants could not muster 4 justices willing to hear the case.
That being said, I'm not sure how much fruit the ACLU's request for a stay can produce.
3 replies, 710 views
Replies to this discussion thread
| | | | |
| --- | --- | --- | --- |
| 3 replies | Author | Time | Post |
| U.S. top court rejects challenge to Wisconsin voter ID law (Original post) | Nuclear Unicorn | Mar 2015 | OP |
| | Gothmog | Mar 2015 | #1 |
| | Nuclear Unicorn | Mar 2015 | #2 |
| | Gothmog | Mar 2015 | #3 |
---
Response to Nuclear Unicorn (Original post)
Tue Mar 24, 2015, 06:37 PM
Gothmog (119,031 posts)
1. Prof. Hasen has some good comments
I know one of the attorneys representing the good guys in the Texas voter id case which is scheduled for oral arguments on April 28. The attorneys representing Texas plaintiffs did not want the ACLU to seek cert. in the Wisconsin case. The Texas case is a stronger case. The DOJ is a party in the Texas case and there are express findings of fact as to intentional discrimination in the Texas case.
Here are Prof. Hasen's observations
http://electionlawblog.org/?p=71186
This morning the Supreme Court without comment refused to take up Frank v. Walker, the Wisconsin voter id case. Taking the case to the Supreme Court divided the civil rights community. As I noted last week, those who hoped the Supreme Court would hear the case were betting that Chief Justice Roberts or Justice Kennedy were going to have the same kind of epiphany that Judge Posner of the 7th Circuit had. Judge Posner had voted to uphold Indianaís voter id law back in the mid-2000s when it was challenged. Judge Posner saw the requirement as no big deal. But by last year, Judge Posner was writing that such laws have now been generally recognized as a means of suppressing likely Democratic votes than as a means of fraud prevention. (The evidence that such laws deter any significant amount of impersonation voter fraud is thin indeed.) But it is not clear that Kennedy and Roberts, the conservative Justices likely in the middle of the Court on this issue have had a similar religious conversion on the issue. The four liberals could have forced a hearing in this case (by voting to grant cert) but they must not have been confident of the religious conversion either. Similarly, DOJ has done very little to support this case. They are betting on Texas (and to some extent North Carolina), hoping those cases will be better vehicles for getting voter id laws struck down. But relying on Texas to ultimately help Wisconsin is risky. CIn the Texas voter id case, now pending before the 5th Circuit, we have a holding that Texasís passage of the voter id law was the product of intentional racial discrimination. Thatís a finding which should be very hard to reverse on appeal. it provides an easier constitutional path for the Supreme Court to strike down Texasís voter id law. The upside of that would be a Supreme Court decision striking down a voter id law on constitutional grounds. The downside is that other cases, like Wisconsin, do not involve intentional discrimination and so a Texas holding might not help very much outside of Texas. It would be an outer bound of whatís allowed and forbidden.

Had the Court agreed to hear the Wisconsin case, it is possible it would have read Section 2 of the Voting Rights Act even more narrowly in cases of vote denial, as well as make bad law on the scope of the equal protection clause. In this way, the Courtís refusal to hear Wisconsinís voter id case may be a blessing in disguise. As Iíve long argued, the best way for liberals to cut their losses is to stay out of the Supreme Court when possible. Things could have been worse if the Court took Wisconsin than if they didnít. And if you trust Justice Ginsburg, trust her her in not voting to grant cert in this case.
I think that the Texas case is the stronger case and would be a better case to reach SCOTUS
---
Response to Gothmog (Reply #1)
Tue Mar 24, 2015, 06:42 PM
Nuclear Unicorn (19,497 posts)
2. "I think that the Texas case is the stronger case and would be a better case to reach SCOTUS"
Assuming that to be true what if TX responds by making its laws mirror WI's now that the WI laws have been effectively upheld? It seems -- at this point -- that it isn't the practice of voter ID being discussed so much as the method by which it is carried out.
---
Response to Nuclear Unicorn (Reply #2)
Wed Mar 25, 2015, 03:11 AM
Gothmog (119,031 posts)
3. Texas has a long history of violations of the Voting Rights Act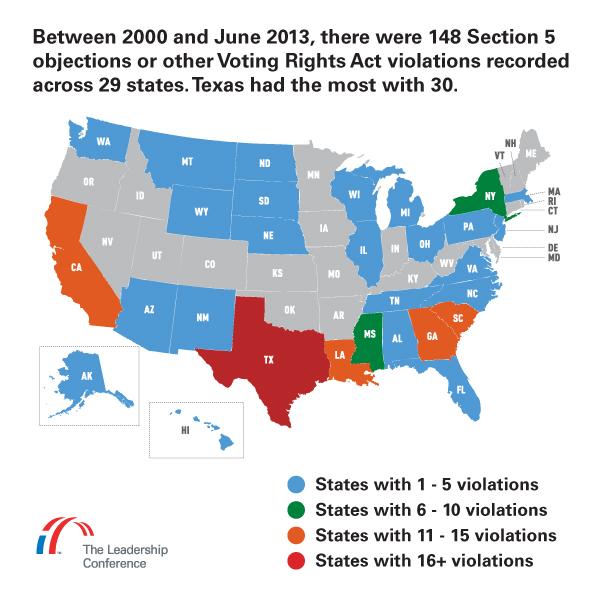 Any new voter id law would be tainted by the same history under Section 3 of the voting rights act, one of the remedies could be to bail Texas in which would prevent the Texas GOP from adopting a new voter id law without court or DOJ approval