Tue Mar 31, 2015, 08:54 AM
marmar (72,229 posts)
Two Occupys, and the New Global Language of Protest
from
Dissent
magazine:
Two Occupys, and the New Global Language of Protest
Ross Perlin ▪ March 30, 2015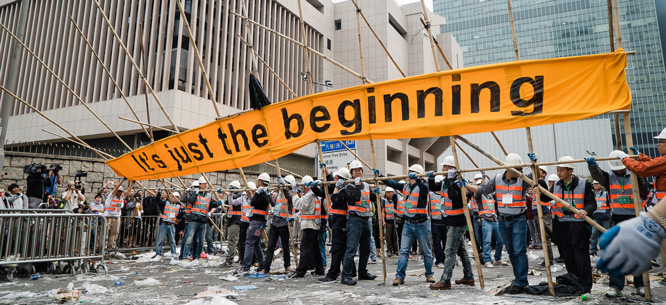 [font size="1"]City workers clearing Hong Kong's Occupy encampment, December 11, 2014 (Pasu Au Yeung)[/font]
In the fall of 2011, after two years in China, I came home to New York. Occupy Wall Street was at its height. Zuccotti Park, less than an acre of concrete in the city's Financial District, was a teeming little universe of dissent and potential, more radically open and charged with life than any public space I'd ever seen. It changed you, just milling around and deliberating with people who, by and large, were straining toward the better angels of their nature. A thousand flowers, a hundred schools of thought: this was actually it. After the People's Republic of China—which is neither the people's, nor a republic—I was suddenly mainlining freedom, democracy, and diversity in what felt like an actual people's republic, however short-lived and anarchic.
Tiny Zuccotti inspired a global archipelago of Occupy offshoots (including a small but long-lived encampment in Hong Kong), but Turkey's Occupy Gezi and Hong Kong's more recent Occupy movement mark an inflection point. Sustained, fiercely local mass movements are tapping into and extending a new global language of protest. Both in Turkey and in China, fearmongers and propagandists blamed malicious foreign influences for the protests, but the reality is less sinister and more significant. Occupy is serving as an open-source template for dissent, a transparent and adaptable playbook for organizing global movements with diverse aims and values. By turns autonomous and hyperconnected, the template is an uncanny fit for our precarious, plugged-in life.
In Hong Kong, the Occupy template provided a name and an initial strategy. Disrupt and take over a major financial district. Build a mass movement through nonviolence, savvy self-organizing, and radical chutzpah. The parallels multiplied in practice. Both youth-driven movements centered themselves on liberated urban space and drew strength from the authorities' mistakes, winning mainstream sympathy. In both Hong Kong and New York, mainstream support was just becoming a possibility when the occupations came to an end. The occupiers mastered forceful, inclusive messaging on the biggest issue of the day: the tyranny of the elites—what Eli Friedman described in The Nation (comparing the two Occupys) as "the inability of anyone except the super-wealthy to have a voice in politics." Each movement charted a viral trajectory, lasting in its most potent, concentrated form for just under an autumn. Neither "won," but both reimagined activism in the heartlands of global capital.
The differences were just as significant. Instead of an explicit struggle against inequality in the name of the 99%, Hong Kong's Occupy was a classic democracy movement, bourgeois-friendly, with calls for local autonomy and economic justice kept on the sidelines. By embodying horizontalist ideals and going for the economic jugular of global capitalism, Zuccotti became a symbol and a platform, as much a meme as a movement. On the other hand, occupiers everywhere can learn from the scale and sophistication of Hong Kong's movement: its mass participation (which dwarfed New York's), its clear and trenchant demands, its willingness to allow accountable coalition-style leadership, and its peaceful deployment of cultural and linguistic difference (as well as shared global signifiers) to articulate and carry on the struggle for democracy. ......................(more)
http://www.dissentmagazine.org/online_articles/occupy-hong-kong-wall-street-new-global-language-of-protest
0 replies, 363 views