Sat Dec 12, 2015, 09:58 AM
H2O Man (70,543 posts)
On Scalia & Trump
In the past week, I've put up a couple of O.P.s, that focused on the potential for our federal government to totally disconnect with the Constitution of the United States. Indeed, the citizens of the United States should recognize and reject the tendency of individuals in the government to bend, or go against, the Constitution. We should not allow that document to become a parched piece of ancient history, hidden in the vault of some museum.

Today on both CNN and MSNBC, I've watched -- and listened to -- reports that included Supreme Court Justice Scalia's highly offensive position on black university students. It was as if Scalia took offense to Donald Trump's setting the bar low, as far as being the worst horse's ass in America today, and Scalia sought to reclaim that title. However, it is worse than that: this provides evidence of exactly how a majority of the 1% view this nation's people. Rather than "competition," this is the coordinated agenda of the worst enemies of America.

In 2004, former Nixon White House theorist Kevin Phillips published, "American Dynasty: Aristocracy, Fortune, and the Politics of Deceit in the House of Bush" (Penguin). On pages 107-108, Phillips addressed some of the connections between Scalia and the Bush family. This included a quote from the 5-justice majority decision on December 11, 2000, that put Bush-Cheney in office: "the individual citizen has no federal constitutional right to vote for electors for President of the United States …."

Scalia takes pride in believing he is the Master of Original Intent. In a sick sort of way, he is: in large part, the original Constitution provided for a republic, to benefit the "enlightened few" -- with that club being restricted to wealthy, educated white men. It wasn't until the early 1800s, that the nation became a constitutional democracy -- with some structures of a republic firmly in place. A person need study no more than about how common citizens began to vote for Senators, to get a historical grasp of the tensions between groups of wealthy, educated white men. Or, simply consider the Bill of Rights.

Individuals, organizations, states, and even the US government attempted to deny various groups of citizens their constitutional rights, ever since that powerful Bill of Rights was enacted. Even the US Supreme Court has ruled against groups and individual citizens, far too often. On the other hand, the Court has been consistent in upholding the rights of wealthy, educated, "straight" white men over the centuries. In recent times, they've even upheld the "rights" of corporations.

Scalia provides a unique window into which we can see the cold, less-than-human heart of the 1%. Few quotes grant us access to their actual beliefs than the following, from Kevin Phillips' book:

"Part of Scalia's objection to democracy, amplified a year later, was that it got in the way of a return to an eighteenth-century interpretation of the U.S. Constitution. Speaking at the January 2002 Pew Forum on Religion and Public Life, he opined that as written, the Constitution reflected natural or divinely inspired law that the state was an instrument of God. 'That consensus has been upset,' he said, 'by the emergence of democracy.' He added that 'the reactions of people of faith to this tendency of democracy to obscure the divine authority behind government should not be resignation to it but resolution to combat it as effectively as possible'."

It would be easy to think that Scalia merely represents the extreme right-wing of one political party; yet, his position is supposed to be nonpartisan. Rather, he is one of the most powerful people in American society, where he believes his noble obligation is to channel the divinity of the 1%. And that, as the most recent comments on affirmative action confirm, includes a "resolution to combat ….as effectively as possible" efforts by the 99% to be active, equal members of society.

No one argues that "affirmative action" in 2015 is a flawless approach to righting historic wrongs. Yet, no one has proposed a more effective and fair approach, Of all the problems facing public education, affirmative action is hardly among the most pressing. When more young black men are being caught up in the criminal justice system, than being enrolled in college, it should be clear that affirmative action still has a significant role in today's social reality.

Just as with the "Founding Fathers" -- a relatively small group, which contained diverse thinking -- there is a wide range in the thinking among the "leaders" in our federal government today. And, in many ways, these are important. There are, for example, significant differences between Bernard Sanders and Rafael Edward Cruz, even though both of them are members of the same small, elite political organization. It would be foolish to hold that "they are all the same."

Yet, at the same time, both Sanders and Cruz are part of the same system, the US Senate -- just as both are running to be president, the highest position within the larger system of the federal government. And, despite the very real differences in character between Sanders and Cruz, that system is primarily geared towards increasing the advantages -- economically, socially, and politically -- of the 1%. And a significant tactic for doing so is to divide the public into smaller groups that compete with one another.

Back in 1970, Vine Deloria, Jr., published "We Talk, You Listen: New Tribes, New Turf (Dell). Deloria predicted that the 1% would attempt to create a modern version of feudalism -- with rule by a corporate elite -- by dividing the public, and pitting groups against each other. He knew that so long as these groups mistakenly saw other groups as their competition, and thus enemy, that the future of America would be a feudal state.

However, if those same groups learned some basic lessons in organization -- the same one that many of the Founding Fathers learned from the Six Nations Iroquois Confederacy -- and recognized that the 1% were their competition (and their common enemy), that would promote a higher level of democracy, and social justice. And 45 years later, that remains true. Indeed, it is even more important that we recognize this reality today, than in 1970.
10 replies, 1111 views
Replies to this discussion thread
| | | | |
| --- | --- | --- | --- |
| 10 replies | Author | Time | Post |
| On Scalia & Trump (Original post) | H2O Man | Dec 2015 | OP |
| | antigop | Dec 2015 | #1 |
| | H2O Man | Dec 2015 | #2 |
| | antigop | Dec 2015 | #4 |
| | H2O Man | Dec 2015 | #9 |
| | spanone | Dec 2015 | #3 |
| | H2O Man | Dec 2015 | #10 |
| | Octafish | Dec 2015 | #5 |
| | Martin Eden | Dec 2015 | #6 |
| | Baitball Blogger | Dec 2015 | #7 |
| | JEB | Dec 2015 | #8 |
---
Response to H2O Man (Original post)
Sat Dec 12, 2015, 10:12 AM
antigop (12,778 posts)
1. last sentence...second to the last paragraph..."completion". Did you mean "competition"?
---
Response to antigop (Reply #1)
Sat Dec 12, 2015, 10:14 AM
H2O Man (70,543 posts)
2. Yep.
---
Response to H2O Man (Reply #2)
Sat Dec 12, 2015, 10:49 AM
antigop (12,778 posts)
4. k&r nt
---
Response to antigop (Reply #4)
Sat Dec 12, 2015, 12:45 PM
H2O Man (70,543 posts)
9. Thanks!
---
Response to H2O Man (Original post)
Sat Dec 12, 2015, 10:16 AM
spanone (132,825 posts)
3. K&R...
---
Response to spanone (Reply #3)
Sat Dec 12, 2015, 12:45 PM
H2O Man (70,543 posts)
10. Thank you!
---
Response to H2O Man (Original post)
Sat Dec 12, 2015, 10:49 AM
Octafish (55,745 posts)
5. Friendly Fascism: A Division of the BFEE
Apart from the occassional avid reader or cowboy movie fan, too few notice the bad guy when he's bathed, shaved, well dressed, soft spoken and so very polite. From
before
Ronald Reagan:
Bush. Family. Evil. Empire. It's a handy catch phrase to describe the convergence of the super-rich with their toadies in secret government offices. Like the Safari Club.
When Jimmy Carter's CIA director, Adm. Stansfield Turner, tossed out the bad apples, rogues, etc. -- Poppy was ticked. They were his chums. So, the petrodollar-connected friends found a work-around. Voila! The hostages are held past the election and Pruneface and Poppy are back in the White House.
So, where did the Safari Club get such a mandate? Could it be the same employer that Scalia -- appointed by Poppy Bush -- really works for? Based on the money
flowing from the US Taxpayer to War Inc and on to Swiss banks
, yeah.
Both of these guys had
ancestors and cronies in the slave trade
.
Baron de Rothschild and Prescott Bush, share a moment and some information, back in the day.
The people who tried to overthrow FDR in 1933 had kids.
And their offspring* and connected cronies in crime are the ones* screwing America now.
What's different today, is
we don't have Smedley Butler or FDR
to stop them.
* Of course, it's not just a few rich families's offspring who screw the majority today. They've hired help and built up the giant noise machine to continue their work overthrowing the progress FDR and the New Deal brought America for 80 years.
Why would the nation and world's richest people do that? Progress costs money. And they don't want to pay for it, even when they've
gained more wealth than all of history
put together. Instead, whey continue to work -- legally, through government and lobbyists -- to amass even more, transferring the wealth of the many to themselves.
And instead of an armed mob led by a war hero on a white horse, as planned in 1933, their weapon since Pruneface made his first payment to the Ayatollah has been "Supply Side Economics." To most Americans, that means Trickle-Down.
Generation upon generation, knowing only
service to power and property
.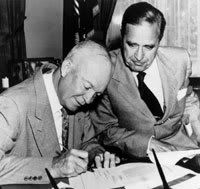 Kevin (Someone Mention "Southern Strategy"?) Phillips called them a ''multigenerational family of fibbers.''
Of course, outside of DU and Bartcop, no one's heard of the BFEE. While everybody wonders where Saddam's WMDs went off to, Wall Street gets ahead and the Constitution continues to shrink to the point where it's only big enough to cover Scalia's conscience.
PS: Sorry so much recycling, H2O Man. Not that any of it is a masterpiece of storytelling, the facts and reportage are sound. Readers in some future date will be able to access pertinent documents, etc., should the links go bad, and find out how these weasels not only are working to destroy Democracy, they don't care who they kill in the process or to make a buck.
---
Response to H2O Man (Original post)
Sat Dec 12, 2015, 11:03 AM
Martin Eden (11,842 posts)
6. "dividing the public, and pitting groups against each other"
A great man once said "A House divided against itself cannot stand." He was speaking about the institution of slavery, but 157 years later his words still apply. A People divided against themselves cannot stand together for their own common interests.

The bitter polarization of the American people is not a natural development based on real conflicts of interest. We have been pitted against each other, on purpose. The socioeconomic interests of the average Teapartier and the average Bernie Sanders voter are much more aligned than either are to the One Percenters who control the mainstream media and most of our government.

Tearing down the artificial wall that divides us is key to fulfilling the true promise of a Constitutional government Of, By, and For The People.
---
Response to H2O Man (Original post)
Sat Dec 12, 2015, 11:06 AM
Baitball Blogger (44,685 posts)
7. So true. Now we see the mission behind his strict constructionist method.
He really wants a return to the slavery days.
---
Response to H2O Man (Original post)
Sat Dec 12, 2015, 11:13 AM
JEB (4,748 posts)
8. Occupy was the best challenge to the power
of the 1% in quite a while. Occupy was brutally crushed which means it was on the right track. We need a modern day Six Nations Iroquois Confederacy.