Wed Mar 23, 2016, 01:46 AM
Solly Mack (80,540 posts)
Free Film "Selma: The Bridge to the Ballot" for Educators/Civic Groups
Selma: The Bridge to the Ballot is the true story of the forgotten heroes in the fight for voting rights—the courageous students and teachers of Selma, Alabama, who stood up against injustice despite facing intimidation, arrests and violence. By organizing and marching bravely, these change-makers achieved one of the most significant victories of the civil rights era.
The sacrifices of those who fought so hard for equality should never be forgotten. In the 2012 presidential election, more than 90 million eligible voters did not go to the polls. In the 18–24 age group, only six out 10 voted. And, in 2014, voter turnout dropped to a 72-year low.
This 40-minute film, narrated by Academy Award winner Octavia Spencer, is a crucial reminder that each of us has the ability to bring about powerful social change and will help inspire young people and communities across the nation to exercise their right to participate in our democracy.
Selma: The Bridge to the Ballot
Brought to you by
If you are an educator or part of a civic group you can order this free film as a teaching aid. March 25, 2016 (March 25, 1965) marks the anniversary of the march from Selma to Montgomery. Get the film, then host a screening as both a celebration and a reminder of how important it is to vote, the struggle to vote, and to never stop fighting against voter suppression.
I've ordered mine.
2 replies, 2109 views
Replies to this discussion thread
| | | | |
| --- | --- | --- | --- |
| 2 replies | Author | Time | Post |
| Free Film "Selma: The Bridge to the Ballot" for Educators/Civic Groups (Original post) | Solly Mack | Mar 2016 | OP |
| | CoffeeCat | Mar 2016 | #1 |
| | Solly Mack | Mar 2016 | #2 |
---
Response to Solly Mack (Original post)
Wed Mar 23, 2016, 02:05 AM
CoffeeCat (24,411 posts)
1. Thank you for this!
Bookmarking and passing along to my teacher friends. I'll put on my Facebook as well.
I'll never forget the recent pics of President Obama leading an anniversary Selma march. Next to him was a woman in a wheelchair who had been there. There are no words. One of the most powerful photos ever.
Thank you for the info!
Edited to add: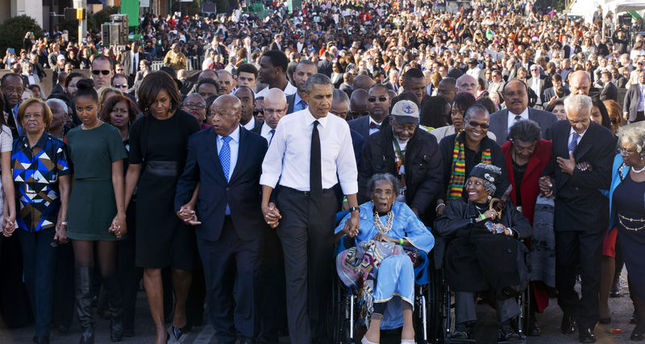 ---
Response to CoffeeCat (Reply #1)
Wed Mar 23, 2016, 02:11 AM
Solly Mack (80,540 posts)
2. You're welcome! Teaching Tolerance is a great resource center for teachers & civic groups.
Lots of great material for teachers. An easy sign-up to get free lesson plans complete with visual aids.