Fri Jun 24, 2016, 06:36 AM
John Poet (2,510 posts)
The Nukes of October: Richard Nixon's Secret Plan to Bring Peace to Vietnam
((This article was from 2008, but yesterday was the first I'd ever heard of it... Imagine that, "playing chicken" with the lives of a billion people or more-- Nixon and Kissinger really were a couple of madmen who should never have been allowed near The Button, and they weren't just "playing a role"-- what they tried to do was insane. Definitely worth a read by the Kissinger critics. ~ John Poet))


The Nukes of October: Richard Nixon's Secret Plan to Bring Peace to Vietnam
On the morning of October 27, 1969, a squadron of 18 B-52s — massive bombers with eight turbo engines and 185-foot wingspans — began racing from the western US toward the eastern border of the Soviet Union. The pilots flew for 18 hours without rest, hurtling toward their targets at more than 500 miles per hour. Each plane was loaded with nuclear weapons hundreds of times more powerful than the ones that had obliterated Hiroshima and Nagasaki.
The B-52s, known as Stratofortresses, slowed only once, along the coast of Canada near the polar ice cap. Here, KC-135 planes — essentially 707s filled with jet fuel — carefully approached the bombers. They inched into place for a delicate in-flight connection, transferring thousands of gallons from aircraft to aircraft through a long, thin tube. One unfortunate shift in the wind, or twitch of the controls, and a plane filled with up to 150 tons of fuel could crash into a plane filled with nuclear ordnance.
The aircraft were pointed toward Moscow, but the real goal was to change the war in Vietnam. During his campaign for the presidency the year before, Richard Nixon had vowed to end that conflict. But more than 4,500 Americans had died there in the first six months of 1969, including 84 soldiers at the debacle of Hamburger Hill. Meanwhile, the peace negotiations in Paris, which many people hoped would end the conflict, had broken down. The Vietnamese had declared that they would just sit there, conceding nothing, "until the chairs rot." Frustrated, Nixon decided to try something new: threaten the Soviet Union with a massive nuclear strike and make its leaders think he was crazy enough to go through with it. His hope was that the Soviets would be so frightened of events spinning out of control that they would strong-arm Hanoi, telling the North Vietnamese to start making concessions at the negotiating table or risk losing Soviet military support.
Codenamed Giant Lance, Nixon's plan was the culmination of a strategy of premeditated madness he had developed with national security adviser Henry Kissinger. The details of this episode remained secret for 35 years and have never been fully told. Now, thanks to documents released through the Freedom of Information Act, it's clear that Giant Lance was the leading example of what historians came to call the "madman theory": Nixon's notion that faked, finger-on-the-button rage could bring the Soviets to heel.
Read more:
http://archive.wired.com/politics/security/magazine/16-03/ff_nuclearwar?currentPage=all
11 replies, 2267 views
Replies to this discussion thread
| | | | |
| --- | --- | --- | --- |
| 11 replies | Author | Time | Post |
| The Nukes of October: Richard Nixon's Secret Plan to Bring Peace to Vietnam (Original post) | John Poet | Jun 2016 | OP |
| | msanthrope | Jun 2016 | #1 |
| | John Poet | Jun 2016 | #2 |
| | msanthrope | Jun 2016 | #3 |
| | John Poet | Jun 2016 | #4 |
| | msanthrope | Jun 2016 | #5 |
| | Octafish | Jun 2016 | #7 |
| | msanthrope | Jun 2016 | #8 |
| | Octafish | Jun 2016 | #9 |
| | msanthrope | Jun 2016 | #10 |
| | Octafish | Jun 2016 | #11 |
| | Octafish | Jun 2016 | #6 |
---
---
---
Response to John Poet (Reply #2)
Fri Jun 24, 2016, 06:51 AM
msanthrope (37,549 posts)
3. The administration of this site has given us a wonderful gift, and I think it's for a good reason...
It's called the search box. It's on the upper right hand corner.

Note....the TOS has changed, but the search box remains.

So, one can easily search a username and a keyword, and see what a poster likes to post about. In this case, a search of your username and "Kissinger" was, well, informative.
---
Response to msanthrope (Reply #3)
Fri Jun 24, 2016, 06:55 AM
John Poet (2,510 posts)
4. Sure. And it remains well within the new TOS to post about
the madness of Republicans.

I recognize your name too-- and I didn't even need a search box for that.


---
---
Response to msanthrope (Reply #3)
Fri Jun 24, 2016, 07:47 AM
Octafish (55,745 posts)
7. So your job is to protect DU from Kissinger?
Perhaps you should learn more about him. For instance, Kissinger's role in foisting NAFTA:
Henry Kissinger, Hillary Clinton's Tutor in War and Peace

Last night, Clinton once again praised a man with a lot of blood on his hands.
By Greg Grandin
The Nation,FEBRUARY 5, 2016
EXCERPT...
 Then in the early 1990s, Hillary Rodham Clinton would again be caught up in events related to Kissinger's actions. Her husband, Bill Clinton, embraced Kissinger, which began Kissinger's apotheosis into his current incarnation as a bipartisan elder statesman, invoked by politicians who want to appear "serious."
As first lady, Hillary Clinton spent the early months of her husband's administration drafting healthcare-reform legislation, only to see it put on the back burner by the North American Free Trade Agreement. Kissinger, in his role as a global consultant, had played a critical role in bringing the various parties who would write that trade treaty together during the previous George H.W. Bush administration. Kissinger continued his NAFTA advocacy with Bill Clinton. As Jeff Faux writes in his excellent The Global Class War, Kissinger was "the perfect tutor" for Clinton, who was "trying to convince Republicans and their business allies that they could count on him to champion Reagan's vision."
By September 1993, Hillary's healthcare bill was ready to be presented to the public and to Congress. But so was NAFTA. All of Kissinger's allies in the White House, including Mack McLarty, who would soon join Kissinger Associates, pushed Clinton to prioritize NAFTA over healthcare. Clinton did. It was Kissinger who came up with the idea of having past presidents stand behind Clinton as he signed the treaty. Reagan was sick and Nixon still non grata, but "flanked by former presidents Bush, Carter and Ford at a White House ceremony, Mr. Clinton delivers an impassioned speech," The Wall Street Journal reported. No such presidential backdrop was assembled to help support Hillary Clinton's healthcare proposal. By August 1994, healthcare was dead.
CONTINUED...
http://www.thenation.com/article/henry-kissinger-hillary-clintons-tutor-in-war-and-peace/
Like a bridge over oily waters, that Henry.
---
Response to Octafish (Reply #7)
Fri Jun 24, 2016, 10:53 AM
msanthrope (37,549 posts)
8. You realize, Octa, that with this post you proved my first post prescient. nt
---
Response to msanthrope (Reply #8)
Sat Jun 25, 2016, 02:41 PM
Octafish (55,745 posts)
9. Which brings up Kissinger and Democracy...
Henry has little use for the concept.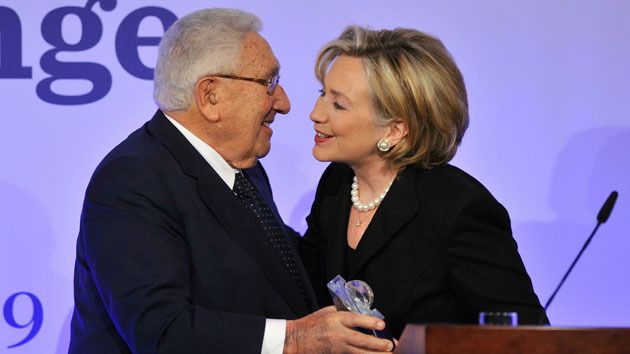 After the
coup on behalf of American corporate interests
in 1973*, the Chicago Boys would roll out Austerity for Chile, a model for "government hands-off capitalism," the fiscal blueprint for our present age.
One very interesting part for those following the Democratic primaries is then-President Bill Clinton's interest in the Chilean model for "privatization" of social security.
President Clinton and the Chilean Model.
By José Piñera
Midnight at the House of Good and Evil
"It is 12:30 at night, and Bill Clinton asks me and Dottie: 'What do you know about the Chilean social-security system?'" recounted Richard Lamm, the three-term former governor of Colorado. It was March 1995, and Lamm and his wife were staying that weekend in the Lincoln Bedroom of the White House.
I read about this surprising midnight conversation in an article by Jonathan Alter (Newsweek, May 13, 1996), as I was waiting at Dulles International Airport for a flight to Europe. The article also said that early the next morning, before he left to go jogging, President Bill Clinton arranged for a special report about the Chilean reform produced by his staff to be slipped under Lamm's door.
That news piqued my interest, so as soon as I came back to the United States, I went to visit Richard Lamm. I wanted to know the exact circumstances in which the president of the world's superpower engages a fellow former governor in a Saturday night exchange about the system I had implemented 15 years earlier.
Lamn and I shared a coffee on the terrace of his house in Denver. He not only was the most genial host to this curious Chilean, but he also proved to be deeply motivated by the issues surrounding aging and the future of America. So we had an engaging conversation. At the conclusion, I ventured to ask him for a copy of the report that Clinton had given him. He agreed to give it to me on the condition that I do not make it public while Clinton was president. He also gave me a copy of the handwritten note on White House stationery, dated 3-21-95, which accompanied the report slipped under his door. It read:
Dick,
Sorry I missed you this morning.
It was great to have you and Dottie here.
Here's the stuff on Chile I mentioned.
Best,
Bill.
Three months before that Clinton-Lamm conversation about the Chilean system, I had a long lunch in Santiago with journalist Joe Klein of Newsweek magazine. A few weeks afterwards, he wrote a compelling article entitled,
[font color="green"] "If Chile can do it...couldn´t North America privatize its social-security system?" [/font color]
He concluded by stating that "the Chilean system is perhaps the first significant social-policy idea to emanate from the Southern Hemisphere." (Newsweek, December 12, 1994).
I have reasons to think that probably this piece got Clinton's attention and, given his passion for policy issues, he became a quasi expert on Chile's Social Security reform. Clinton was familiar with Klein, as the journalist covered the 1992 presidential race and went on anonymously to write the bestseller Primary Colors, a thinly-veiled account of Clinton's campaign.
"The mother of all reforms"
While studying for a Masters and a Ph.D. in economics at Harvard University, I became enamored with America's unique experiment in liberty and limited government. In 1835 Alexis de Tocqueville wrote the first volume of Democracy in America hoping that many of the salutary aspects of American society might be exported to his native France. I dreamed with exporting them to my native Chile.
So, upon finishing my Ph.D. in 1974 and while fully enjoying my position as a Teaching Fellow at Harvard University and a professor at Boston University, I took on the most difficult decision in my life: to go back to help my country rebuild its destroyed economy and democracy along the lines of the principles and institutions created in America by the Founding Fathers. Soon after I became Secretary of Labor and Social Security, and in 1980 I was able to create a fully funded system of personal retirement accounts. Historian Niall Ferguson has stated that this reform was "the most profound challenge to the welfare state in a generation. Thatcher and Reagan came later. The backlash against welfare started in Chile."
But while de Tocqueville's 1835 treatment contained largely effusive praise of American government, the second volume of Democracy in America, published five years later, strikes a more cautionary tone. He warned that "the American Republic will endure, until politicians realize they can bribe the people with their own money." In fact at some point during the 20th century, the culture of self reliance and individual responsibility that had made America a great and free nation was diluted by the creation of
[font color="green"] "an Entitlement State,"[/font color]
reminiscent of the increasingly failed European welfare state. What America needed was a return to basics, to the founding tenets of limited government and personal responsibility.
[font color="green"]In a way, the principles America helped export so successfully to Chile through a group of free market economists needed to be reaffirmed through an emblematic reform. I felt that the Chilean solution to the impending Social Security crisis could be applied in the USA.[/font color]
CONTINUED...
http://www.josepinera.org/articles/articles_clinton_chilean_model.htm
Not that this is what Ms. Clinton would do, but it bears repeating and putting in writing on the Party Platform: Democratic solutions work because they are
Democratic
and put
We the People
first.
* Kissinger ignored a recommendation from his top deputy on the NSC,
Viron Vaky
, who strongly advised against covert action to undermine Allende. On September 14, Vaky wrote a memo to Kissinger arguing that coup plotting would lead to "widespread violence and even insurrection." He also argued that such a policy was immoral: "What we propose is patently a violation of our own principles and policy tenets .… If these principles have any meaning, we normally depart from them only to meet the gravest threat to us, e.g. to our survival. Is Allende a mortal threat to the U.S.? It is hard to argue this." --
http://nsarchive.gwu.edu/NSAEBB/NSAEBB437/
---
---
Response to msanthrope (Reply #10)
Sat Jun 25, 2016, 10:32 PM
Octafish (55,745 posts)
11. It is the same game plan as Libya. For OIL.
---
Response to John Poet (Original post)
Fri Jun 24, 2016, 07:45 AM
Octafish (55,745 posts)
6. Know your BFEE: Nixon Threatened to NUKE Vietnam
The short version:
In 1969, after a half a year as president (and with no real peace plan he had told the nation he had to get elected), Richard M. Nixon wanted to drive the North Vietnamese to the bargaining table.
So, Tricky Dick ordered Henry Kissinger to spread the word among the North Vietnamese that he, Richard Milhous Nixon, was a "madman." To "pretend" the president was crazy, Nixon ordered the Air Force on nuclear alert.
To Nixon, acting like a rightwing nutjob was just his way to make a point. Unfortunately, while the Ho Chi Minh and the government of North Vietnam thought he was seriously coo-coo, the Soviets could've thought otherwise.
At that very moment, the Soviets had problems – and plans – of their own. Locked in a border dispute with China, the Russian commies were preparing to nuke China first.
Imagine what would happen if the Soviets thought all the U.S. bombers in the air were meant for THEM?
Wonder if some comrade colonel would've said, "Gee. We're gonna get hit. We better hit first." And pressed the button.
As the Mean Drunk Cheney would say, "That'd be a real bummer."
CONTINUED DU2 from 2005...
http://www.democraticunderground.com/discuss/duboard.php?az=view_all&address=104x3953519
Amazing history, what the empire does to those who stand in its way.