Sat May 20, 2017, 08:52 PM
Yo_Mama_Been_Loggin (67,760 posts)
Student Debt Is Eating Your Household Budget
Student debt has more than tripled as a share of total debt owed by U.S. households in less than 15 years, new data show.
Student loans made up just 3.3 percent of total household debt in 2003, for a sum of $240.7 billion, according to estimates on Wednesday by the Federal Reserve Bank of New York. That sum is now about $1.3 trillion, or about 10.6 percent of all U.S. household debt.
The jump reflects higher tuition and campus-related costs, more people seeking higher education (partly because of the Baby Boom), and declines in state appropriations to public colleges and federal grants to students relative to rising college costs. One in six American adults, or 44 million people, has a student loan.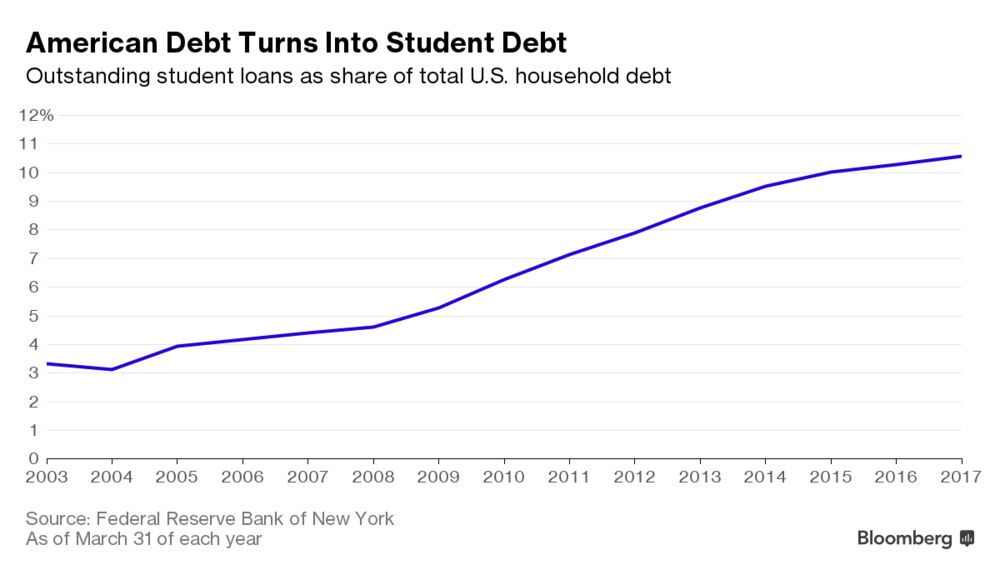 To some, the increase in student debt is largely a good thing. More Americans are going to college, and workers with college degrees tend to make more money than those without them.
But graduation rates haven't increased much over the past decade, U.S. Department of Education figures show, leaving millions of Americans with debt and without the means to repay it. What's more, the increase in pay in recent years for bachelor's degree holders has barely outpaced inflation. That leaves a generation of young workers with student debt burdens that far exceed what their predecessors had to repay, all the more sharply when compared with annual wages.
https://www.bloomberg.com/news/articles/2017-05-18/student-debt-is-eating-your-household-budget
2 replies, 3810 views
Replies to this discussion thread
| | | | |
| --- | --- | --- | --- |
| 2 replies | Author | Time | Post |
| Student Debt Is Eating Your Household Budget (Original post) | Yo_Mama_Been_Loggin | May 2017 | OP |
| | exboyfil | May 2017 | #1 |
| | Yo_Mama_Been_Loggin | May 2017 | #2 |
---
Response to Yo_Mama_Been_Loggin (Original post)
Sat May 20, 2017, 09:00 PM
exboyfil (15,901 posts)
1. One fact is essential
In 1976 you had to work about 270 hours/yr. at a minimum wage job to pay for public university tuition and fees. In 2016 you have to work 1331 hours/yr. (nearly five times longer).
---
Response to exboyfil (Reply #1)
Sat May 20, 2017, 09:02 PM
Yo_Mama_Been_Loggin (67,760 posts)
2. Yep
I know that from first hand experience since I was in college back in 1976.