Thu Jun 9, 2016, 02:44 PM
Purveyor (29,876 posts)
Household Worth in U.S. Rose by $837.4 Billion in First Quarter
Source:
Bloomberg
Household wealth in the U.S. increased in the first quarter as rising real-estate values propped up Americans' finances, figures from the Federal Reserve in Washington showed Thursday.
Key Points
Net worth for households and non-profit groups rose by $837.4 billion, or 1 percent, to $88.1 trillion in January through March from the previous three months, according to the Fed's financial accounts report, previously known as the flow of funds survey
Value of financial assets, including stocks and pension fund holdings, increased by $299.5 billion
Household real-estate assets climbed by $477.5 billion; owner's equity as a share of total real-estate holdings increased to 57.8 percent from 56.9 percent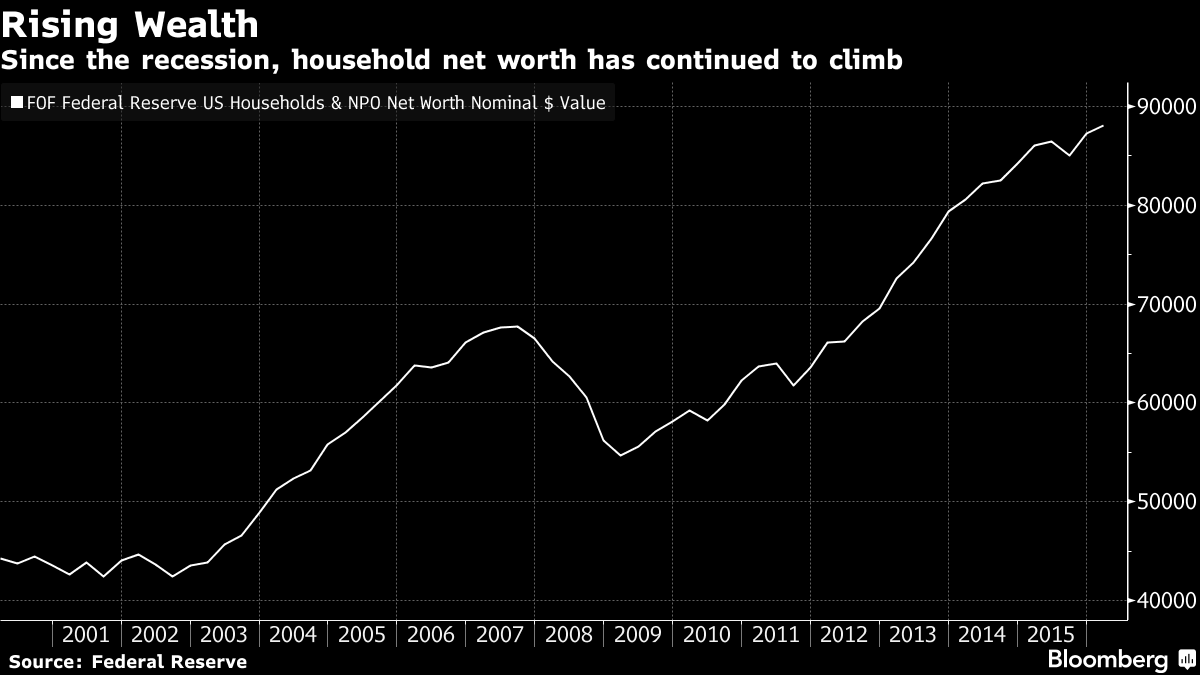 Big Picture
With the Standard & Poor's 500 Index up just 0.8 percent in the first quarter, household wealth was mostly supported by steadily increasing real-estate values as housing continues to recover from the financial crisis. However, a re-acceleration in job growth that also brings a significant pickup in wages will be needed to strengthen balance sheets further, especially for those without access to assets like stocks and homes
more...
http://www.bloomberg.com/news/articles/2016-06-09/household-worth-in-u-s-rose-by-837-4-billion-in-first-quarter
Read more:
http://www.bloomberg.com/news/articles/2016-06-09/household-worth-in-u-s-rose-by-837-4-billion-in-first-quarter
6 replies, 727 views
Replies to this discussion thread
| | | | |
| --- | --- | --- | --- |
| 6 replies | Author | Time | Post |
| Household Worth in U.S. Rose by $837.4 Billion in First Quarter (Original post) | Purveyor | Jun 2016 | OP |
| | jtuck004 | Jun 2016 | #1 |
| | newthinking | Jun 2016 | #2 |
| | valerief | Jun 2016 | #6 |
| | forest444 | Jun 2016 | #3 |
| | elljay | Jun 2016 | #4 |
| | whatthehey | Jun 2016 | #5 |
---
Response to Purveyor (Original post)
Thu Jun 9, 2016, 03:00 PM
jtuck004 (15,882 posts)
1. And Bill Gates walked into a bar, so everyone in there was, on average, an instant billionaire.
Last edited Thu Jun 9, 2016, 06:47 PM - Edit history (1)
<G> I heard that here first.
This graph doesn't reflect at there are still nearly 50 million of our neighbors on food stamps,. Most of them working if they are able. And another 100 million who live either in poverty or among the "working poor", a number which is also increasing.
But that is probably good news for people with a lot of money who donated to political parties.
>"real-estate values as housing continues to recover"
Housing recovers, the people don't
https://newrepublic.com/article/112395/wall-street-hedge-funds-buy-rental-properties
- Because then they can suck fees from you forever, making sure you NEVER own.
"Millennials and living at home: For the first time on record the most common living arrangement for young adults is living with a parent."
http://www.doctorhousingbubble.com/millennials-and-living-at-home-millennial-buying-homes-trends-money-housing/
Nearly 8 million FAMILIES have been foreclosed on since the politicians opened up the season on taxpayers for the bank$ter/jihadists, and from those foreclosures a small handful of companies are charging more than they should be for rentals - and keeping people from owning. Just like the black sharecroppers after the Civil War. And with much the same outcome.
---
Response to jtuck004 (Reply #1)
Thu Jun 9, 2016, 03:44 PM
newthinking (3,982 posts)
2. Yep, that graph says almost nothing accept that more wealth was created, which is no surprise
Also interesting: Why did they include non profit entities? To boost it up?
---
Response to jtuck004 (Reply #1)
Thu Jun 9, 2016, 07:14 PM
valerief (53,235 posts)
6. Bingo. They think we're stupid and don't know it's only the rich who made out. nt
---
Response to Purveyor (Original post)
Thu Jun 9, 2016, 03:54 PM
forest444 (5,902 posts)
3. It's good news; but as we all know it also reinforces popular confusion with 'average' and 'median'.
The U.S. is indeed still number one by far in terms of number of millionaire adults (14 million; compared to 2.5 million for the runner-up, France); but the
median
U.S. adult is now
27th
in terms of net worth.
The number one cause for this lag (though certainly not the only one): astronomical health care costs.
Median net worth per adult (US$ 000), from the 2014 Credit Suisse Global Wealth Report:
Australia________225
Belgium_________173
France__________141
United Kingdom__131
Japan___________113
Singapore_______109
Switzerland______107
Canada__________99
Taiwan__________65
Germany________54
United States____53
Chile___________17
China___________7
Brazil___________5
South Africa_____4
World__________4
Russia__________2
Indonesia_______2
India___________1
http://s3.documentcloud.org/documents/1312773/credit-suisse-global-wealth-report-2014-1.pdf
---
Response to Purveyor (Original post)
Thu Jun 9, 2016, 04:30 PM
elljay (1,178 posts)
4. Statistics wasn't my best course
but one of the most interesting. What I would like to know is whether this represents average or median net worth. I live in Silicon Valley where the price of housing has skyrocketed. You could truthfully say that the net worth of many of us has increased. However, to recognize that increase, we would need to quit our jobs, sell our homes and move to a different region or state. Our children will never be able to afford to buy homes in this area so our selling means that the entire family has to leave. And, when you average the appreciation of homes in places like the Bay Area, where starter homes cost at least 1M, with Idaho, South Dakota, Nebraska and other states that have substantially lower home prices, are we getting a "Bill Gates in the bar situation" (referring to the old joke about when Bill Gates and a homeless guy sit alone in a bar, the average net worth of bar patrons is 40 billion dollars)?
---
Response to Purveyor (Original post)
Thu Jun 9, 2016, 04:35 PM
whatthehey (3,660 posts)
5. For anyone who wants actual data on distribution