Tue Jul 17, 2018, 03:35 PM
Jose Garcia (1,813 posts)
Jury convicts ex-N.Y. state senate leader of soliciting bribes
Source:
Reuters
(Reuters) - Former New York State Senate majority leader Dean Skelos was found guilty of soliciting bribes and other federal corruption charges by a jury on Tuesday, nearly a year after an appeals court threw out an earlier conviction.
The federal jury in Manhattan also convicted Skelos' son, Adam. Both men were found guilty of all the charges they faced, which in addition to soliciting bribes included extortion and conspiracy to commit honest services fraud.
Lawyers for the two men declined to comment after the verdict was announced. U.S. District Judge Kimba Wood, who presided over the trial, scheduled sentencing for Oct. 24.
Prosecutors accused the elder Skelos, a Republican from Long Island, of using his position to pressure three companies to provide his son with consulting work, a "no-show" job and a $20,000 payment.
Read more:
https://mobile.reuters.com/article/amp/idUSKBN1K72ER?__twitter_impression=true
2 replies, 1063 views
Replies to this discussion thread
| | | | |
| --- | --- | --- | --- |
| 2 replies | Author | Time | Post |
| Jury convicts ex-N.Y. state senate leader of soliciting bribes (Original post) | Jose Garcia | Jul 2018 | OP |
| | Judi Lynn | Jul 2018 | #1 |
| | Maxheader | Jul 2018 | #2 |
---
Response to Jose Garcia (Original post)
Tue Jul 17, 2018, 07:42 PM
Judi Lynn (149,516 posts)
1. An astonishing account of how Skelos and his little son "rolled" in New York politics. Unbelievable.
An Inside Look At How Skelos Trial Exposed Slimy Side Of NY Politics
TIMOTHY BOLGER FEBRUARY 10, 2016
Real estate executives were celebrating successfully bankrolling their Republican allies' campaign to recapture the New York State Senate majority five years ago when one question turned the mood from upbeat to tense.
With their help, then-New York State Sen. Dean Skelos (R-Rockville Centre), 67, was about to become the senate majority leader. But then he asked billionaire Leonard Litwin, owner of New Hyde Park-based developer Glenwood Management Corp.—the state's biggest political campaign donor, which lobbied Skelos on key real estate legislation during the celebratory meeting—if the company could direct title insurance work to the senator's 33-year-old son, Adam, a witness later recalled.
. . .
Dorego said he and Litwin looked at each other "in recognition of the statement," which came as others in attendance were leaving the Dec. 20, 2010 meeting at Glenwood's headquarters on Union Turnpike. After Skelos left, Litwin, now 101, told Dorego: "Let's not do anything," Dorego, 61, testified.
The scene marked the first of dozens of requests the senator and his son made to Dorego and others, ultimately extorting three companies out of about $300,000. Prosecutors presented evidence of those requests detailed in hundreds of emails, dozens of wiretapped phone calls and a hidden audio recorder worn by one of the 20 witnesses that testified in the month-long trial that ended with Adam and Dean being convicted of corruption charges Dec. 11. Although many details have been widely reported, context was often lost between the pace of news coverage and the court testimony jumping from one date to another, blurring significant moments in the timeline of the conspiracy. Seen chronologically in full, it offers a revealing look at the raw power that money has in The Empire State's politics, and the abuse of this state's most trusted offices to capitalize on that power toward a lawmaker's personal objectives.
More:
https://www.longislandpress.com/2016/02/10/how-the-skelos-trial-exposed-the-slimy-side-of-ny-politics/
- click for image of Skelos with his good friend, and fellow Republican winner, Rep. Peter King -
http://www1.pictures.zimbio.com/gi/Dean+Skelos+Former+Vice+President+Dick+Cheney+vafYsKE6DRXl.jpg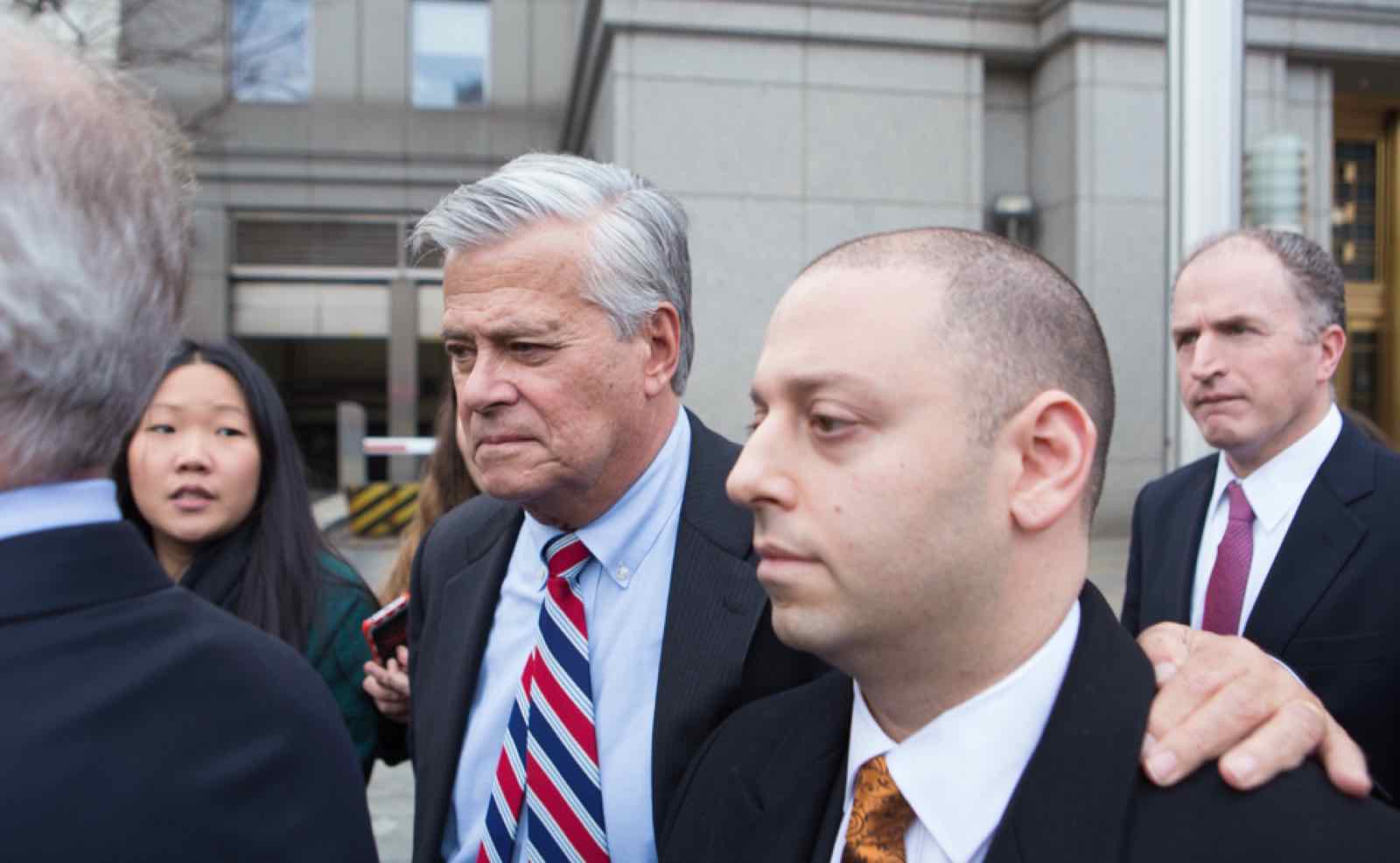 Skelos and baby "No Show" Adam Skelos.
---
Response to Jose Garcia (Original post)
Tue Jul 17, 2018, 07:48 PM
Maxheader (4,282 posts)
2. Jail