Fri Mar 22, 2019, 02:04 AM
Judi Lynn (142,602 posts)
Chile: retired soldiers sentenced over 1986 attack on activists burned alive
Source:
Guardian
Staff and agencies
Thu 21 Mar 2019 17.13 EDT Last modified on Thu 21 Mar 2019 17.52 EDT
A Chilean court has sentenced three retired soldiers to 10 years in prison for their part in a horrific attack on two democracy activists who were doused with petrol and set on fire.
The 1986 attack on Rodrigo Rojas and Carmen Gloria Quintana was one of the most notorious torture cases in the 17-year military dictatorship of Augusto Pinochet.
On Thursday, Julio Castaner, Ivn Figueroa and Nelson Medina were found guilty of murder and attempted murder. Eight other former soldiers received three-year prison sentences for acting as accomplices in the attack.
Rojas, a US resident, had returned to Chile to photograph popular protests against Pinochet. He and Quintana were captured by soldiers on 2 July 1986 during a two-day national strike.
Read more:
https://www.theguardian.com/world/2019/mar/21/chile-soldiers-activists-attack-rodrigo-rojas-carmen-quintana
---
Carmen Gloria Quintana and Rodrigo Rojas
In the photo: Officer Julio Castañer, one of the
thirteen accused of having burned on July 2, 1986
in Estación Central, burned Rodrigo Rojas de Negri
and Carmen Gloria Quintana: Rodrigo died as a
result of the burns.
~ ~ ~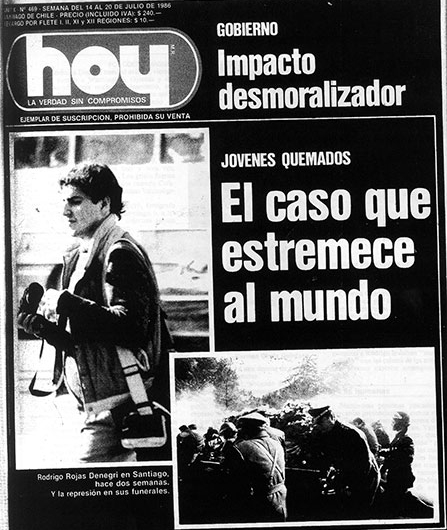 When the "Case Burned" occurred , the official press of the time said that it had been their fault, that they were carrying explosives that broke and exploded . Carmen Gloria Quintana and Rodrigo Rojas were 18 and 19 years old at that time, on July 2, 1986, they were stopped by a group of soldiers who sprayed them with benzine: she, who was standing in front of a wall, from head to toe him, in the back, for being face down on the ground. Both went to one of the many marches against the Pinochet dictatorship.
They set them on fire, then covered them with blankets and hours later threw them into a ditch in Quilicura. There they woke up, got up to seek help and were helped by a group of workers. Later, a Carabineros patrol took them to an office. 60 percent of Quintana's body was burned and 65 percent of Rojas's body was burned. He, who was exiled in Canada and then in the United States since he was 9 years old and who returned to Chile to photograph what was happening, died four days later.
The only defendant was the officer Pedro Fernández Dittus and only for not moving Carmen Gloria and Rodrigo to the hospital. What happened in this, the so-called "Case Burned", was what thousands have been accusing for years: the pacts of silence that exist within the Armed Forces to silence the deaths, torture and violations of Human Rights that occurred during the dictatorship.
But one of these obscure agreements broke this week. Fernando Guzmán Espíndola, who at 21 was part of the group that burned Quintana and Rojas, spoke after 30 years . He saw everything from the patrol and confessed that the testimonies they had given were lies, that they were forced to learn the statements, that the one who started the fire was Lieutenant Julio Castañer with a lighter and that the Army gave them money and permits in exchange for to keep their silence.
. . .
A mixture of sadness, to open new wounds; but also pride. Reliving this history - and at the same time remembering thousands of similar ones - has made me proud once more of those who fought against the dictatorship at any cost, of the families that up to now and will always continue fighting for the truth to be known and for justice to come, and also of hope to know that there is still courage and dignity.
https://www.zancada.com/2015/07/23/caso-quemados-la-tristeza-y-el-orgullo/
5 replies, 1248 views
Replies to this discussion thread
| | | | |
| --- | --- | --- | --- |
| 5 replies | Author | Time | Post |
| Chile: retired soldiers sentenced over 1986 attack on activists burned alive (Original post) | Judi Lynn | Mar 2019 | OP |
| | ck4829 | Mar 2019 | #1 |
| | WhiteTara | Mar 2019 | #4 |
| | DirtEdonE | Mar 2019 | #2 |
| | juxtaposed | Mar 2019 | #3 |
| | WhiteTara | Mar 2019 | #5 |
---
Response to Judi Lynn (Original post)
Fri Mar 22, 2019, 06:03 AM
ck4829 (28,987 posts)
1. Just outright disturbing
---
Response to ck4829 (Reply #1)
Fri Mar 22, 2019, 05:39 PM
WhiteTara (26,591 posts)
4. It was even more disturbing at the time.
I didn't know that Carmen had lived. I hope she gets some peace from these convictions.
---
Response to Judi Lynn (Original post)
Fri Mar 22, 2019, 08:41 AM
DirtEdonE (1,220 posts)
2. Justice has much further to go regarding Chile
Like to the USA.
Now, trump and the fat cat capitalists are using the same tactics against Venezuela. What could go wrong? It's always worked out so well in the past, hasn't it?
1973 Chilean coup d'état
https://en.wikipedia.org/wiki/1973_Chilean_coup_d%27%C3%A9tat
"The 1973 Chilean coup d'état was a watershed moment in both the history of Chile and the Cold War. Following an extended period of social unrest and political tension between the opposition-controlled Congress of Chile and the socialist President Salvador Allende, as well as economic warfare ordered by US President Richard Nixon,[4] Allende was overthrown by the armed forces and national police.[5][6]
The military deposed Allende's Popular Unity government and later established a junta that suspended all political activity in Chile and repressed left-wing movements, especially the Communist and socialist parties and the Revolutionary Left Movement (MIR). Allende's appointed army chief, Augusto Pinochet, rose to supreme power within a year of the coup, formally assuming power in late-1974.[7] The United States government, which had worked to create the conditions for the coup,[8][9][10] promptly recognized the junta government and supported it in consolidating power.[11]
...
The 1925 constitution did not allow a person to be president for two consecutive terms. The incumbent president, Eduardo Frei Montalva, was therefore ineligible as a candidate. The CIA's "Track I" operation was a plan to influence the Congress to choose Alessandri, who would resign after a short time in office, forcing a second election. Frei would then be eligible to run.[19] Alessandri announced on 9 September that if Congress chose him, he would resign. Congress then decided on Allende. Soon after hearing news of his win, Allende signed a Statute of Constitutional Guarantees, which stated that he would follow the constitution during his presidency.[20]
The U.S. feared the example of a "well-functioning socialist experiment" on the region and exerted diplomatic, economic, and covert pressure upon Chile's elected socialist government.[21][22][23] At the end of 1971, the Cuban Prime Minister Fidel Castro made a four-week state visit to Chile, alarming Western observers worried about the "Chilean Way to Socialism".[24]"
---
Response to Judi Lynn (Original post)
Fri Mar 22, 2019, 02:34 PM
juxtaposed (2,778 posts)
3. This was so sad but, this is going to happen real soon in Venezuela if the far right here
on DU and in Washington have their way.
---
Response to juxtaposed (Reply #3)
Fri Mar 22, 2019, 05:40 PM
WhiteTara (26,591 posts)
5. I hope this will reach some in the hinterlands
along the river of denial and that they think about wtf happened.