Thu May 6, 2021, 09:45 AM
Omaha Steve (80,124 posts)
India hits another grim virus record as oxygen demand jumps
Source:
AP
By ASHOK SHARMA
NEW DELHI (AP) — Infections in India hit another grim daily record on Thursday as demand for medical oxygen jumped sevenfold and the government denied reports that it was slow in distributing life-saving supplies from abroad.
The number of new confirmed cases breached 400,000 for the second time since the devastating surge began last month. The 412,262 new cases pushed India's official tally to more than 21 million. The Health Ministry also reported 3,980 deaths in the last 24 hours, bringing the total to 230,168. Experts believe both figures are an undercount.
Eleven COVID-19 patients died when pressure in an oxygen line dropped suddenly in a government medical college hospital in Chengalpet in southern India on Wednesday night, possibly because of a faulty valve, The Times of India newspaper reported.
Hospital authorities said they repaired the pipeline last week, but the consumption of oxygen had doubled since then, the newspaper said.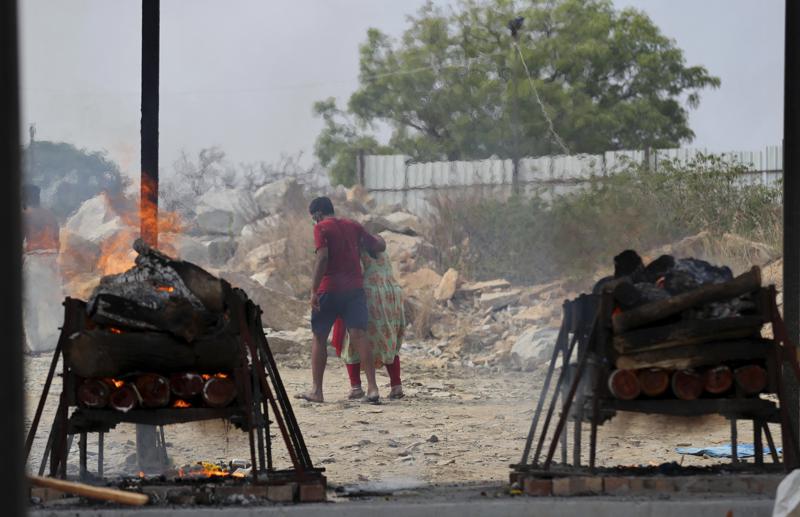 Family members of COVID-19 victims leave as their funeral pyres burn at an open crematorium set up at a granite quarry on the outskirts of Bengaluru, India, Wednesday, May 5, 2021. (AP Photo/Aijaz Rahi)
Read more:
https://apnews.com/article/india-middle-east-coronavirus-pandemic-health-4b830485ce09b3e7eeea40c5522d4d21
7 replies, 839 views
Replies to this discussion thread
| | | | |
| --- | --- | --- | --- |
| 7 replies | Author | Time | Post |
| India hits another grim virus record as oxygen demand jumps (Original post) | Omaha Steve | May 6 | OP |
| | SoCalDavidS | May 6 | #1 |
| | Backseat Driver | May 6 | #2 |
| | llashram | May 6 | #3 |
| | Buckeye_Democrat | May 6 | #4 |
| | IronLionZion | May 6 | #5 |
| | Buckeye_Democrat | May 6 | #6 |
| | ck4829 | May 10 | #7 |
---
Response to Omaha Steve (Original post)
Thu May 6, 2021, 09:49 AM
SoCalDavidS (3,724 posts)
1. People Don't Care About Life
Life is so fucking sacred, until you're born, then you're just collateral damage. 1 death, 100 deaths, 1,000,000 Deaths, all irrelevant. Cest la vi.
---
Response to SoCalDavidS (Reply #1)
Thu May 6, 2021, 10:37 AM
Backseat Driver (2,040 posts)
2. Well, just because "No good deed goes unpunished" doesn't mean everyone in the rest of the world
should not have empathy with the pain of India's loved ones or not because "Poor planning on your part doesn't necessarily constitute an emergency on mine." Yes, Cest la vi - Humanity selfishly hard-wired for self-preservation and most definitely imperfect..." Still, let sadness inspire us to join the mourners and seek that which preserves life, with gratitude and generosity for having that choice...rather than in selfishness and authoritarian hate of others...

"...conceived (fucking sacred life-giving) in liberty, and dedicated to the proposition that all men are created equal (karmic consequences of a known or hidden previous caste systems?) Now we are engaged in a great civil war (against a virus), testing whether that nation, or any nation so conceived, and so dedicated, can long endure." --Gettysburg address






---
Response to Omaha Steve (Original post)
Thu May 6, 2021, 01:02 PM
llashram (2,868 posts)
3. this is some
'planet of the apes' example of our reality, especially those infected and still in transit somewhere trying to escape a very hot zone.
need a mask-wearing emoji/smiley whatever...
---
Response to Omaha Steve (Original post)
Thu May 6, 2021, 01:10 PM
Buckeye_Democrat (12,188 posts)
4. Such an unnecessary tragedy!
Their Indian version of Trump, Modi, helped bring this apocalypse upon them by baselessly declaring victory over the pandemic back in January. Then he encouraged Indians to participate in major festivals among each other.

Family members try to help their sick relatives within the understaffed hospitals. The screams of sorrow a little after the 5-minute mark of this video are especially heartbreaking, but so is almost all of it:


Edit: And many scientists believe that their actual numbers are three times worse than what's reported, so India is probably experiencing well over a million new infections each day.
---
Response to Buckeye_Democrat (Reply #4)
Thu May 6, 2021, 02:37 PM
IronLionZion (33,226 posts)
5. Yup, and they lied about their numbers until it caught up to them
they have been undercounting cases/deaths, jailing journalists, blocking social media accounts, etc.

This all seems like it was preventable but for bad decisions by malicious politicians.
---
Response to IronLionZion (Reply #5)
Thu May 6, 2021, 02:41 PM
Buckeye_Democrat (12,188 posts)
6. Yeah, that CNN clip from a few days ago...
... shows some of the hush-hush attitude about it from politicians and administrators. As I understand it, their own media outlets aren't covering it accurately because of fears of government repercussions.
---
Response to Omaha Steve (Original post)
Mon May 10, 2021, 02:51 AM
ck4829 (30,136 posts)
7. ...