Fri Jan 14, 2022, 12:28 PM
BumRushDaShow (91,995 posts)
Third House Republican who voted to impeach Trump calls it quits
Source:
CNN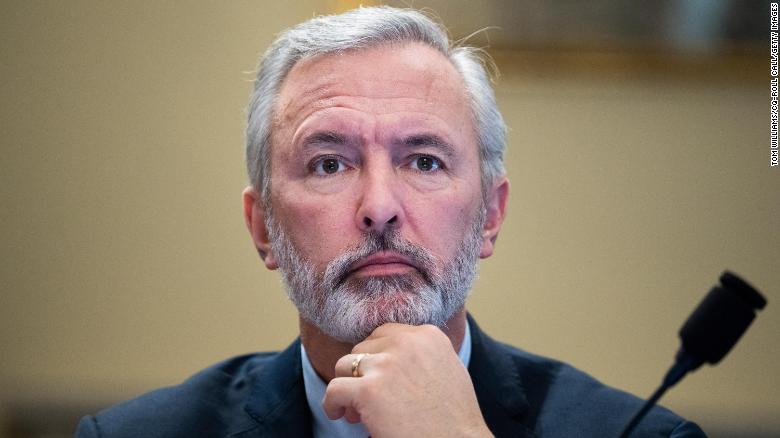 Rep. John Katko speaks during a House Natural Resources Subcommittee hearing in December 2021.
(CNN)
Rep. John Katko of New York, one of the 10 House Republicans who voted to impeach Donald Trump, announced Friday he will not seek reelection. In his announcement, Katko cited wanting to be more present with his family as part of the reason for his decision.
"That's why, after 32 years of public service, I have decided not to seek re-election to Congress, so that I can enjoy my family and life in a fuller and more present way," Katko said.
Katko is the third GOP impeachment backer to call it quits, following in the footsteps of Reps. Adam Kinzinger of Illinois and Anthony Gonzalez of Ohio. Rep. Fred Upton of Michigan has yet to make an official announcement about his reelection plans.
Katko was in line to become the chairman of the House Homeland Security Committee if Republicans win the majority. But he had become a top target on the right, with conservatives angry that Katko voted for impeachment, a bipartisan infrastructure bill and bipartisan commission to probe January 6, and they started demanding that Katko be kicked off his committee.
Read more:
https://www.cnn.com/2022/01/14/politics/john-katko-retiring-new-york-republican/index.html
---
Short article.
Had seen a WaPo breaking initially...
GOP Rep. John Katko announces he won't seek reelection
By Felicia Sonmez and Donna Cassata
Today at 12:19 p.m. EST
Rep. John Katko (R-N.Y.) said Friday he will not seek another term in Congress, becoming the third of the 10 Republicans who voted last year to impeach former president Donald Trump to announce their retirement. In a statement posted to his Facebook page, Katko, 59, said that he made the decision "so that I can enjoy my family and life in a fuller and more present way."
"My conscience, principles, and commitment to do what's right have guided every decision I've made as a Member of Congress, and they guide my decision today," said Katko, who is in his fourth term in Congress. "It is how I've been able to unite people to solve problems, and how I was rewarded with resounding victories in every single campaign for Congress."
In a whiplash-inducing turn last year, House Minority Leader Kevin McCarthy (R-Calif.) had deputized Katko to negotiate with Democrats on legislation to create an independent, bipartisan commission to investigate the Jan. 6 attack on the Capitol by a pro-Trump mob.
Katko, the top Republican on the House Homeland Security panel, reached a deal with the chairman, Rep. Bennie G. Thompson (D-Miss.), and announced the plan, only to have McCarthy reject it. The measure was approved by the House but blocked by Republicans in the Senate. The House later formed its own bipartisan select committee to investigate the attack.
https://www.washingtonpost.com/politics/gop-rep-john-katko-announces-he-wont-seek-reelection/2022/01/14/9fb231ec-7559-11ec-bc13-18891499c514_story.html
3 replies, 1116 views
Replies to this discussion thread
| | | | |
| --- | --- | --- | --- |
| 3 replies | Author | Time | Post |
| Third House Republican who voted to impeach Trump calls it quits (Original post) | BumRushDaShow | Jan 14 | OP |
| | Initech | Jan 14 | #1 |
| | SouthernDem4ever | Jan 14 | #2 |
| | Mr.Bill | Jan 14 | #3 |
---
Response to BumRushDaShow (Original post)
Fri Jan 14, 2022, 12:29 PM
Initech (90,566 posts)
1. Can't have an independent thought. The cult doesn't like that.
Fuck the Trump humpers.
---
Response to Initech (Reply #1)
Fri Jan 14, 2022, 12:37 PM
SouthernDem4ever (353 posts)
2. Exactly
Conservative now means 'luvs trump' What a disgusting exsistence.
---
Response to BumRushDaShow (Original post)
Fri Jan 14, 2022, 01:59 PM
Mr.Bill (15,306 posts)
3. Probably completed his task
of stealing more money than he can possibly spend in his lifetime and tired of the death threats.