Mon Jun 20, 2022, 10:49 PM
JudyM (24,577 posts)
Georgia: Tens of thousands rally in Tbilisi to demand EU membership
Source:
EuroNews
Tens of thousands of demonstrators marched in Georgia's capital Tbilisi on Monday to demand EU membership for the former Soviet republic in the Caucasus.
…
"Europe is a historic choice and aspiration for Georgians, for which all generations have made sacrifices," the organisers said in the statement. "Freedom, peace, sustainable economic development, protection of human rights and justice are values that unite us all and would be guaranteed by integration into the European Union," they added.
The rally was intended to send a signal to Brussels, as EU leaders are due to discuss this week whether to grant official candidate status to Georgia, as well as Ukraine and Moldova. While the European Commission gave a positive opinion on Ukraine and Moldova, it said on Friday that Georgia must first carry out political and other reforms before it can qualify for the status. The EU executive recommended that Georgia be "offered the prospect of EU membership", a status which has no legal value.
…
On Friday, Prime Minister Irakli Garibashvili also welcomed "the historic decision to give Georgia a European perspective," adding that "we will work with Brussels to implement all the requirements and we will get candidate status.
Read more:
https://www.euronews.com/2022/06/20/georgia-tens-of-thousands-rally-in-tbilisi-to-demand-eu-membership
---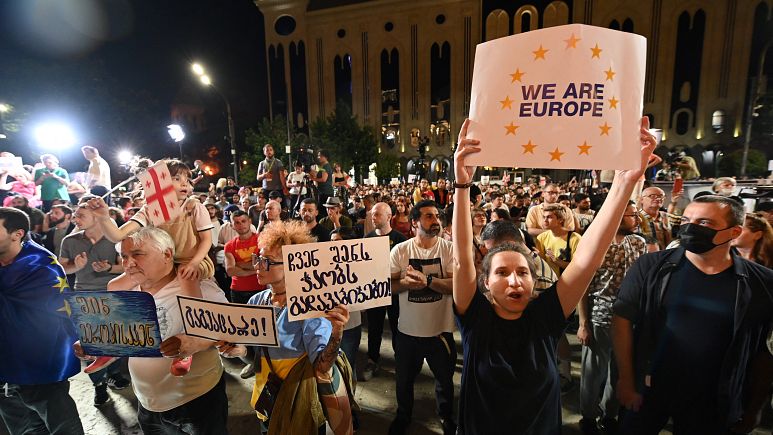 6 replies, 882 views
Replies to this discussion thread
| | | | |
| --- | --- | --- | --- |
| 6 replies | Author | Time | Post |
| Georgia: Tens of thousands rally in Tbilisi to demand EU membership (Original post) | JudyM | Jun 20 | OP |
| | SunSeeker | Jun 20 | #1 |
| | onetexan | Jun 21 | #2 |
| | IronLionZion | Jun 21 | #3 |
| | SomewhereInTheMiddle | Jun 21 | #4 |
| | JudyM | Jun 21 | #6 |
| | Stuart G | Jun 21 | #5 |
---
Response to JudyM (Original post)
Mon Jun 20, 2022, 11:15 PM
SunSeeker (47,460 posts)
1. K & R
---
Response to JudyM (Original post)
Tue Jun 21, 2022, 01:22 AM
onetexan (10,652 posts)
2. K&R!!
---
Response to JudyM (Original post)
Tue Jun 21, 2022, 08:58 AM
IronLionZion (39,503 posts)
3. Is Georgia even in Europe?
Serious question about the geography.

I get that this might give them some protection from Russia.
---
Response to IronLionZion (Reply #3)
Tue Jun 21, 2022, 10:04 AM
SomewhereInTheMiddle (137 posts)
4. West of the Urals ...
The Ural Mountains are traditionally the border between Europe and Asia on the Eurasian continent. Georgia is west of them, though they do not extend all the way to Georgia.

Also, Georgia borders Turkey, which is an EU nation, so it is not that much of a stretch to include them.

Just my thoughts.
---
Response to IronLionZion (Reply #3)
Tue Jun 21, 2022, 11:28 AM
JudyM (24,577 posts)
6. Good question
Wikipedia classifies it as being Eurasian.
Georgia is largely surrounded by the Greater Caucasus and Lesser Caucasus mountains, which form part of a natural boundary between Eastern Europe and Western Asia. Because the Europe–Asia boundary is essentially a "historical and cultural construct",[3] Georgia's continental placement has varied greatly.
(More about Georgia)
(It is) located in the Caucasus, at the intersection of Eastern Europe and Western Asia. It is bounded by the Black Sea to the west, by Russia to the north and east, by Turkey to the southwest, by Armenia to the south, and by Azerbaijan to the southeast. The country covers an area of 69,700 square kilometres (26,900 sq mi), and has a population of 3.7 million people (excluding the Russian-occupied Georgian territories).[10] Georgia is a representative democracy governed as a unitary parliamentary republic.[11][12] Tbilisi is its capital as well as its largest city, and is home to roughly a third of the Georgian population.
…
Georgia is a developing country, classified as "very high" on the Human Development Index. Economic reforms since independence have led to higher levels of economic freedom and ease of doing business, as well as reductions in corruption indicators, poverty, and unemployment. It was one of the first countries in the world to legalize cannabis, becoming the only former-socialist state to do so. The country is a member of international organizations across both Europe and Asia, such as the Council of Europe, the Organization of the Black Sea Economic Cooperation, the Organization for Security and Co-operation in Europe, Eurocontrol, the European Bank for Reconstruction and Development, the Association Trio, and the GUAM Organization for Democracy and Economic Development.
---
Response to JudyM (Original post)
Tue Jun 21, 2022, 10:56 AM
Stuart G (34,745 posts)
5. I found Tbillisi on a map..About 750 miles slightly northeast of Isreal