Sat Dec 27, 2014, 01:29 AM
Ryan Fitzomething (139 posts)
Local, federal investigations into gym mat death continue
Source:
CNN
By Victor Blackwell, CNN
updated 9:27 PM EST, Fri December 26, 2014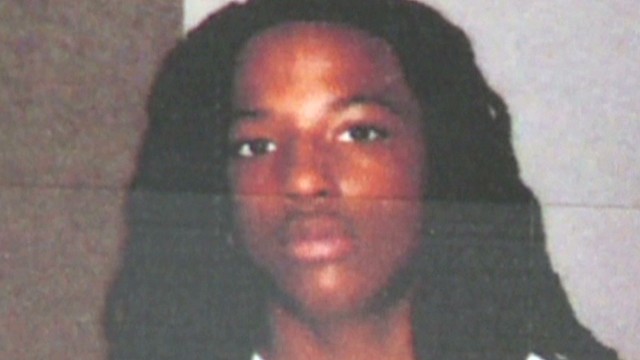 (CNN) -- Despite concluding there was no foul play in the death of a Georgia teen nearly two years ago, a sheriff's office conducted additional interviews on the case as recently as this month.
The parents of Kendrick Johnson, who was found dead inside a rolled-up gym mat at his school in Valdosta, Georgia, have been unwavering in their belief that their son was murdered, even after the Lowndes County Sheriff's Office ruled the death accidental and closed the case 18 months ago.
The details of the recent interviews, conducted by the sheriff's office between November 24 and December 15, were provided to CNN in response to a public records request.
The sheriff's office interviewed about two dozen current and former Lowndes High School students who were on the school's wrestling team on January 10, 2013, the day Johnson disappeared. His body was found the next day.
Read more:
http://www.cnn.com/2014/12/26/justice/georgia-kendrick-johnson-teen-gym-mat-death/index.html?hpt=hp_t2
---
Does anyone truly believe the "official" story in this case?
11 replies, 2981 views
Replies to this discussion thread
| | | | |
| --- | --- | --- | --- |
| 11 replies | Author | Time | Post |
| Local, federal investigations into gym mat death continue (Original post) | Ryan Fitzomething | Dec 2014 | OP |
| | elehhhhna | Dec 2014 | #1 |
| | riderinthestorm | Dec 2014 | #2 |
| | TorchTheWitch | Dec 2014 | #3 |
| | wheniwasincongress | Dec 2014 | #6 |
| | TorchTheWitch | Dec 2014 | #10 |
| | undiegrinder | Dec 2014 | #4 |
| | gvstn | Dec 2014 | #5 |
| | nomorenomore08 | Dec 2014 | #11 |
| | christx30 | Dec 2014 | #7 |
| | RebelOne | Dec 2014 | #8 |
| | gvstn | Dec 2014 | #9 |
---
---
---
Response to Ryan Fitzomething (Original post)
Sat Dec 27, 2014, 01:13 PM
TorchTheWitch (11,065 posts)
3. how is anyone supposed to know?
The article doesn't say what the country ME found on autopsy, the two suspicious boys lawyered up immediately and refuse to talk to LEO, and we have no idea what any of the people that did talk to LEO said. Frankly, the article gives really no pertinent info at all. Of the range of times given about when the bus left I'm more inclined to believe whatever the bus driver said since he/she has no connection with whatever happened to the young man and would be the only one that has to keep track of such things. But even the article doesn't say whether or not all the wrestlers were on the bus, whether or not the two brothers were one it or not, or what the approximate time of death was (which could be a fairly large range). I do find the two brothers somewhat suspicious for refusing to talk to LEO even with their attorney present, but I also understand why the attorney would advise them to refuse to do an interview period especially if they were on the bus at a time when Kendrick was believed to be alive.
This kind of reminds me of a news story from back around the early 90's about a guy that died getting stuck in his trash barrel. Apparently, he leaned in to try to retrieve something, fell in, and twisted himself up in trying to get out that cut off his breathing so that hours later he'd died of suffocation. It happens.
After looking at information about what happened it appears that neither or the boys were anywhere near the gym when Kendrick would have gotten stuck in the rolled up mat. One was not on the wrestling team and was in another part of the school (probably in class) and the other was on the bus going to the tournament. The bus left for a tournament sometime between 11:30 a.m. and 12:30 p.m. as it was 150 miles away and weigh-in was between 4 and 6 p.m. The brother on the wrestling team was seen on the bus my multiple people, and there is a record of him having weighed-in for the tournament during the appropriate time. Apparently, at the time the bus was on it's way Kendrick was seen alive on surveillance tape.
I have no idea why the family is blaming either of these two boys what with the evidence that they were no where near the gym. Oddly enough they are calling for a new law in GA that is wanted to be called "Kendrick's Law" that would have all coroners in GA be licensed professionals. I have no idea what the point is to this or what it has to do with this young man's death... obviously it would have been a licensed professional that did his autopsy seeing as coroner's don't and can't because - duh - they aren't licensed professionals.
http://www.cbsnews.com/news/police-focus-on-timeline-in-kendrick-johnson-gym-mat-death/
I really wish I had not seen the photos of him of how his body was found. I really hate it that search engines throw them in your face when your search has nothing to do with any kind of photos. Gads. How hideous to suffocate to death like that not being able to get enough air. This poor teenager had to have suffered for an extended length of time, and it must have been ungodly terrifying and ghastly beyond imagining.
---
Response to TorchTheWitch (Reply #3)
Sat Dec 27, 2014, 03:17 PM
wheniwasincongress (1,307 posts)
6. Why bother typing all that up when you claerly haven't read into the case?
I don't know where to start. You have so much incorrect. look at undiegrinder's post below you.
Here's the school bus issue for starters
http://www.cbsnews.com/news/timeline-challenged-in-kendrick-johnson-gym-mat-death/
This boy, who measured 19 inches across his shoulders, did not fall headfirst into a 14-inch wide mat all the way to the bottom, while sustaining blunt force trauma to his head and face. oh my god, check yourself.
---
Response to wheniwasincongress (Reply #6)
Sun Dec 28, 2014, 08:54 PM
TorchTheWitch (11,065 posts)
10. I DID look into it - who else here did?
Didn't question them I see since they just nodded along with the OP.

That's why I said that the article presented didn't GIVE any real facts about what occurred. The most recent information still has the family blaming the two brothers neither of which appeared to be there at the time of death. Given what little unbiased information is available I don't fucking KNOW what caused the young man to end up in the rolled mat, and neither does anyone else. The county ME didn't find any blunt force trauma and did find that he died of suffocation. There IS no information about the circumference of the center of the mat, and he WAS found inside a rolled mat. There's no question about that. If the mat's center hole had only a circumference of 14" and his shoulders were 19" he wouldn't have been able to be in that hole HOWEVER he ended up there. Even if it were rolled around him it would HAVE to be big enough to accommodate him since that's where his body was found. DUH.

The CBS article you cite only mentions the record of the bus leaving at 4:30 pm which had already been explained as a time beforehand that a bus was originally wanted for. Actual evidence shows that weigh-in was at 4 pm, that there is a record that the one brother on the wrestling team did weigh-in and on time as well as further information that the bus left at somewhere around 11:30 am and 12:30 pm in order to get the team there on time for a 150 mile trip. Witnesses on the bus recall that the one brother was on it.

All that CBS article says is that the family challenges the time line line of when the bus left referring to that record of the request for a bus that has already been amply refuted. Simple logic alone would tell anyone that with weigh-in at 4 pm the bus HAD to have left much earlier in order to get the team there on time to compete, which they did. The family can challenge the time line until their heads fall off, the EVIDENCE says the bus left around noon and that's the only way the team could have gotten there on time to compete. Further, the school would never have dismissed the team from classes at 11:30 a.m. for a bus that wasn't leaving with them until 4 pm long after the school day ended.

I can see you didn't bother to read the article I gave that refutes utterly the family's claim that the bus didn't leave until 4 pm. Then you claim that I'M the one that hasn't looked into this matter, when I obviously DID and that you even used someone's post made AFTER mine to accuse me not looking into it. Just how is anyone able to read a post that's not even THERE at the time they made their's, and since when has anyone here been crucified by not reading every post in a thread before responding to the OP in the first place? Obviously, it's you that hasn't bothered to look any further than the erroneous claims by the family that doesn't and CAN'T refute the evidence. Even the article you cited doesn't say that there's anything wrong with the time line other than that the family CHALLENGED it. And they challenged it with information that the article I posted refuted. Their claiming that he couldn't have fit in the hole in the rolled mat is ludicrous on it's face because that's exactly where he was found however he got there with photos to prove it... he couldn't have been found in the hole at ALL if he didn't fit in it. Further, no one has said that he fell in all the way to the bottom but that the EVIDENCE reflects that he managed to squirm in and got stuck and suffocated.

You should also note that the article that you cited was written on Nov. 20th a month before the one I cited and by the same author. Seems clear that it's you that hasn't sufficiently looked into the matter.


---
Response to Ryan Fitzomething (Original post)
Sat Dec 27, 2014, 01:18 PM
undiegrinder (79 posts)
4. Let's see ...
1. There's at least one hour missing from the surveillance tapes of ALL FOUR cameras that showed the gym where Johnson died.
http://www.cnn.com/2013/12/19/us/kendrick-johnson-surveillance-hard-drives/
2. Johnson supposedly suffocated after falling head first into a rolled up gym mat in an attempt to retrieve sneakers which had fallen into it. But the first crime scene photo in this article shows Kendrick's stockinged feet with a pair of sneakers seemingly thrown in after him:
http://www.nydailynews.com/news/national/photos-show-death-scene-teen-found-wrestling-mat-article-1.1480548
3. Also, per that article, two different black sneakers are shown in police crime scene photos yet one was not collected as evidence.
4. A second autopsy paid for by Johnson's parents reached a far different conclusion than the first one: that Kendrick had sustained a blow to the right side of his neck that was "consistent with inflicted injury." Where the state autopsy found the cause of death was positional asphyxiation, the second concluded he died as the result of "unexplained, apparent non-accidental, blunt force trauma."
http://edition.cnn.com/2013/09/03/us/georgia-teen-death-autopsy/index.html
5. When Johnson's parents had his body exhumed for the second autopsy, it was discovered that every internal organ from his pelvis to his skull had been removed and the corpse had been stuffed with old nespapers and department store circulars.
http://www.cnn.com/2013/10/09/us/georgia-gym-mat-death/index.html
What his parents have gone through merely trying to find out the truth of their son's death is simply unimaginable. But discovering that his body had been stuffed with trash ...??
So, yeah, count me as a doubter.
---
Response to undiegrinder (Reply #4)
Sat Dec 27, 2014, 01:39 PM
gvstn (2,805 posts)
5. Yes
The cops brought the doubt on themselves. Within the first week of the story breaking they repeatedly refused to answer any questions about the case stating, "It was an accident. The case is closed; We don't talk about closed cases." Reporters were asking about the doubts and questions of the parents and they just repeated the case was closed. Add to that the two students who refused to be interviewed had a family member connected to law enforcement and you get some doubt into the integrity and thoroughness of the investigation.

Only after it hit national news and would not go away did they decide to actually pursue interviews with the rest of the persons who might have information before again officially closing the case. They didn't give video footage to the parents for over a year and then the critical camera was broken/out of focus. It just looks bad and rather callous towards the parents. If there was no coverup it could have still been handled much better to give the parents peace of mind that it truly was a tragic accident.
---
Response to undiegrinder (Reply #4)
Mon Dec 29, 2014, 01:26 AM
nomorenomore08 (13,324 posts)
11. I remember reading about the organ removal aspect. Not just suspicious as hell, but *bizarre*.
Who the fuck did this, and why?
---
Response to Ryan Fitzomething (Original post)
Sat Dec 27, 2014, 03:21 PM
christx30 (6,177 posts)
7. The cover up in this teen's death was sloppy.
How are people supposed to believe the lies the cops are putting out if they are just so haphazard? It's like they're not even trying any more.
I hope the feds are able to get to the bottom of this.
---
Response to Ryan Fitzomething (Original post)
Sat Dec 27, 2014, 05:15 PM
RebelOne (30,947 posts)
8. No, I never believed the "official" story.
I live in Georgia and have been following this story from the very beginning. I was skeptical since the very start. How could a person crawl into a rolled-up mat and suffocate? It never made any sense to me.
---
Response to RebelOne (Reply #8)
Sun Dec 28, 2014, 12:03 AM
gvstn (2,805 posts)
9. I am skeptical but would like your opinion on this video.
I came across it while checking back on this case over time. It doesn't show how one could "fall" into a mat but does show that it might be difficult to get out.