Sun Dec 18, 2011, 07:06 AM
ellisonz (27,295 posts)
'Don't Shoot': Stopping urban violence with sweet reason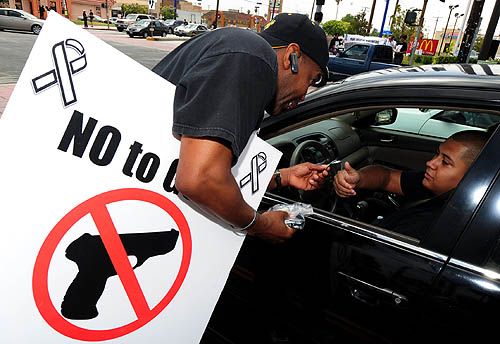 Mark Ralston/AFP/Getty Images
Gang interventionist the Rev. E. Winford Bell hands out peace message ribbons to motorists in Compton, Calif., on May 28. He is founder of the Silver Lining of Hope Crusade.
David Kennedy details how Operation Ceasefires truly reduced the killing in fractious city neighborhoods
Sunday, December 18, 2011
By Diana Nelson Jones, Pittsburgh Post-Gazette
Billions of dollars are poured into an unwinnable war on drugs. Gun violence has thinned the ranks of black men, and prisons have claimed others in alarming proportions. The intertwining of the two has become inextricable, and the result seems unsolvable.
In "Don't Shoot: One Man, A Street Fellowship and the End of Violence in Inner-City America," David Kennedy describes how the problem is solvable. His method has proved effective in city after city that wrestled together a collaboration of city officials, police departments, district attorneys, federal drug agents, probation and parole officers, ministers and street volunteers. Their secret ingredient? Reason.
The program, which piloted in Boston in the 1990s, became known as Operation Ceasefire. It was taken to Stockton, Calif.; Minneapolis; East St. Louis, Ill.; Baltimore; Cincinnati; Richmond, Va.; and many other cities that include Pittsburgh, where collaborations began in 2008.
It works this way: After the law enforcement team has run its data, collected its evidence and videos and connected the dots on who the players are, they call in the players for a meeting. They promise not to arrest anyone; in fact law enforcement wants to prevent one more arrest.
Read more:
http://www.post-gazette.com/pg/11352/1197140-148.stm?cmpid=entertainment.xml#ixzz1gspWVJaj
4 replies, 1553 views
Replies to this discussion thread
| | | | |
| --- | --- | --- | --- |
| 4 replies | Author | Time | Post |
| 'Don't Shoot': Stopping urban violence with sweet reason (Original post) | ellisonz | Dec 2011 | OP |
| | lildreamer316 | Dec 2011 | #1 |
| | distantearlywarning | Dec 2011 | #2 |
| | spin | Dec 2011 | #3 |
| | ellisonz | Dec 2011 | #4 |
---
Response to ellisonz (Original post)
Sun Dec 18, 2011, 11:11 AM
lildreamer316 (14,803 posts)
1. I love this.
Thanks for posting. Hope this catches on.
---
Response to ellisonz (Original post)
Sun Dec 18, 2011, 11:43 AM
distantearlywarning (4,475 posts)
2. Very interesting.
---
Response to ellisonz (Original post)
Sun Dec 18, 2011, 01:28 PM
spin (17,493 posts)
3. While many favor more gun control laws such as another Assault Weapons Ban...
I personally feel that programs such as Operation Ceasefire are far more successful at reducing gun violence and crime in our nation.
Of course we also need to strictly enforce all existing gun laws and especially those on the straw purchase of firearms and the smuggling of such weapons to our inner cities. It's also my opinion that ALL sales of firearms, including private sales, should require an NICS background check, but this would probably have to be accomplished at a state level.
Also as Obama has suggested the NICS background check needs to be improved so as to be more responsive. (Ref:
President Obama: We must seek agreement on gun reforms
http://azstarnet.com/article_011e7118-8951-5206-a878-39bfbc9dc89d.html#ixzz1guHmRUAg
We also need to admit that our War on Drugs is a total failure. The legalization of some drugs such as marijuana would reduce much of the profit motive in drug dealing and the crime committed by drug gangs fighting over their turf.
---
Response to spin (Reply #3)
Mon Dec 19, 2011, 05:59 AM
ellisonz (27,295 posts)
4. We need to press on all three fronts.
Gun control, violence reduction, criminal law reform.