Thu Nov 25, 2021, 11:10 PM
appalachiablue (33,953 posts)
'We Are Still Here' Native Americans Dispel Myths By Living Their Truth- Native Amer. Heritage Month
- The Washington Post, By Dana Hedgpeth, Rachel Hatzipanagos. *Photos by Brian Adams. Nov. 19, 2021. - Ed.
* Introduction by Dana Hedgpeth, a local reporter & member of the Haliwa-Saponi tribe of North Carolina.
_____
"But you don't look like an Indian!"
I've heard that response more than a few times from people when they learn that I am an American Indian. I am a member of the Haliwa-Saponi tribe of North Carolina. I grew up in the D.C. suburbs, not on a reservation. In fact, our tribe doesn't have a reservation, but my family often travels to Hollister, N.C., where the Haliwa-Saponi have their tribal homelands, for cultural gatherings or events.
It's a common frustration for many of the country's American Indians & Alaska Natives: People react with surprise or disbelief when we tell someone that we're from a tribe that is Indigenous to the United States. Many people assume all American Indians are dead; they have an image in their heads of old black & white photos of some western Plains Indians who performed in Buffalo Bill's Wild West shows. Or they wrongly generalize that we're all confined to reservations, living in poverty or flush with casino cash.
For many of us, the message to the rest of society is simple: "We're still here."
There are more than 570 federally recognized American Indian & Alaska Native tribes & villages in the U.S. According to the 2020 Census, fewer than a quarter of American Indians & Alaska Natives reside on reservations or other tribal lands. Most of us- close to 2/3rds- live in major cities or smaller metro regions & suburban areas. We are represented in a wide range of professional jobs- doctors, lawyers, scientists, artists, authors & politicians. Many of us also continue to practice the cultural traditions of our specific tribes, teaching them to the next generation. For Native American Heritage Month, Rachel Hatzipanagos & I talked with several American Indians & Alaska Natives about their work to remind nonnatives that we are still here.
They represent different tribes & varied professions, some working on reservations & some at major institutions in big cities around the country. They acknowledge the struggles of their people & are determined to educate their children & the public about their history & their current lives. We invited Inupiaq photographer Brian Adams to create a visual response to our theme of "we're still here." He chose to document the efforts of the Indigenous Place Names Project, which looks to reclaim these Dena'ina spaces...
- More + Excellent *Photo Montage,
https://www.washingtonpost.com/nation/interactive/2021/native-american-heritage-month-were-still-here/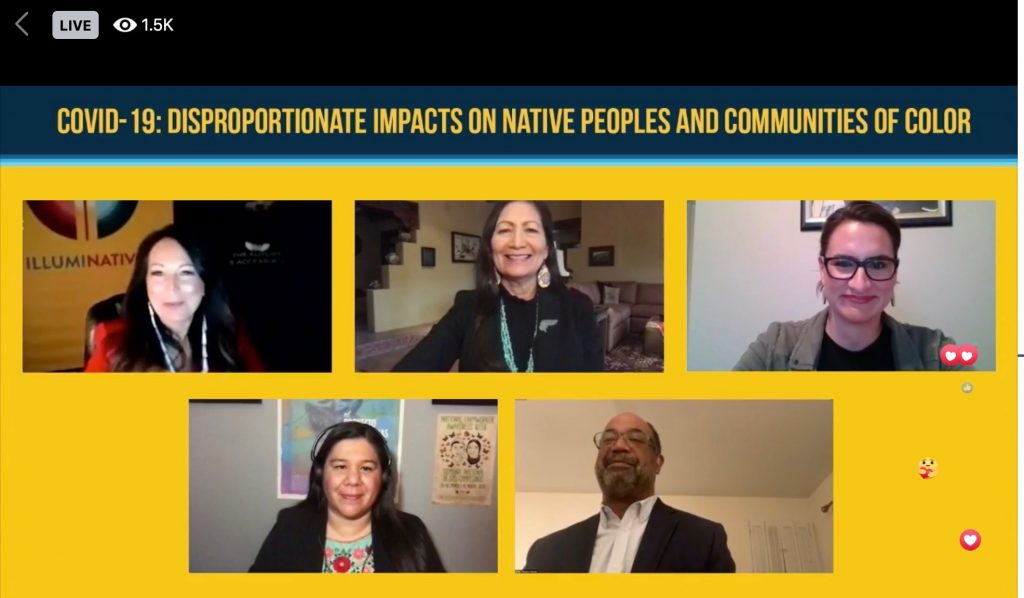 3 replies, 913 views
Replies to this discussion thread
| | | | |
| --- | --- | --- | --- |
| 3 replies | Author | Time | Post |
| 'We Are Still Here' Native Americans Dispel Myths By Living Their Truth- Native Amer. Heritage Month (Original post) | appalachiablue | Nov 25 | OP |
| | Deuxcents | Nov 25 | #1 |
| | appalachiablue | Nov 25 | #2 |
| | wnylib | Nov 26 | #3 |
---
Response to appalachiablue (Original post)
Thu Nov 25, 2021, 11:31 PM
Deuxcents (3,362 posts)
1. This has been a great series of films
I wish mire people would tune in..has been on all month.
---
Response to Deuxcents (Reply #1)
Thu Nov 25, 2021, 11:42 PM
appalachiablue (33,953 posts)
2. Terrific programs & articles, I've told many folks about them.
---
Response to appalachiablue (Original post)
Fri Nov 26, 2021, 05:55 PM
wnylib (9,517 posts)
3. When I was in grade school, teachers told us that
"all the Indians" were dead and gone. I had a Native grandmother who was, in fact, dead from a heart attack. But her relatives were still alive and living on tribal territory.

Her husband, my grandfather, had mixed Native and German heritage. One day at work, when the subject of genealogy came up, I showed some photos of him. One coworker said, "He can't be Indian. Indian men have long hair."

I couldn't believe the ignorance in today's world. There are 2 Seneca territories within 20 minutes of where I live. Some of them, or their descendants, live in my city. Many locals go to the casino or buy gas and cigarettes on Seneca land where they are cheaper.

Yet, people will believe stereotypes over what they see in front of them.