Sun Jun 13, 2021, 06:37 PM
soothsayer (38,601 posts)
Welcome to Brussels, U.S. President @JoeBiden ! Have a good #NATOsummit on Monday & a good #EUUSsu
Link to tweet
?s=21
Alice St⭕️llmeyer
@StollmeyerEU
Welcome to Brussels, U.S. President @JoeBiden !
Have a good #NATOsummit on Monday & a good #EUUSsummit on Tuesday.
Awesome that @DefendDemocracy is on the agenda of both summits!
#StrongerTogether 🇪🇺🇺🇸
US Embassy Brussels
@usembbrussels
Welcome to Brussels @POTUS Biden! 🇺🇸🇧🇪
@usembbrussels @USNATO @US2EU
3 replies, 1036 views
Replies to this discussion thread
| | | | |
| --- | --- | --- | --- |
| 3 replies | Author | Time | Post |
| Welcome to Brussels, U.S. President @JoeBiden ! Have a good #NATOsummit on Monday & a good #EUUSsu (Original post) | soothsayer | Jun 2021 | OP |
| | elleng | Jun 2021 | #1 |
| | Rhiannon12866 | Jun 2021 | #2 |
| | elleng | Jun 2021 | #3 |
---
Response to soothsayer (Original post)
Sun Jun 13, 2021, 06:52 PM
elleng (121,993 posts)
1. 'Sadly,' the Bidens likely won't have much chance to see any Manneken Pis.
Manneken Pis (Dutch: [ˌmɑnək?
m) ˈpɪs] (About this soundlisten); Dutch for '"Little Pissing Man"') is a landmark[1] 61 cm (24 in) bronze fountain sculpture[2] of a puer mingens in central Brussels (Belgium), depicting a naked little boy urinating into the fountain's basin. It was designed by Jérôme Duquesnoy the Elder (1570–1641), and put in place in 1618 or 1619.[3] The current statue is a replica which dates from 1965.[4] The original is kept in the Brussels City Museum.[5][6][7] Manneken Pis is the best-known symbol of the people of Brussels. It also embodies their sense of humour (called zwanze in Brussels' dialect)[8] and their independence of mind.
https://en.wikipedia.org/wiki/Manneken_Pis
---
Response to elleng (Reply #1)
Mon Jun 14, 2021, 03:38 AM
Rhiannon12866 (172,208 posts)
2. I'm very aware of the Manneken Pis and his story. My little dog was named after him.
I had 2 dogs, cocker spaniels, and when I lost the elder one (at age 18 or 19), I thought his "sister" missed him (as I did
), so I called about an 8-year-old cocker up for adoption, but was told that the dog had already been placed. But the dedicated woman in rescue that I spoke to told me about another little dog that was in a bad situation. His owner had died and he'd been taken by a man and his stepson which was a bad fit since he'd belonged to an elderly woman and did not like men.
So I called the guy who was anxious to unload the dog, and my cocker and I arranged to meet him the very next day. Turns out he was a 9-year-old Brussels Griffon - and the guy hadn't known his name - it was Meneken. And he was a
Brussels
Griffon... His owner must have known about the statue.
And it couldn't have worked out better, he hit it off with my other dog (whose original owner had also died, I adopted her at age 8) and he went everywhere with me, was obviously used to being taken. That was in 2001 and when I joined DU back in 2003, another DUer showed me how to post a pic - so this was the first photo I ever posted on DU.
Meneken and Sheena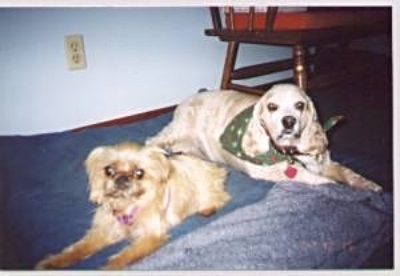 ---
Response to Rhiannon12866 (Reply #2)
Mon Jun 14, 2021, 10:53 AM
elleng (121,993 posts)
3. SWEET!
(I'm only familiar with Manneken Pis because arrived for junior year of college in Brussels, and saw them everywhere.)