Sat May 5, 2018, 09:57 PM
Demovictory9 (17,199 posts)
Goose levels golfer, reasserting dominance over all humankind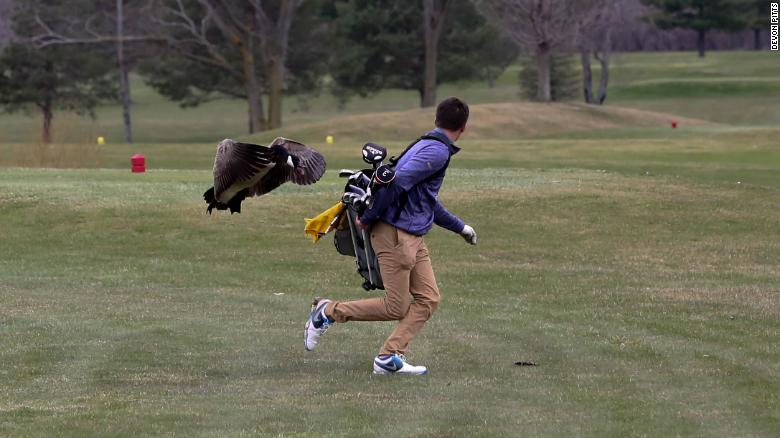 "aaaaaaaaaaaaa!"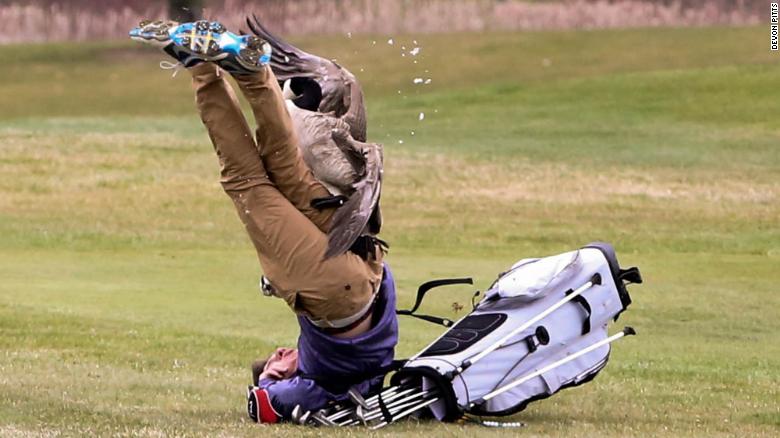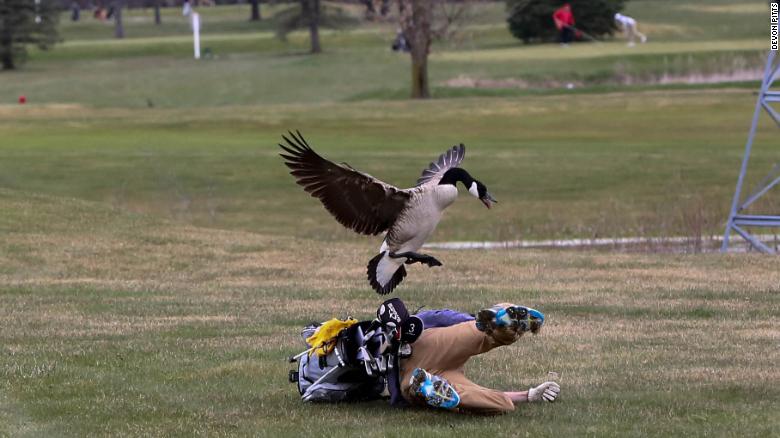 "Such majestic creatures!" -- said literally no one about geese.
(CNN)Geese are terrifying. Everyone knows this. Their bites hurt like hell and they have no respect for children or the elderly. In fact, they are the second-most terrifying bird behind turkeys (large, tenacious) and ahead of crows (eidetic, vengeful).
So this momentous trio of photographs showing a Canada goose absolutely trucking a high school golfer near Blissfield, Michigan, is just a reminder of the natural order of things. You can have, as one Twitter user put it, a "quiver full of bird maulers" and a whole high school athlete's worth of physical power, but the goose is going to win every time. It's science.
The unlucky human sacrifice here is Isaac Couling, a member of the Concord High School golf team. According to Blissfield Golf Coach Steve Babbitt, Couling, 16, was competing in the Madison Tournament at the World Creek Golf Course in Adrian, Michigan, when terror rained down.
"The group just finished teeing off on hole #7 and were walking down the fairway," Babbitt told CNN in an email. "They were aware of a goose nest on their left which they were looking at but not bothering when from behind them and to the right came the guard goose (protecting the nest)."
https://www.cnn.com/2018/04/24/us/goose-golf-attack-michigan-photos-trnd/
"aaaaaaaaaaaaa!"
Then came a rather alarming escalation, a whole Shakespearean tragedy in three acts. The Blissfield Athletics Twitter account explained that Couling was caught off guard by the charging bird as he was keeping an eye on another, probably equally threatening, goose.
6 replies, 719 views
Replies to this discussion thread
| | | | |
| --- | --- | --- | --- |
| 6 replies | Author | Time | Post |
| Goose levels golfer, reasserting dominance over all humankind (Original post) | Demovictory9 | May 2018 | OP |
| | RockRaven | May 2018 | #1 |
| | PJMcK | May 2018 | #2 |
| | MrScorpio | May 2018 | #3 |
| | Demovictory9 | May 2018 | #4 |
| | ailsagirl | May 2018 | #5 |
| | geardaddy | May 2018 | #6 |
---
Response to Demovictory9 (Original post)
Sat May 5, 2018, 10:07 PM
RockRaven (8,084 posts)
1. That would be a better
if the golfer was Dolt45.
---
Response to Demovictory9 (Original post)
Sun May 6, 2018, 07:38 AM
PJMcK (15,082 posts)
2. The teenager needs to learn something
In his golf bag is something called a nine iron...

(wink)
---
Response to Demovictory9 (Original post)
Mon May 7, 2018, 02:50 AM
MrScorpio (72,928 posts)
3. We have geese going through this part of Michigan all of the time
I always steer very clear of them
This is the DU member formerly known as MrScorpio.
---
Response to MrScorpio (Reply #3)
Mon May 7, 2018, 02:52 AM
Demovictory9 (17,199 posts)
4. Canadian geese hang out in southern Calif parks. Huge numbers of them. hooting and pooping
---
Response to Demovictory9 (Original post)
Mon May 7, 2018, 10:41 AM
ailsagirl (20,932 posts)
5. Geese can be pretty fierce, I understand!
---
Response to Demovictory9 (Original post)
Mon May 7, 2018, 01:02 PM
geardaddy (22,705 posts)
6. We have tons here in the Twin Cities